How to change your Windows 10 wallpaper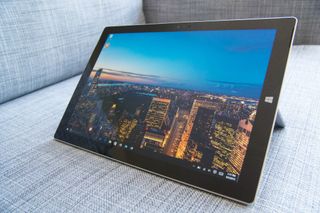 (Image credit: Windows Central)
With Windows 10 now on the market being sold in new PCs, offered through a free upgrade or even those Mac users trying it for the first time we are covering the basics. Sure, you may be a pro but everyone has to start somewhere!
Changing your wallpaper on Windows 10 is really easy. The hard part is deciding on which wallpaper to use. While it is very straightforward, we've made a how-to video to help you get started. See it in action on our Surface Pro 3.
Right-click your desktop and select Personalize
You have a choice in using a Picture, Solid Color or a Slideshow. Select Picture if you simply want to make an image as your wallpaper.
There are five recent images you can choose from. You can also tap or click the Browse button to select a photo from your computer.
Under the Browse button, there's an option on how to fit the image to your desktop because not all wallpapers have the same size or aspect ratio. You can choose from Fill, Fit, Stretch, Tile, Center, or Span. You can play with these options to see which one works best, but Fill should work for most people.
That's it! There are plenty of resources for awesome wallpapers, but a good place to start would be Interfacelift (interfacelift.com). Microsoft Edge doesn't currently give you the option to right-click an image and choose "Set as desktop background," so you'll need to save images to your device first. Create a folder in your hard drive and save them all there.
Slideshow
You can let Windows 10 automatically change your wallpaper from every minute or up to every 24 hours. Select Slideshow from the Background dropdown and select a folder with all your wallpapers.
Where do you get your wallpapers from? Let us know in the comments!
More Resources
Need more information or need some help? Here are some great links to get you started:
Windows 10 Help, Tips, Tricks at Windows Central
Right Click on Image > Set as desktop background :D

Lol Lol.
Though its mainly for beginners.

I use Bing desktop as well. Then have it synced to my band and my 1520. Juts wish the phone would update sooner.

I do like Bing's picture of the day, I just don't like having the need for the desktop tool bar. I wish the slideshow would support a connection directly into bing.

This would great. I use Google search but at least once a day I go to bing.com to see the picture of the day. I tried bing desktop, but that toolbar really gets in the way and is useless for me.

Never mind this, has anyone figured out a way to change the background of the login screen yet?

Yes, some one already did. Check MDL forums for it.

I think this one is a huge opportunity for MS. Shouldn't need a 3rd party app or other hacks for this. I have to admit I'm getting tired of seeing that image every time I sign in.

Since 7 its been
"Place the image in C:\Windows\System32\oobe\info\backgrounds
Then...
open regedit. Look for value named OEMBackground in the HKLM\Software\Microsoft\Windows\CurrentVersion\Authentication\LogonUI\Background
Change the value from default 0 to 1"

System32 even for x64 systems..??

Yea I did this for a Steam Box I built on x64 Win7

OK, do this: Select "Start" Select "Personalization" Select "Lock Screen" Select "Browse" under the picture selection Find your picture and select it to change the Lock Screen and Login Screen No need to go to "regedit"

Hate that I can't access all my OneDrive wallpapers without having to sync that specific folder. Or being able to choose a wallpaper from the Camera roll on OneDrive. I'd sync it but it's already bigger than my SSD... Need placeholders back honestly... Integration feels so broken in 10 without it

This is exactly why I am even looking through the forums. This was one of my favorite features, being able to choose a picture from my OneDrive Wallpaper folder. WTF!

Can you show how to turn the pc off next? I'm stuck

All the pros come out of the woodwork for this stuff to criticize and make fun, but what you don't realize is what people are searching for on the internet. When people have questions on the basics, we have to answer them. Not everyone has used Windows 7, 8, or 10 before so yeah, we need to help them too. We do plenty of more advanced stuff, so no need to rain on this parade. Do this: Go pick up a smartphone or computer with an OS you have never used. Load it up. Now try to do the basic things all on your own. Eventually, you'll turn to the web for answer and you'll pray someone has written an article explaining it ;)

Sorry.... I would have no idea how to change anything on a mac

You make fun, but with Windows 8, and I'm sure 10, there have been plenty of people that do things the 'long', or complicated way. I'm sure there's a lot you DON'T know how to do, so instead of criticizing, either skip the article or take 30 seconds and read it, you might surprise yourself by actually learning a little something you may not know.

+925
This applies to seasoned Windows developers too. You would not believe how many I watch use the mouse to move from text box to text box. It's as though they don't know their keyboards have a Tab key.

I think 'How do I turn off my PC?' was actually the number one thing that people were getting stuck on when Windows 8 launched ;)

Don't be pretentious. Not everyone is an experienced Windows user and everyone has to start somewhere ;)

I know that we can use Bing Desktop to get daily images on desktop wallpaper. Is there any way I can get the daily images on the lock screen too? There was some third party app for doing that. But, nothing from Bing officially like for Windows Phone?

I think they have plans to bring that in a later feature, maybe with the October wave 2 update.

They should bring back the changing wallpaper for every 10 sec option. Currently the minimum time is 1 min.

For some reason it doesn't work for me. The preview in the settings screen shows the picture I've selected, but my desktop remains solid black. I've tried picking one of the Windows wallpapers, or browsing to a picture -- same results :-(

Can you use Bing images as slideshows?

HDwallpapers.in , wallpaperswide.com

Next article cover please how to move the mouse with your hand

You used to be able to select certain images from a theme's pack of wallpapers, but they removed this option! A theme is now all or nothing.

This wasn't written for you. It's okay, you can move on to other articles ;)

Make one like Addison suggested on top. Lol
Just to fuck with people
"how to move your mouse with your hand" Explain the different between claw grip etc

Thanks Daniel. Too bad some people can't read the article heading which clearly says 'Beginners Guide'. There are a lot us who appreciate your and your team's efforts by providing this FREE content. Keep up the good work.

How do I turn off wallpaper sync between windows 10 on my PC and my surface. I don't want the same wallpaper on all my devices.

Start>Settings>Accounts>Sync your settings


It would be really nice to have the OS pull the Bing Photo of the Day automatically for use as wallpaper or lockscreen

What can I do if I have two screens? I can't figure it out how to change the background on my second screen, I could in W8.1 or W7

Thanks Daniel for the tips! And For Helping People!

Wow! All these things you can do with computer! :o

Please run an article when someone figures out how to change the login wallpaper. I know there's a tool out there, but I tried it and it made my PC unbootable.

Some of my apps like calendar mails nd people in my pc doesn't take any action when I click on add account

I didn't know this was an article about problems with app settings?

Can someone please tell me where the 'hero' image is stored on the hard drive? I want to set it as my lock screen but can't browse to the image. Please help, thanks.

Just search for it online its everywhere

I did that, but after trying about 10 different images, I couldn't find one at full resolution.

Thats weird. There's an article somehere here where you can download them at full res. Thats where I got it from before they became the default on Win10 installation.

C: > Windows > Web > 4K > Wallpaper > Windows

I just want to be able to change my login screen wallpaper from that ugly hero image without hacking system protected files that seem to be constantly replaced by windows updates.

Dear Microsoft please allow the user to change the login screen to something other than the current chemtrail-looking screen.

My images are from an OneDrive folder =]

My current wallpapers are taken directly from Driveclub (PS4) in screenshot form. :)

Please help me. Windows 10 lock screen wallapaper cannot be cahanged on my laptop.

Bing desktop! Surprises me everyday! Coupled with the match windows accent to background image option in personalization settings = fresh look everyday!

Damn, it doesn't allow me to slideshow pictures stored in SD card! Why can't it be done like Win8.1/RT?!

Very simple : Just right click o image > Set as desktop background Collect image from desktopaper.com

Find thousands of wallpaper for windows 10 desktop desktopaper.com

I want to run through different folders to get different backgrounds. How do I do that?
Windows Central Newsletter
Thank you for signing up to Windows Central. You will receive a verification email shortly.
There was a problem. Please refresh the page and try again.