How to change your Windows 10 wallpaper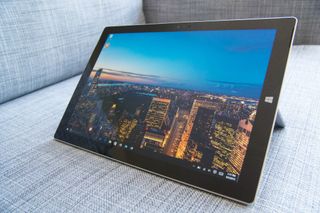 (Image credit: Windows Central)
With Windows 10 now on the market being sold in new PCs, offered through a free upgrade or even those Mac users trying it for the first time we are covering the basics. Sure, you may be a pro but everyone has to start somewhere!
Changing your wallpaper on Windows 10 is really easy. The hard part is deciding on which wallpaper to use. While it is very straightforward, we've made a how-to video to help you get started. See it in action on our Surface Pro 3.
Right-click your desktop and select Personalize
You have a choice in using a Picture, Solid Color or a Slideshow. Select Picture if you simply want to make an image as your wallpaper.
There are five recent images you can choose from. You can also tap or click the Browse button to select a photo from your computer.
Under the Browse button, there's an option on how to fit the image to your desktop because not all wallpapers have the same size or aspect ratio. You can choose from Fill, Fit, Stretch, Tile, Center, or Span. You can play with these options to see which one works best, but Fill should work for most people.
That's it! There are plenty of resources for awesome wallpapers, but a good place to start would be Interfacelift (interfacelift.com). Microsoft Edge doesn't currently give you the option to right-click an image and choose "Set as desktop background," so you'll need to save images to your device first. Create a folder in your hard drive and save them all there.
Slideshow
You can let Windows 10 automatically change your wallpaper from every minute or up to every 24 hours. Select Slideshow from the Background dropdown and select a folder with all your wallpapers.
Where do you get your wallpapers from? Let us know in the comments!
More Resources
Need more information or need some help? Here are some great links to get you started:
Windows 10 Help, Tips, Tricks at Windows Central
Get the Windows Central Newsletter
All the latest news, reviews, and guides for Windows and Xbox diehards.