How to use Quick Read on the Microsoft Band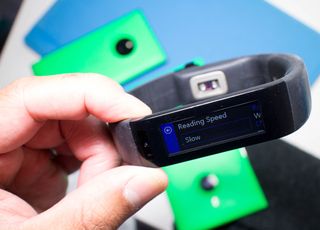 The latest Microsoft Band update released earlier this week added some new features and functionality. One of those things is the new Quick Read function. It's another option to scan incoming texts, emails and other notifications on your Microsoft Band. When enabled, notifications are displayed word by word in a large size. This is handy when you're in motion and rather not scroll down to read. We'll show you how it works in our hands-on video.
Quick Read seems to have been enabled automatically after the recent Microsoft Band update. To check if it's enabled on your band, go to settings, tap the Tools icon, and swipe towards the right until you see Reading Speed. You have options for Slower, Slow, Medium, Fast, Faster, and Off.
Quick Read works on Notifications, Text Messages, Email, Twitter, Facebook Messenger, and Cortana. Tap the action button on the Microsoft Band when a message or notification is on the screen to show Quick Read mode. Words then get displayed one by one at the speed rate you've picked in the settings.
When is Quick Read useful? It can be handy when you're on a treadmill and want to read your messages without scrolling. Other than that, we can't think of many other situations when it'll be needed. While Quick Read is a nice option to have on the Microsoft Band, we think it can be better. Instead of simply flashing messages or notifications on the screen word by word, we'd also like to have an option to have them slide like a news ticker.
In addition to Quick Read, other notable new features in the latest Microsoft Band update are the virtual keyboard and the Bike Tile. Microsoft has also introduced the Health Web Dashboard so you can check your stats and insights from your computer's web browser.
How do you feel about Quick Read? Will you be using it frequently? Sound off in the comments!
Get the Windows Central Newsletter
All the latest news, reviews, and guides for Windows and Xbox diehards.