How to use AirPods with Xbox One, Xbox Series X|S
Easy steps to pair AirPods with any Xbox console.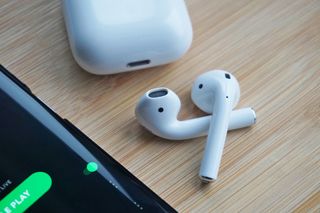 (Image credit: Matt Brown | Windows Central)
Apple's AirPods remain a best-seller in audio, among the leading wireless earbuds on the market, especially when coupled with an iPhone. AirPods have helped millions cut the cord, both convenient and ultra-portable, making them ideal for everyday listening. But when it comes to gaming, Xbox consoles don't support most wireless earbuds, including AirPods.
For some, AirPods have been the go-to for over half a decade, yet Xbox consoles still don't play nice with the earbuds. The limitation boils down to Bluetooth support, or the lack thereof, despite being the universal standard for cable-free accessories. Instead, Microsoft has created its own wireless tech for gaming, hence why there's a huge range of headsets built exclusively with Xbox consoles in mind.
Bluetooth's absence doesn't make life easy, though there are a few workarounds if you're in a tight squeeze. We've rounded up the three best ways to set up and use your AirPods, or any wireless earbuds, with an Xbox One or Xbox Series X|S console.
How to use AirPods with Xbox One & Series X|S
Microsoft's modern Xbox consoles are now supported by a large accessories ecosystem, with some of the best Xbox headsets rivaling general-purpose headphones. These generally leverage the "Xbox Wireless" protocol, a proprietary connection designed for Xbox controllers and headsets, or a separate USB adapter. But the newest Xbox consoles still lack Bluetooth support, preventing compatibility with some existing earbuds and headphones, including the full AirPods line.
AirPods don't officially work with Xbox One, Xbox Series X, and Xbox Series S consoles. Their different wireless technologies eradicate any compatibility. You're generally best sticking to the official accessories, with viable wireless headsets in budget and premium price brackets.
However, when needed, there are several workarounds for using Bluetooth headphones with Xbox consoles. The implementation isn't seamless, but it's the closest solution to official support if you need a quick headset alternative.
How to use AirPods with Xbox (Using Adapter)
Using AirPods with Xbox requires some crafty workarounds in 2022. With Bluetooth support missing from all Xbox consoles, you'll need to get creative using one of our recommended methods. There's no perfect solution — but this Xbox AudioBox adapter from Skull & Co. is undoubtedly the simplest and most universal solution.
AirPods can't connect to Xbox consoles without Bluetooth, which makes a wireless adapter a straightforward fix. This Bluetooth 5.0 adapter adds Bluetooth audio support to Xbox controllers, converting game sound output via the 3.5mm headphone jack. It's the one-stop solution to use AirPods with Xbox, clocking in at a relatively affordable $33.
The adapter connects to the underside of modern Xbox controllers from Microsoft, including the newest Xbox One controllers, Xbox Series X and Series S controllers, and the Xbox Elite Controller Series 2. The manufacturer warns this doesn't work with older Xbox One gamepads without a headphone jack and the Xbox Elite Controller from 2015.
This accessory helps avoid the added hassle of surplus cables or apps, taking the form of a clean puck that clips beneath Xbox controllers. However, it's not without flaws, namely, no microphone support when used with devices like AirPods. While there's a microphone built into the puck, its relatively low quality is a well-documented gripe among reviews.
For low-latency Bluetooth audio, the Skull & Co. AudioBox does what it describes out of the box. It's a relatively cheap workaround to a huge shortcoming facing Xbox consoles, and even if far from seamless, it could be the accessory you need.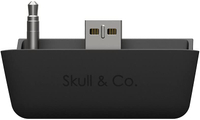 How to use AirPods with Xbox (Using TV or Monitor)
While Microsoft's Xbox consoles don't explicitly support Bluetooth headphones, your TV could be the best workaround. Many of the latest 4K TVs or monitors now pack smart capabilities, supporting various apps and streaming services without the need for separate boxes or hardware. Bluetooth support is steadily becoming commonplace among these TVs, making it possible to listen using wireless headphones rather than onboard speakers.
In this case, your TV acts as the middleman for your Xbox console, offloading your game sound to AirPods or any Bluetooth headphones. We first recommend checking whether your TV or monitor supports Bluetooth audio, either by researching online or consulting your manufacturer.
This workaround adds simple Bluetooth compatibility to any device connected to your screen, ideal for playing games or watching TV, especially when you can't make too much noise. However, you can't use this method to chat via Xbox Party Chat or if simultaneously using chat services on other devices.
While the setup process varies between brands and models, you'll want to dive into your TV or monitor settings and enable Bluetooth. With your AirPods in pairing mode, connect them using the TV menu, providing a direct link between your Xbox and your earbuds. In our testing, we used a 2021 LG OLED TV, connecting AirPods via the Sound > Sound Out > Bluetooth section via the Settings menu.
How to use AirPods with Xbox (Using Xbox app)
The easiest (and free) steps to use AirPods with an Xbox console leverage remote play functions nestled in the Xbox mobile app. While designed to stream gameplay to your phone screen, it also doubles as a method to wirelessly hand over Xbox audio to an external output. You can connect your AirPods to your phone, open the remote play stream, and enjoy stereo sound from your favorite titles.
These steps work best with AirPods paired to an iOS device, although Android phones and other wireless earbud brands deliver similar results. Microsoft also recommends using a 5GHz Wi-Fi connection for the best results. You'll first need to ensure your Xbox console is ready for remote play via the console's Settings application.
Press the Xbox button to open the Guide menu on your Xbox console.
Navigate to the Profile & system tab.
Select Settings.
Navigate to the Devices & connections tab.
Select Remote features.
Ensure the Enable remote features checkbox is filled.With your Xbox console readied for remote play, you can now start wirelessly streaming your gameplay to your phone. The Xbox app allows players to streaming low-latency feed from your Xbox One or Xbox Series X|S, audio included.
Connect your AirPods to your iOS or Android device.
Open the Xbox app via your phone or tablet. If you don't have the Xbox app, it's available via the iOS App Store and Google Play Store for Android.
Select the Xbox console icon in the top right-hand corner.
Select Remote play from this device. Your Xbox console video and audio will now stream to your iPhone or Android phone.
The stream will provide a video feed output from your Xbox console, which also doubles as an audio passthrough for your connected AirPods. You can expect low-latency, stutter-free audio for gaming, albeit less seamless than the official Bluetooth support desired. With your AirPods connected via these steps, set your phone aside for the duration of your play session.
How to use AirPods with Xbox Party Chat (via App)
While there are several ways to stream game audio to AirPods or other Bluetooth headphones, your options are more limited to Xbox Party Chat. We're going to be using a similar setup based around the Xbox app's remote play feature here, though this time enabling a microphone for Party Chats and other social features.
While a remote play session automatically streams game audio to your AirPods, it takes a few extra steps to use Party Chat. Expanding the stream settings unveils an option to enable your AirPods microphone for use in Microsoft's official voice chat system. The microphone also works via game chat for multiplayer titles.
Press the ··· icon in the top right-hand corner while using Xbox remote play.
Select Unmute to activate your AirPods microphone.
Select Mute to disable your AirPods microphone again.
The AirPods microphone isn't the best, and you'll find sharper results from other gaming headsets designed for Xbox consoles. However, the method remains a viable way to communicate with friends and teammates without owning an Xbox-compatible headset, and it's entirely free.
The above steps work with any Bluetooth device, including the most popular wireless earbuds on the market, AirPods and AirPods Pro. It's not a seamless solution, requiring your phone to continually stream a video feed, coupled with a chance of latency on some networks. But it's the closest thing to AirPods support with your Xbox console if in need of wireless in-ear audio.
The best ways to connect AirPods to Xbox
While remote play is a simple and cheap way to use Bluetooth headphones like AirPods with Xbox consoles, alternate methods involve extra hardware. These options bypass the existing offerings of Xbox consoles, excluding features like voice chat in the process. But there are valid alternatives to the remote play workaround if you want a direct line to your Xbox gameplay audio.
Bluetooth support has rapidly evolved into a standard feature on TVs and, in many cases, allows headphones to work with Xbox consoles. Your Xbox console routes to your TV over HDMI before wirelessly transmitting that audio to connected headphones. The steps to connect wireless earbuds like AirPods widely varies between TV models, although official documentation is often available via the manufacturer's website.
Third-party Bluetooth adapters are also available for Xbox consoles, hooking up to an Xbox Wireless Controller via the integrated 3.5mm headphone jack. Compared to other workarounds, these standalone pucks provide a low-latency connection for stereo audio, although most require additional steps to pair and operate.
While AirPods and Xbox consoles aren't a hassle-free pairing, it's now easier than ever to make them work together if you're in a tight squeeze.
Get the Windows Central Newsletter
All the latest news, reviews, and guides for Windows and Xbox diehards.
Matt Brown was formerly a Windows Central's Senior Editor, Xbox & PC, at Future. Following over seven years of professional consumer technology and gaming coverage, he's focused on the world of Microsoft's gaming efforts. You can follow him on Twitter @mattjbrown.