How to use Cortana on Windows 10
Cortana is your personal digital assistant on Windows 10 part of the next generation of search, and in this guide will show you how to get the most out of the experience.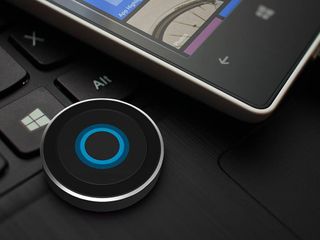 The name Cortana by now should sound very familiar. Cortana is your personal digital assistant on Windows 10 to help you find virtually anything on your device, track your packages and flights, inform you about weather and traffic information, manage your calendar and create reminders, and it can even tell you jokes.
About Cortana
Cortana was first introduced on Windows Phone 8.1, and then it made its appearance on the desktop and mobile devices with the release of Windows 10.
Originally the name "Cortana" was the codename of the project when the assistant was still under development. The name comes from the Microsoft's franchise Halo game, where the main character, Master Chief, has his own assistant named Cortana and helps him in a lot of situations and to get out of many jams, which the company felt was an appropriate name.
How Cortana integrates into your digital life
Cortana integrates with the Windows 10 search feature for local searches, and it's also capable of bringing you relevant search results from the web and provide intelligent answers to any question using Microsoft's Bing search engine. Thanks to its ability to connect to the cloud, it works seamlessly on your desktop PC, laptop, tablet, Xbox One, and phone -- even on Android and iPhone using the Cortana app.
In addition, you can interact with Cortana in other products, such as on the Microsoft Edge web browser, and the assistant can also control certain Windows Store apps like Netflix, Twitter, LinkedIn, Hulu, Wikipedia, and many other apps.
The assistant is always at your fingertips, right next to the Start button on your device, or a voice command away, when you use the assistant hands-free with the "Hey Cortana" feature to answer any question and perform many tasks that would otherwise require more of your time.
While Microsoft keeps updating Cortana frequently in the background, the only way to make your experience more personalized over time is by using Cortana on the regular basis.
Ways to use Cortana
On Windows 10, there are two ways you can use Cortana on your PC or Mobile device:
With a Microsoft account: You can use Cortana on your device connected with a Microsoft Account, which allows you to access all the features the digital assistant has to offer, such as creating reminders, managing calendar, and getting a more personalized experience.
Without a Microsoft account: You can choose to use Cortana without a Microsoft account (even on a local account) but with limited features. For example, you can ask Cortana pretty much anything, but you can't create reminders or get a personalized experience.
How to set up Cortana
You can enable Cortana on a number of different ways, but setting it up is the same experience throughout the operating system.
Setting up Cortana in a Microsoft account
Setting up Cortana on your device using a Microsoft Account is a very straightforward process. You can enable the assistant during the out-of-box experience (OOBE) as you install Windows 10, or when you're signed in to your account by using the following steps:
Click the search box in the taskbar.
Click the Cortana can do much more button.
Click Sure.
By enabling the assistant, you'll allow Cortana to access your microphone, collect speech and handwriting patterns, and typing history.
Keep in mind that during the out-of-box experience on Windows 10 Mobile, Cortana will enable by default as you sign in with your Microsoft account.
Setting up Cortana in a local account
If you're using a local account on your PC, the process to enable Cortana is identical, with the only difference that you'll need to enter your Microsoft account credentials manually.
Click the search box in the taskbar.
Click the Cortana can do much more button.
Click Sure.
Click Sign in.
On the "Add your Microsoft account" page, enter your credentials.
Click Sign in.
You'll also be prompted to connect your Windows 10 profile with your Microsoft account, but if that's something you don't want, click the Sign in to just this app instead link.
Getting familiar with the Cortana user interface
Starting with the Windows 10 Anniversary Update, Cortana includes some tweaks in the user interface, but the feature remains very much the same like in previous versions.
You can open Cortana by clicking the search box in the taskbar, or you can use the Windows key + S keyboard shortcut to open the app or the Windows key + C keyboard shortcut to open Cortana in listening mode.
The app features a canvas where you'll see current information based on what Cortana knows about you, such as latest news, package tracking and flights updates, important reminders, and occasional tips and tricks.
Then there is the left rail with a hamburger button on the top-left side, which is similar to what we see in Windows Store apps, gives you access to settings, a shortcut to home, and access to Cortana's Notebook.
Cortana supported regions and languages
Cortana is not available on every supported country Windows 10 is available. Microsoft builds and personalizes the digital assistant to be relevant to a specific region. Actually, the company takes its time to understand what's important in each country to deliver a consistent experience. This means that Cortana's personality is different in each country.
The digital assistant is available in the following countries and languages:
Australia (English)
Brazil (Portuguese)
Canada (English/French)
China (Chinese Simplified)
France (French)
Germany (German)
India (English)
Italy (Italian)
Japan (Japanese)
Mexico (Spanish)
Spain (Spanish)
United Kingdom (English)
United States (English)
Cortana receives regular updates, as such, you can expect Microsoft to roll out its assistant to more countries in future updates.
Mauro Huculak is technical writer for WindowsCentral.com. His primary focus is to write comprehensive how-tos to help users get the most out of Windows 10 and its many related technologies. He has an IT background with professional certifications from Microsoft, Cisco, and CompTIA, and he's a recognized member of the Microsoft MVP community.
Cortana is awesome! And thanks for the article.

What do I get that Cortana puck(?)?

Try Amazon or get a mic and use Hey Cortana

Upvote for another year without Cortana on our Windows devices as of late 2016! Loyal costumers FTW.

He means that in most countries she's not available (even in English), in contrast to Siri and Google Now.

Since the Anniversary Update, she is available in all countries in English. Just no specialised info . Like very vague restaurant information, etc.

Thumbs up for finally informing some the readers around the globe that what they're reading does not concern them at all. When I started reading this article I thought "ah, yes, this is the last time I visit Windows Central", and what a surprise I got ;)

Ugh. Enough of keyboard shortcuts!!!! That is old school. You might as well be talking about MS-DOS. It seems stupid to me to have and rely upon a digital assistant using an archaic method. Voice and gesture, THAT should be the direction this is going. Yet Microsoft insist on going backwards by pushing keyboards and getting rid of gesture control in the one place they had it. Stupid, backward.

Have you ever made a comment that was actually based in reality?

Wait what? They aren't getting rid of anything and shortcuts I use alongside voice. I'm a programmer and shortcuts you don't have to use them in case you didn't know...

Haha, that's a really good troll... Wait, did he really think that? Computer is for productivity, and using keyboard shortcut is the fastest way to do what we want. No need to say a sentence that last 20sec (haha, do you imagine 12 person in a workplace talking to their PC? What a mess), or doing big movments to do a simple thing (do you know what's moving by 30°C?).

@Mauro Huculak Please update the article: Since W10 AU Cortana is region unlocked. It's available everywhere. Just a supported language is needed. That's the way I use Cortana. Region set to 'The Netherlands'. Language set to 'English US'.

Yes, please update the article. Cortana are available everywhere now but only on selected languages.

Features are still region locked though, you can get Cortana but not all of the features :-(

Exactly. Hey Cortana is one of them.

Cant set up 'Hey Cortana' on mobile.... Works on PC but not on mobile why.........

Only some devices can set it up

I got 950xl region set to US

My favorite sentence... "hey Cortana shuffle my music"

Is that possible that Cortana able to read incoming message in different languages at the same time? I really wish possible.

Step 1: Move to north america.

If you're not using Cortana then you should go back to Apple.

It's just unfortunate that not all countries are Cortana-enabled to enjoy the best that W10M has to offer.
We're actually living in the past glory of Nokia, now Microsoft, as the most durable maker of some the most solid smartphones ever seen. When does Microsoft intend to allow other countries across Africa enjoy Cortana?

Even the countries that do have it, it still sucks. You don't even get suggestions with EU Cortana.. I really think Microsoft are doing it wrong with Cortana.

Yep, it's terrible in Australia too.

It's available in all countries. That's a mistake in the article.

Love using Cortana. They definitely got a lot of her personality in there. Best voice assistant out there imo.

Cortana in México is very bad! Alfa version. Only few voice commands.

Voice-to-text over Bluetooth works...usually. There's a very long delay to initialize when Cortana isn't on the screen - which is 99% of the time. Then, there's the Bluetooth disconnecting and reconnecting on It's own randomly. Yeah, sure.... Great experience.

The title should say" How to use Cortana...if you life in U.S"

Exactly! Actually Cortana is only available in US. There is where it really works like digital assistant.

Yep, for me it's just a glorified search engine on PC, very underwhelming.

I currently live in Jordan and have my Lumia 950 set to USA region. I use Cortana including all features. Place suggestions also works as Cortana seems to use foursquare and other apps such as trip advisor. I can ask Cortana where can I find a burger place near me and it actually shows what's available near by. When I travel it still provides me with many suggestions depending on my current location.
Just make sure to set your phone to USA region and English USA language and all features work wherever you are. At least it's working for me on both Lumia 950 and 930

Can you list out what features are available per region? Because even though I have Cortana in Australia it has none of the cool features that other regions have. It's mostly news, weather & a restaurant recommendation now & then. I can't even link my MS Health or Uber accounts.

I'm the same, it's just a fancy search engine here which is pretty disappointing.

Cortana, one of the biggest selling point of Win 10, you can count on your fingers for supported countries.

I really hope that last sentence is true. It's been indeed over 5 years since Cortana's inception. I've only seen the same languages supported over and over. They are usually the countries with likely the largest market and possibly best profitable regions. Very scepticle at this point if we're ever going to ssee it. In the Netherlands Cortana Dutch (NL-nl) is one of the main requested feature demand we're asking for over and over. At this point we could adapt to windows 10 demands by changing the region and language settings to one of the 13 supported languages, but the end user experience is subpar because it does not blend in well to the reality of day to day activities when one works with one language in daily regional business. In that regard Cortana runs like an early alpha build.

First of all, win+c doesn't seem to work (it does nothing in my PC). Secondary and most important. Cortana isn't available only in the above countries and I'll explain myself (below I'm refering to my phone, but the PC steps are similar). I live in Greece (not on the list). I've set the Country/Region to "Greece" and the Regional format to "Greek (Greece)". My phone language is in "English (US)" because I want to. Of cource, Cortana was hidden for me. To enable her I had to tap on Search icon and then tap Settings. At the top it says "Cortana language" and I selected "English (US)". I got a warning saying that Cortana's language and my region's language are different and I just tapped on "Yes". That's it. After a while I had Cortana's icon in my app list. Same steps for PC. I found that by chance. So, give it a try.

I try Cortana in English and she is incredible, but in portuguese(i'm in Brazil), she is terrible! I hope that with time and use, she gets better...

Great article for us without Cortana. MS should consider making a guide like this. It's very through without being technical and it is to the point :)
Windows Central Newsletter
Get the best of Windows Central in in your inbox, every day!
Thank you for signing up to Windows Central. You will receive a verification email shortly.
There was a problem. Please refresh the page and try again.