HP Elite x3 ad shows off the phone's versatility for business users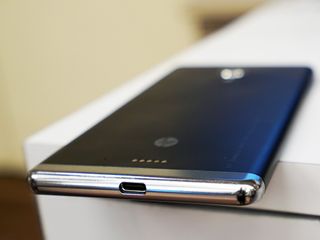 A new commercial for the HP Elite x3 has leaked, showing off the business-focused phone's prowess in everyday life. The video, which you can watch below (via Reddit) shows off how the Elite x3 can replace a laptop or desktop for work, along with the phone's security features and more.
Overall, the ad is a fantastic overview of how the disparate features of the phone come together to make it useful across a number of different scenarios.
As a reminder, the HP Elite x3 just went up for order in France and the UK, and should be available in more countries soon.
Are you planning to pick up an Elite x3? Be sure to let us know what you think in the comments!
Need more? Don't miss our other coverage of the Elite x3 including:
Windows Central Newsletter
Get the best of Windows Central in in your inbox, every day!
Dan Thorp-Lancaster is the former Editor-in-Chief of Windows Central. He began working with Windows Central, Android Central, and iMore as a news writer in 2014 and is obsessed with tech of all sorts. You can follow Dan on Twitter @DthorpL and Instagram @heyitsdtl.
So that's how you advertise a product. Who would of thought that? :) Posted via the Windows Central App for Android

But only Question is how good and ready W10M RS1 is to go with this phone? Fingers crossed until the fist wave of sales figures is released!I hope hp engineers closley worked with of MS to nail every aspect of what this phone's meant to be for..

Windows 10 currently is extremely good to go and stick to it for at least 2-3 years even with best hardware.

Correct. Do not mention windows 10 mobile at all...just what the phone can do.

At :14 she says its Windows so I already know how to use it that and the fact that its clearly a Windows device

To be honest, it's a wonderfully targeted advertisement and equally wonderful device. Hope it gets more eyes and ears.

too BIG for the girls hand

Not for those who work for living.

seems smaller than her laptop.

That's what she said last night!

Actually, I've noticed a lot of women adopting the phablets before the guys did. I think it may also have to do with the convenience of keeping it in a purse, rather than a pocket.

Looks good. Love to hear how loud and clear the speakers are

To be frank , HP knows how to market a product.. Only if they have any plans to push this phone for consumer crowd..
But still,, for a first generation product.. HP Elite X3 nailed it...

The device in the hands of employees of large headcount corporations may change many of those employees of ideas on what a phone can be for personal use.

Agree, a new status symbol that can be useful also.

A device made from fake materials is going to be a status symbol? Posted via the Windows Central App for Android

This device isn't aimed at the Kim Kardashian crowd

Oh, ok. It is ok to over charge for fake materials then. As long as it isn't a Kardashian buying it.

Made from the same materials your Android device was made from. Assuming you own an android device of course based on your signature.

Mine isn't made from fake metal. It is genuine metal. Posted via the Windows Central App for Android

Not to argue the point but how large is a large head count? Second, why would a company just give this to anyone? The video seems to indicate to me it's aimed as specific people. Executives, managers, sales and possible support. If the company has a large base that is constantly on the move then yes I see the piont. However, with a largely stationary staff why would any company spend the money on this? You can get PCs a lot cheper that do the job just fine for a stationary employee. Even on a lease this thing isn't going to be cheap especially with the acessories required.

You are not incorrect on the target market -- it is mainly for the millions of people on the move or businesses with a staff who works at home and in the office a fair amount. That's certainly not the majority of the country, but it's a large niche market. However, you are thinking about consumer products if you think companies can buy computers for a few hundred dollars. Enterprises with a large staff and IT departments don't buy $200 - $300 netbooks in general (certainly, there are exceptions). Mostly they buy stable (as in they don't change parts for a year) enterprise systems that cost $800+. These come from Lenovo, Dell, and yes, HP.


The only thing that was wrong in this video is that she removed her glasses to unlock her phone.
And before someone says: she hopped in the car. Some people don't wear glasses in the car.
But still, they should have showed it in a much better way! Posted via the Windows Central App for Android

This is precisely something I was wondering about. I was hoping that with the infrared tech I heard it was using that it would work with sunglasses on. I really hope that you don't have to flip up your shades to unlock it. Can anybody with a 950 comment on your experience?

You can use the iris scanner with shades on, on the 950 I believe.

I have a 950XL and it works through sunglasses. I would still prefer the finger print scanner over the iris for me but it does work.

Are your sunglasses polarized? I'm curious if there is an issue with polarization or reflective layers within optics.

I have polarized shades and the iris scanner never works for me. I just thought it was all sunglasses but maybe its just polarized ones.

I have polarized sunglasses and it works 99.9% of the time. the .1% failure is in the brightest sunlight shining directly on the phone screen. The iris scanner and Windows Hello is sooo nice. I have found the trick to be focusing eyes on the MS logo when training and doing multiple trainings with different conditions; bright light, dark, regular glasses and sunglasses. From there on it is nearly flawless and fast.

Maybe that's my problem. Im typically wearing sunglasses when in direct sunlight. I'll keep trying knowing it's working for someone else...

I have polarized perscription glasses and it works for me...950XL

My sunglasses were the fisherman's type with a really reflective coating. It worked well.

..i have eyeglass with transition lenses, it works when my lens is clear, sometimes not - especially when lenses go dark... I tried to use the improve recognition when my lenses goes dark but still don't work...

I have a 950XL and it works through sunglasses. I do not miss fingerprint sensors at all on my 950XL. You get used to the angle and distance etc that people moan about. It just is so natural to how I pick up my phone now.

How long did it take for you to get used to it? I'm still trying to get used to it.

Less than a month really. My trick is - if my elbow is bent, I will have a successful scan. So when holding my phone at whatever angle, as long as my elbow is bent (which is normally the farthest I've seen folks hold their smartphones anyway!) my scan doesn't fail. Also, in some lights it did fail initially, but I have trained my iris scanner in many of such light scenarios as soon as it failed. It doesn't fail in most light scenarios. The darker the environment, the better.

That sounds like a great experience. No wonder you don't miss the finger print sensor. /s Posted via the Windows Central App for Android

I work 10 hours a day. I work with gloves on most of the time. Fingerprint reader is as useful to me as a toilet roll on a dinner table.

The whole touch screen is pretty useless then... Posted via the Windows Central App for Android

Lumias (and maybe other Windows Phones now, not sure), support "Super Sensitive Touch," which works with gloves.

The L950XL does not have that.

Sunglasses are designed to let through only one specific type of light. For this reason, I don't think they would work with IR. I have a 950 XL and I always have to remove my shades to unlock my device.

Maxije, i tried with sunglasses it worked for me but i had to improve it using my sunglasses

Windows hello works fine on my 950 when I'm wearing my sunglasses. Even when I'm out on a run with my sun glasses on I routinely pull the phone from my pocket unlock my phone without having to stop which is very cool

I used the iris scanner on my L950XL while wearing shades out on the lake fishing in the bright sun. It worked surprisingly well.

Hi, I have a 950XL & it works with regular prescription glasses (including photochromatic/transition ones) as well as non-polarised sunglasses. I do have to take the polarised sunglasses off for the Iris scanner to work.

It looks like the removal of the glasses was a theatrical move to accentuate the idea of iris security. If she held the phone up to her face, from a theatrical point of view, it would just appear as if she was looking at the phone and maybe it's analyzing the whole face. But now with the mention of iris scanner, she holds up the phone and removes her glasses you began to understand that the eyes have something to do with it. They could have done a second scenario like MS did, showing that it works with glasses, but it's already a long commercial and the iris scanner isn't the focus.

+1.
It's an internal commercial so doesn't matters how long it is!

Agree. But even in science fiction movies, no one waswearing sunglasses when scanned LOL!

I was thinking about it and you're probably right. This was a gimmick to draw your attention to the iris scanner. Unfortunately a number of people are going to say, "That's dumb - it doesnt' even work with glasses on!" Of course, the real comeback to that is "Yes it does, and it works with gloves on!"

Wow. Gives this old Windows mobile fan some hope!

Cant wait to get this with the extender.

Something to show my Network/Telecom teams, thank you.

I hope they buy into this idea and it goes into the hands of many many folks working wherever you are!

Love the video...:) really hope this device takes off, HP does seem to be putting a lot of work into it...

Would like to see camera picture samples

compared to 950/XL it will suck

Maybe...but still want to see a comparison

It's worse than Mi4's camera with Win10Mo ROM. But in other aspects, HP Elite x3 blows it out of the water.

Same here I am not sure how well it will do. Then again it's not really its primary focus for camera. I think this would be the only thing that would make me second guess buying it

Her company must not have Office 365 then. Skype for Business on WIndows phones is an absolute joke and its still a Silverlight Windows Phone 7 app. It doesnt work via Continuum. Sadly my company won't be getting these due to the limitations of lack of a viable Skype for Business app.

When RS1 hits, it hopefully will bring Skype's UWP with it. So we won't have to deal with 10 versions of Skype. One Skype to rule them all.

Hopefully. But as it stands you cannot log in to Skype UWP with your O365 credentials. I haven't heard anything about that either though.

I don't wanna sound too optimistic but there is a little voice inside my head telling me this is the beginning of a new successful era for windows on phones :)

What else does that voice tell you? :)

The voice tells that ranters like you need to practice keeping shut.

That voice is wrong on both counts!

One can only wonder what the voices in YOUR head say Ass Adams... well in your head, probably just an echo...

Hmmm, Ass Adams, just popped out... but has a nice ring does it not...? :D

Ha ha....ass hat. I have been using that term before you were born......how about siptwat.. bet you never heard that one before....hey siptwat. whatcha say siptwat? hows those awesome apps working on your windows phone? how about all those wearables that you cannot get,? hey siptwat? I can go on and on....your feeble attempts at belittleing me do nothing only egg me on to bother you more? keep it up siptwat! I can do it alllllllllllllllll DAY!

Oh dear, that post was down right embarrassing to read.

An outrageously expensive phone made from faux materials is going to be successful merely because it can run a severely gimped version of Windows RT? Don't hold your breath. This will be a flop just like every single one of its predecessors. Posted via the Windows Central App for Android

Upvote for my truth spreader bleached! we have to keep the truth out there.....to maybe lead the blind win sheep from the heard...ha ha ha

More like.....Why the embarrassing infantile behaviour.

I dunno, maybe becasue being lied to after spending thousands of dollars of hardware and services that were promised, but never fulfilled leaves a bit of a sour taste in my mouth...now, its just fun to watch the ship sink faster and faster, and the lemmings are still on board. quite amusing.

Wonderfull ad Posted via the Windows Central App for Android

Why did see had to take off her sunglasses for the iris scanner? Would be cool if she kept it on showing people it works through glasses as well

It conincides with her sitting inside the car. I do not take off my sunglasses indoors or outdoors to unlock my 950XL.

so, it doesn't work inside cars?? ;) :P

Yes it does. I unlock my 950xl without having to take of my sunglasses

Sunglasses don't work inside cars. I feel like a ****** when I wear sunglasses indoors of anything car, house, tunnel, spaceship.

Wish I had a job that required tech like this, right now I'd be too afraid I'd drop it in the fryer.

No phone needs the fear of dropping as much as an iPhone does. I've seen construction workers use iPhone so..

What about x86 apps. Is HP providing anything to run them?

Virtualized via HP Workspaces.

Even though it's not consumer focused, I still want it!

That's a great promo! I know the phone is mainly geared to enterprise but I still hope some portion of the promotion trickles down to regular people. Maybe they will advertise it on CNBC or something.

Lol that pathetic Maps screenshot is enough to turn cusstomer off! Even iwth a great Phone build , spec and a modern OS... that app shortage epecially quality ones.. and that too the first party one like MAPS are going to be the big prob! I mean skype UWP one is in preview state with lot of missing features.. and how do you tout a business phone without a stable new gen video conferencing app! Now waiting for MicroDonald TRUMPSS to downvote!

Now that you've commented, will you sleep better tonight? I hope you do.

What's wrong with maps? It's actually really great on the anniversary update version. I use it and it's always accurate and works well.

Maps is quite good, I'm not sure what you're problem with it is.

I don't know what your experience with Maps is, but the latest updates and the new 3D maps are awesome. I just recently directed my brother to a business using the 3D, telling him what landmarks he should be seeing and stuff while he was driving, and i am 2500 miles from him. He was impressed too that he went to check out a Lumia 650 at Cricket.

The phone is running windows 10 mobile, thats enough to turn ALL customers off by the looks at sales and market share dontcha think?

Office works much better on windows phone than ios, and android. The app quality is so much better than it was even 6months ago and then their are features ios and android can't do. Like connecting your phone to any Windows 10 PC and use conti uum.

Yes, continuum. The feature where you take a subpar phone and try to turn it into a sub par PC. Just what I want. The app quality of the, what , 4 apps available? yeah. Just makes you want to run out and spend 800 plus dollars on it! yeah!

Wish my company would go this route

Now that ad makes it look impressive.

Nice Ad. MS could learn a thing or 2 from them on how to advertise

Or ANY ad agency for that matter considering they DO NOT ADVERTISE....

There was another add from hp before..if they modify that with iris scanner and finger print scanner - it will be awesome.. This one is also nice..

Everyone has fingerprint scanner. They are showing iris scanner as a more secure feature. Your eyes are more secure than your thumb.

Woah, haven't seen an ad for a Windows Phone in forever :o

I hope this commercial gets lots of air time

It's illegal to advertise a Windows phone, or to mention Windows in a mobile in a public commercial. It was the first law Nadella signed when he became president.

Ha! No kidding. Talk about destroying consumer awareness of a product.

"It's military standard tuff" - that one line tells a lot about this device. I doubt HP will let us miss Lumia much. Fingers crossed W10M stays long enough for HP to not only test the waters, but release a couple next year side by side to Surface Phone. A hero device perhaps, but better supported than HTC 8X.

Come to the US Microsoft store already!

Well done HP! Microsoft should take note, this is how you showcase a product!

Now if only I had $800....

if you had 800 dollars You could buy an iphone 6s plus and have 10 times the phone!

No with an iPhone you would just have a phone.

IPhone is just a toy phone with a funny OS meant for ****** b*tch filters on Snapchat.The X3 is a business phone

ha ha...Sure, if MS phones are so BUSINESS oreinted why dont you have square payement app? or paypal payment app? or .....I could go on and on....the iphone is 10 times the BUSINESS phone the x3 is. I can now even download my fuel injection tuing software onto my iphone, plug in the connector and tune Fuel injection systems. works great as a true work phone where as windows you can, make a letter, or check email....maybe do a spreadsheet if your lucky.

Business and Enterprise solutions are about what you do at work, you do everywhere. I don't think you do payment at home but you may do your work email at home. You may edit an Excel spreadsheet at home. You may remote access your files at home. How on earth do fuel injection apps and paypal apps fit in my work life - I don't know.

I dont know they fit in my work life now.....I thought MS was about work...but I forgot, MS is about cubical dwellers. The poor zombies that goto work, sit in their 4x4 cage everyday and just make a half a dozen people rich instead of themselves. Gotta love it. I love going to cities and watching all the lemmings! Square is essentical for me to get paid now. Calling a microsoft phone a WORK phone without being able to take payments is like calling water a drink without being able to drinnk it. MS is a huge joke, as their sales and market share/therefore their app selection shows. Simple. NOT everyone "WORKS" like a cubical zombie.

I'm not going to downvote you it's true Windows 10 pc , and mobile still have some holes to fill before we can really take off but we'll get there soon. Microsoft definitely needs to get way more banks under their mobile payment system as well as,other business oriented apps like you mentioned earlier but I true believe that if marketed right the hp elite x3 could be what opens the door

I am sorry i wont down vote you either but it is NOT true windows PC since it is ARM BASED....its not X86. So its the same as the half baked RT. RT was actually on the right track, however like everything microsoft, they shitcanned it before they could actually make it work. Just like windows 10 mobile and continuum. they are soon going to **** can that as well! they release it to the market and 2 months later trash it.....BUT IT IS NOT TRUE WINDOWS 10 PC. Hate to burst your bubble!

No its cool the reason I stated windows 10 pc is because I view windows 10 as a whole. You are only as strong as your weakest link , and can somebody tell me why dismissing notifications seems to work better with android then Microsoft's own windows mobile Smh.

I was just thinking (a dangerous thing indeed). I wonder if Microsoft is giving HP a clear runway and delaying introduction of the Surface Phone. With Win 10 AU the OS is ready. Perhaps to encourage HP, Microsoft might have said they would not introduce an enterprise focused phone for say 6 mo... Just thinking out loud.

That could part of the deal.

Microsoft said "If our partners won't make phones, THEN we will" - that is as clear as it gets. They don't want to do any hardware if they don't have to. So giving partners a breathing room, when all MS does is software, all partners do is harware was the ideal scenario. I think they will delay the launch of SP for as long as they can in 2017. If they can delay it till December, they won't release it in May.

Dang, I would have loved if the "x3" referred to an Atom x3. Posted via the Windows Central App for Android

The add is great, but HP are facing an uphill battle with this. I hope they succeed with it, I really do - it would make the space interesting again. Posted via the Windows Central App for Android

Very nice but I'm frustrated for not being able to comment that super sexy photo on the hololens article. Posted via the Windows Central App for Android

Great! Greetings from Portugal

Greetings para ti tb Posted via the Windows Central App for Android

Now for the introduction of Windows 10 Mobile! I have always thought that MS simply wanted to clear all old and mediocre handsets from the marketplace and then start with a clean sheet. This, I believe, was one of the reasons for purchasing Nokia. Now with devices such as this, and the rumoured Surface phone, MS can really demonstrate its vision of a unified ecosystem. Less chaff to manage, and more quality to concentrate on and to build upon. If the strategy works, it will be a win-win situation for MS and its OEMs; seamless service delivery and higher profit margins. High stakes games for even higher stake rewards.

Hmmmmmm, not sure yet another reboot is the correct strategy

I am not sure why you go downvoted for this comment. its 100% true. The lemmings around here must live in fantasy land. The truth is their kryptonite.

I would really like to own this phone Posted via the Windows Central App for Android

I think it's a powerful commercial. MSFT should try pushing it hard. I want to believe it would be successful.

Can't able to view the video

Very effect promotional video, for sure.

Nice video. I hope that things are as seemless and easy as it makes it out to be. :)

To me, it's the only explanation which makes any sense. I simply refuse to believe that MS, with all its experience, money and high brow personnel, can make the whopping bad judgement calls it is appearing, or has appeared, to make. Further evidence that the summation is plausible would be the lack of any action MS has made to stop the slide of sales figures and revenue from its phones or Windows 10 Mobile.

As a current business user of a Lumia 950, I hope and pray that the X3 addresses the performance and stability issues of working in Continuum and using Windows 10. Edge performance is terrible, and the loading of files from OneDrive is attrociously slow! We run Citrix at our shop and while you can run a desktop or app via Edge, the performance is worse than a 10 year old computer. I don't see how they are going to get the performance required to run Universal Apps on Calculator processors. These videos look cool, but the proof will be in the pudding.

Thank you blazewon22 for speaking the truth. Something the fanboys here have a hard time understanding. Continuum is not the be all end all they and microsoft make claim to be. It needs to be running x86 processors to work as dreamed up. Right now, it is not. and your experience shows up vote for honesty!

OK so on the video at 0:59 shown as split screen, which is something missing right now on continuum, was this on workspace or a future build of win 10 M continuum?

Based on that ad, the HP Elite X3 appears to be a great product with great marketing. This makes it different from Windows Phone, which is a great product with unbelievably horrible marketing.
Windows Central Newsletter
Thank you for signing up to Windows Central. You will receive a verification email shortly.
There was a problem. Please refresh the page and try again.