HP Elite x3 with Windows 10 Mobile looking good with all-silver back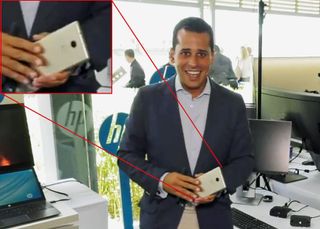 HP's Elite x3 is still being promoted by the company reinvigorating the idea that the "three in one" device is more than just a one-off. In a new video posted on May 26 called HP Partner First Roadshow 2017 the company is going through all its latest devices this time focusing on the Spanish market.
Interestingly, at the four-minute and fifty-second mark, the Elite x3 is spotted twice in a discussion about its ruggedness. The second Elite x3, however, has an all-silver back, which so far has not been seen.
Due to the quality of the video, it is hard to discern if it is silver or the "gold" version that was initially listed in HP's documentation. That color scheme was never released, however, suggesting that what is shown in the video is simply a working prototype.
Earlier this year, HP purposefully teased a sequel to the Elite x3 at Mobile World Congress. Isolated under glass, the revamped model has more rounded corners, fewer antenna lines, and repositioned front-facing camera and sensors. That device does not match the one in this new HP video when compared.
Internal documentation that Windows Central has obtained does mention a new HP phone due in the coming months, but no reliable information about specifications, features, or launch plans are known. Presumably, an improved version with a more modern Qualcomm Snapdragon 835 and updated Continuum support along with a larger Lap Dock would not be out of the question.
Regarding the future of Windows 10 Mobile, there is still some uncertainty. However, head of the Microsoft Windows Insider Program Dona Sarkar on May 1 did mention "enterprise focused work with HP" in regards to mobile, suggesting the continued development of the Elite x3 program.
we're doing some enterprise focused work with HP right now so we aren't moving more branches.we're doing some enterprise focused work with HP right now so we aren't moving more branches.— Dona Sarkar (@donasarkar) May 1, 2017May 1, 2017
While the Elite x3 is far from a consumer play, Microsoft and HP do have a chance to repurpose the OS for enterprise-level usage. It will be interesting to see what both companies bring later this year or even if those plans are still on track.
The current HP Elite x3 bundle is being sold by Microsoft for $599 - a $200 savings from its normal price.
See at the Microsoft Store (opens in new tab)
Thanks, Ryan M., for the tip!
Daniel Rubino is the Executive Editor of Windows Central, head reviewer, podcast co-host, and analyst. He has been covering Microsoft here since 2007, back when this site was called WMExperts (and later Windows Phone Central). His interests include Windows, Microsoft Surface, laptops, next-gen computing, and arguing with people on the internet.
Ooh I think it looks more interesting with that color back.

Now I honestly hope they don't kill Mobile and improve it even more. Poor HP is doing it all alone. They need support. .
.
We have hope but it still feels like they're killing it.

OK i like the design of it but honestly... who will buy it? W10M is dead, whats the future? Should i buy another phone with uncertain future for 899 or even more? Stupid strategy

Was it ever $899? They've ran numerous specials on this phone since it came out. Right now it's $599 as stated in the article. I might have given it a try had it not been so big.

It was going for over $1000 here in Canada when I saw it at the Microsoft store. What an overpriced joke...

Yeah, yeah Papple. You post this crud so much in every topic that we see your picture and know your trolling.

Yup, there's no point even reading his posts. It's all the same

Pappale, I thought you said you've switched to android, what are you still doing here?
I know you're here to troll and make stale statements.
You can quietly find your way to android central troll!

I doubt that Mobile is dead in the way that we are thinking. Whatever the next thing is, I'm willing to bet that the new HP Elite will be able to run the next version of Windows10/Mobile. I can't see HP purposely engaging in a close partnership with MS, if they thought Mobile was dead or being killed off. I guess time will tell what Mobile will look like. Considering MS's enterprise strategy, mobile just won't be for the average consumer. We can only hope that they MS pulls off whatever strategy they're working on and get it right out the box. It has to be a compelling option for enterprise, offering something that can't be matched. IF...Windows Mobile devices pick up steam in the enterprise sector, we may begin to see average consumer demand for Windows 10/Mobile devices. Windows 10 S is also a key factor for this success to happen. Despite the seemingly impending doom, I'm still a bit hopeful. As much as I love my 950XL, I would be willing to stick it out a bit longer. I'll give it another 6 months to a year to see what happens.

Re aka Pappale,
Please look up the definition of dead. You might also research the marketing strategy of it. Just trolling?
Thank you.

Many people here will buy it Pappale. How can you say W10M is dead when my L650 is running better than it ever has since the last update. Apps are getting updates almost daily too and not just Microsoft apps.

The asus Vivotab RT LTE i am typing this on right now is fast and smooth too, that does not mean windows 8 RT is NOT DEAD....

Many will buy it? like the same "many" bought the overpriced X3? like the same "many" bought the Idol 4S in such large numbers that TMobile discontinued it and the price dropped to almost half? This piece of crap windows 10 mobile is dead, maintained by minimal updates by MS just because they have some legal bindings with HP and Alcatel over their windows phones...Last time I've checked the 2017 Keynote was about everything else but windows on phones...they used an iphone lol :))) Simply pathetic!

yeah Troll for telling the truth. Better a troll than a blind fanboy.

I really like the 64GB storage, but ended up going with the Lumia 950 for $200.

Is this new? If so where?

They claim so, but I haven't received it yet. Ebay. $208.99.

Sad thing is now with W10 Mobile updates no longer on par with W10 PC updates...HP just has a product that is in "maintenance mode". It is only to be considered a bad release, unfortunately.

"Sad thing is now with W10 Mobile updates no longer on par with W10 PC updates"
For now.

Let's see. But don't you think it's too late now? Halfway in the RS3 development and its still not merged?!

I think that never it's too late! All I keep hearing is that the two build numbers will be merged in the summer :/

Even if they were the same build numbers. There is still alot of uncertainty with mobile right now.

To not be on par with PC updates effectively kills all current products future. Sorry, but The Truth Will Set You Free! Future products will not be running this iteration of Windows Mobile. The HP Elite X3 cannot and will not be able to run Windows on Arm.

Ya know the windows on ARM demo was pointedly demoed on the same hardware that is in the x3. So why would it not work?

Χάρη τα wm10 για τις υπαρχουσες συσκευές ειναι dead...απο τα επόμενα χρονια..και αν βγάλει κατι σοβαρό το ξανασυζητάμε...

Γεια σου συμπατριώτη. Κατά τη γνώμη μου θα είναι dead όταν προστεθούν τα τελευταία business features που αναμένονται το καλοκαίρι. Από κει και πέρα, πιστεύω, θα είναι σε maintenance mode. Το επόμενο βήμα (απ' ότι παρατηρούμε στον κώδικα των τελευταίων fast ring builds) είναι το Project Andromeda και η ενσωμάτωση Compassable Shell (CShell). Φαντάζομαι είσαι ήδη ενήμερος :)

Καλημερα!!! Αναφέρθηκα για τις υπαρχουσες συσκευές..οπου δυστυχώς ακομα και μετα απο το cu update τελικα τα προβληματα αυξήθηκαν αντί να μειωθούν..Απιστευτο πραγματικά..
Επίσης φυσικα και είμαι ενημερος για το τι πρόκειται να γίνει στα pc..για το mobile δεν της εχω καμμιά εμπιστοσύνη πλέον..μα καμμιά ομως..Δεν ξέρει τι της γίνεται και κανει συνεχώς σπασμωδικές κινησεις(στην Ms αναφέρομαι).
Αρα μην βάζεις και το χέρι σου στην φωτιά για το εάν και το ποτε θα ασχοληθεί ξανά σοβαρά με το mobile.
Προς το παρόν τα εκανε μαντάρα και έκαψε ένα υποσχόμενο λειτουργικό και κάποιες ωραιες συσκευες(950 ρια). Λυπάμαι που το λεω(εχω ως κυρια συσκευή wp απο το 2013) αλλα τα wm 10 τελος..το αν θα πάρουν λίγα ακομα τσαπατσουλικα updates που δεν ξερεις τι θα σου σκάσει μετα απο αυτα δεν τα λαμβάνω σοβαρά υπόψιν..διοτι δεν υπάρχει περίπτωση να φέρουν και κανένα νέο χαρακτηριστικό..Τεσπα καλη συνέχεια αλλα μην περιμένεις κατι αλλο..στο περίμενε θα μείνεις με δαύτους..

Καλημέρα! Οφείλω να ομολογήσω ότι είναι πειστικό το σχόλιό σου :P

MS is screwing HP and Alcatel big time and ofc themselves

Purposefully teased... ? Not more likely that some intern stuck the wrong thing in the wrong case, or that there was no info about it because no one knew what was there...? I don't mean to be overly snarky, but who exactly are they teasing this device to? HP is currently the only US W10M OEM with only one current device and basically zero sales/adoption. Am I wrong to be skeptical that they have additional plans for advancing W10M?

Nah, they put it out there on purpose. I don't just assume things.

Correct. There were two color options slotted. The Gold/Gold option is not for all countries apparently. Not sure what else may be different about that model though.

Fair enough, just seems unlikely that something new would be released in the current W10M climate.

Daniel, do you guys have to read every comment on every post? You don't get paid enough for that!

More nudge nudge wink wink tease on mobile. JoeB seemed to get the largest cheer at build when he "demonstrated" Windows Mobile in among the standard iphones Microsoft now use.

I'm not sure HP post corporate sales figures by SKU? If you mean on say add Duplex then true but remember the volumes shifted of corporate SKUs to be a success will be a lot lower; I'm part of HPE so been a while now since we had anything to do with the HP Inc side but I'm sure the support, services and corporate ecosystem will be where they recoup the device cost.

HP, please release a version of the Elite X3 on Verizon. Pretty please.

Wishful thinking. But I hope for the same.

Oh, from your keyboard to their eyes...

MS needs to set the standard by making a Ultra Mobile PC with Smartphone capabilities under the Surface brand..... No brainer, duuuuuuuhhh

With Continuum and Windows on Arm, it looks like that's their end goal.

Well, I hope the end is near....

Why does it feel like the colour thing is similar to that old blue/black/gold dress thing?

😂😂😂😂 Hahaha! Right! Let's start a debate.

Actually it may be a good idea to use a color changing paint on Continuum enabled phones. Call it Chameleon.

But what colors, there are so many color changing paint combos now. check out House of Kolor for options.

HP Elite X3 Gen 2 with a Snapdragon 835 and Windows 10 (Windows on ARM) will be amazing. For now though, I am dropping hints to my wife in the hope that she will buy me an unlocked Idol 4S with Windows for Father's Day!

Hope it can run WoA when the time is right.

Idol is a beautiful phone. I was very surprised. Love my Elite though 😁

It has to be that Gold option listed in the spec sheet...? It is on page 3 of the quick specs.

If HP will release a SD835 based new x3 with gold version and better camera, that will be the replacement for my L950XL. As long as HP keeps making W10M phones, W10M is not dead.

It seems to be a gold one. Seems much better than boring black that it is currently selling with. Windows 10 doesn't just need devices that work excellent. It needs devices that look excellent too. This one definitely catches the eye.

I disagree,, I usually don't like black devices but the HP looks awesome and premium. This colour looks great as well.

I think that was its wet suit.

Anyone getting a windows 10 mobile today should be a fool... and I'm one among those a year ago :-)

I would pick up another if I ever break my L950. Tried the other two and didn't care for it.

Re: Bawajose,
Good for you. Support what you like.
Best Wishes

Unless of course it fills their use case and what they want from a phones, especially for heavy work use? Not for everyone but if it fills what one needs it for, then one isn't a fool to buy it surely. I'm most interested in the possible convergence device but will look at the updated model with interest. Each to their own 😊

Apps are disappearing faster from my x3 than the worlds glaciers. I can't imagine HP releasing anything new as MS is sitting out its legal support obligation on the X3, nothing more and nothing less. Its over folks, we got royally shafted by our iPhone wielding MS board members. Its a pity I dumped 800 euro on the X3 only half a year ago, otherwise I would be buying an android phone today. Really sad, I believe the OS had plenty potential, its just that the folks at MS were incapable or unwilling to make it work. Probably a bit of both.

Re: aka adbolleman,
Don't give up. My phone works and suits my needs. I would buy another, if something happened to it.
Keep a good thought.
Best Wishes

Should've bought an Android

Your device must be defective somehow. None of my apps have just disappeared by themselves

That's because you have no apps to begin with.

what on earth made you spend 800 EUR on a pathetic dead OS???

Get lost. Go back to iCrapland or oHSnapdroid!

If no Phones are released, that's the problem. If there are, that's the problem. When I feel a notch overelevated, I just come here for the whining. Been an excellent place for this for years now.

Just got myself one last week and an very happy after the 950 xl had a drop and a broken screen.

The biggest issue with the OS being in 'maintenance mode' and not moving to RS3 will be when you want to write code for it... newer APIs will only operate on newer OS builds so it will end up being like developing for the dark ages eventually. Let's hope they do provide an ARM64 RS3 product and that these are only for the older phones...

this phone had so many issues..I had to get a couple replacements...finally sold it...and the person who bought the unused replacement had the same rebooting errors. Phone worked perfect for 3 months and then just crapped out.

I had to return the one I purchased due to the reboot issue. I would get an updated model in a heartbeat, as the X3 was a very nice phone. If the newer HP computers are any indication, a new X3 would be a great phone to have.

Sorry, but he just dropped that phone in water and it was fine. Great going hp and yes I think windows mobile is still going just the range of devices and sizes will change.

Will the x3 be upgradeable to Windows 10, not WP 10? If so, I may get one some time. I am still waiting for the Surface Phone but the X3 might do for me.

So the enterprise features are supposed to be coming late summer, and then the FCU is in the fall, so HOPEFULLY they re-merge after the enterprise features. Also hoping the enterprise features involve the improvements they promised regarding continuum!

When they say enterprise features, that means the comsumer lines has to wait or may never see those features? What is this "Enterprise Features" exactly?

That's EXACTLY the same phone as the HP Elite X3 black. It's just a gold/silver back. It is NOT the one that was at MW Barcelona

New lumia 1020 coming back to me next week. I want it for 3d builder duties. best camera for doing that work. But I am not activating it on a network, I will just use it wifi'ly.

Well bought a new 950xl today, GASP!!!!!! need the 3d builder functionality for my business....so, another phone with me.

Yes! I like this silver-backed version.

Personally, I think the Elite x3 is an amazing phone, but I think they should release a consumer facing phone like the one they teased at MWC and call it Elite. That's all, just a HP Elite phone... put in an 835 chip and then when ARM etc. Becomes available update it. By the way, I'm getting the Nokia 3310 to use in conjunction with my Elite x3 as it is a second phone that I will always have with me for calls and messages with a ridiculous battery life. I will use the HP as my web browser and all other things including calls, but in the end with massive use during the day I will never have to worry about not being able to accept calls from clients with the 3310. Top it all off, the minute size of the Nokia means I can always have it on me as opposed to the mammoth HP that I may put down occasionally 😁😎🤓 just have to wait for the Nokia to be made into 3G for the Australian market. I do know that is happening as Vodafone Australia is working on that.

In what way? People LOVE it. It's wanted all over the world. It does a certain job very well. DOA, I think not. If it, no...when it comes to Australia it will sell very well. Not 126 million well, but well.

useless crap running a dead OS!

Great OS, one of the best devices on the market. :)

pathetic camera, no apps, buggy OS no longer developed by MS, only maintained in a zombie state WP 7.8-ish...indeed the best platform

when it will launch in india? ... any idea..........

I had to ditch my lumia 950. It was unsuable. 20 restarts per day or more!!!

If the world is not screwed up real bad by the planet Niribu coming close to it then in 2018 Microsoft will mix Windows 10 mobile and Windows 10 on ARMS CPU in to a new Windows 10 mobile OS that will run Full desktop Win32 x86 programs on devices with 6 inch to 17 inch screen mobile devices.
Windows Central Newsletter
Get the best of Windows Central in in your inbox, every day!
Thank you for signing up to Windows Central. You will receive a verification email shortly.
There was a problem. Please refresh the page and try again.