HP Elite x3 is currently out of stock at U.S. and Canadian Microsoft Store sites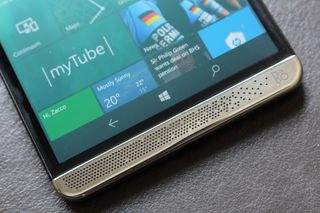 The Microsoft Store sites in the U.S. and Canada are currently showing the HP Elite x3 with Windows 10 Mobile as out of stock, before the phone's scheduled releases from both outlets.
Pre-orders for the 5.96-inch "superphone" began in late August, with the U.S. site charging $799 and the Canadian store pricing the phone at $999. Both sites sold the HP Elite x3 with the Desk Dock accessory. The first shipments were scheduled to go out for Sept. 12, but the sites later changed the delivery dates to Sept. 26. It's very likely that pre-orders for the phones before they went out of stock will still ship as scheduled. There's no word on when new units will become available for sale again
This news comes after HP.com's U.S. site began taking orders for the Elite x3 on Sept. 5, but quickly ran out of stock just two days later
Thanks to Hussien for the tip!
Need more? Don't miss our other coverage of the Elite x3 including:
Get the Windows Central Newsletter
All the latest news, reviews, and guides for Windows and Xbox diehards.
Right? As much as I want one, this is the among the best news you can have as an OEM to Windows 10 on any platform. I'm excited to see how HP proceeds and responds, and how other companies attempt or consider their own super phones.

Remember how the 950 was "sold out" all the time?

Sure, but it's better that they sell all the ones they have than not even if they only sold a few thousand.

I was just waiting for some idiot to come up with that line or "probably because they only made 10 of them". Posted via the Windows Central App for Android

Obviously more than 10 but the reality is they would have only been made in tiny numbers, possibly only hundreds or very low thousands initially.

You're not exactly unravelling a secret. I don't think anyone assumed the numbers were in millions. Would it be better if the numbers were in the high thousands? Sure, but this is good news nevertheless.

No, I don't because ATT never had it at initial launch, it was long after the announcement. They still don't even list Windows Phones on their home page. You have to dig for them or call.

Unfortunately AT&T at this point has no plans on selling the x3, not even to businesses. This is very disheartening as I really wanted one. So, whenever they're back in stock I'll bite the bullet and put it on my credit card.

They are smart, realizing very few would pay that much for a crap OS.

The problem isn't with the OS but with the apps (or lack of)

App switching is still very slow (compared to Android/iOS).It s a BIG issue....

950 still sold over 5 million to date.

Where did you find that number?

he bought 5 million of them and has them in a warehouse somewhere

that's not a lot though. I love my 950Xl but yet to meet anyone else with a windows phone not too mention 950. apple would sell that much in one country. But they don't know what they are missing. Or maybe they do when it comes to apps

Yes....but again one must remember the 950 had lumia branding with a superb camera....that actually helped it to gain momentum....though initially....:/

but never sold millions. yes I remember

I can understand HP for not making a million of these. Or even a hundredthousant. They wouldn't want a stock isseu in the way Microsoft had with the first Surface. But the fact they sold everything means it is exceeding their own expectations and that's always a good thing from a business perspective :) Posted via the Windows Central App for Android

Obviously, they need to raise their stock as demands are greater than expected.

Or more likely HP is smart and didn't make many to begin with. Not all companies are as stupid as Microsoft....

They are making three at a time just to be safe.

It's actually five at a time ...

It's not surprising. This happens every time a windows phone comes out. They send 2 or 3 out to some stores, sell them, then tell everyone they are out of stock. Happenes every single time. Posted via the Windows Central App for Android

That means a dozen were sold. Posted via the Windows Central App for Android

Why are you reading Windows news if you have so much hatred towards the platform? Shouldn't you be reading antivirus and booster apps news for your Android instead?

Oh no, we don't hate windows, just the ****** windows mobile

Yup, it is frustrating to see Microsoft waste time and resources on a guaranteed failure. They could be spending that time making Windows 10 proper better instead so it doesn't become irrelevant or a niche platform. Posted via the Windows Central App for Android

Without mobile it will certainly become irrelevant.

Well, in that case they are well on their way and it's all their own fault : )

Its just basic insecurity from you Android boys. You cant imagine if someone threatened your monopolies.

Android isn't a monopoly. It is open source, anyone can do anything they want with it. Google has no control. Posted via the Windows Central App for Android

The most successful Android devices, by a wide margin, are those versions by Google.
Yes, Android is not necessarily Google, but the Play Store, for one, is controlled by Google.

There are plenty of other options, not just the Play Store. Android isn't a traditional monopoly. The difference between a Windows and Android monopoly are obvious. You have to pay Microsoft to use Windows and they have all control over it. This isn't the same with Android, Google has no control except if you want to use their services. Even then their control is minimal. You certainly don't have to as there are multiple app stores. China for instance has few devices with the Play Store. Posted via the Windows Central App for Android

you don't have to pay Microsoft for using windows 10 in mobile

I think microsoft should pay you to use windows 10 mobile at this point.

Every day I don't have to use Android is payment enough.

I think you should subscribe to Android Central first!

I think you should subscribe to Android Central first!

@bleached.
Bless your naivety.
Surely you didn't mean it.

You don't see the difference between and Apple or Microsoft monopoly and an open source Android monopoly? Posted via the Windows Central App for Android

They barely have any resources left in mobile, have you seen these layoffs? There is a good reason that mobile has been adopted into the surface division. On the software side, OneCore is assuring that we see constant updates without having to dedicate too many resources. Posted via the Windows Central App for Android

Even as I just bought an iPhone 7plus, I don't believe W10M will be a 'failure', but it depends on what you're using as a measuring stick. If you are looking for raw market share, you win. If the measure is serving the needs of its business clientele, then MS will be providing value to customers and dollars to its bottom line. MS is not dependent on phone sales the way Apple is. It will do just fine providing phone service on a small scale.

Lol, you bought an iPhone 7 plus. Blackberry Priv is better than that ****.

Given I'd break out in a mystery condition that would mean CDC ordering a quarantine of this city were I to purchase anything Android, it seemed a logical choice. I couldn't do that to the locals. I still have my 950, and I still love it.

If windows is going to fail it very likely is not because of w10m. That is a very stupid assumption just because of the amount of people working on mobile vs desktop and the focus they told us about being on the desktop. And not all the developers one platform are as good on the other. Those are different people as well with different skill sets. And putting affords in a mobile platform is important just because desktop is loosing ground. If you like windows it isat least wise to understand that mobile developement is necessary.

Mobile development is not necessary. There is no chance it will be successfull and the resources are being wasted.

Pity your knowledge is awful!

I am using the desktop version every day and after the AU it's worse than before. For sure I'll go back to Windows 7. 10 is nothing but a cheap made product.

I completely dissagree with you! Posted via the Windows Central App for Android

I don't have hatred toward the platform.I own a Surface pro 3 and ran a Lumia 930 up until a few months ago .I now have a Nexus 5x only because MLB removed At bat from the store.
Chill out,I just don't get all this fanboyism which seems akin to people trading insults as if it were a heated discussion over their favourite sports team. Posted via the Windows Central App for Android

So in other words you're just trolling to justify your choice to buy a nexus. I dont get the fanboyism, and certainly not the hateboyism you stand for.

And now chances to get a 950 are tiny and you are sadly stuck with exploding Nexus?

So now every exploding phone is a "Nexus." Um, no.

"Shirley Boy" explains everything

Lol ☺ he should be tipping news about the thousands Flashlight Apps for his phone

Lol ☺ he should be tipping news about the thousands Flashlight Apps for his phone

No one makes such an investment to sell just "dozen", either HP!

You do know HP isn't selling to enterprise through consumer stores, RIGHT? They likely took aside a couple of units built for enterprise and put it in stores. Also, if I have to bet, HP is producing the phones on demand and not producing any stock. That way, when it fails to catch on, they won't have a handful of devices they couldn't sell and won't have to clear stock at ridiculously low prices like Microsoft is doing with the Lumia line.

Why does the worst possible scenario have to be true with you Android fans?

I am not an android fan, but they are right....The MS stores probably had 12 in stock to sell.

Says the Apple fan, still full of hate then Steve lol

because that's what MS is all about now, only bad scenarios..congrats Satya

You know for Clearing stock, those prices still arent rediculously low, they will likely run out long bfoer they get to that point. As for the assinine on demand comment. That makes less economical sence than building a phone for a failing platform in the frstplace, and the cost per unit would be much higher, as they would not be able to capitalize on economics of scale in such a model.

Hence the obscenely high price... Posted via the Windows Central App for Android

The obscenely high price is due to the fact that "enterprises" write them off a business expense, the tax payers will pay for them

Not really. If they have enterprise orders, those won't be "look, produce 10 phones for us, please". Also, the phone retails to customers for over 800€. That phone doesn't cost more than 200€ to put together. 300€ at most. Economies of scale are applied if you expect to produce many units. HP is aware that won't be happening. So they reflect the increased production costs for the lack of that mass production upon the price of the phone.

Interesting. How do you explain, that there are iphones and samsung phones expected to sell quite often at more or less the same techlevel at a higher or equal price than? You just dont know about the strategy so stopp trying to convince others that you do. Less prejudging and more facts please.

HP and HPe are a couple of my contractors and none of them are using or are required to use one.

Have a look at former flagships from other manifacturers and their pricings. You can get a s6 now for the same price as the 950s. What exactly is that ridiculous about the pricing? That is only true in relation to iphones and they have been a story of their own for years.

Hey folk, to be fair, I think DJCBS should not be down voted in this comment. HP stated since the beginning; even Dan covered it, this phone is Biz concept. So, consumer volume is not expected.
I will give him a pass on this comment and up vote him this time.

Wow shirleyboy this is the most original comment I have ever read! Pure genius, how did you come up with such an original comment? I have never seen anyone post such an original comment on Windows Central before. I'm amazed how long did it take you to think of this?

About two seconds. Posted via the Windows Central App for Android

Lol this is likely true though. Back in the Nokia days, they'd constantly be out of stock because stores only carried like 5 at a time. How quickly people forget...

My local store only got 2 at a time

That's the problem people are not understanding here. They will blast at you if you say HP didn't supply enough units. My local store had nothing left and they gave only sold 4 so far.

The staff at my AT&T store all used HTC 8X and Nokia 920's upon release and devices were at the front of the store. They claimed to have around 100 of each color of each device at the time. The good old days.

I miss late 2012, and 2013. Best days for Windows Phone.

Yep, I still remember those videos from Ben the Pc Guy, promoting Lumias. Good old times...but then Satya came and destroyed all...

Shouldn't you be reading Cesspool: The Android Story

See my post above. Idiotl Posted via the Windows Central App for Android

Don't you have some Android security exploit you could go patch?

Looks like at least 2500 based on the new HP/Microsoft deal. "HP also plans to arm 2,500 of its sales teams with its new Elite X3 tablets and Dynamics CRM starting next year."

Tried to click on "show in browser" from the Windows Central app to see this article in a regular browser but Google has flagged it as an unsafe website.

Why are you using Chrome?

Edge on mobile and Firefox on PC have never shown this for me. I am running modified host file and ad blocker and use freeDNS.

You shouldn't be using Google products.

I dont use, I even use bing instead

Use Edge on Windows 10. Chrome is crap

Any positive W10M news, no matter how small, must be unsafe for Google.

No issues here on Chrome.

Hmm. But I don't even have Chrome installed. Slightly confused about this. But the message is gone now.

No, just Edge. Maybe it reacted to a banner or something on the page and not the article page itself. Who knows now. Anyway the phone that supposedly has the best of every feature kind of lost my interest after I read that the camera isn't great and that there is no glance screen. My current phone has no glance and I miss it more than I had anticipated.

Over/under on number of days until HP sells more WM10 devices than they sold webOS devices?

over 1000000 days. I don't think they are going to beat that number.

They sold both the units. :-p

Glad you found your comment funny

So did I. I think it was bang on!

There are one available at verkkokauppa.com and still available after 5 days availability, lol. Batch sizes aint big and if "sold out" we are probably talking 100 phones per batch.

...and that is a lot because batch sizes here aint that big, lol #greatsales lol

I don't think a single person here expected it to sell great.

I think the fanboys thought it was going to sell millions in the first 2 days of release!

I think making up imaginary foes to make your argument look stronger is weak.

Hey Dan, can we expect a review of the continuim eperience with the lapdock for the Elite X3?

It's funny how reviewers are expecting an update to make the X3 fully usable and bug free, so they can review it :))) pathetic OS on a good HW device.

No they arent. What are you talking about? Don't your products get even better with time? Then I feel sorry for you.

Sorry, but the last time I've checked iphones, galaxy ses, HTCs do not come with half features working :))) ohh, sorry, the fingerprint is not working, wait for an update, camera is slow and crashes, wait for an update but at the mean time do give us over 800 EUR for this phone :))) how pathetic, MS's style

Good that the demand was higher than anticipated. Now if only we actually got something truly top end with no compromises.
Hell, if Microsoft had even just gave HP all it's Lumia Camera tech hardware + software unchanged then we'd have the superphone we all want. Not so far fetched when you se the open season on surface clones and the hardware partnerships done in the Ultrabook world.

They're saving it for the surface phone

Why would you even need universal apps when they could just put Windows 10 PC version on the Phones if they wanted.

Because of resolution and input differentiations. You need the different versions that are universally ran through the same version of Windows because the use cases are now so vastly different.

Windows 10 doesn't run on ARM and win32 comes with the same hinder. It's better to use the new runtime that is platform independent.

I don't like going to different websites and downloading ****, and updating them one at a time, and I don't want to deal with win32 memory management.

I've got mine already from Clove UK.
And it is amazing. Really...

I guess we can expect numbers from AdDuplex only. Let's hope Elite can get Windows 10 mobile more than 1%.

LOL Mate, I hate to be *that guy* (well, in regards to WP, no I don't) but you do realise that flagships were NEVER big sellers on WP, right? Go look at the charts. Budget Lumias always dominated it and WP's growth was always based on those. Very high end devices like the Nokia 1020 never even made it to the charts. The Elite X3, a phone that ISN'T a consumer device, will sure as hell not make it either.

Ya. I know. It is just a wish rather than anything else.

Ripping budget Lumias away from Brazilian and Indian markets was an ignorant move by Nadella.

All Nutdella makes are ignorant moves but but but wait he says there is some new "thing" around the bend and that's why he has to destroy WM....what a tool.

Well, the same can be said about all platforms. Less than 7% sold Android phones are flagships.

Not iphone. Every iphone sold is a flagship device!

A low spec flagship at that...

specs mean NOTHING....The iphone 6 ripped the 950xl a new ahole in speed tests, if you looked at the specs the 950xl should have walked all over it. Flagship is more than specs my friend. user experience, and how they make the inners, work with the outers! 950xl got all the top spec and cool stuff on the side of the box, however, once turned on, its gimped and nutered by windows 10. And, I don't notice any difference between my 6s camera and 1020 at this point comparing photos taken by each....I do know the iphone 6s camera is blazing fast compared to my 1020 tho.

You don't own a 950XL, do you?

You don't notice difference between 6s and 1020 is because you are seeing them in smaller screen. Our team outing pictures that came from my Lumia 950XL and my colleague's 6s showed their quality when we saw them through a projector in a conference room. iPhone 6s was no where closer to 950XL in camera.

A high selling flagship, nonetheless.

SE was a flagship? 5c was a flag ship? Made me laugh.

Citation? Just Galaxy S and Galaxy Note are more than 7%. Posted via the Windows Central App for Android

NEVER count on Giddora to provide you with proof of anything he says. It just won't happen ;)

Don't throw a stone in a glass house. You both have a very obvious agenda.

1.2 billion devices per year and about 7% are more than $400.

I don't think so. Galaxy S (this generation) and Note (this generation) will be less than 7% in the entire sea of Androids. Both should be selling more than iPhone's sale in order to reach 7% in the total Android market share.

This is same routine with what happened with 950/XL..... When any company failed to estimate the demand...they create artificial scarcity!!! Well, it's wrong timing to do so...since people would live without headphone jack but can't sacrifice the apps!

I know 13 people who are gonna look outside of apple for a phone now. Finally. All because of there lack lusterness. Tons and tons of people prefer a wired headset over Bluetooth just because of overall sound quality as it is.

People prefer wired because they are cheaper and easier to use. The sound differences between then are not enough for normal people to care. Posted via the Windows Central App for Android

Not just because they are cheaper, wired also do not run out of power like Bluetooth sets...

It does produce different noticeable sound to average people.

Indeed, there is a noticeable difference, although with aptx things got alot better. Also the quality of the headset can make a huge difference, I have a "sennheiser momentum M2 AEBT" and it sounds a hell of lot better then for example a "philips shb9850 NC", of course you do pay for that quality, and there still is the option to run it wired, even passively.

The phone comes with WIRED headsets people. and an adapter you can keep on the end of yuor 3.5mm headphones. Its not like they are asking you to spend more money.

The problem is not the device (although the windows devices don't really compete with others), but the real problem is the OS itself. Windows 10 really does have great and amazing features, but it is not good enough to be a real competitor. Posted via the Windows Central App for Android

The problem is it took MS too long to get their mobile OS to it's current feature state for it to matter to the consumer market and developers. I really love this OS UI.

with low workforce because of Satya's layoffs, what did you expect. Even so, if you look at the overal lquality of windows 10, on both pc and mobile, it's not that hard to realize that it's a cheap product, tested by insiders...

Spot on. All they know how to do is play catch up. If you want innovation don't look for it with M$. Ever.

I found innovation with MS soooooo....

I mean, the Surface was pretty darn innovative, and now everyone's chasing after it. Give MS a chance to make a phone that's 100% theirs. Even if it flops, it took the Surface 3 tries to get it right. I certainly hope they make it work, I'd love to come back to Windows mobile Posted via the Windows Central App for Android

Yeah, they haven't innovated this market space since before iPhone or android even existed.

This is the device of the future. The time traveling lizard woman in that old Charlie Chaplin film is clearly using it. Read her lips: "Satya, Mr. Gates, Mr. Belfiore and Mr.Panos..may I call you mister your first name? And you too Mr. Jobs and Mr. 'Pac Shakur. Can you hear me now?" :D
https://youtu.be/HhA6cxtncgY

So many smart Alecs just running their mouth here.. Geez get a life. I know what you do with your android phones. Does your nexus click a better pic than the 950s? Nope.. End of story. Keep your pokemons with yourselves. Android UI is not even good to look at ..

They try to make sure everything else gets a bad rep so their monopoly doesn't get threatened.

I laugh at everytime you say android has a monopoly....You OBVIOUSLY do NOT know what a monopoly is besides the board game. A monopoly is they are the ONLY ONES providing a service and you CANNOT get that service anywhere else! Having top market share of all the AVAILABLE CHOICES is NOT A MONOPOLY. Its called owning your competition...Please visit the dictionary app, oh wait....Windows mobile does not have one. right! Saying that Andorid/google has a monopoly is like saying toyota has a monopoly because they sell more cars than anyone else.

No, you can have a de facto monopoly if you have such a big part of the market that you control it. Like 85% of the smartphone market, 92% of the search market, 90% of the online ads market and so on. Microsoft got hit with monopoly lawsuits when they had 92%. So, there you have it. Google has three de facto monopoly situations to play out against all rivals.

I still beg to differ since you can leave google/android, and be free of any of their services if you choose....NO MONOPOLY. Again, check out the legal side of things. MS obviously tried to pull some crap to be sued for 92% market share. and the dictionary app comment was a joke....lighten up alice!

That's not how it works. There were plenty of alternatives to Windows too. If you have as much of the markets, you are in a monopoly position.

Ok, how come sirius xm is not in a monopoly situation....They are the ONLY game in town. ....do you know why? because there are alternatives...making that situation NOT a monopoly just like there are different alternatives to android/google...NO MONOPOLY....Like I said, Microsoft tried something shady inorder to have the monopoly card played at them...Like I said, Toyota does not have a monopoly even though they sold more cars.

You have absolutely no idea what a monopoly situation is are you. How come Microsoft got hit because they were in a monopoly situation? There were alternatives.

Oh, and we have plenty of dictionaries. Are you living under a rock?

are they working or crashing as usual on windows 10 :))))

Amazing all of these experts here. Trying to run international companies because they know more.

To be fair, neither is Windows now, with hamburger menus and inconsistencies for the interface. And nearly everyone has caught up with Microsoft in camera technology. Will we see a good camera on the SurfacePhone? Or will it be a crappy generic 16MP camera like on the HP. Am I happy about it? No, and no. But I think there is no contest nowadays between the lagdroids, isheep, and always-beta-Windows-Mobile. Now droids and isheep have apps AND nice cameras. That is what happens when you "retrench" for 2+ years.

They haven't retrenched for two years. They announced the retrenchment as the 650 was released early this year.

The surface phone will have a gazillion MP camera with a 5 inch 10k screen, a 1000000000000000000mah battery that can last 4 years without charging. Thats about how real the surface phone is. Wish fanboys would quit bringing up the magical unicorn vaporware phone that will not be released. Think mclaren. same thing with surface phone.

You are harboring alot of hatred at a device that is "just a rumor"...... That's not healthy

McLaren did exist until it was pulled for one or more specific reasons. If you're comparing the "Surface Phone" to that then it always that you believe it is in development. In that case what are the reasons that you think it will be pulled, or are they just magical unicorn reasons?

Yes Mclaren did exist, and like everything else from MS was s&*Tcanned. However, the 'boy's around here are claming this and that with the surface phone. At least with the Mclaren there was PROOF that it was on the move, with the surface phone, It IS a Unicorn.

Steve... What a very sad comment, you need to lose this hatred of yours just because Microsoft didn't upgrade your phone to W10m...

This is what I call childish comment.

let them dream :))) they said the same about RS1, that will fix windows mobile, that will be the savior...crap! it did not fix anything. As long as Nadella is in charge we won't see any changes regarding the mobile section.

Sorry, but i have a Samsung S7 and a Lumia 950 and the camera from the Lumia 950 is WAY better...

Way better is an understatement.

I have an s7 edge and the 950 XL. The XL takes better photos, especially in low light, but the S7e does a good job too. They are close in quality.

The originally planned Surface phone (aka a phone-sized x86 compatible mini PC) got cancelled by Microsoft at the end of May (because of lack of support by Intel). I'm sure Daniel has seen the prototype by now.

I'm assuming you work for Microsoft and that's how you know what was planned, right?

There will be one more in stock UK, I returned mine after a week. A real nice handset in many ways, very fast, camera is nearly there, slightly off focus, but it's not a deal breaker, apps open blazingly quick but the foil on the bottom bezel was ragged out of the box, I could pick it on one edge. I'm almost tempted to say tin foil. Not good for a high end phone, It's good, very good but I just couldn't see the money in it so I contacted hp UK, they emailed a return form and off it went for refund under quality issues. I hope for their sake that it's a one off, or if not, stop production and revamp metalware on the phone asap. This is flagship, build flagship, produce the finest from day one or your snookered! Back to 1520 while 950xl stays on the office shelf. Good old Nokia, a no nonsense well put together phone that still gets admiring comments!

And there is what we have been stating all along. MGD 57 has confirmed the "flagship premium device has crappy "foil" like chome on the bottom of the device instead of a nice milled peice of aluminum or other metal. Its flaky covered plastic. And they charge premium prices for this? NICE!

Super windows hater detected

Super overpriced device detected. fake metal plastic....

Is there a review on the way?

The short answer is "Yes"..stay tuned :)

Wow, they sold em both already? HAHA!!!!

What they don't tell you is that there was only 1 phone in stock.

But... Windows phones are dead!! D:
How is this possible? Are they selling zombie phones?? o.O

Seems HP's website had some in stock today.. I just ordered the last one!!! ships the 13th...

wish i could afford it....or it was on carriers with a financing plan

Yeah same here bro.. I honestly can't afford that right now, hopefully later on I could do something. I wish they finance them like other companies.

Finance it yourself. Don't beholding to and trapped by the carriers. Don't give them the control.

They accidentally packed them with the Lumias that they were removing from the shelves.

They only gave a few for MS to sell. HP kept the rest for businesses to buy in bulk.

When HP switch all employees to these you'll know they believe in the vision. And should reduce the cost of their business!

I'm going to call low stock here, but this is still a good sign. Keep it up, HP! :)

I was prepared to buy almost 10 of these phones but unfortunately, like almost every Windows Phone, there's no CDMA support and therefore, these won't work on Verizon. It just baffles me that a business oriented phone doesn't support Verizon which is one of the top business carriers in the nation.

when does this launch in India!! any ideas/leaks regarding the dates?

Apparently one needs to install insider beta to make hp phone even borderline usable. And bottom grill's fake metal peels of by itself. Ample reasons to delay sales and get things right.

Wait, what? The bottom grill is just a sticker?

More or less. Painted cheap plastic. Would expect better materials in 800$ phone.

No, it isn't. vhyr kind of has a history.

This is good news. Regardless of how many were made (that's only relevant if they haven't sold!!) this means its exceeded the conservative expectations HP had made. Good stuff, personally I can't imagine how anyone can afford the thing! Brilliant handset through.

Not really, it could be all their stock is in the enterprise side of their stock supplies...and they only sent very limited numbers to the consumer side of things.

You do remember when Lumia 950 series came out, and how quickly that went out of stock? Look how well that sold. There may just have been very few sent to the MS store.

I see windows mobile coming back strong

If it were MSPoweruser the headline would be like: "Microsoft and HP apparently stop selling Elite X3 online" And it would be a big article on how Windows 10 Mobile is dead and Microsoft is failing and saying that it should start putting Windows 10 full on phones...

Microsoft has stopped the lumia consumer line. W10m will still be here as it is an essential part of the uwp. However, 3rd party oems will continue making w10m phones for consumer while micrsoft will focus on the surface phone. Basically almost full fledge w10 on phones for businesses and enterprises. Current lumia users will not be affected in anyway as we can still buy from 3rd party oems. Current flagship lumia models will continue being supported for a few years.

lol 3rd party OEMS?? which one that is a known and trusty one? Do we see Samsung, LG,HTC, Sony, Huawei?? I don't see any windows devices in plan from them...

HP is a big OEM... I believe it is a huge opportunity for companies that aren't so traditional in the smartphone market to join in, like Dell, HP, MSi and others

Well, good luck for them. I ain't gonna give my money to an unknown OEM to the phone market. When was the last time HP had a phone in the market?? How many years ago and how well did they do? In the times of Windows Mobile 6.x, yes they did well...but today is another day, another time. Windows 10 doesn't deserve not even a single cent..piece of crap OS

The money is yours, and you are just one among millions. Your decision doesn't compromise the whole thing.

Re: Hoang03122001,
Microsoft is still selling the Lumia branded phones at this time. They plan to stop selling phones, with the Lumia brand, in the Microsoft Stores, by the end of the year.

The only issue with that is that you CAN"T run full windows on a phone.

Exacly! Windows on phones are what they must be. The only things that need to happen are Microsoft continuing improving the OS, continuing making it easy for developers to bring their apps and advertising it more... The last one was never made and I hope now in 2017 Microsoft will start advertising phones properly.

I'm not sure is a good news . I hope to be wrong......

That's just rediculous!!!. How many did they make? 100?

They made at a minimum 2500 based on the new HP/Microsoft deal. "HP also plans to arm 2,500 of its sales teams with its new Elite X3 tablets and Dynamics CRM starting next year."

Wow, taking the technology world by storm 2500...

FYI Folks, I can confirm that the phone does NOT work on Verizon Network.

Keith Everyone knew that before it released.

Why are android boys even on windows phone central what do you want from here since you hate platform so much you never see us on android central never there is nothin for us there

So no one believes HP sold out, guess it comforts to think they sold less to validate their Adroid and i-Devices. Nothing would please critics more than to only have two OS's to write about: Android and iOS. I hope the numbers are looking good, as I'm expecting mines further down the year.

I wonder how much they shipped on the first runs... It would be impressive if they shipped 50 or 100K devices but, if they only sent about 10 per store, it's not too much of an impressive number/feat

It was stated that there were 2500 shipped to retail stores.

So, so out of all retail stores, 2500 units ? So about 10-20 per store. Nothing impressive. If they said they shipped 150K to stores and they are sold out, then I would be impressed and happy to see Windows Phone starting to take off but, just as I thought, this is not the case.

I hope those pre-orders were made by enterprises. I can't believe people wanna spend $799 on that phone and THAT software.

Got my phone last Friday, and received the HP Folio today. I like that when you close the cover, it turns off the screen. Pretty nice so far. I have 3 more weeks to play with it before I make my decision. I would still like to get my USB C cable that was missing.
It unboxing was chaotic at best. Like Stevie Wonder boxed up the unit. Scratch that. He would do a better job.

you really spent that much on a misserable OS? :))

Just got a note form Microsoft that my HP X3 will be here tomorrow............... FINALLY> Waited for this phone to replace my 1520 forever.......... that was and is the best phone but I dropped it atleast 20 times and it's a little jumpy now...... still kinda works, can't wait for a whole new phone.