HP Elite x3 now available at Carphone Warehouse, shipments begin by Oct. 31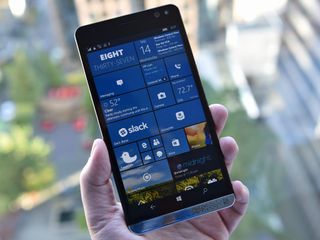 (Image credit: Windows Central)
Carphone Warehouse is the latest UK retailer to sell the HP Elite x3 with Windows 10 Mobile. Shipments of the 5.96-inch smartphone are supposed to begin by Oct. 31.
Carphone Warehouse is selling the phone (via MSPU) for the no-contract SIM free price of £679.99 (opens in new tab). It apparently does not include the phone's Desk Dock accessory for its Continuum PC features and Carphone Warehouse is also not selling it on its own. However, if you want to get the latest high-end Windows 10 Mobile phone and you live in the UK, you do have another option.
See at Carphone Warehouse (opens in new tab)
Further Reading
Windows Central Newsletter
Get the best of Windows Central in your inbox, every day!
I'd like it, but to be honest it doesn't seem like much of an upgrade to my 950XL.... Not over 600 quid more! Maybe if it was available on a contact, then the missus wouldn't notice too much :)

Well, I think the key is to buy a phone because you need one, not just because something better comes along... Later devices will always have incremental upgrades, and for those ready to buy, when they need one, they will always be there.

Nobody needs one. We could go back to the stone age.

Preposterous! You will always need a new one.

Definitely agree. I don't understand the obsession with phone replacements every 9 months.

It was fun several generations back when the tech was advancing faster, and innovations were more plentiful... But, nowadays devices are capable longer. You could still get by with the performance of a Galaxy Note 4, or a 1520, and probably be fine for a year.

This is, by far, the best Windows phone I've ever had. I'm not a massive camera guy though.

It's by far the best phone I've never had. I'm not a massive guy though.

CPW has a lot of love for Windows

You must be joking. Their attitude to Windows Phone in store is bloody atrocious. Gave up with these idiots long ago.

You think? They were not great when I was getting my 950xl. Ended up elsewhere. That said, they did have a couple of demo units.

Compared to other UK high street stores they are better at promoting Windows in my experience

So tempted by this phone, but just too big! I hope its a success enough that they release a smaller device.

I tried the 1520 back in the day and didn't like the size. This works somehow.

Does anyone know the name of that clock app in the top left corner of the image?

I have been wondering that myself. I'm leaning towards it being a built in HP app/feature.

need this device in india

Can't justify the move from a 950xl either despite it being a lovely device but planning to pickup the lapdock for sure, ideal for work days when I'm just presenting and doing mail/web. Still get decent HP discount too despite being HPE now; not sure when that will stop but hopefully not till lapdock out!

I paid £420 for my Lumia 950. I'm not willing to pay £680 for a HP Elite X3. That said, I aren't the target market and that's ok. Will consider the LapDock if it doesn't cost an arm and a leg.

Credit Card, PayPal Credit, 2nd mortgage.... =P