HP Elite x3 shipments have begun from U.S. Microsoft Store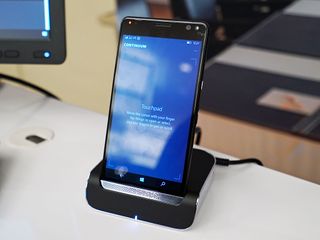 Some people who pre-ordered the HP Elite x3 smartphone from the U.S. Microsoft Store are being informed that shipments have begun.
Our own order for the Windows 10 Mobile business-themed phone is now scheduled to be shipped later this week, and we have received reports from others who have also gotten similar shipment announcements. The U.S. Microsoft Store originally stated that shipments would begin on Sept. 12, and these new notices would seem to indicate that the first pre-orders will stick closely with that approximate schedule.
People who pre-order the HP Elite x3 from the U.S. Microsoft Store right now will see the smartphone ship out on Sept. 26. They will pay $799 for the unlocked 5.96-inch phone, which includes its Desk Dock accessory.
Thanks to Joseph and David for the tips!
See at Microsoft Store U.S. (opens in new tab)
Need more? Don't miss our other coverage of the Elite x3 including:
Windows Central Newsletter
Get the best of Windows Central in in your inbox, every day!
I sure hope the dual SIM operation works better on this than on the Lumia 950 XL. Interested to hear some feedback on that once some people get it in hand.

What's wrong with the dual SIM setup on the 950XL?

What I would really like to know is how many people in the US, and also worldwide, ordered this phone. That would be interesting. But, that's not gonna happen.

Well one of the biggest electronics retailers in Europe, verkkokauppa.com, has sold 1 so far.

Bahahaha...how did you find that out?

You must be new to the internet

Well, so far they have sold zero units of IPhone 7

"biggest electronic retailer" explains why no one in Europe had heard of them. Better luck next time

"largest electronics store in Europe with total 35 000 m²" https://en.wikipedia.org/wiki/Verkkokauppa.com

still totally meaningless as they hold no stock of the device.

They sell it if somebody's willing to buy. 1 sold so far. No sense stocking it but apparently distributor has plenty of them available and ready to be shipped in a couple of days.

You still haven't said where you got the sales figure from.

They report sales in their site.

where? can you provide a link?

https://www.verkkokauppa.com/fi/product/14299/hfgcq/HP-Elite-X3-Windows-...

As I thought, no you can't provide figures

You asked for link and I gave it. If you can't read it it's not my problem. What I said is there.

You order online and get the phone couple of days later. It is in stock but not in the stock of the retailer but in the stock of the distributor.

Lol! Marking that down, thanks, 1!

:))) wow! that's a good start

That's because just like every other cell carrier their only pushing iPhones and Androids with Windows Phone in the back by the exits or hidden in the store room so they can say we're out or stock to potential customers.

I was in touch MS yesterday, in most European countries MS has no 950 or 950xl on stock. Don't worry, they said, a new phone is about to be released. Thats all the info they were willing to give me. Better order one quick, Finland and the UK are the only two countries where MS still has stock. With some luck webstores or local stores may still have a few lying around. MS stopped production a month ago and are selling whatever is left.

Both 950 & 950XL are available in UK. There are shipping with free dock. Outstanding offer.

The 950 is a great device and I'm sure the 950XL is great too. I just couldn't afford the XL because I'm saving for Surface phone first edition : )

Ordering this on Halloween if nothing is announced by Microsoft beforehand. So many conflicting reports on SurfacePhone or something coming soon.

Last report by this website is late next year if at all. Posted via the Windows Central App for Android

I will consider this next year. I am still paying on my 950 for a while. If a Surface Phone is released i will have to compare the two.

Are there really "conflicting reports" though? While there has been speculation ad nauseam about the possible existence of a Surface Phone, no one at MS that I am aware of has ever said there is such a device. There are no credible leaks around it's specs, etc. Indeed, there seems to be no more than hoping and wishing to suggest it exists at all. Surely, MS has some people messing around with phone hardware somewhere in it's massive organization, but that doesn't mean that they are seriously working on a device with an actual plan in place to see it to release. I think the Surface Phone is at best indefinitely delayed but, more likely, never even existed to begin with. For that mater, is there a single announced Windows phone, or is the Elite X3 the end of the road? I am not aware of any Windows phone devices in the announced pipelines of any company anywhere.

It's the Cerulean phone to be released this autumn!

Hope they make a mistake and send one to my house. Not likely, huh?!?!

What about the LapDock? Haven't heard any mention of that in quite a while

I was having the same thoughts its not even listed as an accesory on their website

On the X3, it's either a dual SIM or a single with micro SD card. If you go the dual route, one will be nano, and the other one a micro. So, far I like mine. I have the folio. Perfect fit.

That's a neat engineering solution but microsd and dual sim are both things I want!

When is this will be available in OZ?

When this will be available in India and also Xbox one s..??

Maybe in Dec or Jan like MS did with 950 and 950xl

Strangely I placed my order for this yesterday morning expecting it to ship on 9/26 and I received my shipping notice yesterday afternoon

Good luck, HP, you'll need it...

I wanna see one of these in the wild being used. Posted via the Windows Central App for Android

Do you work at MS? if not, you wouldn't know or be privy to that information. Pathos Panay is also very secretive with devices he creates.

Something about this phone......... Really a torture test till you get it. Even UPS didn't even show at 1:30-5:30 window to bring it for me and I ended up having to chase the truck and get it off the guy at 8:30 in the street. BUT I LOVE IT............ great phone so far, except I am not crazy about the vibrations each time, makes it feel like an empty light phone, it's really light but I am still haven't figured out how to turn that off, VIB is off and all in all settings, I must have missed something. The link for the manual takes you to a PDF file that says go to HP....... kinda crazy, Found a quick access thing with that and there isn't much there either. The apps weren't on my screen like before took long time to update and all the apps 185 to load up. Who says there aren't enough apps in the store? I got all the ones I want or need. I think the apps work even better, I also have android and for example UBER gives you the rip off rate right on the screen and says 1.5 the rate or etc where in andorid it doesn't. Anyhow, love the phone, still haven't figured out the fingerscan thingie, been busy making it like my 1520 and loving it so far, HELLO works great and I also love that it's so easy to log in each time, speakers are sounding amazing. Continum works great and I got a small keyboard and mouse combo and it's soooooooo great. $22 bucks from Amazon and it's the best thing, I can't ever go back to mouse since I have had the same setup with my laptop and 29 inch LG widescreen (this works great since I have 3 screen on all the time) All that being said, it's a windows phone and if you like me love the windows platform and all. I just don't see anything amazing about it yet but works as perfectly as the 1520, I loved that phone for 4 years and if it wasn't acting up after being dropped too many times (even has cracks on the plastic but the screen never broke despite reapted drops, I dropped both the samsung I have and the 1520 last week from the top of the car and Nokia still lived like always and the samsung is cracked up!! So, Just hope this will last as long and be as great, having put in the water to test it but that's a super bonus, NOTHING wrong with the phone and I did try the Acer last month and didn't like that at all, wasn't as good and responsive and almost as expensive, seriously suggest to get one, I doubt there will be a newer phone from MS and the 950 is a good option if you wanna save some $$$ but for the extras' and the dock I totally think this is a great buy. Peace
Windows Central Newsletter
Thank you for signing up to Windows Central. You will receive a verification email shortly.
There was a problem. Please refresh the page and try again.