HP Elite x3 will be available in Microsoft's retail stores on Oct. 10 [Update: some stores have them now]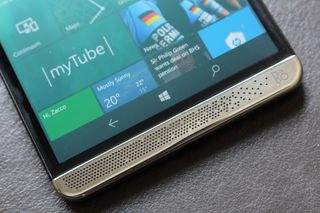 Update: Some of our Windows Central readers have posted comments that state the HP Elite x3 is already available inside some Microsoft Store locations. If you have one nearby, you might want to call and check to see if they have any for sale before you drive over
The HP Elite x3 smartphone with Windows 10 Mobile will be available to purchase inside Microsoft's brick-and-mortar stores starting on Monday, October 10.
PC Mag reports that it received news about this sales date directly from Microsoft, specifically from the company's VP of OEM Worldwide Marketing Peter Han. While the Microsoft Store sites in the U.S. and Canada have been taking orders for the 5.96-inch smartphone for several weeks, this will be the first time that the HP Elite x3 will be sold inside a physical store.
In the U.S. stores, the business-themed phone will be sold for $799 (opens in new tab), and will include its Desk Dock accessory that allows the HP Elite x3 to connect to a mouse, keyboard and monitor so it can be used like a Windows 10 PC. There's no word on how many units each Microsoft Store location will have of this phone, but we suspect it will be very limited.
See at Microsoft Store (opens in new tab)
Further Reading
Funny. It's on display in the Houston store now -- I was there yesterday.

When you say you saw it yesterday in the Houston store are you talking about the Galleria mall or the Woodlands mall?

I still don't think this phone is "too expensive" like some have said....It's about the same price as a Google Pixel XL 32GB in the UK. But it comes with twice the storage, a very similar CPU, bigger screen, desk dock. Obviously only good to you if you are happy with W10M but W10M being less popular doesn't make the phone any less to research, design, build, market and sell - So the price seems fair.

Desk Dock is $150, which could be argued is priced a bit high (though it has the superior Display Port and Ethernet built in); take away the Dock though and suddenly this is a 64GB phone for $650 (and yes, HP will eventually sell it without the Dock, so I'm told). I agree, $650 is a good price. What I say people are often doing, which is fine, is confusing value with cost. Value is what you think it is worth to you versus the actual expenditure and bill of sales (plus profit) of the device. I get it, people think a Win10M device is not "worth it" but that is a separate judgement call. Putting aside value judgements of using Windows 10 Mobile and OS deficiencies the hardware is very fairly priced in at least the US market.

Daniel, are you still using and enjoying this phone? I'm still somewhat on the fence. Thanks.

I'm using it with Continuum for two weeks now and I'm in love with it. It has replaced my laptop for almost everything : RDP connection to my VDI, Edge, Word/Excel, Mail and of course, I *really* love the fact that, when I receive a call, when I answer it, it turns automatically the speaker mode on, while on dock. Than, I continue working while talking over the phone *and* texting too, with my wireless mouse and keyboard. ;) The quality of the sound is awesome (phone call and also speaker, to the maximum a phone can be ;) ) To be honest, even with the worst case scenario, which would be the end of W10Mobile, I would keep this phone for it's quality. I used many smartphones (All the Nexus until 5, iPhone 4, 5, 6, Samsung...) but for me, IMHO, the HP Elite x3 is the best phone I have ever had. Period.

I can't forget how IBM got BIG. Sell more for cheap. The value for me is: what is the price for HP to build this? I think 50 dollars, so yes ... 650 is way too much. Try 300 .... and see how sales are doing. The 950/950XL were overpriced. Now that they are around 300 everyone wants one. So ... there you have it...

HP should consider to come out with a mid-range W10M phone which also supports Continuum. They won't have to compete with Lumia any more.

There is no Lumia to compete with! Production of Lumias has ended.

Yes, that is what he said.

HP should consider a pricedrop to 300. It will sell like drugs in Vegas ....

It's not expensive, but there are two issues. The first is a brand one. I personally don't care about branding, but many do. Everyone knows when you buy a Samsung, 10% is going to marketing TV commercials, sponsoring Olympics etc, yet HP won't do any of this. Which means most people still think of their office Printer when they hear the HP brand. This is a shame (HPs new logo is awesome), but this branding issue also effects resale values which wont hold up. Second problem, the Camera. Flagship smartphone cameras (even in Enterprise) require a certain level (at least Honor 8 quality in 2016), yet everything I have seen from the Elite X3 shows really terrible shots. For me this is where the compromise has been made and the biggest fear I had going way back to March this year.

Lesser CPU. Buggy laggy OS. Crappy camera. No apps. Lets see what sells better.

I am so tempted. If the surface stupid phone isn't really coming until closer to 2018, then I think I want to upgrade from my 950. My 950 works perfectly fine but I'm kind of a tech slut and need a new squeeze

I used to be like that....I'm just not anymore because the "buzz" of some new tech only lasts so long. For a long time now I've always looked at whether something new actually offers anything extra. For £249, the 950 is a bargain right now for those who don't care whether the Lumia brand is continuing becuase....let's face it the HP Elite X3 isn't any more popular with the general public, and you're friends will still think W10M is **** because they love their iPhones so much.....Microsoft etc. just aren't as courageous as Apple. ;)

You're exactly right and im glad your comment came through before I hit submit order on the Microsoft website lol. I have a working phone and a working laptop, do I rly need to drop $800 on a phone just because its the newest thing out? There are so many more things that $800 could go towards. I think im going to hold off... Until my phone breaks or something... Then i have reason to

What are you waiting for then? : )

GO ! That is exactly what I did, switched from my 950 to the x3... NO turning back. ;)

Confession is good for the soul. Do your slutty thing. LOL

Yeahhh... Just bought it lol

Even I wanna upgrade from my 1520 to hp x3.But I don't see it coming any time soon in India.

Does it not work on your networks in India? If it does then can't you just order one from the US these days? It's 2016 after all....must be easier than ever to do this right? I suppose it depends on how big HP devices are over there too. You can buy these direct from HP in some places like Singapore for example

Is India in the list of 42 countries? I heard the news that it will launch in Thailand on 1st Nov.

Yeap same in the Dallas area specifically at the Stonebriar Centre Microsoft Store in Frisco, Texas. I checked it out last weekend. Sadly I'm a long time Windows Phone fan and have a Lumia 650 but this week I just ordered a Google Pixel. I'll come back perhaps next year if the fabled Surface Phone comes out. I keep a Moto G 3rd generation for specific cases but rarely used it as my Lumia 650 is my daily driver. But a month ago I purchased online tickets for a high school football game to be held at The Star (The Dallas Cowboys new practice facility). Unfortunately when I purchased the tickets my confirmation email said that email confirmation would not get me in the game and that I would have to download the app and present my phone for admittance. So I had to use my Lumia 650 as a mobile wifi hotspot and download the ticket app to my Moto G to then present the ticket barcode at the gate for admittance. Having said that; I've tried to get by without apps and used websites pinned to my start screen in the absense of real apps on my Lumia but there are many occassions where a real app is needed. So it's been hard for me to make the decision but I guess with the Pixel I'm having to go full on Android and will use my Lumia 650 for Insider builds. I do hope that the Elite X3 does well because my honest opinion is that Microsoft will monitor the sales performance of this device and if it doesn't do well as a business phone considering that Microsoft has admitted that they are moving out of the consumer space. I do believe that there may never be a Surface Phone.

Your example about buying the tickets is a big reason why the app gap matters to many. Having said that, I've now come to refuse to use businesses that insist you use an App for anything, even though I have an Android tablet. Think about it, your email confirmation is enough, yet some idiot wants to use an app. Why? Everyone who attends the event needs to now have a fully charged data enabled smartphone, because some hipster in marketing enforces it. It's change for changes sake to look cool. Anyway, rant over. I hope you enjoy the Pixel, the camera looks impressive and the Photo storage is cool. Though if I got one, I'd immediately remove all Google services including the creepy Assistant.

Yes the ticket buying situation was a shock to me. I've purchased tickets many time online to events and usually was able to provide my confirmation email with a barcode to get into an event. So this was the first time that this happened. I actually panicked with the day of the football game I received the notification that my email would not get me into the game. After may initial panic I contemplated asking my wife if I could use her iPhone to download the app and use her phone at the gate. My second thought was those darn Dallas Cowboys making it difficult to attend an event at their new facility. But I decided to use m Moto G to do it. I had purchased the Moto G earlier this year and tried using it but after the performance started to detoriate. Plus I had used Windows Phone since 2010 and loved the way it worked. In the famous line of an Oscar winning movie, my mantra over the last year was "Windows Phone I wish I knew how to quit you!!" that I went back to Windows Phone going from a Lumia 640 to buying a Lumia 650 this past summer. But believe me; for over a year; I've had to create pinned websites on my start screen for Chase, Capital One, Life360 (to track my kids), to name a few to replace the loss of those apps over the last year. And I'm getting to lose the Hilton app soon as Hilton has stated that they are dropping support.to name a few. So I go to Android begrudgingly but I really hope that Windows Mobile ecosystem (i.e. hardware) can grow over the next year but again I honestly think Microsoft is out of the phone hardware business rumored Surface phone included and that they are content to support OEM such as the HP Elite. I'm curious to see at the October 26 Windows event if theywill highlight the Elite X3 and put some marketing behind it.

Even Apple is doomed in my Opinion.
They dont have their own Search and Bing is inferior to Google even in Language understanding.
AI will be the next big Thing and as i see it Google is too far at the Forefront on too many regions. In the Interest of a healthy Competition the Society should intervene.

AI is being pushed by Google as the next big thing, but I think that's because it ties lots of Googles data collecting services together. They are hoping that everyone uses "Google Assistant conversations" to access services such instead of opening an App. This way Google controls access and can capture even more data about you. The problem is, outside of Tech I know of few people who use Google Now/Cortana etc regularly. Most feel embarrassed speaking to their phone in public, while the hybrid model is better most still understand how to open an App. Not saying it won't happen, but the shift for the majority to controlling their entire phone/life by a AI bot is a big cultural shift which will require an epic effort.

Google Home, Assistant and Amazon Echo are here already. I do use the Google App regularily because the Language Understanding is better than Cortana. Language Understanding is AI and Google Assistant Replys will be better than Siris because Google is leading Search. People will get used to see us talking with machines as we are used now to see people running around staring at their phone. The big advantage with Talking is better Multitasking.

Multitasking has proven many times to be an ineffective way of working. I agree with you that Google's best positioned to dominate this area, but in order to do this they need society to feel comfortable not just speaking to a smartphone on a train, but also sharing their life with google bots (and Googles Advertisers). I think at some point Google are gonna need to find an alternative monetization model away from ads. Perhaps this is why they are now doubling down on hardware and giving 6 month YouTube Red (ad-free) subscriptions away with their Echo rival. Google do indeed have the best search & data tools, but I would much rather trust Apple not to sell my medical history to advertisers.

I don't understand why people feel more uncomfortable speaking to an AI assistant than speaking to another person over BT or wired headsets. The people around you don't know the difference.

Society should set better rules before Google gets too big. People should pay more with their money and less with their intimate data as these assistants need them for functioning. Security concerns kept me with Microsoft. Identity Theft becomes more easy as we let these assistants work for us.

All central Florida stores has these over a week ago, I picked one up on the 4th. Love it

what about the laptop dock?

The laptop dock was also on display at the Houston Galleria store. I didn't get to play with it, though, beyond just turning it on. I'm not sure it works simply by being connected to the phone or if you have to run an app on the phone and my wife and I were trying to leave after the HoloLens demo.

Wait, you actually saw the HP Lap Dock in a store? Was it available to purchase?

Sorry, I had it, turned it on, and I THINK there was a price tag. But I can't say definitively. I'd assume, however, that if it was on display, it's available for purchase.

Is this a full retail stores, or will their specialty stores possibly have them as well? I ask because my state isn't lucky enough to have a full store

I cant wait to head over to the Buffalo MS Store and check it out!

I bought mine on October 3rd. The website said that it was in stock in my local store in New Hampshire. I went to the store (that I've been to many times). I looked around a bit, but couldn't even find the old phones. They've moved them around in the store before. I asked someone where the phones are. They walked me to the back corner of the store. The phones were now on a tiny shelf completely out of view. It seemed like they gave up. They told me they weren't supposed to put it out for display until the next day, but sold me one anyway. I haven't been back, so I'm not sure if the HP elite x3 is on a different display in a better location, but I hope so! . I previously bought a continuum dock from an ATT store. They had to dig it out of a bottom drawer. I don't understand why they wouldn't have something like that on display to at least give it a chance. As for the HP phone. I really like it. It's a little bigger than I'm used to. I like the feel better than the 950. Seems more polished. I like the camera much better on my 950, and I miss the dedicated camera button. I can notice the speed difference, while not drastic, it's noticeable when using the dock. I don't understand the double tap settings. When you turn double tap on, the raise to wake and lower to lock features are enabled, but it doesn't say that anywhere in the settings.

If Microsoft isn't excited to sell their devices as your experience indicates, why would AT&T treat them any different. $800 is a ton of money for a product that might be discontinued in a matter of weeks. Posted via the Windows Central App for Android

My family and I as well as an entire small business one of us works for were totally prepared to buy about 30 of these phones... But still no Verizon support. We wanted to buy the Lumia 950 originally but also no Verizon support. Why? Google's Pixel phone went straight to Verizon and works on other carriers. Our Lumia Icons are aging and some of us are beginning to switch to Android and iOS phones. I know plenty of other people in the same situation too. Microsoft wonders why their mobile sales are so low? Maybe it's because they cut off all their customers on the largest carrier in the US... It's baffling that HP markets this as a business phone but doesn't make it compatible with Verizon considering Verizon is much more popular for businesses than it is for consumers where it already is the most popular too. What are they thinking?

There it is in a nutshell.. Said way better than I could except there are consumers want this too.

My wife and I would have replaced our 3-4 year old Windows Phones with 950 and 950XL if they were on Verizon. We have been looking at T-Mobile and ATT, but haven't made the switch quite yet. We will be buying Windows phones to replace our current phones. Verizon has a month or two to offer a premium Windows phone.
.
Regarding the HP Elite X3; last weekend, the Mall of America MS store (Minneapolis / St.Paul / Bloomington Minnesota) said mid October for display but they were taking pre-orders.

It is quite simple what they are thinking. People don't buy Windows phones so they are not selling them. Nothing more complicated than that. They sell iPhone, Galaxy, HTC, LG and Moto phones because they have proven to be good sellers. They dont carry current Firefox, Ubuntu, Windows Mobile or Blackberry phones because they have proven to not be popular. Not enough people want them to even make it compelling for Microsoft to sell a new phone, why would Verizon be any different? It is time to abandon Windows phones as it is only a matter of time before Microsoft does. They are waiting for the next evolution of Mobile and obviously that isn't W10m. Microsoft's actions speak quite loudly, even the Lenovo COO received the message. Posted via the Windows Central App for Android

Actually I would like to point out that Verizon does indeed still sell the latest Blackberry phones. So it's not like there isn't precedent here. On top of that, it was Microsoft that intentionally chose AT&T to be the exclusive carrier for whatever reason. Even T mobile said they would like to carry the Lumia 950 if Microsoft would just reach out to them. I'm sure if Microsoft really wanted to, they could have Verizon sell their phones or at least make their phones available for CDMA carriers like Google did with Nexus phones. Verizon didn't directly carry Nexus phones, but you could still activate them on Verizon's network regardless. Posted via the Windows Central App for Android

Verizon has their Android phone, but you won't see any BBOS phones front and center. They probably still have them on their website though. Going forward, that will be hard since Blackberry is not making phones any longer, just like Microsoft. Posted via the Windows Central App for Android

Re: bleached,
Please read the first Generalheed post again, slowly. The post is about HP.
Wow.

This thread is about Verizon not carrying the HP phone or any Windows phone. Maybe you need to re-read it! HP doesn't get to decide what phones Verizon carries. Posted via the Windows Central App for Android

Re: bleached,
Respectfully, please read the story and the thread again. It's a network access question. He is asking, what is HP thinking, not having it certified for the Verizon network. He isn't talking about Verizon's willingness, and Microsoft isn't in the topic. It would be ridiculous for anyone to say that any retailer (Verizon or others) would be forced to carry a product. That is why no one would ever say that.
(It's fun, updating, my comments, as you update/revise your comments below. Wow, such hate? What is your goal? To "educate" us?)
Best Wishes

Maybe you can explain it, but it seems he is ******** about Verizon not carrying any new Windows Phones. So either Verizon doesn't want them or Microsoft/HP doesn't want to pay the price to get them certified on the network. Microsoft knows they won't sell on Verizon, so it isn't worth the effort getting them certified and Verizon has no reason to pursue them. Microsoft/HP obviously aren't that dedicated to the enterprise market if that is their decision. Windows phones have had plenty of chances to prove themselves. All the other phones started with exclusives, even the iPhone. The difference is, they sold well and were able to leverage that into getting their flagships on every carrier. Sorry, the bottom line is people don't want Windows phones. This is the answer to his exact words "What are they thinking?".

Re: bleached,
Respectfully, please read the story and the thread again. It's a network access question. He is asking, what is HP thinking, not having it certified for the Verizon network. He isn't talking about Verizon's willingness, and Microsoft isn't in the topic. It would be ridiculous for anyone to say that any retailer (Verizon or others) would be forced to carry a product. That is why no one would ever say that.
(It's fun, updating, my comments, as you update/revise your comments "above". Wow, such hate? What is your goal? To "educate" us?)
Best Wishes

That is exactly what I was talking about. Why would HP bother spending money on Verizon certification for a device they don't expect to sell well? Posted via the Windows Central App for Android

Re: Bleached,
Respectfully, glad you have revised and edited your previous comments (about what you were talking about) to make them closer to the topic being discussed.
That said, Wow! I wish I was all knowing about where HP draws the line, in their investment of developing a new phone to serve businesses.
Best Wishes.
Peace..

Re: bleached If HP doesn't expect the phone to sell well, then why bother even making it? Anyways, yeah my original question was indeed about why Microsoft or HP won't get their phones on Verizon. The Lumia 950 does have the radios to support CDMA so it was definitely a decision on Microsoft's part not to support it. It's not that Verizon is saying no, because under FCC rules for the spectrum that Verizon owns, they're not allowed to reject unlocked devices that have been certified for their network. So it's Microsoft and HP's intentional decisions to create new Windows Mobile devices but not enable CDMA support. From the beginning Google's Nexus phones and now their Pixel phone have been globally unlocked with CDMA support even if Verizon didn't officially carrier them. And in HP's case, the phone is targeted towards businesses so why wouldn't they include Verizon support? It makes no sense that if they didn't expect it to sell well, they'd make it even worse buy cutting off most of their business customers.

Maybe they received a kickback on Windows licenses for their PCs or Microsoft sweetened the pot in some other way. I don't think it is that easy to get your device on Verizon. It sounds like the cost is very high to get the device certified. Obviously HP didn't feel it was worth it if Verizon cannot refuse. Posted via the Windows Central App for Android

You misunderstand how this works. MS doesn't go to Verizon and say, "here is the new phone you will sell." and Verizon says, "Oh, thank you, MS." It is more like, MS: "Hey, Verizon, how about this new phone?" Verizon: "Uh, not unless you make it in an exclusive color, redesign the body a bit and call it a different name so we can be exclusive." MS: "No we aren't doing that." Verizon: "Then we aren't going to carry it." MS: "Oh, well then we aren't putting your radios in it." Verizon: " Fine." MS: "Fine."

Re: SvenJ,
Yes, but this is a HP phone. So the statements about carrying the phone should be between HP and Verizon..
Then, and this is an entirely different topic, but there are FCC rules and regulations about who Verizon must allow on their networks and under what requirements. That topic has been covered elsewhere. Admittedly, a whole different topic.

It's more like this: MS: "Hey Verizon, we just made this new phone and got it certified by the FCC for use on CDMA networks" Verizon: "Cool, we'll be happy to activate it on our network since we are mandated by the FCC" MS: "Awesome! See you next year for our next phone!"

Re: Generalhead,
HP too?
I wonder why?

I bought one in the Houston Galleria store early last week.....they have had them for a while.

Second day I dropped it from car roof height on asphalt..it survived. Big move for me from 640.

Since this is aimed at business, does that mean it actually works with Verizon, too?

I saw one get tagged at the Portland store, so I imagine they have more than the one box I saw.

So, just went to the MS Store in Lone Tree Colorado, Park Meadows Mall, and the phone was not on display but talked to on of the guys there, and they were kind enough to bring it out and let me play with it, it is a thing of beauty! Did not realize how big it is... it had the original HP case which was very light and doesn't add that much size nor weight to the phone...

Anyone think there'll be some option to trade in your 950/XL for a medium to substantial discount on this?

Nope, can't see why they would want a second hand 950XL. Sell it online, there is your discount.

I bought this phone at the Microsoft store in Sydney, Australia 2 weeks ago. Incredibly well built device.

Can't wait. Mine just shipped today

This doesn't apply for a student discount.

Sure doesn't. I Def tried

The Scottsdale, AZ store has it on display along with its docking station and "laptop." Funny thing is that when I entered the store and asked about it the employee up front told me that the did not have it yet. But when I made my way back to the phones it was there. That was on 10/3/16.

**** yourself Microsoft. 4 years you have fooled me with your promises. Where the hell is windows 10 for Lumia 920 ???. Where are the apps, you bloody invest in ****, why can't you invest in apps ??

Microsoft does not make or develop the apps other than their own. Its up to the developers of the apps to make windows apps. They see the minescule user base and it is not worth their time to develop. universal apps are a joke as it's NOT as easy as fanboys and MS makes believe it is, since 90 percent of the so called "universal apps" for the "universal windows platform" are desktop only. If its as simple as flipping the switch, why don't they just do it? Then you have the so called bridge which gives developers a way to "easily port" their apps to windows universal apps. Again, this was a farce and they cancelled most if not all bridge systems since you CAN'T easily port their apps from android or IOS to windows Universal. The whole thing was a scam to get more users on windows 10 for free to data mine. Once people take off the fanboy blinders and see whats really going on.....its easy to see. Make all these false claims and promises, get excitment about the new "OS". GIve it away for free while riding the wave of promising new features and inflood of apps, then, axe it all and have ha sub par flaky, unstable crappy os. But....the upside of that all said people who jumped on the free OS bandwagon get their data mined for free without them knowing. Why would they allow priated copies of their OS to update for free......It's not rocket surgery. Very easy to see whats going on. When my systems were on windows 8 and lower, when they went to sleep they went to sleep...when I used my windows 10 devices, when they were "asleep" the hard drives were going nuts all the time.. So I started turning them OFF. To much shady **** going on with Nutella led Windows.

Years ago, I had one of my businesses' XP computers with a hard drive that ran like crazy when not being used. I always wondered what was going on and eventually we made a point of turning off the power when not used.

Truth downvote woo hoo.. Kevin, if I had one computer doing it I would not take much heed to it, but it was 5 of my computers on windows 10, ALL of them going crazy when "sleeping" When my mac sleeps, it sleeps, it uses next to no battery, nothing is going on with the HDs, it just suspends and waits for the the computer to be awoken from sleep. My windows 10 computers where killing battery, hard drives full tilt, both on the light and read/write light....etc.....something more than meets the eye with windows 10. 8, and before never did that either.

No thanks...unless this device will run flawlessly, with a stable OS and not this junk, I might consider it. No apps, lags, bugs, poor camera...

What? The lap dock doesn't have a touch screen?! Fail... :P

Really? For a touch based OS on a touch based device, they forgot to add touch? Well, I am interested in the phone (come spring when hopefully the price will have come down) but I'm not interested in a laptop dock that isn't touch. Not really interested in Continuum for phones without a lap dock (it still doesn't work great on laptops, let alone phones). The desktop dock is odd too, £150 for what amounts to a lan card and a monitor adapter lead? Hmm, better to spend that cash elsewhere and use Miracast.

Has anyone managed to get their chin hairs caught in the bottom grill of this thing? It reminds me of my electric razor.
Windows Central Newsletter
Thank you for signing up to Windows Central. You will receive a verification email shortly.
There was a problem. Please refresh the page and try again.