The HP Elite x3 will support a passive stylus and other optional accessories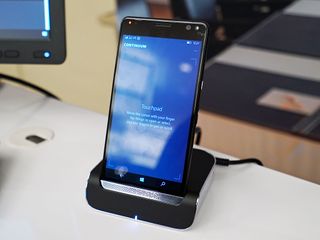 The upcoming HP Elite x3 will support a number of optional accessories, including a passive stylus for the Windows 10 Mobile smartphone.
In addition to the previously revealed Lap Dock and Desk Dock for the HP Elite x3, the company has released a list of the phone's official accessories (opens in new tab) (via WindowsBlogItalia). Among them is the passive stylus, which will likely be used by many owners of the 6-inch smartphone. The stylus will have a 2 mm tip and will also come with three replacement tips, along with a lanyard.
Besides the stylus and the docks, HP will sell a wireless charger for the Elite x3, along with three different cases, two screen protectors, and a privacy screen. Like the smartphone itself, there is no word on pricing or a release date for these optional add-ons.
Need more? Don't miss our other coverage of the Elite x3 including:
I think this phone just might beat the Lumia 950

Just might? You're kidding, right? The Elite x3 will blow the 950/XL out of the water in everything other than the camera area

Sorry if you didn't detect my slight sarcasm. I 100% agree with you

It will blow it away and be the "surface phone" that many are looking for.

Except it's not targeted at consumers and won't be readily available through the carrier model which most people still use. That's the only downside I see in this phone as it just keeps getting better and I would drop my phone in a heartbeat for this even with the missing apps and probably lesser camera if it came to my carrier. One picture at a time -- LG V10

*most people in the US, not most people. Outside of your bubble phones are often sold unlocked, even directly from carriers, and support all frequencies (no ridiculous CDMA to worry about either). It's only people on contracts that feel obliged to have "subsidised" phones, even though it costs far less to buy unlocked phones outright and go on the cheaper prepaid plans.

Yep exactly and GSM is really the universal standard used around the world. The only countries to use CDMA is USA and Great Britain.

MS is not making consumer phones either (http://www.windowscentral.com/microsoft-memo-reveals-shifting-mobile-strategy). Looks like there will be no "Surface" class device for consumers from anywhere.

Silly to let a carrier control what phone you can buy. I don't see people saying thay can't buy x model/brand car because their gas station doesn't sell/support it. Break the bonds that bind you. Also stop complaining that the major studios won't release their films on Betamax.

well that only happens in US and Canada. I believe in all the other countries, customer buys the phone and then goes to whatever carrier they wish.

Even in the US it only happens to sheeple. I'm in the US and always buy unlocked phones from a 3rd party. Don't buy cars from a gas station and don't buy phones from a carrier.

Only happens to sheeple? Maybe people who have more important things to spend $500-700 at once especially when you want to upgrade often and don't want to have to deal with the hassle of selling your phone before getting a new one. Instead of looking down at people who use the carrier model how about try to realize how convenient and easy it is for some people to pay $30 a month for something they might not even keep for more than a year anyway. I've bought both unlocked and through carrier so I see both sides. One picture at a time -- LG V10

I never said it wasn't convenient to be a sheeple ;)

Oh so in US people can buy cars from a gas station? I'm in Canada and have never thought of that or seen before.

and also except in the price. 950 likely to be almost half the price. Are all these features necessary / worth it for average user?

Should be no more than $300. With proper housing and cameras otherwise similar specs phones go for under 400$ nowadays and as free extra one gets non-dead OS. http://www.theregister.co.uk/2016/07/04/zte_axon_7_a_surprise_flagship_c...

This device is not designed for the consumer space. Those who do jump in on an expensive device such as this will end up like all those shallow fashionista's who just have to have the latest device full of mind numbing facts and figures, only to realise, once tied in to an expensive contract, that the previous devices were just as good in everyday use. The OS is FAR from dead, and the amount of posts, and comments stating this show little in the way of research, or statements read and a lack of news reading on here. As I have mentioned many times, if the OS is dead, why do people waste their time posting here? Maybe its a self fulfilling need to bring others down to the level of their own inadequacy. ;-)

Maybe they are true Microsoft fans and don't want to see them continuing down the same path that has failed 6 years running. Anyone cheering Microsoft on with their current mobile strategy isn't a real fan. W10M will never be successful and Microsoft needs a true reboot. These fake reboots have not helped. Until Microsoft changes the UI and branding, they are just wasting their time. People like you are cheer leading them into oblivion. Posted via the Windows Central App for Android

No more reboots! None. That's what killed the loyal fanbase.

Windows phone never had much of a fan base because of the polarizing UI and branding. It is a tough to say that the issue with WP7 and WP8 was the kernel or back end. Performance was always great so the issue must lie with the UI and branding. Windows is a liability in mobile, not an asset. Even on desktop, people only choose Windows because they have to. There is no other choice for their needs or they cannot afford a Mac. They can still use the W10 code, but they need to completely revamp the UI and branding. Get it as far away from Windows as possible. Posted via the Windows Central App for Android

Well before Nadella happened Windows phones were selling 10M/Q and there was positive momentum. Now market share is 0 and all is lost.

If they really had any meaningful momentum, Nokia would have stayed on the path. In reality the only thing they could sell was the cheapest devices in very price concious markets. That isn't sustainable, especially since those 520 buyers didn't upgrade to better Windows phones as Microsoft had planned. They bought Android or iPhones when the time came. The platform just isn't compelling. Users don't like it. There is no other answer when sales are completely non-existant.

Oh I can a afford a Mac, but they are useless in my line of work, no software available. Also there are just as good quality Windows pcs. Additionally the OS looks like someone in grade five made it. Posted via the Windows Central App for Android.. But waiting for the HP Elite so I can get rid of this junkie Galaxy S5...

"Even on desktop, people only choose Windows because they have to. There is no other choice for their needs or they cannot afford a Mac." @bleached. Wow - how deluded are you?! In your world of absolutisms people either just tolerate Windows or are poor? Did you ever think that people actually like using Windows? It didn't get to 88+% marketshare because we don't have a choice. Some would argue that Linux is a choice - but the reality is that's only for the gearheads and not suitable for general consumption as a desktop. Mac OS is also a choice, but put any Windows user behind a Mac and they'll want to smash it after 10 minutes with it's clunky UI and unhelpful error messages. I've been in offices full of Macs and there is nothing superior about them - they have just as many hardware issues, and the users have just as many, if not more, support issues. Or did you ever think that there are people that can easily afford Mac's but actually utilise both hemispheres of their brain and realise that the Mac hardware is overpriced and that buying a PC is a better use of their money? Not even buys cheap PC's (maybe in your world) as millions of people enjoy buy gaming-rigs that will destroy any Mac on the market.

Exactly, BB OS is here to stay... Oh, you mean WP? Sorry, but you sound like the Blackberry fans from a few years ago who swore BB OS10 would turn everything around and BB was going to come back and dominate the mobile phone market. Yeah, didn't quite work out for them did it? MS has different problems aside from the OS which is the best mobile OS IMO. Their true problem is they couldn't find a way to get their phones on carriers. As a Sprint family plan owner with a grandfathered unlimited data plan I needed something on Sprint. Nothing except old WP models from years ago. I ended up jumping to Android and would love to go back to WP, but the situation is worse now than it was 2 years ago when I left WP. So you may want to temper your cocky predications lest you may end up heartbroken like the Blackberry fans who 'knew' more than everyone else that BB was just ready to take off again. Now if MS finds some way to make a 6 inch x86 phone that runs Windows 10 and metro apps as well as a battery that lasts a whole day I would plunk my cash down in a heartbeat, but don't know if that will happen anytime soon.

S7 edge? Htc 10 ? Lg g5 ? All around e 650...

You probably think the Surface Pro 4 should be $200 too right?

No they aren't, that's the thing though, it's not designed for the average user. I think a lot of people just fall into the numbers goon category and say how much better the equipment is, when it doesn't need to be. Sadly too many people will pay a premium for a higher number in categories where it doesn't matter.

I wouldn't think many of the accessories' would be much use in a non enterprise setting, unless of course you are of the type of person who has to have everything. I can see the same happening with the X3 as happened to the fab 950/xl. Price cuts after a short period due to 'restricted' sales. I'm going to stick with my 950's for now and let's others get sucked in to the hype ;-)

I don't really see these as being business-oriented accessories. When I get an X3 I'll definitely want a case and screen protector. Wireless charging? Why not!?! That just leaves the stylus. I won't be using that myself but I'm many will. How many average consumers user the stylus on their Galaxy Note? Quite a few, I'm sure. Hell, my mom uses her Note's stylus and she's far from the enterprise world. Posted via the Windows Central App for Android

A lot of people bought Blackberry handsets which were also way more than they needed. I know the sales and popularity of Blackberry has been surpassed but in it's day, BB was king (no pun intended).

Many people bought Blackberry devices which were more than they needed or even understood. True, BlackBerry has been surpassed in sales and popularity but back in the day BB was king (no pun intended)

it may be beat it with the HW BUT it wont beat it with the PRICE... it will be fudging expensive device. I think HP will hit a price tag near 1000USD. Its sounds unrealistic but I have the feeling of it. The HW is superB they ADDed a lot of functions so... cant be and wont be cheap. It wont be advertised just as a phone

What if they haven't announced the price that way they blow everyone away when it's ridiculously cheap?

It's all pointless. We're all just speculating at this point.

I'm not so sure it'll be that much. I'm thinking in the area of $800USD maybe a little less. It's designed for enterprise users, and I'm sure will be priced to beat out things like iPhone, and the Note series. Pure speculation though, all we can do is wait and see when they annouce the price.

They have no advertisement so the price wont be that high, it was said by Daniel himself.

Well you're right about that it won't be advertised.
At all

Lol are u kidding
This beast will blow the 950/xl to dust

http://www.windowscentral.com/hp-elite-x3-will-have-number-optional-acce...

At this point is really the camera what worries me.

And lack of dedicated camera button..which I've learned to love on my 950.

I can deal with that, for me its the lack of OIS

This is an Enterprise-grade phone where their direct competitor is Blackberry and SONIM. Both companies having cameras around 4-8 MP and is mostly for taking photos of documents, spreadsheets, CAD drawings, etc.

Camera is nothing... Many photo editors out there. The other spec are wowzers

Again, this phone is in direct competition with Blackberry and SONIM and those phones have 5MP cameras so HP decided to stay around that.

Bb Priv have 16 MPx camera.

That one was for consumers. I'm talking about the Blackberry Z3, Z5, Z10, Q5, Q10, Z30, and Blackberry Classic

Camera is nothing? Lol. Photo editors can't add raw quality to a picture. Once you get used to 920, 930 and 950 photo quality, there's no going back.

There lack of dedicated camera button is off putting. Otherwise, looked like next short term windows 10 flagship in terms of specs.

Does anyone know the dimensions of the device compared to the 950XL?

Seems to be The windows Phone...pitty no Radio FM, at least to me it is a basic feature. Anyway, looks really really awesome

Unless the hardware doesn't allow it, there's no reason to believe it won't support an FM radio the same way other Windows phones do. There are plenty of FM Radio apps to replace the MS specific one.

Radio FM is removed from all Windows phones as of W10M build 10586.420

Download an fm radio app. They all work fine

yes but it's been discontinued so the built-in app has been removed. Moving forward, though the chipset will be removed just like Android and Apple phones. This is really the wireless carriers troubling Microsoft and its OEMs about the FM Radio being there - the carriers would want people to pay for it or pay for online streaming.

The FM Radio chipset is not removed; it is built in to the Wifi/BT chip that comes in the phone. It's even available on Apple phones, but Apple chose to not include support for it.

The chipset on android supports fm radio. The operating system doesn't. Right now W10M supports it just fine. It's more work to remove support than it is worth. FM radio apps should continue to work. The stock app was dropped because Microsoft doesn't think it was worth spring the app. That's a far cry from trying to change the OS to no longer support it.

Ok thanks for the clarification

Damn, gonna make me do it, huh? I'm going to try and wait to see what MS does with their device. Right now, my 1520 is holding up just fine. If I have to upgrade sooner than later, I will be likely to get this phone.

Microsoft already released the Lumia 950 and Lumia 950XL. You can wait until next year for Microsoft to update their lineup

A passive stylus will work on *any* capacitive touch screen. This is basically like those things they hand out at conferences. On one end, it has a rubberized tip that will appear to the phone similar to a finger, but won't leave smudges, while the other side just has a finer tip to allow more accurate "touch" (similar to the stylus you find in credit card signing terminals). For those looking for proper "inking" support, the OS will need to be updated to handle pen tip sensitivity (like it does in the desktop / tablet version).

Yup, though with a phone they don't have to have as great pressure sensitivity as on a more robust device.

I agree there. The main point I was making is that this (or any other similar passive capacitive stylus) will work on just about any current smartphone... including Lumia, iPhone, Galaxy, etc. So I'm just calling HP out on them marketing it as an optional "feature".

Maybe they meant it will come with a stylus?? The one in the picture looks pretty nice :)

W10M Redstone 1 (coming on Aug 2) has active pen support. Maybe the will release a different pen later on.

To support active pen, the screen has to support it too (which this phone's screen does not). At first when they announced the x3, I had thought the delay was *specifically* due to them waiting for active pen support, but now that we know otherwise, I honestly have no idea why they didn't release this phone sooner.

My guess is that they secretly added in the hardware so that it will be enabled at a later date. Just like what Nokia did with a notification LED - most flagship Lumias had it and could be enabled later on.

Ethernet and thumbprint support in Redstone, right? Launching a phone with out a general release is sketchy...oh wait...

Ethernet support is basically OTG. That has already been working since early W10M builds in Dec. and is what makes the Continuum part work for these premium phones. Fingerprint and Iris Scanner full support coming in Aug 2

No, an active pen simply simulates a capacitive stylus and requires a battery source. I use an active stylus regularly on my Lumia 640.

One reason for the delay is waiting for fingerprint support in Windows Hello. Could be other things too, like finishing details and getting production ready. Or perhaps getting the backend ready for handling x32 apps remotely.

I think there's a bit of confusion here. I think what is meant is that the stylus will be "Passive" technology, like the Wacom Feel compatible devices (Surface Pro, Surface Pro 2, Galaxy Notes, Galaxy Tabs), unlike "Active" which is N-Trig like in the Surface Pro 3 and Surface 3 lines. A passive stylus should still have the same kind of features like pressure sensitivity that the first two Surface Pros and the Galaxy Note/Tab devices had. IMO, the biggest difference would be that a passive technology will not require a battery, like the active technologies do.

And also HP Elite X2. It uses Wacom technology too. I'm a bit disappointed when MS chose N-trig instead of Wacom moving ahead.
Many reviews show that it has become the Achilles' heel of Surface that its pen suits less for creative pursuit (more to note taking) compared to Wacom Companion 2 & Apple iPad Pro.

Actually, Microsoft is currently working closely with Wacom to make future products cross-compatible (i.e. pens that work on either type of digitizer grid).

But AFAIK, MS has bought N-Trig. Cross-compatible is different from using the real Wacom tech. I'm skeptical about that. Churning all EMR, AES & DuoSense might take longer time to be integrated and further to be on similar performance. I doubt the next Surface will already have that ability. Unless Panos really lives up to the expectation.

My barber gave me a ballpoint pen with capacitive rubber tip. Using phone like a boss

Lack of a camera button and a really great camera mean I won't be getting one of these but the support from HP like to be brilliant! Hopefully it'll lead to an improved model next year. Seeing the word "stylus" got me all excited but unless it's an active one it won't be of any real use to me. Alas!

HP does not care, this is for Enterprise and is going to be marketed and sold as such.

HP partners with Wacom for stylus tech. Wacom standard pen is passive but pressure sensitive. Look at Elite X2.

This looks awesome. I've been a loyal windows phone fan since the lumia 920 was new. I'm going to stick with my lumia 950xl with mozo cover (for chrome/leather look) until the rumored surface phone comes out... and if the surface phone doesn't come out next year, i'll be done, i'll go with the Note 8 i guess.

The rumoured "Surface Phone" or "Halo Phone" should be coming out in Q2 2017.

Have fun with that Note 8 pal. Whenever I try my wife's Android I shudder at how terrible the OS is. Android OS is not worth the extra apps you'll have access to.

And yet, year after year Android continues to grow while Windows phone has all but died. If Android was that bad, it wouldn't have the repeat customers that have brought it 85% of the market. If Windows phones were any good at all, they would capture more than .6% of the market. The numbers are staggering and not in Windows phone's favor. It is time for Microsoft to go back to the drawing board. Posted via the Windows Central App for Android

I would have to disagree. I can't imagine banking without those "extra apps" and Windows lacks those "extra apps". Thanks to those "extra apps" I have never had to step into a bank in forever.. As for tablets and such, Windows all the way! Android is effing useless when it comes to tablets and such!

I will be buying this and ditching the Lumia 950XL, which is lame at best

What makes the 950XL lame is the software that runs on it. That won't change with this phone.

What makes Windows Central lame is ass hats like you trolling... so it all evens out I guess...

Software is fine, it's the hardware thats dissapointing. The first SD 64-bit cpu, SD810 overheats and guzzles tons of battery when in use. And a 2K screen that really isn't needed on 5.7", with a mere ~3350 mah battery to power it. The phone is pretty decent, but its absolute garbage when it comes to hardware selection in my opinion. I love the phone in a special way but blaming the software is just stupid... Other Lumia's (and OEM phones) do just fine on the same software, so why is the 950xx family plagued with battery and heating issues?

What exactly does this phone offer that the 950XL doesn't that would de-lamify it?

Pen support. HP uses Wacom tech AFAIK. And also, the peripherals and x86 virtualization. Enough to make 950 feels old.

Finally they announce that there is going to be some cases for the phone. I am getting the rugged case forsure. I hope it looks nice as well. I would like to see Otterbox make a rugged case for the HP Elite X3 :)

Start getting people to send emails and messages to Otterbox so that they can see there's demand for a case made by them

Interesting...I may have to get this phone. Very nice!

Shame its not an active stylus, a passive stylus will work on pretty much any smart phone so its not really much of a selling point especially as its not built into the handset like the Samsung Galaxy Note series. I'm still interested in this phone, it would be my first personal Windows phone, I'm currently using a Lumia 640 for work.

Wacom stylus is passive but pressure sensitive. Like in HP Elite X2. You seem to be confused between passive capacitive generic stylus and passive digitizing Wacom stylus. Active digitizing stylus is not the only stylus that supports pressure sensitivity.

Isn't reporting that it will support passive stylus more or less like reporting that it has a touchscreen?

I was thinking the same thing. I bought a cheap stylus for my 640 and it works fine. Haha

They are reporting that hp will sell one for it, not that it will support it because that is guaranteed

You are confusing "passive" stylus with "capacitive" stylus. Not the same thing.

Specs are good only the pricing would be deciding factor now!

Well the only problem is that this product is being marketed towards businesses, so I'm assuming you'll get a better deal when you buy in bulk. I'm going to assume consumers might have to pay more if they just want one, but probably won't be as expensive as everyone is making it out to be

My mind read this twice as "massive stylus". My mind is not wrong, here. Posted via the Windows Central App for Android

Maybe it placed such way to make stylus image pop out... but also I don't mind pen size stylus. Currently using a thin stylus on my Note 5 and it's not so comfortable to use... It's just me but others may have different preferences...

This phone will sell a few hundred units max before discontinued. What is hp thinking?

John, I want an upgrade from my 640. I do want to get the rumored "surface phone", but I'm afraid I'll be waiting a really long time. Do you think the surface phone may have features the Elite does not? Or do you think their specs/features will be similar enough that I could get the Elite now, and not regret it when the Surface Phone comes out?

I'm not John (sorry!) but I'll give you my own personal opinion on that. The Surface Phone (if true) will almost certainly possess better specs, but it can go two ways. The first is that the upgraded specs are just new iterations of chips, more RAM, all of that stuff - in which case, the spec difference won't be huge. The HP will still be the second most-powerful W10M device made. Features would likely be the same across both devices. The other way is if Microsoft delivers on what I feel is an overoptimistic dream from the fans and produces a beast of a phone capable of running desktop software. That would outspec any phone ever made. It would also be perhaps the most expensive phone ever made too, way more than the cost of the Elite. As the phone hasn't been confirmed, no one can really say what it will do. I can't necessarily answer your question as it depends on what you look for in a phone, your budget, etc. The Elite will still be a hell of an upgrade from your 640, I'm sure, as would a Surface Phone.

Thank you! That was a great answer actually. I'm thinking I might get the HP. I'm just afraid I'll kick myself for not waiting. Panos P. Is doing great things with the surface line. I'm getting so impatient, haha! The 640 is a great phone, but you know.... it's a 640.

The 'surface phone' is still currently an urban myth. Nothing has been released with regards to confirming such a device, nor have there been any spec sheets released. Unfortunately, I'd love to help you out but my crystal ball is dusty. Remember, which many people forget, this is not officially coming to the retail sector, it will only be marketed to the enterprise sector (in the first instance), so don't get your hopes up just yet. This device has been hyped beyond belief, and what were rumours and supposition, seem to have become ( unfounded ) truths. The specs are very impressive, but as with all things tech, the software is the weak link. I have redstone on a 950xl and its quick. But not noticeably quicker than my 650's. The 950's cope better with many things going on at the same time.

All i want, is a Freaking Galaxy Note with Windows 10 Mobile on it................why cant we get that from Scumsung.........too many samsung propietary apps on Android, and the lack of full Samsungization available on a W10 Mobile device.

Because Samsung didn't make enough money on their old Windows phones to justify making a new one. And if Windows doesn't support active styli and the other Note features, they can't just add it on top like they can with Android.

AFAIK, HP partners with Wacom for its pen tech. Passive digitizing stylus aka pressure sensitive without a battery.

You can't get that because Windows phones do not sell. People do not want them. Microsoft needs a new product, this one is a proven failure. Posted via the Windows Central App for Android

It certainly sounds excellent, not due to upgrade till Feb and the chances of my carrier getting this phone is nill, currently charging £50.00 a month for the 950. So its sim only for me and a big payout for the phone.

Now stulus is the only differentiator a proud Lumia 950 XL will long for...
If just..MS had gone a step ahead to add the stylus which was rumoured even by windows central ;/

No it's not. You can use any passive sylus on the 950/XL.

Reporting that it will support a passive stylus is the same a reporting that it will support fingers.

All those saying I'm getting one, what if they bypass the consumer space, and only permit enterprise purchases'. It does happen, much like cash and carry stores for grocery resellers? They have stated many times that it is for enterprise, and to start with I can see that being adhered to, with us in the consumer space being violated, should the uptake be lower than anticipated. Then we will see huge prices to cover their bottom line. Currently, in the UK, preparations are definitely under way. The amount of HP enterprise adds being shown is on the rise. Until recently you were lucky if you saw an add for a printer! Now, its all HP Enterprise and MS cloud, MS security etc.. Something is coming.....

I'm sure there will be some popping up on ebay for a good profit if this were the case.

They've already said consumers will be able to purchase directly. Just don't expect to see them in stores, though I would imagine Microsoft will also sell them.

I think a lot of people here are mistaking this as a consumer device, I don't think the success should be measured by how many consumers decide to buy one but rather how many businesses decide to buy into the idea of this device being used as a replacement for laptops, that's the unique selling point including the accessories that go with it. My company recently switched from Dell to HP for IT supplies so I'd like to hope I get one of these in future but from a consumer point of view this device has nothing over what my 950 already gives me.

It will be a tough sell in enterprise as well. Windows RT isn't useful for business and Windows phones have no foot in the market. The app gap becomes really important when you are trying to get work done. Not having the app you need is a bigger deal when work is on the line. Posted via the Windows Central App for Android

"The App Gap Conundrum" will really depend on what business apps are needed for the device, though, which is dependent on the business' needs, since businesses aren't uniform. For general office work and e-mail/Skype correspondence the current experience is usable, with macros in Excel the only thing I'm really missing in very rare circumstances. It would also require an investment of a business into the Windows ecosystem for generally available applications and their own privately-provisioned applications. Assuming that there are businesses out there that will develop UWP apps, or use Centennial to convert existing apps into UWP apps, for their own private use and will provision to their devices, the phones can potentially be the only thing a professional needs to be productive on the go, at a hot desk, in a hotel room (with a ScreenBeam and a Bluetooth keyboard), or at their personal desks at home or work.

An ultrabook does the same thing without the hassle of Continuum or having to use WIndows RT. It is a non-starter, there just isn't any good reason to use your phone in that way. An IT person who attempts to implement such a system is going to get lots of strange looks and complaints from users, especially when you try to take their iPhones away. It is just Microsoft trying to solve and issue from 2005 before the Cloud made your data ubiquitous.

And Continuum can potentially do the same thing without the hassle of carrying multiple devices. Imagine going to work with just a phone and plugging it into your desk, then taking it off and then heading home to plug that into your home office. Your argument assumes that even when they can do the same thing (as you said yourself) one method is still inferior to the other, and why is that other than the ad-hominem argument that you'll get a lot of strange looks and complaints? In your defense it -is- a hassle right now outside from that home and office scenario that both have docks, or if you're travelling on business since you'll either need to carry a laptop dock and/or a Miracast Adapter and a Bluetooth Keyboard. However,if the technology moves forward, especially if it's possible to use USB-C, for example, to dock Windows devices (PC and Mobile) in a vendor-agnostic manner, the hassle becomes significantly less. It's pretty presumptuous to assume that the idea will not catch on, or will catch on, when ultimately nobody knows until it's tried and either fails or succeeds. It's also pretty myopic to think that it will stay a hassle without changing. I'm hoping it succeeds, but I make no assumptions of its success, even if I've been using the setup myself personally for about seven months now.

It cannot do the same thing without carrying multiple devices. You still need a display, mouse and keyboard. Even after lugging all that around, you are still stuck running a gimped version of Windows RT. What really is the point of having a dock for your phone at your house and at work? There is no practical reason for it other than novelty. Your data is already ubiquitous thanks to your VPN or the Cloud. A Surface Pro is a much better experience and can stand alone. It doesn't require a mess of wires and peripherals to be efficient. It doesn't limit you to only the app store and has tons more power. I have not heard a compelling reason to go through all this hassle when a laptop and phone can accomplish the same results in an easy and efficient manner. Regular users are certainly not going to understand it, hence my comment about getting weird looks from normal people expected to adopt this. Posted via the Windows Central App for Android

Um, 3-week business/pleasure trip I took. Only thing in my briefcase was a Microsoft Wireless Display Adapter, a Bluetooth Keyboard, and a Lumia 950. Took client notes and accomplished general office tasks using Word/Excel/Powerpoint/OneNote/Outlook and Zoho CRM; edited some source code on a pet project and automatically saved it to OneDrive; RDP'd into a VPS (to compile said code) and SSH'd into a home server to do an update to a Debian Stable GNU/Linux system AND was able to just disconnect and have lunch while the servers did the work in the background; Took pictures and made edits using Photoshop Express to give to a photographer and to catalogue a new vacation album; plugged the miracast adapter into a hotel's HDMI port to use an actual desktop-like environment and even watched Hulu and Netflix before bed. Where exactly was this display I -needed- to bring with me? And was all the work I did just something I imagined?

I didn't say it wasn't possible, I just asked what the point was when a Surface Pro would have done the same job easier. You were lucky the hotel had a display with an available HDMI port, but I am sure you didn't find one in the airport or coffee shop. I am just asking why? What is the point? No one seems to have that answer. Posted via the Windows Central App for Android

"It cannot do the same thing without carrying multiple devices." That seems like saying, "It [isn't] possible," doesn't it? And easier? To me there was nothing harder about it, other than I didn't have to pull an ultrabook out of my briefcase during TSA checks. In the airport or coffee shop? I usually have what work I need to do taken care of so what I need to do is light on the airport, but I have no problem working with a 5.2" screen for that kind of work; I don't need a bigger screen when I'm at an airport or a coffee shop. I just need to prop my phone up. The point is that the concept works, and you can reduce the amount of actual stuff that does computing to 1 item instead of 2, and -still- accomplish work and play. Not to mention the benefit of not having to worry about having to leave a Surface or an Ultrabook with sensitive information in your room; you simply have to guard your phone--which is already something that IMO the majority of people already guard. You said it yourself: "Your data is already ubiquitous thanks to [a] VPN or the Cloud." In addition to actually working, why guard two devices which contain information at risk of being compromised, when you only have to guard -one- that can use a VPN/VPS and the Cloud to not only store data, but also to accomplish computing-intensive work?

You did need multiple items though. A keyboard, mouse and dongle are required for the system to work. Even if you lose one of the devices, your data should still be encrypted behind biometrics or passwords. That is not an issue. It certainly isn't as big of an issue that you now have no way to get your work done if you lost your phone. You still have given no practical reason for Continuum. Posted via the Windows Central App for Android

And under your statements, if I lost an ultrabook I would've gotten no work done at all, which leaves me at the exact same situation. At bare minimum, I need two: the phone and a keyboard (the dongle is nice to have when a bigger screen is available, but is not required to continue using the phone for work). In your bare minimum, you need two: a phone and an ultrabook. The disadvantages that you put are not unique to Continuum; they would've happened regardless of the items used. EDIT: Actually to do work at bare minimum, you would only need 1: The phone itself. Would it be enjoyable without at least a keyboard? No, and the keyboard is the only item I would really -want-to make work work at bare minimum, so for me it's the 2 I described. But it can be done.

No, you would still have your phone to fall back on. I could have accomplished the same tasks you described with my Nexus 6. I find no reason to when I have my SP3. Either way, continuum isn't practical. For the average person, there is no reason for them to use it and as such they will not. It will always just be a novelty for enthusiasts, at least until Microsoft kills it. I will continue to search for a practical use for Continuum. Posted via the Windows Central App for Android

I raise the white flag. Clearly, if the argument is it's always better to have a phone and computer no matter what, Continuum would never win, because it's Continuum's fault if one loses a device.

Красивый стильный телефон... Вот бы больше телефонов на Windows Mobile!:)

That just leaves Price/Carrier Support/Double Tap/Glance. Pretty excited for an HP device for the first time ever!

Yes it funny how that is. I wouldn't touch anything from HP, but this ONE device is very alluring ☺

Since the introduction of Windows Ink for desktop, I have been hoping for ACTIVE stylus/pen support for mobile. I'd love to see this in RS2. What does it mean to "support" a passive stylus, really?

I believe RS2 will bring what you want. It's supposed to be far more Mobile focused.

Well, I hope so. I know RS2 is supposed to coincide with the Surface Phone aka Panos' Phone, and we know how much he loved his unreleased Surface Mini for taking notes. What I'm also wondering is whether new hardware will be necessary at that time to work with active styli, or whether the soon-releasing phones like HP x3 or the Alcatel Idol Pro 4 will be able to use them.

Hardware is required for an active stylus.

Really hope MS is paying attention to this phone. Much of it is sorely missed on my 950XL...

I really want this phone. I really hope it makes it way to the average user.

I like the sound of a stylus.

Haha where's the guy who says "Windows phone is dead stick a fork in it!" Posted via the Windows Central App for Android (V10 or Nexus 5X)

In response, I'd say put a fingerprint reader in it ;)

Haha alright Posted via the Windows Central App for Android (V10 or Nexus 5X)

I must be in a mood today. Tired of hearing about this is coming that is coming. Been hearing this for some time now; lets have it already.

I really wish there was a new Skype for Business UWP app to go along with this phone - Not just for this phone as I want a better app for my own use on my 950, but a lot of Enterprise users have access to S4B and the 8.1 app is "ok" but it seems to be performing worse lately, keeps showing me the start up tips and missing messages

So the stylus doesn't fit inside the phone...another thing to carry...

Oh I hope this will be available on Verizon, oh I hope this will be available on Verizon, I do I do I do

I was overly excited at first, but after some study I might not put many hope in this X3. https://www.windowscentral.com/e?link=https2F2Fcrea...
The info in the data sheet is too simple. Perhaps it refers to simple passive capacitive, not the EMR-type pen of which Wacom is good at. HP Elite X2 uses Wacom AES tech (an active pen).
HP Pro X2 uses Wacom EMR tech (a passive pen).
*Assuming only HP Pro X2 is included in Wacom's feel Pen (EMR tech) site.
https://developer.wacom.com/technologies/feel-pen Types of tablet for those who are curious.
https://en.wikipedia.org/wiki/Graphics_tablet I got confused at first, sorry for my misinformed replies to some of you.XD

Can't friggin wait.. Getting the phone, laptop, pen and whatever else they dream up.... Posted via the Windows Central App for Android.. But waiting for the HP Elite so I can get rid of this junkie Galaxy S5...
Windows Central Newsletter
Get the best of Windows Central in in your inbox, every day!
Thank you for signing up to Windows Central. You will receive a verification email shortly.
There was a problem. Please refresh the page and try again.