HP rolling out yet another firmware update for the Elite x3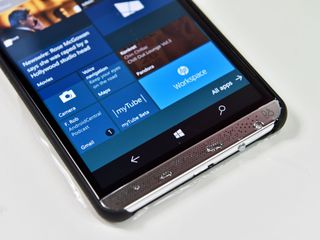 HP is rolling out yet another firmware update for its HP Elite x3 running Windows 10 Mobile, featuring more performance and under the hood improvements. HP is yet to release an official changelog for this update, but when they do we'll update this post accordingly.
The new firmware update in question is rolling out as version 0002.0000.0023.0113, up from the previous firmware version 0002.0000.0018.0105, and so far we've noticed Windows Hello feels a tad-faster than previously, which is always welcome. We're still digging for new changes, so let us know below if you notice anything new.
This is HPs 4th firmware update for the Elite x3 in just a few months, which is great news as it means HP is committed to supporting their Windows 10 Mobile device. We suspect today's firmware update will improve the experience when using the HP Lap Dock too, as that device launched with some minor bugs and issues.
Thanks for the tip, @SilverFoxxx1
Zac Bowden is a Senior Editor at Windows Central. Bringing you exclusive coverage into the world of Windows 10 on PCs, tablets, phones, and more. Also an avid collector of rare Microsoft prototype devices! Keep in touch on Twitter: @zacbowden.
I need to get me one of those

I love the phone. I had the 950XL, and this is better by far (never tried the Idol 4s) It sucks when running the previews though, but if you avoid those you have a great phone.

Idol 4S is fantastic. In fact, the only thing I can think of that they could do a firmware update on is the camera.

No you dont. Nobody does !

Switched a month ago, was considering leaving the beloved wp ecosytem because, but it's day and night compared to my 830. The HP just works way better! Love it.

It's a great device, I managed to buy one second hand, but in basically new condition (all the accessoires, even the charger, where stil in original plastic) on marktplaats.nl (like a dutch Ebay) for €475,-. Best deal I've made in years, as the local retail price is still around €800/900. Have been using it for 3 days now and absolutely love it! Prefer it over my Nexus 6 (which I've now put on sale on marktplaats.nl) Can recommend this phone to everyone who loves W10M!

Nice, went to check for the update and it was 75% ready to install. Will have a good look around and see if there are any changes

This phone has a brighter future than my Lumia 950.

We don't getting more firmware updates on L950? There so many changes in new builds, that need to be optimize with firmware updates....

Unfortunately the team that produced the Lumia firmware updates is no longer part of Microsoft, so its doubtful that anymore firmware updates will be released. Remember that the W10 update is quite good on older phones without requiring new firmware, so its unlikely that firmware will be required for future OS updates.

Not really, it was still developed by the old Nokia gang, the majority which have been sacked from Microsoft. It was the people that were brought into Microsoft from the Nokia aquisition that developed the hardware (and therefore, the firmware) for the Lumia brand.

Are there ex-Nokia people still working for Microsoft? Or have they all been let go? This all makes me wonder how many (or even: if any) Nokia features will carry over to future "Surface mobile" devices. Is this goodbye to DTW, Glance, innovative camera hardware and software, ... ?

Not really, as the DTTW and Glance are now available with other manufacturers, and camera software and hardware are better opet there :)

What phone besides Lumias is Glance available on?

They have all left...either fired or left on their own accord. Keep kidding yourself about the surface "mobile" device. NOT HAPPENING. But no, none of the Lumia greatness will be coming to anything MS develops from here on out. The AWESOME thing is that most of the Nokia Gang are working on the Nokia android phones so you will bet that most of these features will be implemented into their new flagships, probably just under different names. Nokia still owns the patents on the tech, MS just licenced to use them. Nokias flag ship will be shown this month. Supposedly running on the 835. I just hope they had enough time to develop a new 1020 camera phone.

Quite good?? Oh comeon x30 x20 x40 is unusable with windows 10, only x50 series is operate normal with win10mobile. My 950 have the stuck on lock screen issue, when I unlock my device , I have a black screen for 7-8 sec and cant use it, after that the brightnes is stuck on lower, and the proxy sensor stop working, after reset is good , after hard reset this is not happening, but after installing a cumulative update is the same.... Very annoying :(

That's not really true though is it? You are just being over-dramatic. W10M runs well on the majority of officially supported handsets. I used the 830 for 12 months running W10M, I'm not sure how that is possible if its unusable as you suggest.

I have the same problem and it isn't only me and you... So many guys have the same issue! Microsoft seems to dont care because so many builds and the problem remaining!

My Lumia 1520 and Lumia 435 are both running W10M without any problems. I have access to Lumia 930 *2, Lumia 1520 *2, Lumia 650 directly in my town since I endorsed those buyers. I can ensure they all work fabulously.

While W10M works on my L 720 as well as L 520, its really painfully slow. Its a charm on my L735 though !

Open your eyes dude, I have 640xl it is slooow, I have 950 with last build and is much slower like a huawei p8 lite.... The p8 lite is open the apps instantly, my lumia 2-3sec because the slow animation, and the FB app is some times 10-20sec , also the messenger, this is annoying. And yes I know this is not nativ apps , it was ported, but I dont care for that,

My 1520 is blazing fast with windows 10 mobile. It's probably even faster than a 950 according to some users.

I could see that since the 1520 is pushing good old 1080p :-)

And it just gets faster with every update.

yes can't wait for the next fast ring build, this last one was a hit and miss

Put your 1520 by side with a huawei p8 lite, and you will see how slow is your 1520. I saw it with my 950, and is annoying, beacause the WP priority has the speed, and now that is gone....

I have a L640 running fine on 14393.726

That is fixed with disabling automatic brightness in Display options.

My Lumia Icon is fantastic with Windows 10. A few things were better with 8.1, but overall, it's much better with Windows 10. Don't get me wrong, if there were an option on Verzion, I'd jump on a new flagship device in a heartbeat for the general upgrades -- Continuum, micro-SD support for more than 32GB, etc. -- but there is nothing wrong with the Icon and Windows 10.

I'd settle for a firmware update that brings back super sensitive touch. Overall, I really like my L950, but it's been a real **** this winter not being able to operate it with gloves on.

Unfortunately I doubt it's a firmware issue =/

Yes, we need firmware update to solve two issues:
1. Unable to see 5GHz wifi in airplane mode or if there is no cellular signals.
2. For dual SIM Phone, the 2nd SIM can only use 2G which is shutting down now. We need use 3G network.

I don't know that the dual SIM issue is an HP thing, as I've had the same experience with a Lumia 950XL too. Unless it's something HP can work around or find another way to accomplish it, it may be a Windows 10 Mobile issue.

I mean dual sim phone of x50 series, not HP X3, according to some users that X3 can use 3G voice on 2nd Sim.

Definitely agree with issue #1.

Are you sure the "Only 2G in SIM slot #2" isn't a hardware limitation? In my P9 Lite you can only have 3G/4G in one of the SIM slots, not both.

Gonna buy it when down to ~200 $

Just lower the dam price.

Nice! Good to see that these are still rolling out. If there was a mini of this, I would hop on it.

Good to see that HP is committed to the phone. Loving mine so far. Just wish Microsoft was committed, but that will hopefully change soon :)

Checked for the update few times did not get one yet.

So.... "Seems Faster..."TM then?

I forgot about this, "When in India" and "Coming Soon™" comments. Looks like alot of people abandoned this OS

Actually wouldn't mind trying this in December when my contract is up. I think the phone is pretty stunning looking.

Its better looking in person too! Only down side is i have had hardware issues with mine but HP overnighted me a new one twice for no cost. One time was even on Christmas Eve.... best customer service I have ever experienced! Also whats up peachy havent spoken since the old xbox preview invite forums lol glad to see your still on here

Man, they were busy times. Before you and a couple of others came on board, I was run off my feet. Personally did over 1000. I don't miss it. After the e3 announcement, it went mental. One night in particular, as soon as one cleared, another arrived, literally was pop, pop, pop. For the most part, most were super nice. Had to keep removing people from my list though, was a lot to scroll through. Kept a couple that chatted, or played Trials Fusion. Also ones, like yourself that helped. Kudos and thanks! You are more than welcome to join me on Battlefield anytime. Thanks again.

Hopefully the x3 updates continue until it can be used with the upcoming win/arm emulation, I'd hate to have to get new hardware so soon.

Highly doubt it as its a 32 bit version of the OS installed. Only way it would be possible is if they allowed us to use the windows device recovery tool to completely wipe and reinstall the OS.... also I believe they said the ARM emulation will only work on snapdragon 835 and after

I think that's right, but they did have it running on the HP Elite X3 in the demo Microsoft showed off so it is possible, to the public I am unsure.

isn't the HP Elite x3 image available on Windows Device Recovery Tool right now?
Edit: I realize that doesn't imply we'll get Windows on ARM or anything, just stating that i think we *are* allowed to reset the phone using WDRT.

Yeah I'm really hoping the x3 gets full Windows on Arm. I'm really enjoying using mine, it's a great device especially with lapdock (I'm typing on my lapdock now).

Would be nice if HP actually honoured their warranty. Currently have a support case in third tier escalation for a water ingress issue. IP58 seems lost on them and they're trying to deny the RMA; similar to Samsung's stance before they were forced under consumer law to honour it. I mentioned that to HP last night and they're escalating it to their customer relations team... Given they don't even know they sell a phone (seriously, when I mentioned what category of device i have, the support tech was adamant they don't sell phones... The serial number brought back that it was a tablet), I'm wondering how long this fight will continue. Consumer law in Australia is excellent.

if you check their site, HP lists this as a Tablet/PC. HP has made it a marketing concept to not say this is a phone.

Looks like it brought significant bluetooth improvements, I am finally able to sync with my fitbit blaze without any issue

A few things I hope this Firmware does and/or future Firmware's do: 1) fix the dang SD Card issue and 2) double tap to wake isn't consistent 3) and an equalizer would be REALLY nice for these B&O speakers and my headphones. Things I like about the X3; the 64Gb of ram (especially with the SD card issue), the Fingerprint scan for Hello !!!!. the size (loved my 1520). the Dock is pretty good except the Incipio case that I purchased when I got the phone at the MS store is too fat for any of the Dock inserts so I have to use the cable attachment. I would also like an HDMI port along with the DisplayPort port just like the Lumia 950/950xl dock.

DisplayPort can be converted into any known connection. That's why it's on the dock. It's completely versatile. Just get an active converter and it will work fine on HDMI, DVI, and VGA.

Yeah I know as I purchased a DP to HDMI coverter. I have the 950/950XL dock as well and liked the fact that I didn't need a converter is all.

The Elite X3 has 4GB of RAM, not 64GB ram. It has 64GB storage though. :)

what is the SD card issue? Also, double tap to wake is an issue because it uses the accelerometer, not the screen itself. I doubt it'll ever get all that consistent.

It will randomly show an SD card message that states that It needs to fix the SD card. this very same card has been in a SP3 and a Lumia 950 and 950XL without a single issue. I have formatted it a few times even choosing a long format instead of a quick format (exFat). now the Storage App in Settings doesn't see it, but the Files App sees it just fine.

ugh... i feel like i jinxed myself. like half an hour ago i got a message saying the SD card was removed. i couldn't see it in either file explorer or settings though. i rebooted and it's showing now. seems different than your issue. hopefully its not a flaky tray or something...

http://forums.windowscentral.com/hp-elite-x3/445599-x3-sd-card-problem.html

Maybe this update activated a formerly dormant CDMA radio, so I can use it on Verizon!! ;-)

So far I notice the Hello was a bit snappier, and my Fitbit Charge 2 was instantly paired without any headaches at all, and the Lapdock has consistently connected properly (so far).
Previously the Fitbit pairing was a *real* pain in the butt, and once it was finally done it was still sporadic and unreliable in use. I'll have to wait and see with the Lapdock, as it's worked fine over and over again for a period of time, then didn't for a while.

I too have noticed my fitbit charge 2 had hiccups when syncing with the fitbit app. I will have to try syncing to see I notice an improvement. My dock is at work, i'll be checking that out tomorrow morning.

Thumbs up to you both just for having the phone, Lapdock and Fitbit Charge 2s! :)

I do not have the Lapdock. I have the Desk Dock. also, I'd MUCH rather be using my Band 2 instead of a Fitbit. my Healthcare company doesn't recognize the MS Band or Band2 product as a fitness tracker. I receive a decent discount If i share my steps electronically with them. I voiced my opinion with them but heard crickets on the other end of the phone. in my opinion, the MS Band is easier to use, has many more features and also capabilities.

So the 950 will not be getting a firmware update as I think my duel sim when I call ppl some times they can hardly hear me so I have to shout

I think talking in shorter sentences might help.

You win the internet sir.

I used to have that problem, but my support group has been very helpful. It's call On-and-on Anon.

It looks like they have fixed the HDCP issues the device was having. Before this update it was impossible to connect to anything other than the HP Lap Dock and play HDCP-protected content.

I will be trying that out too. that realy sucked when I first got it and tried the dock and or my USB 3.0 to hdmi adapter... couldn't watch all my Xbox Movies I have.

Just tested and you are right... this is awesome.

Yeah, couldn't justify keeping this thing with the quirks it had. Maybe this firmware update fixed them, but i returned the phone and the Lap Dock...

Running well with and without lapdock here

what quirks were you having? i had one quirk the first day i got it (granted, required the nuclear option of resetting the entire phone to fix it, after i had downloaded *everything* and setup my startscreen, and customer support noted it in their logs so if it happens again, they may recommend a new phone). But since then, the quirks that it has are all with things that no other phone can do anyway (so basicall all related to continuum) and they're not all that big. The weirdest quirk is Facebook beta only works in Continuum with the Lap Dock *with* the USB-C cable connecting them. If I'm in the Display Dock or using wireless continuum on the lap dock, Facebook beta refuses to open. The icon appears in the taskbar highlighted and then the highlight disappears as if its minimized or something. I can't even open it on the phone screen in either of those two configurations. It's *really* weird.

Not able to update. Has anyone managed to update while on insider fast ring?

Same here, am stuck with the 14.0100 and the phone wont update. Keeps showing "some settings are hidden or managed by your organization".

well, that message has been appearing over the last couple insider builds i think. and its possible being on the fast ring may not be allowing you to see the production updates. try possibly going back to production ring and seeing if it allows you to see it i guess? edit: clarification

Yep, That did it. Had to go back to production build then the update was applied.

nope no updates here, i think im even a few versions behind..

They need to lower the price of this phone....

It's a very nice phone hardware wise but the lumias software is a lot more stable. Perhaps this firmware will help with that. Also this is the type of news i like, Not mac stuff haha

This s is Fantastic . This is the best Windows Phone Ever!! I've had every Flagship since 2001.

You haven't had an Idol 4S. That's the best Windows Phone ever.

Why is better than an x3?

Maybe because you get almost same experience for about 300$ lower price?

Im sure its nice, but 'almost the same experience' as an X3 does not make it the best windows phone.

Lower screen resolution, lower battery life, no NFC, no dual wireless charging, not IPS 67. Not quite the same.

My point was performance - you sure anything except battery life affects performance?

I assume sales are going good for this phone right? I hope so.

I'm just afraid that it is too expensive at the moment. I think that once MWC is done, this phone should hit the right price point for consumers.

First of all it's not designed for consumers. Secondly the price is actually on par with flagships from Samsung and Apple. Neither of which include a $100 desk dock, continuum or the iris scanning ability at that price point.
So, it's unlikely that the price will drop anytime soon since this is still being mostly marketed as a business device.

Also do not forget the ip67 rating along with the other durability enhancements that other flagships still do not carry.

The iPhone 7 is ip67 and the Galaxy S7 is IP68. So that's why I didn't mention that. But yes, it's definitely more durable than both I suspect because it doesn't have a glass back.

It's already been on sale numerous times...

Maybe it will fix the screen rotation bug?! :)

I've got this "phone" just free days ago, I've changed it from my Lumia 950 and the HP is great. I love it, it run faster and smother, absolutely the best phone ever, it's better than iPhone 7 and similar.

I have an iPhone 7+, and I have to say, it's an okay phone, but iOS sucks balls.

I haven't noticed any changes or improvement with this update. Already got my first crash, camera is just as slow. I'm happy the update came out, I'm sure it does something good, I just don't know what. I think it's imperative changelogs are released with any update. This would help discouragement and speculation.

Try shutting your phone off and turning it back on.

Ive noticed Windows hello is noticeably faster with the fingerprint unlock

So, the problem with sending emails via SMTP from one of my accounts is resolved. It had to be a FW, because it works on my L1520 with W10M on it. This was the last annoying issue I had with this phone, which makes me happy -ish.

I feel like its more coincidence. I can't see how firmware would affect smtp capability. It's a different layer of the OS. I'm glad it works now though.

I haven't had any issues using SMTP on my x3. I use SSL/STARTTLS to submit (587 and 465), ports using sasl-auth2 with Sendmail. That, in turn, signs it with DKIM, and send it up the ladder to O365 to the world. Incoming however is via Barracuda. In all of this, Windows "Outlook and People" app wors' remarkably well. Using on x3 feel far superior to the 950 XL.

I do not know what changed, but it never worked and I tested after each update. After installing this FW it finally works. It is an IMAP4/SMTP account. Outlook365 and Gmail worked fine from the beginning.

The Elite X3 is just a great device. A tad bit wider than I'd like but I'd deal with it it I was a Windows user for sure. The battery life has to be ridiculous as well.

I have noticed no changes or improvements after this firmware update.

When will they launch this phone in Dubai and India???? Waiting for a long time..

The elite x3 made myfitnesspal slightly viable again. Their horrendous non-mobile website is slightly less horrendous with this screen. The 950xl was close, but this *just* made it.

Got new firmware installed, now can no longer get updates from Insider, slow or fast ring. Updates start to download then freeze about half way. Have done hard reset, did recovery from recovery tool several times, no luck same results. Anyone else experiencing this?

Still to expensive. I'd own one at a cheaper price point.

VPN is still broken. For whatever reason, the IPSec/PSK with username/password VPN is broken. Or more like it's connected and the data is being routed via the VPN, yet Edge seems to find the right device and not the VPN its connected to. This defeats all reasoning of using a VPN these days. And yes, I have tried with Location being disabled and also restricted when using Edge

Changelog listed in this article. http://winaero.com/blog/hp-elite-x3-gets-another-firmware-update-improve...

So.. is it worth the upgrade from the 950XL ? The Acatel was not.. So far no issues with my 950xl other than its about 18 months old and starting to show its age from use. Not sure a new 950xl or a HP

Just posted below about this. To me, no. If I had no 950 XL, I would buy an x3 immediately. Otherwise, to me, it's just upgrading for the fingerprint reader and a sturdier design.

Was on 950xl. Nice but not this level power. This hp phone is awesome. Powerful, quick. Very happy with this hardware. Fingerprint reader super fast. Using dock and continuum. Very fast in continuum. I think the most recent firmware added a time and battery screensaver. I did not see this a few days ago. Keep it up hp and Microsoft !!

My Lumia 950 XL screen just broke. Buying a new 950 XL is 200...250$. A new screen is 50...100$. A new HP x3 is 700$. Considering it is not more modern than the internals on the 950 XL, I can't find myself a reason to upgrade for that much money. I'm happy they're still committed to it. If they release a successor to it, I'll buy it in an instant for MSRP.

Hp elite x3 is a beast, bought it and I don't regret it
Windows Central Newsletter
Get the best of Windows Central in in your inbox, every day!
Thank you for signing up to Windows Central. You will receive a verification email shortly.
There was a problem. Please refresh the page and try again.