HP Spectre 13t vs. Microsoft Surface Laptop: Which is best for you?
HP has something to prove with its 2018 refresh of the 13-inch Spectre.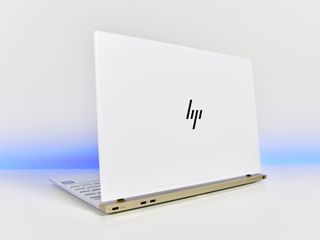 HP's updated Spectre 13t is one of the finest looking laptops to recently hit the market, and its size and function put it in competition with Microsoft's own premier Ultrabook, the Surface Laptop. If you're shopping for a device in the 13-inch range, both of these options have likely hit your shortlist. Let's take a close look at the differences between the two to see which one is best for you.
HP Spectre 13t vs. Microsoft Surface Laptop: Specifications
Swipe to scroll horizontally
Category
Spectre 13t
Surface Laptop
OS
Windows 10 Home
Windows 10 S (upgradeable to Pro)
Processor
8th-gen
Intel Core i5-8250U
Intel Core i7-8550U
7th-gen
Intel Core m3-7Y30
Intel Core i5-7200U
Intel Core i7-7660U
Display size
13.3 inches
13.5 inches
Display resolution
FHD (1920 x 1080) IPS touch
4K (3840 x 2160) IPS touch
2256 x 1504 touch
Aspect ratio
16:9
3:2
RAM
8GB/16GB DDR3
4GB/8GB/16GB DDR3
Graphics
Intel UHD Graphics 620
Intel HD Graphics 615 (m3)
Intel HD Graphics 620 (i5)
Intel Iris Plus 640 (i7)
Storage
256GB/512GB/1TB PCIe SSD
128GB/256GB/512GB/1TB SSD
Camera
Front-facing 1080p
IR for Windows Hello
Front-facing 720p
IR for Windows Hello
Ports
Two Thunderbolt 3
USB-C 3.1
3.5mm audio
USB-A 3.0
Surface Connect
Mini DisplayPort
3.5mm audio
Battery
43.7WHr
45.2WHr
Dimensions
12.03 in x 8.83 in x 0.41 in
(30.56cm x 22.43cm x 1.04cm)
12.3 in x 8.78 in x 0.57 in
(30.81cm x 22.3cm x 1.45cm)
Weight
2.45 pounds (1.11kg)
2.76 pounds (1.25kg)
Colors
Dark ash silver
Ceramic white
Platinum
Burgundy
Cobalt blue
Graphite gold
HP Spectre 13t vs. Microsoft Surface Laptop: Performance
The new Spectre 13t is stocked with eighth-gen Intel Core processors (CPU), with four cores and a 15W thermal design point (TDP). These U-series CPUs, whether Core i5 or Core i7, offer great performance while not sucking up a lot of battery.
The Surface Laptop is sticking with seventh-gen Intel CPUs that have a similar 15W TDP but only two cores. You'll notice this difference most when multitasking, so I'd recommend sticking with the Spectre 13t if you often have 30 browser tabs open while simultaneously editing a handful of Office documents.
The Surface Laptop does have an option for Iris Plus graphics with the Core i7 CPU, which will offer slightly better performance when it comes to gaming or multimedia editing. Still, if you need something for heavy video editing, go with a laptop that has a dedicated graphics card (GPU).
For seriously light workloads, the Surface Laptop is available in a cheaper configuration (about $800) (opens in new tab) with a Core m3 CPU, 128GB solid-state drive (SSD), and 4GB of RAM.
Winner: HP Spectre 13t. Eighth-gen Intel Core CPUs with four cores will beat out seventh-gen dual-core CPUs any day, though Iris Plus graphics in the Surface Laptop might be attractive to some.
HP Spectre 13t vs. Microsoft Surface Laptop: Display
Both laptops have touch displays that are in the 13-inch realm, though resolution and aspect ratio differ. The Surface Laptop's 3:2 aspect ratio means a taller display with a 2,256 x 1,504 resolution, and it's compatible with the Surface Pen (opens in new tab) for easy drawing and note-taking.
The Spectre 13t sticks with the more traditional 16:9 aspect ratio, offering up more standard 1,920 x 1,080 or 3,840 x 2,160 resolutions. Yes, if you want 4K, you have to go with the Spectre. However, it doesn't have pen support, and though it has slimmer bezels along the side of the display, it has a larger chin than the Surface Laptop.
Winner: Draw. HP Spectre 13t is available in 4K, but the Surface Laptop is compatible with the Surface Pen.
HP Spectre 13t vs. Microsoft Surface Laptop: Keyboard and touchpad
There's no doubt about it — the backlit keyboard on the Spectre is fantastic. Key travel is spot on, keys are spaced evenly, and you won't mind typing with it for a full day's work. The same can be said about the Surface Laptop, though instead of a metal finish around the keyboard, you're getting soft Alcantara fabric.
The main difference here is that the Spectre 13t is still using Synaptics drivers for its touchpad, rather than the Precision setup that most modern Ultrabooks are now using, including the Surface Laptop. You can install Precision drivers once the Spectre is in your hands, but it would be nice to see them installed straight from the factory.
Winner: Surface Laptop. Both laptops offer up a great typing experience, but the Surface Laptop's Precision drivers push it over the edge.
HP Spectre 13t vs. Microsoft Surface Laptop: Design and features
For anyone who wants a laptop that looks and feels like a premium device, either one of these will do. The Spectre 13t is just 0.41 inches thick and weighs in at 2.45 pounds (1.11kg), and you can get it in dark ash silver or ceramic white colors. The Surface Laptop is just a bit thicker (0.57 inches) and just a bit heavier (2.76 pounds), but it's nevertheless highly mobile. It's also available in four colors, including burgundy, platinum, cobalt blue, and graphite gold.
Both laptops have IR cameras compatible with Windows Hello, though the Spectre 13t has a 1080p standard camera for web conferencing, while the Surface Laptop's webcam is set at 720p.
As for ports, the Spectre is the clear winner. Here you're getting two Thunderbolt 3 ports with 4x PCIe lane support in each, as well as USB-C 3.1 and a 3.5mm audio jack. You'll likely need an adapter or two to connect your older peripherals, but it's certainly looking to the future. The Surface Laptop has a USB-A 3.0 port, a Mini DisplayPort, a 3.5mm audio jack, and the proprietary Surface Connect port, altogether offering up a selection that won't hold up as well as that of the Spectre.
Finally, the Surface Laptop has Windows 10 S installed, which is essentially the same as Home or Pro except it's meant to be used only with apps straight from the Microsoft Store. This is basically Microsoft's answer to Chrome OS, and if you don't like it, you can always upgrade.
Winner: HP Spectre 13t. This is a beautiful laptop with the ports needed to see it well into the future.
HP Spectre 13t vs. Microsoft Surface Laptop: Battery
Due to size, the batteries in both laptops aren't going to hit any incredible uptimes, but the Surface Laptop and Spectre 13t with FHD display should get you through a workday. Going with the Core i7 CPU in either laptop or the 4K display in the Spectre 13t will no doubt bring the life down a bit, but this one is too close to call one way or the other.
Winner: Draw. Both laptops should set you up for an eight-hour work day, but bring along a charger if you're tackling any big jobs.
HP Spectre 13t vs. Microsoft Surface Laptop: Pricing
While the Surface Laptop is available at a cheaper introductory price — about $800 for a Core m3, 4GB of RAM, and 128GB SSD (opens in new tab) — compared to the Spectre 13t, prices soon grow apart.
See at Microsoft Store (opens in new tab)
A Surface Laptop with a seventh-gen Core i7 CPU, 16GB of RAM, and 1TB SSD costs about $2,700 (opens in new tab). A Spectre 13t with similar specs — eighth-gen Core i7 CPU, 16GB of RAM, and 1TB SSD — costs about $1,800 (opens in new tab). That's nearly $1,000 you're saving by going with the Spectre 13t. Even adding a 4K display to the configuration keeps the price below $2,000.
See at HP (opens in new tab)
Winner: HP Spectre 13t. You can get way more hardware for way less if you go with HP's Ultrabook, though the Surface Laptop does have a cheaper introductory model.
HP Spectre 13t vs. Microsoft Surface Laptop: Conclusion
Looking at all things together, HP's Spectre 13t comes out on top of the Surface Laptop. It's using eighth-gen Intel Core CPUs for better performance, it has a beautiful, mobile design with Thunderbolt 3 ports, and it's considerably cheaper if you're looking for a device with decent performance.
Still, the Surface Laptop is no slouch, bringing Surface Pen support, a beautiful design, a better pointing experience, and a cheaper introductory model. My suggestion? If you just need a laptop for everyday tasks, go with the Surface Laptop. Need high performance? Stick with the Spectre 13t.
More resources
For more information about both of these laptops, be sure to have a look at our in-depth reviews.
Senior Editor, Laptop Reviews
Cale Hunt is a Senior Editor at Windows Central. He focuses mainly on laptop reviews, news, and accessory coverage. He's been reviewing laptops and accessories full time since 2016, with hundreds of reviews published for Windows Central. He is an avid PC gamer and multi-platform user, and spends most of his time either tinkering with or writing about tech.
Already tried this. Initially we chose the HP Spectre but within a week it had severe overheating issues and battery drain. Took it back to find out there was some kind of firmware problem with it that HP knew about but had not released a fix for as of then. Didnt have time to wait as it was my sons school computer. Switched to the Surface Laptop and hes been happy ever since.

With HP there is some sort of problem every other week. They make great looking devices but it's just not worth the pain... And HP support assistant is crap.

Ha, that sounds like the experience with Microsoft computers. It took them FOREVER to finally fix the hot bag problem with SP4 and Surface Book is just finally getting stable. It was noted that some of the reasons MS went with old tech (because frankly the Surface laptop is old tech) without USB-C was because with all the black eyes they wanted a "win".

Well currently I'd agree that the HP 13t has an edge of superiority Laptop-wise (ports, weight, bang/buck) in general. Really the only difference Surface always had was better screen (3:2 screen ratio, balanced high-enough FHD+ resolution, color acc, pen support), also keyboard quality and battery. Other than that everything falls-off, e.g. currently for the Surface Laptop high-price and poor specs for anything higher than i5/256/8gb has to offer. I really wish for ultrabook or 2-in-1s other OEMs would adapt/innovate to the "Screen Milestone" of Surface or even Apple's standard. Not everything has to be overkill 4K and adaptation to the superior 3:2 or 16:10 aspect ratio would be welcomed. I'd imagine a Yoga 920 14-14.5" with 3:2 or 16:10 for 2-in-1s and maybe an ultrabook/lighter version of Surface Book series (if that's possible no dGPU, Surface Connect and USB-Cs) would be a hit as people know SB2 ain't feather light yet (1.5-1.8 kg). P.S.: I'd hit it with the LG Gram magic, 15.6 inch for 1.1 kg is a phenomenal feat.

Cale, I am confused by the battery life block here. Everything I have read (outside of WC) has suggested the HP Spectre 13t has very poor battery life compared to its peer group (ultraportables) and had the Surface Laptop slightly above average. In my notes, because I have been eying everything from XPS13s to the X1 Carbon and all ultras and 2 in 1s in between, I had the Surface Laptop at slightly over 9 hours, the 13t in the 6 hour range. I have never seen any of those articles suggest that the Surface Laptop is running the M3 chipset. Seems most tests are with the mid-grade i5. Can you lend some clarity on this being a too close to call?

I went Spectre 13 as it was just way better value at the time (and I wanted TB3 for docking). However I went into it eyes wide open on battery life (I have the 4k version), probably more like 4-5 hours realistically on that one so IF long battery life is key then Surface Laptop would be the better option. For me its more than long enough for my commute with plenty left over and the fact it charges 50% in 30mins works perfectly for moving around meetings. I might get an Anker Power Core 26800+ for long train journeys and with the money saved over the Surface I could probably have ten of them (if I could carry that much). On flights I'd use my iPAD anyway, surface and spectre may be small but not as small as airline seat trays....(and hey I travel for business which means the CHEAPEST seats....bah...) Hope that helps, Alex

Thanks Alex. That sounds a lot more inline with the numbers I have seen. Does distress me with the grouping of the Surface Laptop in the same cluster of battery life. Does the Anker actually recharge the Spectre or does it just extend the battery life? Sounds interesting but the additional 1lb would probably scare me off of that solution.

Might mail them and see if they've tested. Its capable of 30W PD output so should but its not a major need for me; though weight wouldn't be an issue for on trips like that. I'm actually using an Inateck 45W adapter day to day as its small and I can swap out the cable to fast charge ipad or iphone. The included HP 65W one isn't huge but has a LOT of cable..I could probably leave it plugged in at home and commute to work with the laptop still attached.....

could probably leave it plugged in at home and commute to work with the laptop still attached.....

Hillarious :) On the 30W, I thought it needed 45W? Either way, one thing I noticed with my XPS 15, and it might not remotely apply here, is that when I exclusively use my Dell TB16 Dock, it charges the laptop fine. The issue is that the

discharge rate

unplugged on the laptop is quite different (dramatically faster) than if I charge it on the power supply. It's hard to get nailed down specifics on what's flowing by design here but my 240W dock supposedly delivers the 130W the 9560 requires however I know what I am seeing. It's a strange behavior and I haven't seen anyone report it exactly as I am seeing it. Some folks report seeing the laptop drain while on the USB-C plug to the TB16 so there might be something native to the mechanical bits involved. Just a heads up to do some comparatives within your return window on whatever solution you choose.

I would rather have the Surface Laptop WITHOUT the Alcantara fabric.

Surface Laptop primarily because of the 3:2 aspect ratio. After getting spoiled by the extra verticle real estate it's hard going back to something different.

I got an HP Spectre for my wife, and it is far beyond any Surface. We have had no issues with it at all. Microsoft simply doesn't care about its customers by forcing to use proprietary docking and using incompatible accessories. I would never buy a Surface as long as they force SurfaceConnect and will not have Thunderbolt 3. Easy choice here.

Exactly this! Reason why I have never bought any surface product.

If HP coud just put a 3:2 or even 16:10 screen on the Spectre 13

Nothing from Microsoft as long as Nutella is in charge.

So basically you stay away from anything that is controlled by a touch screen or a mouse ... MS holds patents on that.

HP named a laptop after a nasty piece of malware? Nice!!

No, HP has Spectre since at least 3 years.

HP, not MS junk surface hardware.

None, mainly because i do not like these small screen, flat keyboard machines. But if i must choose it would be the HP.


Looking at both ... i would Take the DELL XPS. Presenter- and Tent-Mode are just awesome when you have to present something at a customer. The HP looks really great btw.
Windows Central Newsletter
Thank you for signing up to Windows Central. You will receive a verification email shortly.
There was a problem. Please refresh the page and try again.