HP Spectre x2 (2017) review - Making a more affordable Surface Pro with USB Type-C
Make no mistake, the new Spectre x2 (2017) is a viable – and more affordable – Surface Pro with only a few downsides.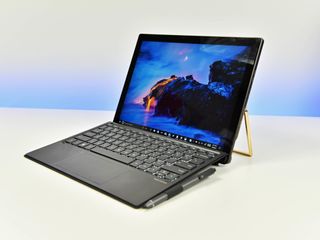 Premium 2-in-1 Windows 10 PCs started hitting a stride in 2016 with clean designs, improved battery life and finally rivaling Microsoft's aspiration Surface Pro.
HP is one of those companies, and while the original Spectre x2 (2015) did some very cool stuff, it's this new 2017 edition that is raising some eyebrows. While direct comparisons to Microsoft's new Surface Pro are hard to avoid the HP Spectre x2 (2017) definitively stands on its own.
I've spent the two weeks with the Spectre x2, and this is where it excels and maybe where it falters.
About this review
HP supplied a loaner Spectre x2 for this review. The unit tested features Windows 10 Home, a Core i7-7560U processor, 8GB of RAM, 360GB of storage priced at $1,299. Starting price of the Spectre x2 is just $1,149 for a Core i5 processor, 8GB of RAM and 128GB of storage. The top-tier model with Windows 10 Pro, Core i7, 16GB of RAM and 1TB of storage is priced at $2,039.99.
See at HP (opens in new tab)
Lot of power
HP Spectre x2 2017 technical specifications
HP did not cut corners with the Spectre X2's hardware though it does have some different choices.
For instance, the company is using a Core i5-7260U (up to 3.4GHz) or Core i7-7560U processor (up to 3.8GHz) for processors, which is the first I have seen. Those processors are a smidge slower than what Microsoft is using in the new Surface Pro, which is a Core i5-7300U (up to 3.5GHz) and Core i7-7600U (up to 4.0Ghz), but it is hard to argue it will have real-world implications for most users.
What does matter and is also a first I have seen is that the Core i5 model ships with Intel Iris Plus 640 graphics instead of the lower-tier and more standard Intel HD620. That configuration is kind of the Holy Grail that many users want and it's an impressive offering. Unfortunately, during configuration you are still limited to just 8GB of RAM instead of 16GB – the latter requires a Core i7 CPU instead.
HP Spectre x2 (2017) hardware
Swipe to scroll horizontally
Category
Specification
Display
12.3-inch IPS
10 point multi-touch
Gorilla Glass 4
Display Resolution
3000x2000 (293 PPI)
Aspect Ratio: 3:2
Software
Windows 10
Processor
Intel Core i5-7260U
Intel Core i7-7560U
Storage
Up to 1TB Solid State Drive (PCIe SSD)
Memory
Up to 16GB RAM
1866Mhz LPDDR3
Graphics
Intel Iris Plus Graphics 640
Front Camera
Full HD
Windows Hello face-authentication
Speakers
Front-facing stereo speakers tuned by Band & Olufsen
Ports
Two USB Type-C (power, display, data)
USB-C to USB-A dongle adaptor included
Headset jack
microSDXC card reader
Sensors
Ambient light sensor
Accelerometer
Gyroscope
Network
Wi-Fi: IEEE 802.11 a/b/g/n/ac compatible
Bluetooth Wireless 4.1 technology
Pen
HP Active Pen (N-trig pen)
Battery
Up to 8 hours
HP Fast Charge thru USB-C
Weight
2.51lbs/1.14kg (with keyboard)
The Spectre x2 has a higher resolution 3:2 display at 3000 x 2000 and 293 pixels-per-inch (PPI), which is exactly 9.7 percent greater than the Surface Pro at 2736 x 1824 (267 PPI). Does it matter? Probably not, but at least 3000 x 2000 is easier to remember.
Finally, the other substantial change – another one that many Surface Pro owners may want – is two USB 3.1 Gen 1 Type-C ports. Though neither are Thunderbolt 3, they both can do data (5GB/s), display, and charging. Those ports come at the price of no USB Type-A on board at all, but HP does toss in a Type-C to Type-A dongle in the box. Between Surface Pro and Spectre x2, it is one extreme or the other.
Dark Ash and Gold
HP Spectre x2 2017 design
The 2-in-1 form factor set forward by Microsoft years ago is hard to stray far from without screwing it up. Luckily, HP plays it safe, and like Dell's all-business Latitude 5285 the Spectre x2 feels very Surface-like.
Nonetheless, HP is heavily leveraging its design choices from the Spectre line including that beautiful dark ash and copper color scheme, which is super classy looking. The Spectre x2's chassis is also more rounded on the edges and symmetrical compared to the Surface Pro. That unibody chassis in dark ash is relatively fingerprint-free as well, although the same cannot be said about the kickstand.
That U-shaped kickstand is another highlight. While it can pick up fingerprints, the stainless steel and copper coated kickstand is fantastic looking. HP went with the U-shape because it says it allowed them not to affect the chassis size. It also matches the 165-degree angle of the new Surface Pro, and it is fun to use. The company ditched the finicky latch of the previous version so now you can just grab it via the notch to extend. The kickstand also has a satisfying snap when it closes.
The top of the Spectre x2 has a razer-thin radial vent that only takes around 20 percent of the chassis' compared to the Surface Pro where it's closer to 50 percent. The power button sits at the top right and requires some force to turn it on, which is a good practice. Volume keys are separated and located on the upper right side opposite the 3.5mm headphone jack on the left.
A small white LED on the right blinks when the Spectre x2 is in standby and solid when charging. One USB Type-C port flanks each side of the Spectre x2, which is ideal for desktop setups as it avoids cramping of peripherals.
There is a micro SD slot on the left side, but it is hidden behind a tray door that requires a pin to unlock, so do not expect to hot-swap cards from your camera or phone without some finagling.
For size, the Spectre x2 easily rivals and even bests the Surface Pro in some instances. It is slightly thinner at just 0.5-inches (12.7mm) when closed with the keyboard compared to Surface Pro at 0.6-inches (15.24mm). For weight, the Spectre x2 tips the scales at exactly 2.5lbs (1.13kg) with the keyboard versus the Surface Pro at 2.4lbs (1.09kg) making them almost identical.
Overall, the HP Spectre x2 is the best looking non-Surface 2-in-1 I have used yet. It's a solid minimal machine, with no creaks, elegant edges, and that color scheme with the shiny copper plating is perhaps even more premium looking than Surface.
An impressive display
HP Spectre x2 display
Featuring Corning Gorilla Glass 4 and a 3000 x 2000 resolution IPS screen, HP continues its trend of using some exemplary components for its display.
The Spectre x2 matches the famed 3:2 aspect ratio of the Surface Pro series and even beats it for resolution – although the difference is negligible.
HP claims a 72 percent Adobe color gamut, but my calibration pegged it slightly higher at 75 percent AdobeRGB matching Surface Pro (2017). For sRGB, the Spectre x2 is competitive at 95 percent calibration compared to 97 percent for Surface Pro.
Brightness is 450 nits, which is below what Microsoft achieved, but the Spectre x2 is still very bright as most laptops average in mid to upper 300 nits range.
The display bezels on the Spectre x2 come in at 13.75mm on the sides and 14.8mm on top, both down significantly from the 2015 model at 19.8mm and 14.82mm, respectively. Still, those bezels are a hair thicker than the Surface Pro – something you only notice when directly comparing the two. Being a tablet that you need to grip occasionally, those bezels are fine.
While the Spectre x2 lacks the new sRGB and enhanced color modes of the Surface Pro, the HP screen is one of my favorites. It's razor sharp at 293 PPI, has high contrast, and HP has a knack for making panels that I can look at all day and not get eye fatigue. While it lacks the punch of Sharp's IGZO the panel HP uses is more natural to use.
N-trig working well
HP Spectre x2 Pen inking
An N-trig pen with 1,024 levels of pressure is included in the box – a stark contrast to Microsoft who charges $99 for one. The active pen is the same one HP uses with the new Spectre x360 13 at 4K and it is like the older Surface Pen.
Since the pen is based on N-trig technology, which Microsoft bought, it means you can use the old or new Surface Pen or even the dual-mode Wacom Bamboo Ink with the Spectre x2.
I had no issue with the Spectre x2's pen, but I'm not an artist either. The Surface Pro with new Surface Pen is going to beat the x2 since it has 4,096 levels of pressure, a lower initial activation force, almost zero latency, and tilt support – none of which are here. How much of that matters to you depends on how often you use the pen and the level of expertise you possess when drawing.
Considering HP includes the pen in the box, however, and that it works very well for average users especially with the Windows 10 Creators Update, I don't have much to complain about.
Finally, although the HP active pen is not magnetic there is a shirt clip, and the included keyboard has a pen loop to holster it. While not super elegant you can be assured you won't lose the pen when you put the Spectre x2 in your bag.
All metal, included
HP Spectre x2 2017 keyboard and trackpad
The biggest highlight of the HP Spectre x2 is certainly its detachable keyboard. Not only is the accessory included in the package – saving users money compared to the Surface Pro – but it's a darn good one too.
The design of the Spectre x2 keyboard is identical to Surface Pro including the magnetic attachments and the ability to do a second-stage attachment to the lower bezel of the Spectre x2, creating an arch.
However, the keyboard differs in materials. With an all metal top deck and rubbery bottom, the Spectre x2 feels a bit more industrial but still maintains some elegance. The metal deck is firm and contrasts with the new Alcantara significantly. Which keyboard you find better is a personal decision, but certainly many people will find the all-metal more reassuring for long-term usage versus cloth.
Image 1 of 2
There is 1.5mm of key travel, which is an increase from 1.3mm compared to Surface Pro. The more key travel, the more natural typing feels. The 1.5mm travel is like what a good laptop would get and is rare to see in a tablet form factor.
There is just single stage backlighting (so it's either on or off), which does an excellent job of illuminating the deck in the dark.
Overall, typing on the Spectre x2 is fantastic and not only rivals the Surface Pro but likely beats it too.
The trackpad borrows from HP's habit of larger, elongated designs. It's smooth and has a nice click. I'd be remiss to point out that it is not a Microsoft Precision Touchpad but instead relies on Elan for drivers and performance. The trackpad is above average, but like all of HP's Spectre line, I think it should switch to Precision to make it even better.
B&O are OK
HP Spectre x2 2017 audio
HP makes big deal about Bang and Olufsen (B&O) tuned speakers on its Spectre line. In fact, the B&O name is imprinted on the side of the Spectre x2 in copper and on the keyboard deck. At least it looks nice.
Featuring two front-firing speakers located on the top half of the Spectre x2 the speakers are mostly good. The placement is fine as is the volume, but they do lack bass and resonance.
Admittedly, achieving rich sound in a flatly packed tablet is hard. The Surface Pro has an advantage by comparison, but the Spectre x2 is at least admirable. It's clear and crisp for TV and movies, but just lacks richness.
Users can do some advanced configuration through the B&O software selecting for music or movies, but I rarely heard a difference.
Login with your face
HP Spectre x2 cameras and Windows Hello
HP has been excellent about embracing Microsoft's bio-authentication program in Windows 10 called Windows Hello. That support carries over to the Spectre x2 with facial recognition through an infrared lens.
Windows Hello worked as expected. Just turn on the Spectre x2, and the device unlocks quickly once it recognizes your face. Again, Microsoft's Surface Pro still excels here regarding the overall speed of its "instant on" and fast Hello sequence, but the Spectre x2 is on par with other premium non-Microsoft systems on the market today.
The front-facing camera is full HD and does a respectable job for photos and especially video.
More interestingly is the rear camera, which is a 13MP shooter for snapping photos of whiteboards, or what you need to work on in Office. That's megapixel count is on the high end for a tablet, and while it won't replace your smartphone camera, it's a neat option to have even if used infrequently. Quite frankly, it does very well given the right lighting.
Slightly slower
HP Spectre x2 2017 benchmarks
HP features the seventh generation Intel "Kaby Lake" Core i5-7260U or Intel Core i7-7560U processors in the Spectre x2. The Core i7 though will be sold at Best Buy and is the configuration HP believes will sell the most.
With a top speed of 3.8GHz, the i7-7560U is a performer, but it falls ever so slightly behind the modestly faster Core i7 Surface Pro (2017).
CPU
For Geekbench scores that focus on just CPU performance, the Spectre x2 with Core i7 does quite well.
Geekbench 4.0 benchmarks (higher is better)
Swipe to scroll horizontally
| Device | CPU | Single core | Multi core |
| --- | --- | --- | --- |
| HP Spectre x2 | i7-7560U | 4,383 | 8,426 |
| Surface Laptop i7 | i7-7660U | 4,714 | 9,535 |
| Surface Pro 2017 | i7-7660U | 4,513 | 9,346 |
| Surface Pro 2017 | i5-7300U | 4,302 | 8,482 |
| HP Spectre 13 | i7-7500U | 4,100 | 7,469 |
| Surface Book | i7-6600U | 3,977 | 7,486 |
| MateBook X | i5-7200U | 3,786 | 7,570 |
| Surface Laptop | i5-7200U | 3,725 | 7,523 |
| Surface Pro 4 | i5-6300U | 3,319 | 6,950 |
As expected, the Spectre x2 is behind the Surface Pro Core i7, but slightly ahead of the Surface Pro with a Core i5. You could make the argument that the Spectre x2 is on par with the Surface Pro at Core i5, which is interesting.
GPU
For GPU, things look good. HP not only uses the better Intel Iris Plus 640 graphics in the Core i7 model, but it is also available for the Core i5 one as well – something we rarely see.
The Iris Plus 640 has double the execution units – 48 – and features 64MB of eDRAM compared to the standard Intel HD620 for graphics. The eDRAM is a big deal for performance and is completely lacking with the Intel HD 620.
Geekbench 4.0 OpenCL (higher is better)
Swipe to scroll horizontally
| Device | GPU | Compute score |
| --- | --- | --- |
| HP Spectre x2 | Iris 640 | 27,661 |
| Surface Book | GTX 965M | 64,108 |
| Surface Laptop i7 | Iris 640 | 31,010 |
| Surface Pro 2017 | Iris 640 | 30,678 |
| Surface Pro 2017 | HD620 | 20,688 |
| Surface Laptop i5 | HD620 | 19,256 |
| Huawei MateBook X | HD620 | 18,927 |
| Surface Book | HD520 | 18,197 |
| Surface Pro 4 | HD520 | 17,395 |
Again, it's interesting to see the HP Spectre x2 fall slightly behind the Surface Pro and Surface Laptop when both have Iris 640 configurations.
Nonetheless, the Spectre x2 is still well ahead of any Core i7 with Intel HD620.
SSD
HP makes some unique and exciting choices for storage. For one, there is an option for a 360GB option in addition to 128, 256, 512, and 1TB configurations. The PCIe NVMe solid-state drive (SSD) is also made by Intel (SSDPEKKF360G7H), which is not seen often in a field dominated by Samsung and Toshiba.
CrystalDiskMark (higher is better)
Swipe to scroll horizontally
| Device | Read | Write |
| --- | --- | --- |
| HP Spectre x2 | 1,250 MB/s | 561 MB/s |
| Lenovo X1 Carbon | 1,518 MB/s | 1,188 MB/s |
| Samsung Notebook 9 Ext | 1,365 MB/s | 1,213 MB/s |
| Surface Pro 2017 | 1,284 MB/s | 963 MB/s |
| HP EliteBook x360 G2 | 1,129 MB/s | 916 MB/s |
| Dell XPS 13 (9360) | 1,287 MB/s | 794 MB/s |
| HP Spectre x360 15 | 1,128 MB/s | 862 MB/s |
| Surface Book | 1,018 MB/s | 967 MB/s |
| Huawei MateBook X | 889 MB/s | 872 MB/s |
| Surface Laptop | 423 MB/s | 237 MB/s |
The most important metric is for read speed, which is what most consumer benefit from when using a modern PC. The faster the read speed and the quick the OS can boot and launch apps – generally speaking.
Here, the Intel does quite well with impressive 1,250 MB/s benches using CrystalDiskMark. Things start to lag, unfortunately, for write speeds, which are on the lower side for an SSD. Such difference can likely be improved with driver upgrades down the road, and those rates only matter for installing apps or transferring large files.
PCMark
Looking at PCMark Home Conventional – which is an overall performance test - the Spectre x2 (2,644) again falls just behind the Surface Pro at Core i5 (2,703) and well behind the Surface Pro with Core i7 at 3,055.
PCMark (Home Conventional 3.0)
Swipe to scroll horizontally
| Device | Score | Comparison |
| --- | --- | --- |
| HP Spectre x2 | 2,644 | Better than 46 percent of all results |
| Surface Laptop i7 | 3,156 | Better than 62 percent of all results |
| Surface Pro i7 | 3,055 | Better than 57 percent of all results |
| Dell Latitude 5285 | 3,079 | Better than 57 percent of all results |
| HP EliteBook x360 G2 | 2,916 | Better than 52 percent of all results |
| Huawei MateBook X | 2,726 | Better than 46 percent of all results |
| Surface Pro i5 | 2,703 | Better than 46 percent of all results |
| HP Spectre x360 15 | 2,472 | Better than 41 percent of all results |
| Surface Laptop i5 | 2,494 | Better than 40 percent of all results |
Overall, the Spectre x2 is a mixed bag for performance. It is a fast machine, but it does fall behind even the Core i5 Surface Pro (2017), or rather it runs neck and neck with it. That result is a bit surprising.
The SSD, however, is performant for a consumer machine and the wide array of configuration options gives users plenty of choices. Even more interesting is the Core i5 model can support Intel Iris Plus 640, which is an excellent opportunity for many on a budget.
Go hotter, longer
HP Spectre x2 2017 thermals and fans
Whether ultra-thin and light laptops throttle under heavy CPU duress is a concern for those who like to game or push their PC to the limit.
Although not a typical usage scenario, running the CPU at 100 percent for 30 minutes using the Intel Extreme Tuning Utility (XTU) can reveal some interesting information about CPU thermal or power limit throttling.
Power limit throttling (a.k.a. PL1) can be thought of as a skin temperature test that ensures the Spectre x2 does not get too hot to touch. It's dependent on the manufacturer – HP – setting an upper limit on how hot the Spectre x2 (versus the processor) should be allowed to get before the system reduces the power draw, reducing overall CPU speed.
Compared to the Surface Pro at Core i7 the HP Spectre x2 can maintain a higher speed over a longer, sustained duration. For this test, the room was hot at 80 degrees F (27 degrees C) and the processor set to max performance while plugged in.
Whereas the Surface Pro dropped down to 1.2GHz after 30 minutes, the Spectre x2 maintained between 1.9 and 2.3 GHz when running side by side.
So far, so good. But nothing is free, and that extra speed boost comes at a considerable temperature rise. While the Surface Pro never peaked over 118 degrees F (48 degrees C) the HP Spectre x2 had no problem going to 127 degrees F (53 degrees C) on the back – that temperature is too hot to touch for more than second or two.
This test was conducted on a warm summer day running the CPU for 30-minute straight at max performance – not a typical scenario. Nonetheless, it's clear HP is letting the CPU run faster – and hotter – to achieve reduced chassis throttling. Whether that's good or bad depends on how you plan to use the Spectre x2.
Putting aside rare and extreme scenarios like above the Spectre x2 runs about 100 degrees F (38 degrees C) on the display and about 115 degrees F (46 degrees C) on the back when running for 40 minutes doing regular tasks. That too was in an 80 degree F room (27 degrees F), which is admittedly a warmer ambient environment than usual. On average, the Spectre x2 felt fine for temperatures for a Core i7 machine.
Finally, for fans, the Spectre x2 is on par with the Surface Pro. While maxed out the fans never went above 40 dB, matching the Surface Pro's "whisper" fan. HP accomplishes this by using two small fans that run slower, instead of one large one that must run faster. It works, and the Spectre x2 is quieter for it.
Below Average
HP Spectre x2 2017 battery
One area of weakness with the Spectre x2 is battery life. It's not terrible, but it's not exceptional either.
Running down the battery using PCMark 8 Home Accelerated the Spectre x2 tapped out at just two hours and forty-three minutes with 20 percent battery remaining. That is exactly one hour and fifteen minutes less than the Core i7 Surface Pro. While an extreme test it does reveal that the x2 does not last as long as the Surface Pro.
Although it is far from bad, in fact, it is rather average; I only garnered around six to six and half hours of "real-world" usage. That's about two hours less than the Surface Pro (2017).
At least the USB Type-C charger is compact, and the fast charge lets you get around 50 percent of battery after just 30 minutes of AC charging.
A considerable option for the price
Conclusion – HP Spectre x2 is a great value (that looks awesome too)
The Spectre x2 is an impressive re-entry from HP who's original 2015 version only had a full HD display, somewhat annoying kickstand and a boring silver color. The 2017 entry improves over its predecessor in every area including the change from a Core M processor to a faster Type-U one.
In short, it's an excellent 2-in-1 that also arguably looks the best. I think the dark ash and copper combination is just outstanding. The keyboard is one of the best typing experiences around, and the pen is also an enjoyable experience with a display that is top notch.
The Spectre x2's real strength, however, is in value. HP is not shy about boasting how much more affordable the Spectre x2 is compared to the Surface Pro – and it is significant.
Swipe to scroll horizontally
| Category | HP Spectre x2 | Surface Pro 2017 |
| --- | --- | --- |
| Processor | Core i7 | Core i7 |
| RAM | 8GB | 8GB |
| Storage | 256GB | 256GB |
| Ports | 2x Type-C | 1x Type-A |
| Display | 3000 x 2000 | 2736 x 1824 |
| Price | $1,229 | $1,817 |
That's nearly a $600 difference between similar Core i7 configurations. For the Core i5 models, it's closer to $350 in favor of HP.
Most of that is because HP ship the Spectre x2 with its keyboard and pen in the box at no extra cost. Microsoft infamously charges another $159 for the Type Cover and $99 for the new pen adding a substantial burden for the "full" Surface experience.
To be clear, the Surface Pro is still better in many areas including performance, battery, inking, and audio compared to the Spectre x2. It's not as if these PCs are the same and one is just $600 more. Nonetheless, HP has some advantages as well including two Type-C ports, an arguably improved keyboard, and better sustained performance.
Image 1 of 2
Whether any of that matters to you is a personal decision, but it's hard to pass over the HP Spectre x2 if you are on a budget. The quality of the hardware is outstanding, and for your average consumer, the performance is matched by the value.
HP appears to be a roll with its Spectre line, and that continues with Spectre x2. While it cannot beat the Surface Pro head to head for battery and performance, it is no doubt the smarter financial choice and a worthy alternative.
See at HP (opens in new tab)
Pros:
Beautiful design, excellent build quality.
High-resolution display.
Keyboard and Active pen included.
Best typing experience.
Two USB Type-C ports.
Outstanding value compared to competition.
Cons:
Trackpad is not Precision.
Speakers and audio are OK.
Battery life is lower than expected.
Must use a Type-A dongle (included).
Windows Central Newsletter
Get the best of Windows Central in your inbox, every day!
Daniel Rubino is the Editor-in-chief of Windows Central, head reviewer, podcast co-host, and analyst. He has been covering Microsoft since 2007 when this site was called WMExperts (and later Windows Phone Central). His interests include Windows, laptops, next-gen computing, and for some reason, watches. Before all this tech stuff, he worked on a Ph.D. in linguistics, watched people sleep (for medical purposes!), and ran the projectors at movie theaters because it was fun.
Well, the front-facing full HD camera is definitely above average (the subject, however, is super hot!)

Hahaha, you beast me to this comment 😂

Question is, can the HP Spectre x2 keyboard be used on a Surface Pro 4 or Surface Pro (2017)?

I forgot to mention that, but no, not interchangeable :/

Doesn't seem like an issue to me

It's just that I kind of wish the Microsoft release a keyboard with the TrackPoint nub like a lot of other Enterprise laptops (think Dell Latitude and IBM ThinkPads)

Lenovo's bluetooth keyboard with the red nub works great with a slate. Plus, it allows you to put the slate up at eye level (on a box, shelf, tripod, etc.)

Agreed. I like a detached keyboard for drawing/art or CADD programs that use both pen an keyboard. An attache keyboard is in teh way.

Seems to be a great device. I will certainly consider this one when changing my laptop in three months

Dang, with I could get rid of my current laptop and get this! Looks great, great specs...would definitely be an upgrade to my 4 year old laptop. Screen is a bit smaller (current laptop.is 17") so that would take some getting used to though. Pen support is great.

I'm confused, other reviewers referred to the touchpad as being Elan not Synpatics, could you confirm please?

that's okay :)
everyone makes mistakes

"Unfortunately, during configuration you are still limited to just 8GB of RAM instead of 16GB – the latter requires a Core i7 CPU instead." And it isn't just the cheap i7 upgrade you need ($60), it's the expensive $180 i7 you need before you can get 16G RAM. It's like wanting the upgraded sound in the new car but that only comes with the leather seat package.

Does it have palm rejection when using the pen?

Of course it does. What device with digital pen doesn't have that??

I love this device, but the lack of USB A (yes I know Type C is the future) is a deal breaker for me. Almost everything I use is A... If there was at least one of those ports, I would sell my Surface Book immediately to pick one of these up.

Get an adapter? I've seen some good ones that include type A, HDMI and Ethernet all in one little hub.

How do you go from USB-C to Firewire 800?

USB-C to USB-A adaptor comes in the box.

Intel wireless!!!! Thankfully they chose not to clone the terrible Surface Avastar.

You have to see if the Intel Wireless card is better than the cheap junk that most OEMs will put. Just because it's Intel doesn't mean that everything they make is great.

Not that much price difference in France. Well, let's say the Surface Pro i5 256go with accessories (S4 pro pen though) and student discount comes at roughly the same price as the x2 i5 256go without student discount (otherwise Surface Pro would be about 170€ more expensive). Thing is, I have the student discount so...I think just for the battery life advantage I'll take the Surface Pro.

There's a battery life advantage now of a couple hours, but in the future when all devices will suffer battery degradation (e.g., my Surface Pro 4 has 17% battery degradation after 17 months and I am getting <4 hours battery life now), it's virtually impossible to replace the battery yourself in all Surfaces. (Microsoft will charge $400 for the replacement.) Whereas in the HP Spectre & Elite x2, its possible to access and replace the battery ($40) by simply unscrewing a few torx screws behind the kickstand and pulling off the screen with a suction cup. It may be something to consider if you are planning on keeping the device for more than a few years. Serviceability is becoming important to me, having been burned by non-replaceable bands in the Microsoft Band 1 and 2, and now unreplaceable batteries in Surface 2-in-1s. Otherwise, that's really great you get the 10% off student discount. Definitely reduces the price gap a lot, and so does using a Surface Pro 4 Type Cover and pen instead of having to buy the SP5 ones.


Good argument. I'll think about it...although a bit of self awareness shows me that I would be more likely to destroy the tablet rather than change the battery if I tried that... For the Surface Pro, I would buy the new alcantara keyboard, but the S Pro 4 pen. That would be for note taking mostly, I don't draw at all, so I reckon the advantages of the new one would be list on me. And I can get the old one for 56€ instead of 99€ for the new (99€ includes student discount...). All of that puts the Surface Pro i5 at about €1,500 with new keyboard/old pen/student discount (all tax included). Not bad against competition actually.

Isn't this a consumer version where you CAN'T replace the battery?

I was in Best Buy yesterday and I think you're right. I apologize for spreading bad info. It looked like the Spectre x2 does NOT have screws under the kickstand. Only the Elite x2 does. So maybe (likely) the Spectre x2 can't be easily serviced either. The Spectre x360 "Yoga-style" convertible has screws and presumably its battery can be replaced by the user. I think I confused serviceability of the Spectre x360 and x2 initially.

I'm torn between this one, the x360 and the Surface Pro really. Main use: I'm a consultant (marketing automation), I mainly use this to work on in various places (work means browser-based software tools, writing plans in Word & Excel, doing research i.e. having a ton of Chrome tabs open). I take a LOT of notes and I'm really looking forward to ditching my paper notepad I'm always lugging along. Just need to be mobile, fast, durable and preferably it'd last me 4-5 years without dropping much in performance.

I'm so confused....when I look at HP's website, there is a little lightning bolt next to the usb port which I thought stood for it being a Thunderbolt port. But you said they aren't thunderbolt 3 ports. https://www.windowscentral.com/e?link=https2F2Fcrea...

Def not TB3. They likely mean it for charging, as either can charge.

HP has been doing this with their laptops since 2007. A lightning bolt symbol next to a USB port means it has charging/ power output capabilities even when the laptop is turned off.

Great review. How was the keyboard with fingerprints? It seems like it would be noticeable on the metal?