HP Stream 7 Signature Edition Tablet drops to $79 at the Microsoft Store (plus bonuses)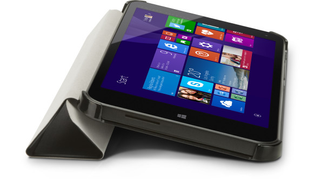 One of the best-selling and well-received tablets this holiday season was the HP Stream 7 Tablet. Running for $99, the tablet earned high reviews from owners who were looking for a low cost, but quality tablet running full Windows.
Now, Microsoft has the Windows tablet on sale for just $79 – a $20 discount. This is not the first time this tablet dropped that much, as Microsoft had it on sale during the Christmas shopping period for the same price.
The HP Stream 7 is an enormous bargain for just $79. For one, it includes Office 365 Personal (with 60 minutes of Skype per month), which itself is valued at $69, making the tablet a $10 add-on. Microsoft is also tossing in a free $25 Windows Store Gift card, so now they are paying you for this tablet.
Other features include:
7-inch HD IPS touchscreen 800x1280
Intel Atom Z3735G quad core 1.33 GHz with Burst Technology up to 1.83 GHz
1GB memory/32GB SSD
microSD expansion
3000mAh lithium-ion 11.1Wh (up to 8 hours)
2MP back-facing camera, 0.3MP front-facing camera
WiFi 802.11b/g/n (Miracast enabled)
0.78 lbs (353.8 g)
For $79, those are some crazy reliable specifications. Finally, being a 'Signature Edition' tablet means this thing is optimized by Microsoft for Windows with no bloatware or added software—just pure Windows, baby. It seems silly to pass this deal up if you are looking for something to occupy the kids in the car, need a tablet for the couch, or just something to tuck in your bag.
Head to the Microsoft Store and add to cart (opens in new tab) (or visit your local store if you live near one). No word on how long this price drop will last, so do not wait too long. Head into our Stream 7 Forums if you have questions!
Thanks, Mike H., for the tip!
Daniel Rubino is the Executive Editor of Windows Central, head reviewer, podcast co-host, and analyst. He has been covering Microsoft here since 2007, back when this site was called WMExperts (and later Windows Phone Central). His interests include Windows, Microsoft Surface, laptops, next-gen computing, and arguing with people on the internet.
Great Deal.... I wish it was available in my place :'(

Some people have said that it currently takes some jury-rigging, but it'll worm.

It didn't take any fiddling at all same as any full install from scratch, bootable USB, ISO copied to it, connect to tablet.

If it has a compressed OS it technically shouldn't work yet IIRC, they're currently only internally testing compressed builds of the preview.

Yes, you get an error when trying to "upgrade", but a "fresh install" works fine...

You'll lose the Desktop after upgrade to Win10?

No, existing <8 tablets will retain desktop. New builds will not (I don't remember who said it, but it was officially stated)

Yeah this is a great tablet. My wife bought one for me for Christmas. I love it! By the way Daniel aren't you supposed to be on vacation? :-)

Would this be getting the Desktop with Windows 10? Does it count as "Existing 7" tablet" or is it new ?

@EliaJada
This is an existing tablet and YES it WILL be getting the Desktop in Windows 10.
On Jan 26, 2015 8:22pm EST I asked Joe Belfiore via Twitter (@JLTechWord) the following regarding the Windows 10 upgrade on my HP 7 Stream:
"@joebelfiore I notice ur words"going forward"Will my 7"Stream KEEP desktop w/upgrade? @marypcbuk @jackschofield @ExNokian @sbisson @dinabass"
Joe responded two (2) minutes later at 8:24pm EST on 1/26/15 with:
"@JLTechWord @marypcbuk @jackschofield @ExNokian @sbisson @dinabass Yes, we'll upgrade and keep the experience consistent with what u have"
Three (3) mins later at 8:27pm EST on 1/26/15 he sent a general message for ALL of us inquiring:
"Folks asking about updating 7" *existing* devices to Win10 -- you keep your desktop, you get continuum. Go try it yourself now! :)"
So yes, this device keeps the desktop with the Win10 upgrade. :-)

But I don't want the desktop. I want to install the mobile os on my one. :)

HP 7 Stream is not designed for Tablet/Smartphone versions of windows.. So you wont be able to update it with Smartphone OS.. You have to carry on with desktop mode since you bought it for that purpose..

Easy. Unpin the Desktop tile. Tada!

It's not a phone , why would you want a crap os . Why not wish for the ultimate crap OS Android.

It is a nice tablet. I purchased two. And with the firmware update from Dec, the battery lasts over 3 days on standby. Not bad for an x86 based tablet that runs a full OS.

Well, it drains about 1% every hour for me so I would guess it will last around 4 days on stand by.

Where is $25 gift card? I add tablet to card, but don't see any gift card.

confusing, but after ordering it says the gift card will come with the device

Daniel how long is the office subscription for?

Which was is the 7/8-inch with Walcom support? I remember it was recently announced

Had anyone loaded win 10 on the Toshiba encore 2 8"? I can't get 20GB of free space for anything.... Please assist!

Someone install Windows 10 on this and tell us how it performs!

Its under 8" so it will run the phone version of 10. Or not...downloading now lol. And it doesn't install...

Odd, as the forum is filled with people who have Windows 10 installed AND Joe Belfiore said that current 7-inch tablets will get big Windows, but I'm sure you're right...

But this thing has full desktop, and can run desktop applications, on 8.1. If its going to run the phone version, isn't that a downgrade? Will we lose desktop and desktop applications?

Belfiore noted that CURRENT 7 inches just get Windows 10. FUTURE 7 inch devices will run the Phone versions. No downgrades.

Oh okay cool. I was worried I'd lose that functionality. I'm currently deciding between this and a tw801, both great deals tight now.

Those twitter pics of your vacation on the ocean was beautiful.... Make nice wallpapers

Not sure if I'm correct, of course, but the way I understood it was that tablets under 8" will get the phone version of Windows 10 but only from the point where Windows 10 goes RTM. So all current

It is an Intel chip after all. No reason to omit desktop support on such a processor. I think the plan moving forward is that they will actively try and prohibit < 8" devices running on Intel hardware. ARM devices will be configured with the phone UI.

You may not be able to install Windows 10 Technical Preview if the OS is compressed. I tried to install on my Toshiba Encore 2 and couldn't due to compressed OS. So I installed it on my laptop but I really wanted to install it on my tablet for touch.

Using USB flash drive, I can install windows 10 TP. But the installation process is a little bit slow. I am now are using win10 on my hp stream 7.

This seems to be the issue I am having...

The usage of ram when I start to windows is 8x %, when I switch on a application, for example, origin (game store) , the usage increase to 9x %, I cannot play red alert 1 or above games. Just can play SimCity 2000.

It's pretty bulky for a small tablet, but I don't think it weighs 78lbs. ;-)

1GB RAM, eek. For $79 though...

Yeah, but 1 GB with nothing more than an acceptable screen (so no lag because no hi-res screen) and no bloatware. It will not replace your desktop, but for $79 (and even for $99!) this is a pretty sweet tablet for on the go. You know, as you'd expect from a tablet normally.

If you purchased together you only get 1 x 25$. This is what C/S told me.

I wanna give this a shot, but I just can't do it...

Welcome back Daniel, no need to rush with articles! xD

Totally worth it! I bought one right before Xmas at $99 and I love it for the couch/train rides.

A better device for testing windows 10 ..

got to love those couch rides, right? :D

Tempting... Oh so tempting.

It's a great tablet! Responsive fast and smooth. Best one I have used with the 8.1 on it. Now that I have used it awhile, I do wish I got the bigger screen, maybe even the 8 inch. ​

I saw this yesterday and was ordering online, but went to watch a few review videos before checking out. A commenter on a YouTube video posted a promo code that brought the price down even further to $64.00 before taxes. Which I think is a steal for this device. A friend tried to use the code about an hour later and it no longer worked, so I guess I was in the right place at the right time.

Very very tempted :-) .... Seriously tempted

I'm reading comments to find a reason not to buy one. LOL

I got two on black friday and it's been good so far.

I spent that on beer last night!

Only two beers. Two very expensive beers.

Bought one yesterday at this price. Crazy deal. Cool enough, it originally said 3-5 days, but UPS said only one day.

I picked one up at the store today. Nice little machine to compliment my 1520 and SP3. Though it seems I can't take advantage of the year of office as I already subscribe to 365 Home. So that was slightly disappointing.

Looking at my 1520's screen and thinking "gee, this thing is only an inch bigger, but less ram, less screen resolution... Hmmm full Windows eh?"

Yeah. I did the same thing. I walked out of the store, sat in my car for a minute. Walked back in and grabbed it. Will be curious to see how 10 looks on it.

I purchase one last week on amazon and I can say its incredible. I haven't had any of the problems that people have mention.

Vacation is over already? Hope you had fun Dan :)

I hope the Windows Central Store can carry some accessories for this tablet too... :)

got mine on Black Friday for $79 and have <really> enjoyed it! I can Miracast to my Amazon Fire TV stick and run any Windows app out there. Only game I can't play is Clash of Clans. Some of our friends got them after playing with mine, as it could do everything their android tablets did, and then some. While costing less. Currently have Win10 TP build 9926 running on it. Note that as a very recent tablet it uses the new WIMBoot configuration. Upgrading to the tech preview is NOT a straightforward process, so unless you're pretty technical, just enjoy 8.1 until the kinks get worked out of Windows 10.

Will it run Crysis at 90fps?

DOES IT HAVE HDMI OUTPUT?

No, but you can using USB for video output. U can watch on YouTube.

Wish I could use my Microsoft points that were converted to cash to buy this

+925 Ended up throwing away points on a $10 off deal for the Microsoft Store, only to discover at checkout my purchase didn't qualify. I don't remember the exact reason, but oh well. Even worse, the $10 off code had a very short use it or lose it lifespan.

Very good tablet for the price, had the 1020 since launch so needed a new device as I got bored. Only con is the HD space after updates and office. Have an 64gig sd card installed but can't put much on it system wise. Really good for games from gig.com using org mouse and keyboard. Have also steam installed a Xbox wireless dongle attached and stream my games to it from my desktop to run even the lasted games . No hdmi out . Battery not so good have to turn brightness right down

I don't see anything about 25$ gift card on the page

The email will explain it post-purchase.

If i dont live in the US but i buy vía internet and ship it to a Courier in Miami than later will send i to me, can i still getting that price?

Yes you still get that price (excluding the cost of the Miami trip to your country), that is what I always do

Oh cool, it's a very good offer, if I have the money I buy it, but I spend a lot of it in alcohol yesterday :D

Does anybody know of a way to connect USB devices to the Stream 7? And what are your experience regarding battery life?

I got a OTG cable and plug in my USB Flash drive and everything is sweet.

Wanting one! I was looking at the Gloomia 535...this is a much better deal!

Teclast X98 Air II <-- i think that is a steal for 200$ :D looks like the new ipad air, paks a full win 8.1 3G GPS SD... unbelievable!! :D

Just made in china copy cat. But the quality is not bad. My friend is using.

Got mine last night for $64 plus tax. ($68 total). There was a coupon code a few weeks back for $15 off any purchase over $50

Bought one today. I happened to see it on the Microsoft Store site earlier today. The $25 Windows Store gift card made this deal too good to pass up.

I bought one just now from the site and didn't see a mention of the $25 card. How did you get yours?

Go to https://www.windowscentral.com/e?link=https%3A%2F%2Fclick.linksynergy.co... to redeem. Just checks your hardware and adds to your account.

Thanks. I see that in the email now. My bad for not reading it!

Its on voucher per order. And once per email address. Website shows stream 11 only.

Highly doubt that it's a full fast SSD in there, more likely an eMMC controller

That being said, this looks awesome!

How easy is it to put the 10 technical build on this?

Should be fairly easy since its a download process.

No. You need to use ISO for that. I tried downloading it but it shows an error message showing preview cannot install on systems using compressed installation(?) or similar message. I think they are referring to WIM boot.

So I just bought 2. One for me and one for my girl. I was thinking about buying it just a few days ago but once I saw this deal, it was too good to pass up. Glad I waited.

I only have 40 dollars...wwaaah

I want to grab one because of the extras, but I already have a Dell Venue Pro 8 so I dont really need it...

I'm in the exact same boat... Love my Venue 8 Pro.

i know its a solid little device, I use it more than my i7 laptop these days..

To redeem the $25 you go to
https://www.windowscentral.com/e?link=https%3A%2F%2Fclick.linksynergy.co... But can't get on it as im uk

Purchased from uk. Shipped to USA address. And uk is an eligible country.

Website says only hpstream 11 is eligible

Yep. Got screenshot as raised this with c/s.

I'm now $80 poorer. I didn't even need the darn thing, but that price is like Tech Heroin and Rubino is its pusher.

Get winbook 801, much better specs and is $100 Posted via the Windows Central App for Android on my Oneplus One

I Just got mine for $70 shipped.

This one running full windows or just another RT..?

RT is dead Posted via the Windows Central App for Android

Thanks! Wow, this is super cheap! I'll get 2..

My son just got his birthday present...thank you MS!

Just got the stream 8 and love it! Still might grab one of these though!

Tried to have it shipped to an APO AE address (us military overseas) and can't put it in the provided address location. I called ms and the guy I talked to could not either. Arggg. I may call back and try a different ms associate.

These supposedly support MiraCast as well. So, for the price, why not? :)

Windows store and MS store are different, just so everyone knows. You also only have 90 days to spend 25 dollars on apps. Nevermind Ms's wonky payment system - Goodluck. I've never had anything but problems buying from them - here's to hoping.

It's not available in Indonesia sigh ~_~

Aside from annoying driver bugs which can drain battery in a very short while, it runs very smooth and powerful. Heck, I can even run 10bit 1080p videos without any hiccup. Obviously everything is very small even in modern apps which I hope MS would fix. Overall, it is a great little tablet.

If you run the hp support software it fixes everything with bios update.

I tried to install preview on mine and it wouldn't allow me. Says the device has a compressed version of windows and can't upgrade. love the tablet though super smooth with plenty of space

I just picked up 3 of them.

You only get 1 voucher per order. I just had this conversation with Microsoft.

Yeah I noticed that, but I dont really use skype.

I Recently bought an office 365 educational license foe the next few years. Can I stack the office 365 personal subscription of this tablet to the end of my subscription?

What do people use these for?

Web browsing, video streaming, music, e-books, document editing, etc...

I have this tablet, pleased with it for the value, only downside is the unshielded headphone socket which picks up noise from the display especially, though you can still hear the electrical hum with the screen off.

I'm experiencing the same problem and it seems to be a common fault with both the HP Stream 7 & 8 as discussed here on the HP Support Forum - http://h30434.www3.hp.com/t5/Windows-Tablets/Stream-7-Buzzing-when-Headp...

Folks somebody is going to put Windows phone10 on a 7 inch tablet and make a lot of money because some people want device like this for business and pleasure. You might have to wear a suit's blazer jacket or a big pocket vest to carry a 7 inch windows phone10 tablet but there are People who would love to have one even if they only use the built in phone occashonally. Hmm I almost forgot SKIPE for PC's would work well on a 7 or 8 inch full Windows 8.1 / 10 tablet that has a front facing camera. Does any 7 or 8 inch full Windows tablet have a front facing camera.

I got one for my mother in-law during Xmas. I was very impressed with it then, and now tempted to get one of my own to take to work (for pleasure). I already have a Dell Venue 8 Pro though.

Hi Nice device to have it's 99€ in France (after 30€ out) means it was 129€ Don't know how they fix the prices but its a lot expensive here like all Microsoft products i d rather go for a Dell Venue 8 Pro

I've been trying to find out if you can get student discount for the stream 7 on the UK store. Its good value anyway at £75 but even better with another discount!

Thanks to this article, I actually bought one =D

Bullshit! In the UK we have to pay £74.99 for it... which is the equivalent of $114.29! Why the fuck do we have to pay so much more in the UK?? If it's $79 in the US, then we should pay equivalent £51 in the UK... bullshit! :(

VAT at 20% probably doesn't help

You get 1 25$ per order, so if you buy 2 you actually lose 25$.

Dang, would love one, but don't need the Office...wish I could sell it on ebay, but its not going for much...

You're going to NOT buy the tablet because of the free and included add-on?? It's still a great deal, just don't use Office if you don't want to use Office. You won't be able to sell this version, anyway. There is no Installation Code. It's built-in. In fact, if you activate a subscription you already have, the free Office offer vanishes from the tablet. It won't come back, even if you hard reset.

No, I am on the fence because I have two laptops already and a few desktops...as for portability yeah, it would be nice, but I am just holding back because 7" screen is a bit small...but then again, its very cheap if you need Office, which I don't really need...

Bargain indeed. Fir my needs I'd look into the 8'' as it comes with LTE. But then the Lenovo Thinkpad 8 seems higher quality (but I can buy it here in Brazil now). Have anyone compared those two?

I just bought one as a gift for a friend. I wonder I he will be able use the gift card or if it is attached to my Microsoft account. I want him to be able to use the credit for apps. Probably a question for Microsoft customer service.

I asked c/s they said its linked to account.

Has anyone had success getting the $25 gift card? When I click the "Get Started" button on the redemption home page, it takes me to a sign-in page; after signing in with my Microsoft ID, I get the following error: "Something happened. Please start at the beginning of the redemption process." It's Sunday morning so maybe there's a system down for maintenance? Just curious if anyone else was able to redeem this successfully.

Stream 7 isn't listed.. See list of devices.

I bought one and it did say it was included but I would have to redeem the coupon from the eligible purchased device. This is the text in the email confirmation too: To Redeem Windows Store Gift card please visit: https://www.windowscentral.com/e?link=https%3A%2F%2Fclick.linksynergy.co... $25 Windows Store gift card must be redeemed by December 31, 2015. Customers have 90 days to spend their balance after redeeming the gift card.

Yep. Others above said it don't work

Same here; cannot redeem.

Update - it finally let me past the "something happened" page. Then I had to follow instructions to add https://www.windowscentral.com/e?link=https%3A%2F%2Fclick.linksynergy.co... to my trusted sites, and allow Activex, so it could verify my PC. Finally, after all that, I got my $25 gift code.

I am really torn between buying and not buying this one. It is really inexpensive, but with only 1gb of RAM, I feel like it's going to get pretty slow pretty soon. On the other hand, I want it for Smartglass, nook, kindle and internet explorer... So maybe it is enough. I just want to make sure I won't regret buying it. What do you guys think?

Only got for OneDrive and office registration. As it allows one other device to be used with key. I got mine so I can leave my other laptop at home. If its lost or damaged it's no biggy.

I had this for a few days and got scared about the 1GB of RAM, as well. I returned it and got an ASUS VivoTab 8 on sale for $149.99. The $50 was worth it to me to have more RAM, the 8" screen, and a better front camera, for Skype. It's still on sale at the Microsoft Store. It's a $70 difference now with the price drop on the HP, but I'd probably still go with the ASUS for the same reasons as I listed above.

Thank you for the advise. While I don't think I'll be running heavy apps in the tablet, I think I better save those 150$

I've had this tablet since day 1, best bang for your buck gadget, period. As for the desktop? It annoys me, I hope they do away with it. Maybe I'm not a hardcore user, but on this tablet I see no use for it.

I use the desktop on my tablet for a couple of things. I do some film script writing and one of the programs, Final Draft, doesn't have a Modern/Metro "app", so I install the program to use in the desktop zone. I don't do a lot of writing, but it is nice to proofread and make corrections, on the go. I might put the Microsoft Band Synch on there. I'm definitely going to put the software to wirelessly print to my Epson printer on there. So, I have some use for it, and even if I didn't, I'd like the capability there, in case I needed it for something random in the future.

What the hell? $55 after the gift card, how can I NOT afford to buy one. So this month I've bought a HP Split X2 i3, a HP 8 inch Stream, and now this. Guess I'll try to install W10 on it.

Is this Miracast compatible?

Does it run xap files from Windows Phone store? I'm interested in Fifa 15: UT.

Would have one if this deal was in the uk

How does this compare to the original Dell Venue 8 Pro? I'm considering buying this because of how cheap the price is but what I need most is a small tablet with a SIM card slot for data on the go.

This one doesn't have it.

Thanks for the tip. I picked one up today. My laptop is more of a desktop replacement. This provides couch use just as suggested. I quite like it. Maybe a little weighty, but not a problem. The HP cover, however, is useless as a stand. It flops over in any orientation. I'm not sure if I'm going to try and give this a go at work as my mobile document device for meetings. Certainly less a burden than a dumb laptop and nearly as capable.

From team leader at Microsoft store. After examining the HP Stream 7's store webpage, and the terms listed for the Free $25 Windows Store Gift card, I see nothing that limits this to 1 gift card per person. When you receive the tablets, if anything prevents you from redeeming this offer through the promotion web page, I do have the ability to get another gift card to you.

Not available in India. Bad luck for us. :/

got one for my 8years son. great gift.

What a great dad you are! Mine will get it when I'm done with it, lol.

So.. Not entirely sure about this. Can one move the Office license to your desktop, instead of using it on the tablet? That would make it even more interesting..... Thanks! rob

Just ordered mine, $69 with Bing points, how sweet is that!

Does it play Fifa 15 Ultimate Team and Asphalt 8?

I'm thinking of buying this to use as a nice mp3 player in my car (which also obviously means I have a decent tablet wherever I go)... Does anyone know of any good music apps that have swipe controls? I have a surface, but that is RT and therefore I don't have access to the same store, so I was wondering if there are any 8.1 apps that allow you to change the song via swipe. If not, I guess the screen will be big enough to press the "next song" button anyway. I am envisioning installing the Zune software on here to manage my music anyway!

Mine came already, I love it. The Windows 10 preview on here will be fun !

Just got it in the mail. I'm so happy I can install iTunes on it. So now I'm going to try to install Windows 10!

I bought one and when I went to register for gift card today it said the 7" was not eligible, spent 48 minutes on the phone with someone who was hard to understand and still no gift card. It still is on product page but if you check the hp stream gift card website it does not apply to 7" model.

I got that tablet yesterday and my first impressions are look robust it's fast and looks very good the price in Chile was 165,65 dollars but coated cheaper than my old hp slate 7+ with Android which turned extremely slow also came with the offer of Skype and office 365 by a year which is very cheap by all the things that came with , also my usage will be more professional, work outside with Excel word accounting systems on the cloud which don't work with Android

I leave mine hooked up to a Startech Y-cable that allows me to charge (slowly) and sync at the same time. I have it plugged into a 4 port USB hub and use a wireless keyboard with trackpad while using with my TV with the built-in Miracast. It works pretty well and its great for browsing or watching YouTube.
Windows Central Newsletter
Get the best of Windows Central in in your inbox, every day!
Thank you for signing up to Windows Central. You will receive a verification email shortly.
There was a problem. Please refresh the page and try again.