HP ZBook 15u G5 review: Mixing design and function
Is it a workstation or a powerful Ultrabook?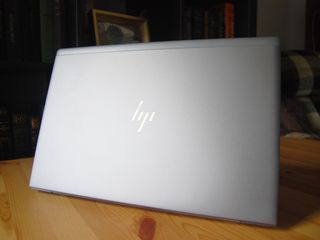 HP makes some beautiful premium laptops — just look at the Spectre lineup — alongside a wide range of other products, like gaming desktops, portable 2-in-1s, and workstations. The last in that list doesn't exactly sound like it's something sexy, but HP has attempted to bridge the gap between premium and workhorse with the ZBook 15u G5.
It's the thinnest and lightest device in the Z workstation lineup, so you can expect some performance compromises while also meeting requirements for design software and hitting targets for security and ease of use. Let's take a look at what you can expect from the ZBook 15u, and whether or not it's the right laptop for you.
About this review
HP loaned Windows Central a review unit of the ZBook 15u G5 mobile workstation. This specific model has inside an 8th Gen Intel Core i7-8650U vPro processor (CPU), 32GB of DDR4 RAM, a 512GB PCIe NVMe solid-state drive (SSD), an AMD Radeon Pro WX3100 graphics card (GPU) with 2GB of GDDR5 VRAM, and a 15.6-inch 4K display. Expect to pay about $3,100 (opens in new tab) for this decked-out model, though baseline models start closer to about $1,585 (opens in new tab).
See at HP (opens in new tab)
HP ZBook 15u G5 review hardware and specifications
Swipe to scroll horizontally
Category
XX
Processor
8th Gen Intel Core i7-8650U vPro
Quad-core
Display
15.6-inch
3,840 x 2,160 (UHD)
IPS UWVA
RAM
32GB DDR4-2400MHz
Dual-channel
Storage
512GB PCIe NVMe SSD
Graphics
AMD Radeon Pro WX3100
2GB GDDR5 VRAM
Ports
Thunderbolt 3
HDMI 1.4
Two USB-A 3.1
RJ45 Ethernet
3.5mm audio
HP Ultraslim dock
microSD card reader
Smart Card reader
Speakers
Dual stereo
Bang & Olufsen
Wireless
Intel Dual Band Wireless-AC 8265
802.11ac (2 x 2)
Bluetooth 4.2
Camera
Front-facing 720p
Security
TPM 2.0
HP Sure Start Gen 4
Biometrics
IR camera
Fingerprint reader
Keyboard
Full with number pad
Backlit
Touchpad
Precision
Physical buttons and point stick
Battery
Three-cell 56Wh
Weight
Starting at 3.89 pounds (1.76 kg)
Dimensions
14.6 inches x 9.91 inches x 0.72 inches
(370.84 mm x 251.71 mm x 18.29 mm)
HP ZBook 15u G5 review design and features
Designed by the same crew that worked on the beautiful Spectre 13, HP's ZBook 15u G5 is understandably a slick laptop. For a 15.6-inch device it's very thin at just 0.72 inches, reminding me immediately of the LG gram 15Z980, and it's light enough that you won't mind carrying it around, especially when considering the performance tradeoff. The hinge is sturdy, but you can open the lid with one hand.
The silver chassis is made of anodized aluminum, with a simple HP logo on the cover. On the inside, around the keyboard and touchpad, the same material does a decent job of hiding oil from hands. The laptop has passed 14 MIL-STD-820G3 tests, so there's no question that it will put up with quite a bit of abuse. I wouldn't hesitate to take this workstation into the field.
There are eight Phillips-head screws holding the back plate on, which are easily removed if you'd like to tinker inside yourself. It seems as though the storage is untouchable, but you can add or replace the RAM yourself as long as it's HP branded. If not, your warranty disappears. It would be nice to be able to have a bit more wiggle room here, especially when it comes to upgrading the SSD down the line.
Image 1 of 2
Plentiful ports allow you to connect more devices when on the go, and you shouldn't have a space problem using most ports simultaneously. On the right side there's a microSD card reader, a 3.5mm audio jack, USB-A, HDMI, Ethernet, Thunderbolt 3 (with four lanes of PCIe), and an Ultraslim dock port that's been left intact mostly for those enterprise customers who don't want to invest in a new fleet of Thunderbolt 3 docking stations. On the left side there's an additional USB-A port and a Smart Card reader.
HP has packed the ZBook 15u full of security features that admins and users alike can appreciate. The IR camera and standard webcam have a shutter for additional privacy (only available on the non-touch configurations), a Sure View display screen is available with the FHD version, Sure Start checks on startup to ensure the BIOS hasn't been compromised and will take actions if it has, and a fingerprint reader set out of the way on the right palm rest adds another method of signing in. There's likewise the Smart Card reader for a final layer of protection. Signing in, you hardly get to see the Windows Hello screen before you're past it.
Bang & Olufsen lends its tuning to the dual speaker setup in the ZBook 15u, which extends nicely across the top of the keyboard with a triangular grate. Sound is loud and full, with a small bit of crackling at high volume. To aid in collaboration on the go, there are two world-facing microphones on the lid that pick up ambient sound and eliminate it. Anyone who's tried to have a meeting in a busy coffee shop can immediately appreciate this feature.
HP ZBook 15u G5 review display
There are a bunch of different display and camera options available at checkout, but the one I have here is essentially the top choice as far as cost. It's not a touchscreen, but it has a 4K resolution and great color, contrast, and viewing angles. Testing the display's color gamut, I got 99 percent sRGB and 77 percent AdobeRGB. It has adaptive brightness to keep the display visible when moving between environments, but it could be brighter, especially if you're going to be using it outside.
The bezel isn't awful, and there's certainly a lot of hardware fit into the strip along the top. The sides are thinner, and the chin actually matches the thickness of the top bezel, giving it a nice aesthetic. If you see the ZBook 15u as more of a work laptop, it's not much different from the competitors.
HP ZBook 15u G5 review keyboard and touchpad
Image 1 of 2
Space is used wisely here, with a full keyboard with number pad and a large touchpad with physical buttons and pointing stick. Letters and numbers are apparently engraved into the keys to avoid them rubbing away, there's plenty of key travel for a comfortable typing experience, and three levels of backlight make it easy to work into the night.
HP has included collaboration keys along the F row, letting you answer or hang up Skype calls quickly and easily. Unfortunately these keys don't work with any other software, so if you don't use Skype for Business, you're out of luck. I also couldn't seem to get the display brightness keys working, and though you get the luxury of adaptive brightness, it's odd that you don't have the option to quickly adjust it yourself. I assume it's something wonky with drivers.
I love a big touchpad, and even though some of the space is taken up by physical buttons to go along with the pointing stick sat in the middle of the keyboard, I had no issues here. It has a solid click and its Precision driver means it works with all Windows 10 gestures.
HP ZBook 15u G5 review performance
Part of the tradeoff of having one of the thinnest and lightest mobile workstations on the market is sticking with U-series 8th Gen Intel Core CPUs. Yes, you still get four cores, but overall you won't get the same performance as from some of the other variants.
Altogether, with the AMD Radeon Pro WX3100 GPU, lightning-fast SSD, and 32GB of RAM, the ZBook 15u is a strong multitasker that can handle design software. I put it through a relatively light workload compared to what some will put it through, and it certainly won't match some of the true workstations out there. In any case, the fan inside is quiet and the laptop doesn't get too hot, even when under load.
The main gripe I have is with the 56Wh battery. An FHD model would no doubt get decent battery life, but with the 4K display I have here I saw between about five and six hours of life from a charge when using the laptop regularly. This isn't a lot of time, especially when you're working on the go. Stick with a lower-res display for best results.
CPU
Geekbench 4.0 benchmarks (higher is better)
Swipe to scroll horizontally
| Device | CPU | Single core | Multi core |
| --- | --- | --- | --- |
| HP ZBook 15u G5 | i7-8650U | 4,853 | 16,075 |
| Lenovo ThinkPad T480 | i5-8250U | 3,940 | 12,559 |
| Lenovo ThinkPad T470 | i5-7300U | 4,394 | 8,580 |
| Lenovo ThinkPad X1 Tablet | i7-8650U | 4,971 | 14,289 |
| Microsoft Surface Pro | i7-7660U | 4,513 | 9,346 |
| Lenovo ThinkPad X1 Carbon | i7-8650U | 5,025 | 14,178 |
| Dell XPS 13 (9370) | i7-8550U | 4,681 | 14,816 |
| Lenovo Yoga 730 13 | i5-8250U | 4,178 | 13,354 |
| Lenovo ThinkPad X280 | i5-8250U | 4,061 | 13,017 |
| LG gram 15 | i7-8550U | 5,033 | 12,906 |
| Samsung Notebook 9 Pro 15 | i7-7500U | 4,431 | 8,669 |
The 8th Gen Intel Core i7 CPU delivers great performance when compared to other business laptops, but I think those who plan on using a mobile workstation for video editing or other intensive purposes might want to look at something like the ZBook Studio (opens in new tab), which employs H-series and Xeon Intel CPUs.
GPU
Geekbench 4.0 OpenCL (higher is better)
Swipe to scroll horizontally
| Device | Compute score |
| --- | --- |
| HP ZBook 15u G5 (AMD) | 42,071 |
| Lenovo ThinkPad T480 | 18,245 |
| Lenovo ThinkPad T470 | 21,276 |
| Lenovo ThinkPad X1 Tablet | 22,211 |
| Microsoft Surface Pro | 30,678 |
| Lenovo Yoga 730 13 | 21,000 |
| Lenovo ThinkPad X280 | 21,142 |
| LG gram 15 | 22,334 |
| Samsung Notebook 9 Pro 15 | 19,769 |
The inclusion of an AMD Radeon Pro WX3100 GPU with 2GB of dedicated GDDR5 VRAM ups the performance considerably, allowing users to tackle more intensive multimedia editing or design software than with integrated Intel graphics.
PCMark
PCMark (Home Conventional 3.0)
Swipe to scroll horizontally
| Device | Score |
| --- | --- |
| HP ZBook 15u G5 | 3,323 |
| Lenovo ThinkPad T480 | 3,254 |
| Lenovo ThinkPad T470 | 3,103 |
| Lenovo ThinkPad X1 Tablet | 3,059 |
| Microsoft Surface Pro | 3,055 |
| Lenovo Yoga 730 13 | 3,121 |
| Lenovo ThinkPad X280 | 3,335 |
| LG gram 15 | 3,395 |
| Samsung Notebook 9 Pro 15 | 3,542 |
The PCMark Home Conventional test measures how well the hardware in a laptop works together to accomplish usual tasks. The ZBook 15u performs admirably, but it's not pushing anything further than a lot of other laptops we've tested.
SSD
CrystalDiskMark (higher is better)
Swipe to scroll horizontally
| Device | Read | Write |
| --- | --- | --- |
| HP ZBook 15u G5 | 3,448.0 MB/s | 1,566.4 MB/s |
| Lenovo ThinkPad T480 | 1,738.1 MB/s | 1,174.9 MB/s |
| Lenovo ThinkPad T470 | 1,079 MB/s | 716.1 MB/s |
| Lenovo ThinkPad X1 Tablet | 3,398.1 MB/s | 1,946.6 MB/s |
| Microsoft Surface Pro | 1,284 MB/s | 963 MB/s |
| Lenovo Yoga 730 13 | 2,790.6 MB/s | 506.8 MB/s |
| Lenovo ThinkPad X280 | 3,366.1 MB/s | 1,901.5 MB/s |
| LG gram 15 | 554.1 MB/s | 449.6 MB/s |
| Samsung Notebook 9 Pro 15 | 549.9 MB/s | 519.3 MB/s |
HP uses a Z Turbo drive system with the Samsung SM961 SSD, and the results are impressive. It's faster than other laptops I've tested, and the performance shows constantly while you use the device.
HP ZBook 15u G5 review conclusion
Overall, the HP ZBook 15u G5 does a fine job of mixing useability features, security, and durable design. No, it's probably not what you'd consider a workstation in the traditional sense, but it is undoubtedly a workhorse that can deliver a bit more than what a standard Ultrabook has to offer. You can feel safe working on sensitive documents no matter where you are, it really is a pleasure to use on a daily basis, and you won't be lugging around a five-pound monster to your business appointments.
The battery is disappointing when paired with the 4K display, and the fact that you can only upgrade RAM with HP-certified hardware is a drag for those who like to tinker. The price is also an issue. With this model just over the $3,000 mark, you really have to ask yourself whether or not the fairly standard performance is outweighed by the flashy design and extra features.
Who is this laptop for?
The amount of security features here will undoubtedly appeal to many, and it pushes the bounds of the standard Ultrabook, but those looking for exceptional performance for specialized tasks will likely want to look elsewhere.
See at HP (opens in new tab)
Pros:
Quality build, slick design.
Full keyboard and large touchpad.
Lots of ports.
Plenty of security features.
Cons:
Upgradeability could be a lot better.
Battery life is disappointing.
Pricey.
Windows Central Newsletter
Get the best of Windows Central in your inbox, every day!
Senior Editor, Laptop Reviews
Cale Hunt is formerly a Senior Editor at Windows Central. He focuses mainly on laptop reviews, news, and accessory coverage. He's been reviewing laptops and accessories full-time since 2016, with hundreds of reviews published for Windows Central. He is an avid PC gamer and multi-platform user, and spends most of his time either tinkering with or writing about tech.
The moment I see 4 instead of 6 cores... I fall asleep... Perhaps review Lenovo P52, not P52s

I was saving for Dell XPS 15, but now I go for Lenovo p52... with only 0.7KG extra as the only downside

Why there is no Surface Book 2 in the list for performance comparison? I think it's seriously in the same group with the CPU, screen, GPU, price, etc.