Some HTC 8Xs reportedly getting Windows Phone GDR2 OS update today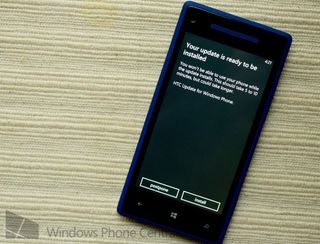 Windows Phone Central has begun to receive reports from users that their HTC 8X (UK Virgin Mobile and non-branded) are receiving updates today. The update, most likely a combo of firmware and the coveted GDR2 OS update (build 10327), will enable things like FM Radio, Data Sense (carrier dependent) and other improvements. This update follows Samsung's recent ATIV S update for unlocked devices.
We have not found an update for our AT&T-branded 8X, though we'll update this article as more information comes in.
For those with the 8X, you may want to head into Settings > Phone Update and use the force-check to see if something is waiting for you. If you do get an update, please post your carrier (if any) and any new changes in comments. You can also find more information and discuss the update in our support forums: http://forums.windowscentral.com/htc-8x/
Thanks, Steffen S., Dennis A., and Plasmid, for the tips!
Windows Central Newsletter
Get the best of Windows Central in in your inbox, every day!
Daniel Rubino is the Editor-in-chief of Windows Central, head reviewer, podcast co-host, and analyst. He has been covering Microsoft since 2007 when this site was called WMExperts (and later Windows Phone Central). His interests include Windows, laptops, next-gen computing, and for some reason, watches. Before all this tech stuff, he worked on a Ph.D. in linguistics, watched people sleep (for medical purposes!), and ran the projectors at movie theaters because it was fun.
Great those users of HTCs but i just want H:SA. The wait is too much.

Doesn't look like its happening today, everyone has gone silent on the issue

I noticed that. Kinda miffed as i expected it yesterday. I have a suspicion it maybe due to the Verizon exclusivity in the States. Maybe they are trying to lockdown the change of region work around.

I havent asked or seen anywhere but is AT&t getting data sense Mr Rubino

Where is data sense if you have it.... Menu etc??

You're welcome! I'm still on preparing the update, hope on installing soon!

My Nokia Lumia 820(Unlocked) didn't get the update yet how come HTC sent before Nokia this time, Good for HTC ppl.. :)

These other manufacturers will likely get the updates before Lumias because there is less in them... with Amber being included with Nokias.

Well the lumia 925 seems to be getting along with GDR2 quite fine by the looks of it.

Yeah I agree... there is a lot of feats in Nokia's Amber update to be tested where as HTC I guess is pushing it vanilla?

Unbranded 8x on O2 UK - update downloading now. Would rather have Spartan Assault though..

I wonder why it takes Nokia so long to get this update out to customers. The 925 is pretty much identical to the 920 and you can buy that with GDR2 already...

Makign sure it works properly on all devices and dealing with the logistics of doing the mass update. Not to mention dealing with the individual carriers.

after 1308 vs 1314 debacle, I would rather Nokia take their time and make sure nothing like that happens again, instead of rushing to beat HTC

May i install this update without having WiFi????

If you have an unlimited dataplan

At least on at&t you have to have WiFi no matter data plan.

Just a bit of info - it starts downloading straight away - doesnt come up with an option saying an udpate is available to download - so make sure your on wifi before you check that its there.

Does the GDR2 update contain a week view for the calendar?

Friend of mine is having a update on his HTC 8X, will let you guys know what version is it after

What provider? Has any ATT or Verizon gotten the update?

It's a Unbranded HTC 8X and we live on Aruba, so we are not locked to a carrier & my friend has gotten the update / installed it. I'm still waiting for it on my L920

Unbranded 8X on O2 downloaded.

I'm pleasantly surprised to hear HTC is participating in the GDR2 update.

Due to htc's update history I think its safe to say after this update they will abandon the phone.

Sadly, you are probably right. I'm still waiting for my 7.8 upgrade on my HTC Titan II.

Agreed. I'm still waiting for ANY update to my Titan. My keyboard still plays hide-and-seek...

That's probably your carrier's fault. My unbranded HD7 has already gotten 7.8 since March.

What about T-Mobile customers with 8x devices?

I just checked on my US T-Mobile 8X and no update yet...


Wow that sucks. Hope we see it soon.

Same here for my T-Mobile 8X.

I am downloading an update to my 8X (Country:Turkey - Operator:Turkcell)

Benim telefon yükleme için hazırlanıyorda takıldı sizdede öyle mi ?

Valla helal olsun bu sefer Nokia'dan erken davrandılar..

I'm on 3 uk and haven't yet received the update on 8x

Living in Berlin, Germany and just got the update on unbranded HTC 8X using E-Plus/BASE as my provider.

Yep, downloading now. Unlocked HTC 8X from Romania.

Downloading now
Unlock (turkey )
but my phone stuck at preparing update

When will nokia releases the amber update. And if ever they release it, will it be worldwide? Im using a unbranded Lumia 920 globe carrier Philippines.

Nokia Lumia 720 here, smart on the other hand and my hands are itching for the update.. hahaha..

Ahaha good to know that. Me too!! I wanna try their new app. Forgot the name. And i hope nokia will make nokia camera pro free for all lumia 92x devices too.

i chatted with a nokia rep and they said more likely next month but no specific date.. hahahaha.. it's again down to our carriers.. I remember itching for my BB 9360's BB 7.1 update.. it took forever and it wasnt even updated through Globe.. good luck to you bro.. Hahah.. by the way, i envy your 920.. hahaha.. you must be rich.. hahaha..

Ahahaha tnx. No,im not. I saved my salaries for this. Ahahah took me 4 months to buy it ahahaha. Its a tough phone! I'll tell you that! Ahahaah

Hahaha.. 920 is still expensive for me so I bought a 720 instead.. the same experience minus OIS and 512MB of RAM.. you have a twitter?

Yep your right about that. The camera too its very impressive. Yep i have. Gerro rico mabulay.

Are you having trouble with the notifications? Like facebook, viber, any apps that has notifications. Especially my online messaging.

some of them but that's not a huge issue for me.. i can still deal with it.. maybe because I am not a daily user of viber or other IMs. facebook is kinda late since the app is technically managed by MS and not by Facebook itself..

pinoy here. my unit is unbranded lumia 620 using sun cellular. just tried it but decided to eventually replaced my aging LG 2X android phone. waiting for lumia 925 though. does any of you experienced internet connectivity problem? like your phone is switching to 2G automatically when connection is unstable? if yes, you can force it to "3G only" or "LTE only" for 920 by doing these procedures:
1. Dial ##3282.
2. Tap Accept button.
3. Tap ... at the bottom right of the screen.
4. Tap settings and select network type to 3G only or LTE only for 920.

As people from the forum says, change is only FM-Radio. No data sense or Other Storage fix :(

I'm getting the update in Sweden, unlocked HTC 8x on the Mobil2 (Telia) network.

Yup, got it. Unlocked 8X on Netcom in Norway.

You keep writing "data sense (carrier dependent)". Since I can't see a single reason for that "dependence", I would appreciate an article explaining that as probably someone at WPCentral will know more about that issue than us, the average Joe. Unless, of course, there's no real reason and Microsoft just lied to everyone upon launching of the WP8...

I just watched an intro to WP8 video by Belfiore (shot last year), and he never said it was coming to all phones. In fact he said they expect to expand it to other phones in 2013... which they are. I don't see where we've been lied to.

Microsoft always explained Data Sense being carrier dependant as it was designed to both give customers the visibility of their usage as well as give features like data compression and probably statistics to the carriers which they wanted. MS never lied about Data Sense.

Then how come unlocked phones can have it ??????

At least I see Data Sense on 925 unbranded version while 32GB Vodafone version does not have Data Sense.......

Where do you see an unlocked phone getting Data Sense?

Yes but data sense doesn't need to be carrier controlled except the compression part!!!!

The compression is the only useful part of data sense, the actual data count is way off. It said I used 1.7 gigs of data while Verizon said I barely used 1 gig.

Do you know if anybody of Spain received the update, please? Thanks in advance.

Chess (telia sonera) Norway got it too,downloading now

I´m updating my unlocked HTC 8X in Sweden on carrier Tele2.

Just got it on HTC 8S, kinda sad cause i had to delete 90% of my apps.

Anything new on the 8s after the update?

It doesn't want to "open" after downloaded and fully prepared, cause fk me, that's why.

just notice few speed improvements, radio beside that nothing new. was expecting way more.


My 8x is downloading the update right now, its a SIM-free phone working on "zain" network in the middle east. I'll post the changes when it finishes the update. This made me jump from my chare :D its been quite a while since the last update.

Downloading it now on my UK unbranded 8X while I wait for those on Redmond to start lifting and release Spartan Assault

Btw, what should I expect other than fm radio and data sense ?

Data sense seems to be carrier controlled hope u get it :/

My HTC 8X got update now in Dubai

Just downloading update on HTC 8S, unbranded Play network in Poland. Needs minimum 329MB free space on phone storage.

Just checked for an update on Verizon HTC 8X...no update available...

Same here. In California on Verizon, nothing yet...

I've been calling my wife to see if she has had time to check. I'll let her no update for her Verizon 8X

No go on Verizon in Alabama.

Unbranded HTC 8X on Vodafone, Czech Republic - Updating now.

Nothing on Verizon. They haven't been too bad about delaying updates so far so hopefully we'll get it soon. What I am much more concerned about than the general GDR2 improvements is did they finally re-enable group messaging.

Ya tell me about it. I'm considering moving to att just for group messaging.

In January Verizon calimed to be supporting group sms in a mid-year 2013 update. I have the letter at home, can upload tonight. The letter was a response to an FCC complaint I filed.
I would interpret this update to be a mid-year update and therefore should add group SMS support. If group sms is not in the update, then I will certainly notify the FCC. EDIT: Here is a Google Vocie transcript of the voicemail I recevied (in addition to a letter). Names were Removed.
Hello Mr. ###. This is ### the present here at verizon wireless we spoke the other day. I do have a response for you. It does appear that we are working with Microsoft to provide group text messaging capability on your device as quickly as possible. I the feature will be added with the mid year software update. So I just wanted to let you know that that is the case, we are working to get that at it. And it you know, should be out of. I've made here. So if you have any additional questions, you can reach me at (xxx) xxx-xxxx Beyond that, I'll be sending a response to the never communicated Commission's with this information and you'll be copied on that you receive a copy. So, again. Thank you for calling. If you have a great day bye bye.

Hopefully a group messaging fix is included and I've seen enough similar responses posted to give me some hope. If it isn't, I'm going to try what some seem to have had success with, as follows:
1) Get an AT&T HTC 8X, sign-in and restore apps and settings from my Verizon HTC 8X (turn on settings backup).
2) Enable group messaging on the AT&T phone.
3) Backup up settings from AT&T HTC 8X
4) Wipe Verizon phone
5) Restore apps and settings to Verizon HTC 8X, as if you had a new/repacement phone
I've seen some people indicate this fixed the group messaging issue on Verizon phones, including the HTC and Nokia phones.

Unbranded HTC 8X on Drei, Austria - Updating now :)

Jup same here. Servus. where do i find datasense and the radio?

Unbranded 8x on yesss! Just got it.

Unbranded 8X, Czech Republic - downloading now. It's got to be a massive update though, because it takes ages to download.

Oh come on, first the ativ, now the 8X, and no sign for nokia yet, what the hell.?

let the rest of us who never get updates enjoy this for a little ;p

This guy hahahaha made me giggle.

Hmmm, maybe, you know, they're still testing the GDR2 and Amber updates?

Hmmm, then maybe the 925 is a mass produced test unit ?

Alright Verizon, get this update through quick, and I'll cut you some slack on the uber long delay for Jelly Bean on the Xoom that is way past over due now.

Ya got it unlocked 8x Ireland on 3.

Receiving now on my HTC 8x, although I don't use it because of switching to Lumia 920. But when I take 8X in hand I really love its weight and design :(

Why no update fo us west of Prime Meridian??? (Jackie Chan voice with arms in the air)

Yep, I have just installed GDR2 on my 8X. Telekom HU, Hungary.

Just updated to GDR2, got radio but no data sense........
Mine is Hong Kong version, not sure if this matters.
Some storage is being freed up, but not sure if the boom will come up again.

Data sense is somehow important to me as I don't want to surf in GPRS one day after my 3G data limit is over.

Got update, 8x Vodafone, the Netherlands. No datasense :(

No update for my unbranded Lumia 920 @ Spain

Who said anything about the Lumia?

Nothing for my Quantum, either...

yep also downloading on kpn in the netherlands, unbranded htc 8x
got 8.0.10327.77 succesfully



I just installed it on unbranded and unlocked HTC 8X on Orange UK. Radio is there, but where can I find Data Sense? Does anyone know if Orange supports it?

I think the phone has to be carrier branded for you to get data sense.

No data sense in the UK. Or visual voice mail. Still.

This upsets me, still waiting for mine to install. Was hoping for Data Sense. Doesn't look like any of the phones being updated today have Data Sense.

Hmmmmn....my Lumia is giving me the puppy dog eyes in hopes she gets an update too.

They are working on a different update"amber"

no they get both GDR2 and Amber theirs just isn't out yet

Got the update. SIM free 8X at Portugal. FM radio but no data sense.

I Have Nokia Lumia 520 and I Didn't get The Update Yet

sorry its not out for you guys at least yet this is only for the 8x as the article said

nokia wont push a update before augast 15 for sure. so relax lumia guys !!! thy have to bundle amber + gdr2 . so it take minimum tha much of time .

Installed! Carrier-free HTC 8X bought in the UK!

Currently downloading on unlocked UK 8X

Unlocked UK 8X update downloaded, no data sense though. Not sure if it was expected or not.

Unlocked, Israel - Downloading now.

Update available now in Portugal, unbranded phone with Vodafone :D

anyone in the U.S. yet?!?

YAY! I got the update from checking, I am on T-Mobile UK (AKA: EE) my handset is unbranded though as I got it from Phones4u =)

Got GDR2 update on my 8X. Why are people surprised? HTC was first to release Portico as well - in fact a cool two months before I got it on my Lumia 920.

HTC 8X | Hungary | T-Mobile | GDR2 available

Downloading currently on Orange (EE) UK. :D. Glad to have an HTC for once!

Got mine. 8x Telenor Serbia

Just manually searched for update and it's now downloading, yay! Unbranded 8X on O2 UK.

While I'm not as impressed with HTC's support of Windows Phone in general, they've been brilliant at getting updates pretty quickly and that is appreciated.

Just a shame there's not really all that much to talk about in GDR2... :/

All this HTC news gets me gitty with excitement. They're finally getting some love

Updating my blue 8X as I write this on my Ativ S!

My HTC 8S is also receiving the update!

Croatia, T-mobile, phone updated... i was really hoping for small things like separate volume controls or stop button in music player... now, i'm just disappointed


Could someone confirm whether the GDR2 update has added gapless playback in Xbox music please?

I got a notification for an update !
I already got 2 small updates this morning & now that makes 3 !
Unfortunately, I'm outside right now & low on battery ... Ugh !
Unbranded international 8X , Saudi Arabia .

Just got mine. Verizon branded. US

OOT:

my Huawei W1 version is 8.0.10322.71

what version is that?

Hi :)

Just in the process of updating my unbranded HTC8X here in Germany :)
There are three updates ...

8x T-mobile, Indonesia..No Update yet

I'm already stalled the udate ...nothing happen same as useless....


Only just got round to installing this update after reporting it earlier. Data sense isn't included since the Virgin Mobile HTC 8X is effectively unbranded. No noticeable improvements around Skype though the OS feels a tad nippier. Yet to try the FM Radio etc.

t mobile sends out the update on monday, for those that have t mobile branded htc 8x

Unbranded UK version 8X downloading now :)

Unbranded phones4u 8X from the UK downloading update now. Wasn't on wifi when it checked, so it just says 0%, but I can confirm that I should be getting it :)

Got the update yesterday evening on my unbranded HTC 8x here in Switzerland.

Those of you updated, any news on fixing other storage issue?

Unfortunately no calender improvements. At least none that i can see.
Unbranded 8x in Austria.

Just installing now on o2 UK suppied (via business).
Russ

i need help here. i am stuck on the "running gears" icon for almost 2 hours (after downloading and installing the updates), so the battery was drained.
when i got home, i charged it and still stuck on the "gears" icon.. TIA


Unbranded 8x on O2 in the UK. I've just installed the GDR2 update which bumps the OS to 8.0.10327.77. The firmware got a big bump to 3030.0.33501.401 but I'm struggling to see any improvements, features, anything. No wonder why HTC are always ahead of Nokia in this regard, they have nothing to add so testing is that much quicker.

Yes, the radio is now back but that is all. I guess this is mostly under-the-hood stuff we don't care about. No DataSense, no custom tones for Alarms, voicemail, messages, no visual voicemail, no fix for 'Other' storage or improvement to managing installed apps or app data. Nothing worth talking about at all. I suppose I should be glad that it's not broken anything (yet) but seriously, Microsoft (yes I'm looking at you Tony Myerson and Joe Belfiore), what are you guys doing all day?

By the way, for those of you clamouring for Spartan Assault, it's just arrived in my marketplace (UK) and it costs £5.49. You'll need plenty of room, the download is 691MB! I thought this was exclusive to Verizon (US) for 30 days?

It is exclusive to Verizon in US market only. It should be available to the rest of the world.

I agree Envio! Very Very disappointed here with this update, yes they are quick at rolling out updates! They never add anything.......wont be buying HTC again poor support.

Got it on HTS 8S, it's 8.0.10327.77, but there are still tiles everywhere...:P

Unbranded 8X in The Netherlands (my wife's phone): Update, but gives an error :( Tried 3 times, no luck. Trying again tonight...

I dont have any internet connectivity problems. The lumia 920 and lumia 925 is basically the same phone, same specs, but the lumia 925 has 6 lenses to 920's 5 lenses. And minus the wireless charging capability, and the 925 runs on nokia's amber update. To answer your question. Yes on the setting i can choose between 2g, 3g, and LTE..

No Data Sense on my Hungarian T-mobile 8X. :( But why? Some said it's carrier dependent, some said it's not. So what's up now?

Got it in Romania, Orange carrier. No Data Sense.

Nokia will adopt Android on 2014, here's the possibility : goo .gl/NpwBj

Thanks.

Biggest disappointment ever GDR2 - upgraded here on Virgin Mobile (UK)
Disappointment why did I expect anything else from HTC? Yes they are quick with updates because they never add any value to their phones, no extra features no nothing!

HTC have had all the £ they are going to get out of me, and I will be buying Nokia next time!

So disappointed

While this is great news, unfortunately, I'm on Verizon, which means I won't be seeing this update until everyone else is getting GDR3. And while we're on the topic of updates, what the hell happened to the 7.8 update on my Trophy?

yesterday i updated my htc 8x , and today suddenly while watching movie on it , went dead , but the lcd led is on . confused ....
before update all was merry and fine , is this a bug in the GDR2 update

Still no update for HTC 8S,EE, UK


:(

Using Nokia Lumia 920 i just got the update it had data sense... Over here in india using career IDEA

Using htc 8x on 3 mobile in the uk still haven't received update
Windows Central Newsletter
Thank you for signing up to Windows Central. You will receive a verification email shortly.
There was a problem. Please refresh the page and try again.