Hulu Plus gets rare Windows Phone update, adds voice search to app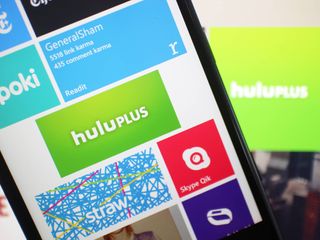 Last month we looked at five popular Windows Phone apps that have not been updated in months. We're happy to take Hulu Plus off that list. Head into the Windows Phone Store and you'll see a new update for Hulu Plus. This update isn't just a bug fix either; we're getting some sweet new voice control features.
Head to the Windows Phone Store and you'll find Hulu Plus at version 1.4.0.0. Here's what's new in this update:
Search, play and add to queue your favorite shows directly using voice search on your phone
Anyone out there on Hulu Plus dig the new update? Sound off.
Thanks for the tip Dan B!
Windows Central Newsletter
Get the best of Windows Central in in your inbox, every day!
They read that article and felt embarrassed...

lol let's see if the others in the list felt the same ;)

Thats super rare!!! A big name company backing WP with updates. Screw you snap chat. God bless Rudy.

Sadly, these are the Cortana features demoed in the original WP8.1 announcement at Build. I would have expected them much earlier, but it's nice to have them finally.

Great news! I wish instagram gets off the list as well!

Wow. Didn't even know we had a Hulu app

The only thing good about the Hulu app is its video quality, its far superior to Netflix app which sucks.

Netflix video looks great on my 1520 over LTE.

Netflix looks like ass on my 925.

This would work great with Cortana integration. Something like "play latest episode of gotham" and Hulu opens.

That would be sweet and it may even be possible. These developers need to start using Cortana more.

Didn't they demo exactly this way back when WP 8.1 was announced?

Yep. As per Nik's comment above.

Wow.. One update its not even for UI, its something lame.

They must be worried about what they are doing at Amazon. I think where voice search is concerned, they all need to be concerned.

Maybe. Of course Amazon doesn't support WP for music or video. The shopping app is great. The Kindle app needs some work.

And we need the sellers app.

Would be good if it did support WP but it doesn't have to. If you are a prime member, you got their entire video library and all your music uploads to Amazon Music. That's boss. In this space, they are doing something not to many are doing and doing well right now. Voice Search. That technology is on point and for me, I plan to take advantage of some of it. Like the upcoming Amazon Echo. http://www.amazon.com/oc/echo/ref_=ods_dp_ae ?tag=hawk-future-20&ascsub...

You sound like, and are pretty much a shill.

You sound like and is definitely ignorant of technology. Go and clean your nasty room and keep out of grown folks conversations. Didn't you get home training?

When will they integrate ChromeCast in this? Don't say it's not possible, because I have a YouTube app on WP that works.

It's like Netflix but with current shows. I think all the major networks, save one, have part ownership. We have Hulu, Amazon Prime , and Windows Media Center recording Comcast Live TV ( including HBO).

Don't forget exclusive access to Criterion Collection!

Hopefully this is a sign of more companies paying attention to WP. Soon to renamed Windows Mobile again. I do use Hulu, proud to see update.

You're welcome, I submitted a bug to them a month or so ago regarding captioning, their tech support was great actually, very responsive and that person I was interacting with uses windows phone and said quite a few at Hulu do, so fyi

Then why the hell haven't they updated the app in so flipping long?

Where's the Amazon streaming app?

I agree. Amazon needs show WP some more love.

What, while they are marketing their Android-running Fire?

Amazon has always said they want to be on every platform.

Did they fix the playback, onscreen timer and closed captioning issues in WP 8.1? I had to cancel my subscription because playback controls and CC were terrible on my Icon after 8.1. Could be due to lack of Cyan firmware though.

Make this app for India too

Did Hulu ever do the free streaming for non Hulu plus users on mobile apps?

Ever since last HULU PLUS update, the app no longer plays videos on my Lumia 635. Just get an error message (PB4-System.Exception:3102 An error has occured). It lets you log in and see content, but you cannot play anything. I've also seen other complaints in the Windows Store comments for this app on my phone for the same reason. Any solutions found by anyone... if so, it would be appreciated. Thanks.
Windows Central Newsletter
Thank you for signing up to Windows Central. You will receive a verification email shortly.
There was a problem. Please refresh the page and try again.