There are more options than ever for compact small form factor (SFF) PC builds and HYTE has yet another case for Mini-ITX motherboards. You might not be familiar with the brand and that's because this is the debut product launch from the iBuyPower subsidiary. That's right, system integrator iBuyPower is now in the business of making PC components.
Today we're looking at the HYTE Revolt 3, a small PC case that supports the smallest motherboard and power supply standard sizes yet has enough space for up to a 280mm AIO radiator. It's difficult to get Mini-ITX cases right as you're dealing with far less internal airflow, which doesn't help with thermals.
We've seen well-established brands like NZXT and Phanteks struggle with teething issues related to either a component catching fire or thermal throttling, but HYTE promises a far better experience for PC builders. While this may be the first product to be launched under the new subsidiary brand, iBuyPower is taking the Revolt 3 extremely seriously.
Bottom line: This may be the first PC case HYTE has launched, but already it's a winner. Be prepared for impressive thermal performance and an easy build process that can result in one insane compact gaming PC.
For
Easy build process
Support for up to 280mm AIO
Good expandability
Even larger aftermarket GPUs will fit
Stunning clean design
No PCIe riser extension cable
Against
AIO door doesn't stay open due to weight
Front I/O is a little too close to the bottom
Preinstalled PSU cables may be a little short
HYTE Revolt 3: Price and availability
There are two ways to get the HYTE Revolt 3. The first is through iBuyPower as a pre-built gaming PC that's ready to go. The company offers two configurations, costing $2,600 and $4,200. The base model houses an Intel Core i7-11700KF, NVIDIA GeForce RTX 3080, Z590I motherboard, 240mm AIO, 16GB DDR4 RAM, iBuyPower 700W 80 Plus Gold PSU, and a 1TB NVMe SSD.
The second route is to purchase the Revolt 3 as you would any other case from a reputable retailer. The HYTE Revolt 3 costs $129, which is a great starting point for a PC build. This doesn't include any components, so you will need to factor in a full PC build, including an SFX PSU and AIO CPU cooler.
HYTE Revolt 3: Specifications
Swipe to scroll horizontally
Category
HYTE Revolt 3
Motherboard
Mini-ITX
I/O
2x USB-A 3.2 Gen 1
1x USB-C 3.2 Gen 2
1x Headphone/Microphone
Expansion
3 PCI
Storage
2x 2.5-inch SSD
1x 2.5-inch SSD/3.5-inch HDD
PSU
SFX
SFX-L
Included fans
-
Side fans
2x 120mm
2x 140mm
Side rad
240mm, 280mm (35mm thick)
Filters
Side
Top
Bottom
Rear
Clearance
GPU: 335mm
CPU: 140mm
Dimensions
9.9 x 7 x 16.1 inches
(253 x 178 x 409 mm)
Weight
14 lbs (6.35 kg)
Materials
Steel
ABS
Aluminum
Warranty
One year
Color
Black, White
HYTE Revolt 3: Hardware & design
It's difficult to make a PC case in 2021 that doesn't already resemble something previously released. With the HYTE Revolt 3, that's the existing NZXT H1. It's clear that the company has taken a few cues, but that's nothing bad as this isn't a mere clone. HYTE approached the Mini-ITX tower case design in a different way.
The Revolt 3 is incredibly small. Measuring in at just 253 x 178 x 409 mm, this case won't take up much desk space and you'll be wondering how it's possible to cram in so much technology. To celebrate the launch of the Revolt 3, HYTE shipped one of the Special Edition review samples, which comes with its own flight case.
This isn't solely a gimmick as it's an actual flight case that will allow for some serious miles to be flown with the Revolt 3 in tow. As well as the case itself, the Special Edition has an optional bronze front metal mesh panel that can replace the preinstalled black counterpart. It's a way of HYTE thanking the first 200 orders placed on its official website and looks superb.
Image 1 of 3
Upfront, we have a large grill with an internal mesh panel, accompanied below by the front I/O layout, which comprises a single USB-C 3.2 Gen 2 ports, two USB-A 3.2 Gen 1 ports, and a single headphone/microphone audio jack. The top has another grill for airflow with a mesh internal panel. There's also a pop-out aluminum handle.
The two side panels are identical, sporting a grill and internal mesh, as well as pop-out tabs to hold headphones and other accessories or gadgets. The rear yet again has a grill and mesh combo for airflow and, alongside the top panel, it acts as the main exhaust outlet for all the heat produced inside the chassis.
It's an incredibly clean design with very little in terms of lighting or aggressive "gamer" styling. The only part of the external case that lights up is the front power button.
Image 1 of 3
All the panels are easily removed tool-free thanks to the use of rubber grommets. You can pull each panel from the bottom and they pop out with little effort. The top panel is the only one that's fixed, but that too can be removed by extracting just four internal screws. This allows for vast amounts of working space inside the chassis.
From there, the radiator bracket is an actual door hinged to the main chassis. With this open, it's easy to work out how the motherboard and all other components will be installed. The recommended route is PSU > motherboard (preassembled) > SSD > CPU cooler/AIO > GPU. HYTE includes a fantastic quick start manual that walks through each step.
HYTE Revolt 3: Buidling a PC
The actual process of building a PC inside the HYTE Revolt 3 was a pleasant experience. If you're unfamiliar with Mini-ITX cases, they can be troublesome when it comes to installing everything inside, simply due to how cramped the internal space can be. Removing the four external panels takes but a moment to reveal the barebone chassis.
The review sample we received was the Special Edition, which comes rocking an iBuyPower 700W 80 Plus Gold PSU already preinstalled. It's a solid little unit that runs nigh silent, even when pushing the system hard as the two 140mm fans located right next to it kick out far more noise when required.
Cables were already routed for the motherboard, though I was unable to manage the 4+4pin CPU connector since it was only just long enough to reach the port on our GIGABYTE X570-I PRO WIFI Mini-ITX motherboard. It would be nice to have a good few more centimeters of play on this cable, which would not only make it look neater but easier to install the CPU cooler.
If you're using your own PSU, this is a non-issue. There are only a handful of other cables that need to be connected, including storage and front panel I/O. Really, you won't be able to see inside the case, unless you have RGB lighting installed, so cable management should only ensure that no cables get trapped inside the fans while in operation.
Image 1 of 3
The AIO door swings out to allow full access to the motherboard tray, but it only stays open if there's no radiator present. If you prefer to work on a PC with the motherboard parallel to the work surface, you'll need to hold the AIO bracket to prevent it from swinging shut. This is likely why HYTE recommends installing the AIO later on in the build process, but would be good to have some form of a latch.
You won't have any issues installing RAM inside the HYTE Revolt 3. We used Corsair Vengeance RGB Pro, which is renowned for being a little too tall for some more compact cases, including the NZXT H1. SSDs were installed onto the motherboard directly, though there's ample space for two 2.5-inch drives and even a 3.5-inch HDD if you want additional capacity.
There's no issue with installing a GPU and even a larger best graphics card should fit without issue. Best of all, HYTE designed the inside to not require a PCIe riser cable. These are notorious for issues, ranging from being dead on arrival all the way to catching fire. The GPU connects directly to the motherboard in the Revolt 3.
Image 1 of 5
In order to test the Revolt 3, we decided to pack it full of serious equipment. An AMD Ryzen 9 5950X is joined by an NZXT Kraken X53 AIO, 32GB of Corsair Vengeance RGB Pro RAM, and an ASUS Strix GeForce RTX 3080. Temperatures were excellent for a compact Mini-ITX PC case. For the temperature tests, all fans were set to 50%.
Swipe to scroll horizontally
| Category | CPU | GPU | Chipset |
| --- | --- | --- | --- |
| Idle | 37C | 44C | 54C |
| Gaming | 64C | 73C | 60C |
| Stress test | 71C | 78C | 64C |
The large mesh holes on every panel allow for considerable airflow to be pushed and pulled through the dual 140mm fan AIO, PSU, and three fans of the RTX 3080. Using a 280mm AIO is a great cooling solution for not only the CPU but for all components on the motherboard, including the chipset. Even under load, it's easier to hear the GPU fans ramping up over the AIO or PSU.
HYTE Revolt 3: Competition
Image 1 of 3
This may be HYTE's first PC case, but the Revolt 3 is well-positioned to hold its own against established brands and competing Mini-ITX cases. The closest competitor product to the HYTE Revolt 3 is the NZXT H1, which we also reviewed positively. Putting aside the PCIe riser cable fire issues of the past, the H1 is an excellent compact case.
But the Revolt 3 does it better. While the dimensions make it a little larger than the NZXT H1, the lack of any PCIe riser cable, the addition of a 3.5-inch drive, the better thermal performance, and other handy features like the handle and pop-out tabs make it a fantastic, well-designed chassis.
Then there's the price. Coming in at just $129, the HYTE revolt is aggressively priced, especially when you consider the lack of an option to purchase the NZXT H1 as a barebones unit. You will need to fork out $350 for the included PSU and 140mm AIO. Other similar products would be found within the Phanteks Shift line-up of cases.
HYTE Revolt 3: Should you buy it?
You should buy this if ...
You want a unique-looking PC case.
You want to build a compact gaming PC.
You have a powerful Intel or AMD processor.
You have an SFX PSU and ITX motherboard.
You shouldn't buy this if ...
You don't have nor want to buy an AIO.
You have more than one 3.5-inch HDD to install.
You don't have nor want to buy an ITX motherboard.
You want to create a custom water-cooling loop.
Want to create a unique PC? This is now one of the best PC cases for Mini-ITX motherboards. iBuyPower may be a new kid to the PC components block, but the company has years of building experience — they should know what works (and what doesn't) with a PC case and the Revolt 3 is a fine example of this.
The ability to install a large GPU, as well as a full 280mm AIO makes it possible to create a seriously powerful gaming rig that takes up very little desk space. We managed to pack it full of hardware that's capable of 4K gaming and it barely makes any sound under load. That makes the Revolt 3 perfect for SFF builds.
The only drawbacks we could find involved nitpicking. The preinstalled PSU that came with our sample had some short cables, making it a little tricky to install everything. The AIO door doesn't stay open when working with the motherboard parallel to the workspace, and the front I/O ports might be a little too low for some accessories and SD card adapters. Other than that, this PC case fits the bill.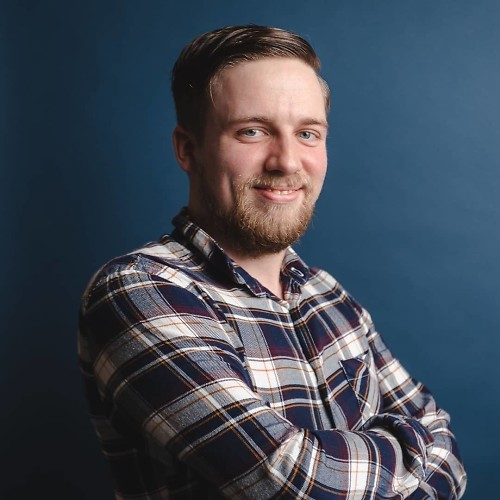 Rich Edmonds was formerly a Senior Editor of PC hardware at Windows Central, covering everything related to PC components and NAS. He's been involved in technology for more than a decade and knows a thing or two about the magic inside a PC chassis. You can follow him on Twitter at @RichEdmonds.