Watch our replay of #IDARB and (mainly) PvZ: Garden Warfare!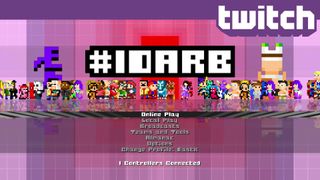 Windows Central has been livestreaming a wide variety of Xbox One games on every Saturday for quite a while now. As our viewership continues to grow, so does the number of games we want to share with you! Thus we'll now be Twitch streaming a different game every Wednesday as well. That's twice the chances to tune in and chat along with your fellow readers while our staff showcases a great game.
Tonight we'll be streaming the freshly released IDARB from Other Ocean. IDARB is this month's free Xbox One Games with Gold title and plays like a crazy hybrid of basketball and a platforming game. After a bit of IDARB action, we'll cleanse our pallets with a few rounds of Plants vs. Zombies: Garden Warfare from Electronic Arts. Viewers who own either game are welcome to join me for multiplayer during the stream.
Update: The stream has ended! We experienced severe connection issues with IDARB, but our Plants vs. Zombies: Garden Warfare sessions went great. Check out the replay after the break (skip to about 40 minutes in for PvZ).
Watch live video from EastXTwitch on Twitch
IDARB
It Draws a Red Box, better known as IDARB, is sort of a chaotic new take on classic arcade sports title NBA Jam. Two teams spend four rounds trying to capture the ball and throw (or walk) it into the opposing team's goal. Whoever scores the most wins.
What makes IDARB unique is that it's a platformer. The pixelated characters are tiny and the platforming arena is huge, so there's tons of chasing the ball and each other around during each match. Players can smack into each other and even build up "Fizz" in order to rocket around the arena. When halftime comes around, players compete against each other in a Flappy Bird-style minigame.
IDARB supports up to 8 players locally. Online, only two consoles can compete against each other, so most online games will be one-on-one only. A single-player mode will keep players busy between competitive matches. For more info, check out our developer interview!
IDARB – Xbox One – 403 MB – $14.99 (Free w/Gold) – Xbox Store

(opens in new tab)
The Stream
We'll be streaming IDARB and Plants vs. Zombies: Garden Warfare for about two hours tonight, starting at 8pm Central (9pm Eastern, 6pm Pacific).
To join us, please follow me at Twitch.tv/Eastxtwitch and tune in during the stream. You can watch the stream right here in this post, but you'll need to watch from the Twitch website or a separate app to participate in our always delightful stream chat.
What's the best way to experience Twitch? If you don't have a PC, you can get the Xbox One or Xbox 360 Twitch app and watch from the comfort of your couch. Or grab the unofficial app Livegaming for Windows Phone. It has plenty of great features, including the ability to chat along with your fellow viewers. Unfortunately you'll have to add our channel to your favorites from the Twitch website, outside of the app.
I'll be available for a few minutes before and after the stream if you have any questions or just want to say hi.
Streaming schedule
Each Wednesday, we'll livestream a new, classic, or upcoming game just for fun with no prizes. Every Saturday, we'll stream a different game and give out free copies of that game as prizes. The stream always starts at the same time: 8pm Central (9pm Eastern, 6pm Pacific).
Want to know what's next for Windows Central's weekly Twitch streaming contests? Here's our upcoming contest schedule:
Saturday, February 7 : Fibbage from Jackbox Games - Play along with us during the stream!
Saturday, February 14 : Guacamelee from Drinkbox Studios
Saturday, February 21 : Chariot from Frima Studio
In addition to our Saturday contest streams, we also livestream a variety of different games throughout the week. These streams don't have contests, but they still offer a great chance to see more exciting games while enjoying our live commentary and stream chat.
Mondays: Playstation Vita games! See what the other side gets to play.
Tuesdays: The Witcher 2 for Xbox 360. Catch up on The Witcher saga before The Witcher 3 launches in May!
Wednesdays: Xbox One games. We'll announce these games on the site every Wednesday.
Thursdays: Dragon Age: Inquisition for Xbox One. Chosen and funded by our excellent viewers!
We hope you'll tune in as often as you can! Set a recurring alarm on your phone so you'll always know when it's time for the stream to start.
Thanks to our Twitch stream moderators for keeping our streams clean and stress-free!
Paul Acevedo is the Games Editor at Windows Central. A lifelong gamer, he has written about videogames for over 15 years and reviewed over 350 games for our site. Follow him on Twitter @PaulRAcevedo. Don't hate. Appreciate!
Is that the purple guy from FNaF? Also, a part in the game looks like Rayman legends' kung foot mode.

Also, you should do Rayman legends sometime!

I'm not much familiar with Freddy's so not sure on your first question. As for streaming Rayman Legends, that sounds like a good time! I'll try to squeeze it in one day.

Idarb is so much fun. Taking requests to play?

First 30 minutes will just be my team against Jonathan's. Second 30 minutes we're taking requests. Prefer to play against teams of 2, but if there's time we can squeeze in a single opponent or two.

My wife is up to playing ;)

In this game is it possible to have a 2 vs 2 via matchmaking, rather than 2 players per console - I only got to play 20 minutes so far but could only get 1 vs 1 working.

You can. You need to have 2 players locally to play 2 other players online.

If you have 2 people on your console and start matchmaking, (I am told) it will try to match you against another console that also has two people on it. You can't have more than 2 consoles involved in multiplayer games at present.

I read from the creator that that is currently being looked at for a future update...

Love me some garden warfare! What modes you planning to play?

Well, the co-op mode would be easiest since we can host custom games. But it's only 4-player, so if we have more than 4 willing players we need to mix it up with the other modes.

I'd love to play #IDARB with you guys. If not with Paul, at least with the community. I won't be home in time though. Real life blows LOL

Might have to watch tonight...lots of basketball on as well. Tough Call.

I'll be there sooner or later!

I might have to pick up an EA Access acount to play PvZ. Seems interesting.

Unfortunately I had to quit the stream because the power went off. Looking forward to watch the replay.

That was fun! First time playing PvZ multiplayer.

Unfortunately, It was a bad stream Paul. You spent 30 minutes trying to join or invite Jonathan, later abandoning that and playing 1v1, which was boring, i understand there was something wrong with idarb but you should've tested it prior to the stream. PvZ was alright, but at that point stuttering, buffering returned which resulted in stream being late. I hope those type of stuff wont happen on saturday.

Sorry you didn't enjoy the stream! Nobody is more upset than me when we have technical issues (which is not often). I want everything to be perfect, but that is just not always possible. Still, once we switched to PvZ there were no more technical issues and most everyone seemed to have fun. It just stinks that we had that crummy IDARB experience preceding it.

No reason to apologize. Things happen. I have never been to a stream which everything always worked.

Aww, thanks for the kind words Mase. :)

Aside from the IDARB issues I think the stream was great. I tend to shy away from multiplayer but it was awesome playing some PvZ with yall. Was great to see viewers still popping in at 1AM up till everyone called it a night.
Windows Central Newsletter
Get the best of Windows Central in in your inbox, every day!
Thank you for signing up to Windows Central. You will receive a verification email shortly.
There was a problem. Please refresh the page and try again.