Microsoft Insider Previews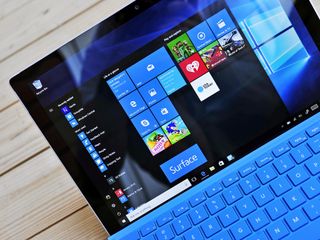 Between Windows 10, Windows 10 Mobile and Xbox, as well as the fast and slow and every other ring, there's a lot to keep up with when it comes to Microsoft's Insider Preview programs. So right here you'll be able to keep tabs on the very latest previews!
Windows 10 Insider Preview
Microsoft is currently developing the next major release of Windows 10, known as the Fall Creators Update. Codenamed "Redstone 3" Microsoft is currently flighting Redstone 3 builds in its Fast and Slow rings, with the Release Preview ring receiving cumulative updates for the Current Branch — the Windows 10 Creators Update.
Everything you need to know about the Windows 10 Fall Creators Update
Build Video Walkthroughs
If you'd rather check out the most noteworthy build changes in video form, make sure you check out our in-depth video walkthroughs of new builds.
Latest Fast Ring: Build 16257
This build includes a new eye tracking function that works with third party hardware such as the Tobii Eye Tracker 4C. It also includes an improved reveal effect within the Settings app, plus many more under the hood improvements and fixes in preparation for the Fall Creators Update RTM.
This build rolled out in two branches. It's available in the RS3_RELEASE branch for Insiders who are continuing to test the Fall Creators Update, and also in the rs_prerelease branch for Insiders who chose to skip ahead to Redstone 4 development. You can learn about skip ahead here.
Check out our more in-depth changelog, including what's new, improved and known issues for build 16257 for PC.
Latest Slow Ring: Build 16251
This is the second Redstone 3 build for users in the Slow ring. It includes several new features for Slow ring Insiders, including My People, Gaming improvements, UI changes and more.
Latest Release Ring: 15063.502
15063.502 is the latest cumulative update available for Insiders on the Release Preview ring that features only under the hood changes and improvements. There are no new features included with this update.
Windows 10 Mobile Insider Preview
The current Windows 10 Mobile Insider Preview builds are incredibly stable, likely due to the fact they have no new features currently in testing. These builds are OK for use as a daily driver.
Latest Fast Ring: Build 15237
This build includes a new option that allows the user to use Continuum on a monitor in the portrait orientation. There are also several fixes.
Latest Slow Ring: Build 15230
There are no new features in this build. There are several fixes however.
Release Preview: 15063.502
15063.483 is the latest cumulative updates available for Insiders on the Release Preview ring that features only under the hood changes and improvements. There are no new features included with this update.
Xbox Insider Preview
The Xbox Insider Program is still flighting Redstone 2 builds of Windows to testers. There are several improvements and features in testing however, which you can check out at our detailed Insider Preview page for Xbox.
Alpha Ring: 15063.4096
Beta Ring: 15063.4096
Ring 3: 15063.4095
Windows Central Newsletter
Get the best of Windows Central in your inbox, every day!
Zac Bowden is a Senior Editor at Windows Central. Bringing you exclusive coverage into the world of Windows on PCs, tablets, phones, and more. Also an avid collector of rare Microsoft prototype devices! Keep in touch on Twitter: @zacbowden.
+zac, great read as always, very informative. Recently I had read an article saying that previews were halted till the unified update system came, could you shed some light on what this is and how it affects the insider programme?

why not click on the link in the article?

I believe that came in with the Creators Update

Nope! I still had to download the whole 3GB of build 16241

It's the apps themselves, so they can get insiders to test the Inbox apps on the version that will ship - No idea if that only affects PC though. On Slow Ring for PC they are testing phased rollout of builds but that is also temporary

It would be nice if you guys linked to all the corresponding forum threads so we can discuss issues there.

Isn't it 14393.576 for pc and mobile now?

Isn't it 14393.576 for pc and mobile now?

My Laptop is currently on 14393.479 but today its been freezing and running super slow. Task manager shows 'Windows Installer' and 'Windows Update' is running and pushed my Disk Percentage to 99% & 100% at times. So I assume 14393.576 is downloading in the background. This is it what I really hate about Windows 10. It never tells me what's happening! Thank god for Windows Central to keep me informed. I am on an ethernet connection so can't meter my connection otherwise I would just leave it on overnight. For my next Laptop if I stick with Windows it will be the professional version so I can cancel automatic updates.

Yes it should be downloading, but it shouldn't need to hog data. The automatic updates are essential though..

Yep, its not so much the data hogging I'm bothered about because I'm on ethernet connection. Its that the computer is hanging/freezing and fan is spinning - I can barely do any work!. When I look at task manager, the processors are pushing disk usage up to 100%! I just checked the installed updates in control pannel and already there are over a dozen updates today in relation to Office Pro 2013. Does Windows 10 update these on behalf of Office? or can I turn this off? Surely Office is not a critical Windows 10 System update? Update: Ok after my last rant, I've discovered that Office System updates can be disabled in the Windows Update Advanced options (untick other Microsoft products). So now I am just waiting for Windows 10 Update to complete (stuck on 97%). Also would be great if the status bar could be displayed by the clock to advise users what's happening!

I'm on Release preview and I got version 14393.693 for about four days. I've read an announce of it for some time, but it came later.

Don't forget the "Sea of Thieves Insider Program" as well! That should be under Xbox brand (since it's Windows 10 and Xbox)

Mobile and desktop are actually somewhat confusing for Office. Mobile here really means UWP. Some of those changes (the Surface Pen one for example) seem to be only available on the PC version of the UWP app.

Hey OP. 14393.576 is the current build for Release Preview.

Don't forget about the Skype Insider that you can get on Desktop/iOS/Android... It is similar to the Skype Preview for Windows... They are working on a new UI and stuff for it as well....

Can I update my Lumia 630

If you had W10M TH2 when it was in the Insider Program, then left the program, you would've got the Anniversary Update.

I wish I can switch to slow ring and install 14965. Build 14971 and 14986 give me BSOD tens times a day, while launching camera app and waking up from sleep.

Also my action center is grayed out. Can't access settings at all to change my settings.

I check changewindows.org whenever I get confused...

So I think I just got an invitation for some kind of Cortana insider preview...

Good luck keeping this up-to-date.

Has anyone been having issues with bluetooth and the insider builds on Mobile? I could not get my Garmin Vivoactive HR to work at all. It'd start pairing, but never complete properly. I could mess around and eventually get the watch/app to think it completed pairing. But whenever it actually tries to sync, the watch seems to disconnect from bluetooth. it's like it only connects when no one is trying to do anything with the connection. I heard it may be due to MS trying to implement a GATT Server, but they never seem to mention bluetooth in their fixed/broken/etc details.

This seems to be standard behavior ever since CU, no matter what ring. From all appearances, Microsoft is only interested in making sure syncing works for Fitbit. Those users say syncing works fine, while everyone else reports problems.

I have a used 1520 arriving tomorrow. What version should I use??

Production. Stable Anniversary update, build 14393.693

Who Thinks This Start Menu Is Good? Comment Below. (I Made These Pictures) (I Don't Hate The Current Start Menu) Click On These Links To look at The Pics. https://uploads.disquscdn.com/images/45d72bb7d8ddd5bba76ef0f8f6941015eba... https://uploads.disquscdn.com/images/f5204457473efd6f0ffecae1790bfb0816e...

Hey mobile insiders on fast ring, I want to ask a question. Can you change default browser on the latest fast ring build?

Yes I can, but why would I?

I'm running build 14393.693 on my Lumia 735. It's been running beautiful with no issues

I keep trying to update to 15002....but it just restarts after trying....and restores os back to 14986

That isn't necessarily a bad thing. 15002 is a bug infested, crap smelling pile of rotten code.

"Fast" Ring mobile is the slowest ring since creators update.

I had to roll back because the new build was unuseably buggy for me.

Super useful page. Great idea!

I guess now the Mobile Fast Ring info needs updated to the one the just rolled this morning. And, correct me if I'm wrong, but I think all of those care open to all volunteers except the Xbox one, which is still by-invitation-only.

Why is 15002 mentioned as the latest version for the fast ring, when it's actually 15014?

Since there has not been any new features in win mobile; is there any risk in going to slow or fast ring from release preview. The main reason I ask is that this last release build for my Idol 4s has been a nightmare.

There's always a risk. Slow should be more stable than Fast, if you're looking to update your daily driver. Although I've used the Fast ring with few issues. Just keep in mind that you might need to reset your device. I've had to do that once, but at least backups were easy to recover.

For now slow and fast rings are almost same there are only bug fixes if you want more bug fixes then you can go to fast ring or else you can be as it is on slow or RP ring

Why are so many comments from January?

Because WC likes to piggy back the articles to save space and manage their servers and not going insane!

After that update that bricked phones, I barely managed to recover phone and put it on 8.1 Denim. After that, I went back to Release Preview, but got only to version 14393.1358. Nothing happens for days. No further updates. Strange...

you may need to jump to slow ring (or even fast ring) to get Creators on unsupported devices, then drop straight back to release preview again after it installs

I'm not a tech-head, so please be kind if this is a silly question. Is the Lumia 1520 only able to receive the "release" preview, and not the "fast" preview? Thanks.

Lumia 1520 is no longer officially supported for Creators Update, and consequently, will not receive any further updates except under the redstone1 branch (known as Anniversary Update, build 14393). However, you can still get Creators Update at this moment through Release Preview (at your own risk). But, once you are on Creators Update you can't go any further I don't own the device. Answering your question, my guess is that if you join Fast Ring you don't get anything because that ring is dedicated for Redstone 3 which your device can't get, so you need to stay on Release Preview to get the Cumulative Update from Creators Update.

What about Office insider? 😃

You say the latest Windows Mobile release preview is 15063.413/414 while my Lumia 1520 is reporting 15063.447 (which is the current release preview for Windows on PC).

My Idol 4s is also on 15063.447 release preview.

are you on the fast ring or slow? Is it worth jumping in on the insider program?

Wish there are new features packaged with Mobile OS also!!!

Might the PC and Mobile be listed backwards in the article? My 950XL is and my wife's 950 are on Release Preview and they show 15063.447 while our PC on Release Preview shows 15063.413.

I am looking for the download

15063.483 is also the production or public release build...

are saying pubic and production 15063. are not thee same ting. release ring and production ring are on the same build

The Release Preview ring is not functioning as advertised. Updates for the Creators Update have not been released in advance of Patch Tuesdays for CU at all. The last time patches were released for preview (days or weeks ahead of PT) was the first of the year. The present situation renders the idea of "release preview" useless. How can a person give feedback in time to catch a problem before it reaches the public if he doesn't get the update ahead of time?

I agree. The only benefit of Release Preview at this moment is that you get apps feature updates first and you can give feedback on them... But they should also release cumulative updates first to Insiders, listen to the feedback, and then push it to Production it additional fixes or not. It happens many times that CU cause trouble. I think the latest CU for windows phones don't let you install apps on SD Card (saw somewhere on web), for example. This could be avoided if that CU was first released to Insiders.

Yesterday I went from Release Preview to the Fast ring on my Lumia 950 and downloaded build 15230. Now I want to go back to the Release Preview but that is not there anymore!?
My time is July 24 2017 10.42 West Europa

Release Preview is only available on RTM builds. Build 15063 was choose as the final build for Creators Update, so Release Preview is available on it, and it's suppose to get previews of app updates, cumulative updates (15063.xxxx) and firmware/drivers updates. Once you join previews of *future* major OS updates you only have Fast or Slow ring (higher than 15063).

Im already on 15228 @slow ring mobile... 🤔

I'm on Release preview on my PC and also run Fast builds on a VM using the hypervisor.

Slow ring is on 15230 now. Why are you lagging again?

For now Fast ring is only focused on bug fixes there is no difference in fast and slow rings in mobile so you may go for fast ring. If your device is not supported then do a registry hack with interop tool

I just set my L1020 to Slow Ring today and it seems a little bit more fluid.

Ok, it is me, I can't understand what Zac is saying when he tells us how to use the emoji feature. I hear him say "press the Windows key and the something something button" and, like I said it is me, I can't make out what he said, so can someone fill in the something for me?

Ok, I went back and listened again. It sounds like he says "Full stop button"? Where is that? What is that?

Full stop button = erase button

😊. Full stop is the period button! I did not know that. May be a UK thing? 😁👌

What about the pc and mobile production build numbers? For clarity they should also be part of this regular ring update article....