Insiders can join the Windows 10 Anniversary Update Bug Bash next week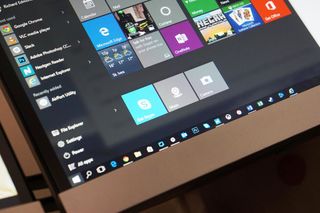 Microsoft is inviting members of the Windows Insider program to join the company and participate the Windows 10 Anniversary Update Bug Bash next week.
The event is to help find bugs before Microsoft launches its huge update for all Windows 10 users sometime this summer. In a blog post, Windows Insider head Gabriel Aul states:
More information on the bug bash will be revealed next week in the Windows 10 Feedback Hub for Insiders, or users can keep an eye out on Aul's Twitter page for updates.
I really want to test thaose insider build but I sadly just turned 13 and I need to be 14 to get the builds. Sent from Lumia 550, HTC Desire 816 or Dell Inspiron 5122

I feel you. The insider program started when I was 13, so I had to use builds by downloading unofficial ISO's from WinAero. The first Redstone build came out 2 days after my 14th birthday, so I became an Insider since then :P

Lucky you Sent from Lumia 550, HTC Desire 816 or Dell Inspiron 5122

Forgot to mention that microsoft said that windows 10 is the last os so the insider will continue or not Sent from Lumia 550, HTC Desire 816 or Dell Inspiron 5122

I had to be 18 so my parents wouldn't have any responsibility at all. Guess what? Official windows 10 comes out day before 18. No use in testing windows 10 desktop

What! I became an insider at age 16! I never knew there was a age limit lol !

I changed the age on my Microsoft account just so I could become an insider and get Cortana ☺

i also changed the date of birth. after that i will (actually) turn 14 i will change it back

I don't think you can't change it in jail lol

They're gonna get swamped with whiny missives from the usual idiots.

Well, maybe not in person...usually the events are pretty awesome. ;p Ugh, I'm at work...so boring lol =p
Windows 10 RULZZ yer FACE!!!

It'd be nice if they fixed the current ones before moving on to new ones.

If the bugs are already there though then they aren't "new" per se. In any software development environment you are likely to have an ongoing bug list the team is working through, but you can add new ones at any time

I code for a living, I know you can add new ones at any time. To open up a bug squashing sprint to all of your insider testers and inviting an onslaught of new bugs presents the image (whether right or wrong) that you're done with current bugs are are awaiting new ones. I know with the team I work with, we all work hard to squash bugs, as I'm sure the MS team does; but we would never raise a banner to our QA testers that says "WE NEED MORE NEW BUGS" while having a list of 200 that need fixing. Especially when a lot of these bugs tend to be of the regression type.

Non eligible phone are ruled out?

Neat Windows Central for Windows 10-Microsoft Lumia 640

I really wish they did something about the palette of the accent colours. There's randomly 10 shades of orange and red; a double green and only one gets selected. We need a good range of selected colours. Good, selected colours like in 8.1 but a wider range of that.

Well, it's easy: In the Windows 10, do that: Windows + R keyboard keys Write "color control" And will appear the usual color control panel! :D

Doesn't work for me... Running 14316 on a Surface Pro 3...

the bigest bug for me is that placeholder for one drive is still missing in windows 10...

Not a bug. Posted from Windows Central for XL

I'll take "Microsoft" for $200, Alex. The clue: A bug that Microsoft explicitly states will not be fixed. "What is a feature?"

So we are goin to fin bugs in bash? (Terrible pun intended)

I would like to join... If they decided to enlist back 525 into the W10 family... I'm not whining but it's kinda sad to know that my phone's generation has been ruled out.

Just fix the all apps bug and start screen tile bug please. That annoys me so much

Microsoft is rocking go Microsoft

I thought by Bash he meant the ubuntu thing coming to Windows 10 lol

Need the gestures beta features from Windows phone 8.1 to be buit in within tge Windows 10 mobile settings! Posted via the Windows Central App for Android

Sounds like fun... I'm sure my PC will have a few once I do todays update, I'm in !! ** 950xl and loving it !!

Hmm I have been a MS OS beta tester from when Windows 7 Preview versions came out. it's been fun mostly but I have got builds that broke MY Desktop PC and I had to wait to a better one came out or go back to the previous bulld Which i have done a few times. I did not complain because you have expect that some beta builds wont work right on you PC. I will give my 2 big ideas on how Windows 10 Desktop OS and Windows 10 mobile operating systems should look and function to make Windows10 more appealing to the masses of Good people who use it.
Windows Central Newsletter
Get the best of Windows Central in in your inbox, every day!
Thank you for signing up to Windows Central. You will receive a verification email shortly.
There was a problem. Please refresh the page and try again.