Instagram for Windows 10 Mobile now lets you save pictures from your feed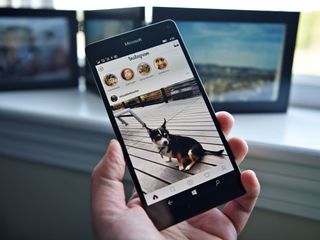 Instagram for Windows 10 Mobile is getting its second notable update this week, bringing along the ability to save any pictures on your feed to your own personal collection. That's thanks to a new bookmark icon present underneath each post in your feed (via WindowsPhoneArena). Simply tap the icon and that picture will appear in a dedicated "Saved" section under your profile.
While the feature is new to the Windows 10 Mobile app, Instagram actually began rolling it out to other platforms in December. And while it's a relatively small addition in the grand scheme of things, it's one of those features that could be incredibly handy if you're tired of taking screenshots for every neat thing you see in your feed.
This follows a separate update that started rolling out to the app earlier this week that brought new features to Instagram's camera on some Windows Phones, including support for Boomerang, night mode, and hands-free video. While the Windows Phone app may lag slightly behind its counterparts, it's good to see that Instagram is still working to bring new features to the app at a relatively quick pace.
If you'd like to check out the new save button, you should be able to grab the latest update from the Windows Store now. After updating, you'll want to make sure you're on app version 10.743.19450.0.
Dan Thorp-Lancaster is the former Editor-in-Chief of Windows Central. He began working with Windows Central, Android Central, and iMore as a news writer in 2014 and is obsessed with tech of all sorts. You can follow Dan on Twitter @DthorpL and Instagram @heyitsdtl.
I have this version, but there's no boomerang option

Have this version but can't find the save features

do you have a phone that originally came with Windows 10 Mobile?

I'm in the same scenario. I have the version listed in the article. I see the bookmark feature, but I am not finding Boomerrang or Live Video features. L950 - AT&T - US EDIT: Apparently, I misuderstood the features. These appear to **only** be available in "Story" mode. I was looking for Boomerang in the regular Photo/Video posting area. Oooooops.

Aaah that explains it, found it 👍

Dont have live in story too... Just the other stuff. -L930

They roll those features out in phases. Mine was updated but took a bit to appear.

I now have boomerang on my 950xl! 😄 Finallyyyy!

What's boomerang ?
Also, where/how do you check the version # you have ?

The store.....go to downloads and look at the list of downloads

I still don't have the live feature. Does anyone have it?

No Live option for me too on my 650, all other features are there strangely

You can't say goodbye to 6tag just yet. 6tag allows you to saved pictures and videos to your device or SD, you can view them offline.
On the other hand; bookmark is only on the app itself, and it requires you to be online.

Yeah, I was wondering about all the hoopla since 6tag has had that functionality for ages. I still think it's better than the official app.

Cool stuff by Instagram developers. So much love for them for continuously updating their windows app.

Yeah.. Agreed..
This kind of support should be there for WP..

I got live video, boomerang, stickers and everything else on L950. Love you instagram!

yeah except it hasn't been maintained by Rudy for a long time now.

6tag is over with outdated and missing many features now. There's no use for it now. I only use it to post to Ig while I'm on a phone call because the call bar blocks the share button while on a phone call

He said he would no longer dev for it, so Oh well

I could see a possible use for 6tag UWP, as the official Instagram app doesn't allow non-touch PC users to post media. InstaPic does it very well but it has some minor UI issues and the lack of notifications bugs me. I understand why Rudy *abandoned* 6tag though; it had a long run but we've got better since.

6Tag still has features Instagram doesn't. Regram, Live Tile, Likes, Dark Theme, and Colleges. Also, the picture you post is higher quality than Instagram.

My Instagram has a live tile. The other features u listed aren't worth missing out on stories, boomerang and minute long videos

I was hoping that the article meant that I could actually save - as in download the photo.

Haha yeah I was like wait, that's not available on our OSes

Correct, this is not a save, even the icon itself is a bookmark, it just allows you to bookmark a post to come back to it

It doesn't actually save the pictures, more like a bookmark, it's basically a like without the poster knowing you've liked it. Kinda ironic that the unofficial app InstaPic actually allows saving pictures to your device when the official one doesn't

And that's why I don't use the official version, even on Android.

No update for Lumia 650 I hope It's done rather than later.

I got it on my 650, must be your location.

Finally I got it tonight.

I know this is off topic, but what will happen to current Windows Mobile 10 users like myself once ARM is officially running on new devices?

Well, I assume that if and when MS puts W10oARM on devices with the 5" form factor, our current W10 mobile will live on (probably on low end hw and the current devices) with bleeding support from MS for a few years, after which they will stop development/support. There will be no point for MS to keep investing in a platform they know is at a loss and is already getting replaced by better alternatives. Sadly, economics overrules technology. Hopefully, by that time, technology would have evolved enough for consumers to not keep using the old W10M devices.

I tend to disagree with you. I think once Microsoft gets a name for it self in phones with high end devices they will start making low end devices again. It will be a platform that's cool and many that can't afford $1000 or more for a Surface Phone may by a Lumia while they're waiting to get rich.

That may happen. But way into the future. Remember that MS has not yet announced that WoA is coming to smaller form factors. Even if they do that and perfect the Surface Phone, it is going to take time to gain traction in the consumer space, and attract dev support to build applications.
I think what MS is trying to do is bootstrap their "phone" development process. They are trying to build the one device that the user will think he needs (in Jason Ward's words, an ultramobile pc). Initially, only the fans will buy this device. But down the line, if the device is groundbreaking and ahead of the competitors offerings, then maybe more people will desire the device and buy it. Remember that it still will not have the apps that some people want and are available on other platforms. Now if MS manages to sell enough of this device to make a profit, maybe application developers will see the consumer interest in such a device and will want to build applications for it to narrow the app-gap. Only then the device will be able to reach its full potential and make the mobile category a success. This is a time consuming process.
At this point of time, your reasoning holds true. Now two things can happen: 1) MS starts producing low end devices to run W10M, as they know people will buy them since the platform has matured enough, or 2) The WoA hardware will become cheap enough for everyone to purchase (there will of course be high end hardware for people who can afford to pay $1000), so there will be no need to have a separate W10M.

I don't think so. Surely, someone will build low end Windows "phones", but I don't think it'll be Microsoft. Acer, HP, Dell, Lenovo and other partners are much more likely to do so.

I am using L950xl and got all features (boomerang, night mode, hands free,live video and save to feed).. Initially they were not loaded.. But i restarted the appa nd they were accessible now.. Finally got this update from instagram..

Praise where it's due. Instagram are doing a wonderful job. While giving praise, I am not afraid to criticize other apps either. Microsoft Should be ashamed of the Skype app on phones and PC. It is the embodiment of everything wrong with Windows 10 Mobile. Lack of imagination, execution and planning.

I think that's why its called Skype Preview now. They will get around to making it a super app with much more functions. Have you checked out the new bots on Skype?

I have seen them. In my opinion, bots will not make people want to use the app if the app itself cannot perform basic functions.
For example, the first Instagram iteration was very buggy. But it could still post images. Now it's much better. Not to say that it is not buggy. Skype Preview on other hand, has not changed It's almost as if there is no improvement despite regular updates.

I've got a Idol 4S and I don't seem to have any of the changes. I just did the update. Anyone else with a Idol 4S see a difference?

I have all the features on my idol

Uh. No more updates for the L640, but I just don't use this app anyway :)

Hello,what region?I got update for lumia 640,region Romania

Superb update, the only feature that I still don't have is live video. I hope to get it soon 👌

Go to stores like your going to post a new one...should have in small text at bottom "live"

Snapchat? Say hello to instagram...☺

I have boomerang, live, save, night mode and hands free on my Lumia 950xl.. Thanks Instagram

How do u save the pictures from the app? When I save it's only on my page under saved photos it's not in my photo library

I have searched for a way to save to my phone and couldn't find one.. It only saves to Instagram... That sucks 😞

Download instaget universal ...let's u save pics and videos from the notification center, u never have to leave Instagram app. I've been using it a couple months now I love it

Tap your profile>setting cog in top right corner>story settings>save shared photos Also make sure "save original photos" is turned on in the main settings page. Was able to find it quick

Tap your profile>setting cog in top right corner>story settings>save shared photos Also make sure "save original photos" is turned on in the main settings page.

Windows 10 Mobile apps are bad,I have updated the Instagram and still don't have the save button out live video and the other this available on android or iPhone. Like on messenger, still don't have video or voice call and that stories... Bad platform!?

It's a gradual roll out, doesn't go out to everyone at once. There has been previous articles stating that not everyone is going to get it at once. Don't call it a bad platform based on inaccurate assumptions. As for messenger, that's a different team and can only assume they don't prioritize W10M due to a smaller user base.

haha sad truth the state of things right now, but hopefully Windows on Arm + mythical surface phone MAYBE will ressurrect us

Done, now I have the save button, night mode(not working properly), boomerang and hands free but still no live video or story...

Night mode doesn't work for me either what is it supposed to do?

To make some light in the dark, for example to make photos in the dark with secondary camera.

Unfortunately with these new features came a bit of performance drawbacks. Viewing stories is very choppy and drops frames, sometimes even lags behind the audio. Videos in the regular feed play well but lag the scrolling. It's nice to see that they truly loop now though, rather than the white "blink" it used to do!

Ăăă... Yeah,I have this lag too.

I love WP, I'm using it since 2013 and still I have hope for better things to happen in the future...

Still not up to 6tag's features.

Better than 6tag for me. Once he stopped updating it it became slow to open and crashes saving videos sometimes both on a 640 XL And a idol 4s

6Tag is still the best instagram app on any platform. It's the one thing I consistently miss since switching to iPhone.

How is it the best when it doesn't have half the features? No stories, no boomerang no minute long videos

Like what? Does 6tag have boomerang? Live?

I am just happy any apps are getting updated....

No Boomerang for me but the bookmark yes.

The boomerang is only in the stories. Go to the stories like you are about to post a new one and you should see the boomerang option

Pretty nice. I'm getting the boomerang option while capturing story.

Now they have to start updating the Facebook app it sucks......

I agree.. If they update the Facebook app and messenger with all the latest features, Windows Phone would probably sell more 😊

I'm glad I was one of the lucky ones to get all the Instagram features with this update, stories, boomerang, night mode (I don't believe it's working, but it's there), live and hands free... Kudos to Instagram. Haven't checked for stickers yet!

Sweet! Wish the other update would get out too :)

Why is only to some Windows Phones? Testing? When will we things like boomerang, live video, etc.?

I have everything but live video and the 'save' feature.

I have everything but Live videos and the bookmarking "Saving".

What's app of windows mobile must be update
It usually take long time for video sharing

Why i don't have the live streaming on my 640xl. I have all the other features except live streaming

Space marshals 2 free on android why not F free on my 640xl

No parcel tracking app either F again

Got all features .lumia 535 ( fast ring ).

we post pics, we have... so why do we need to download them again...

Great work to Instagram for updating their WP10 app

I was surprise when I saw that new icon on my Instagram. Then when I clicked it, it's like saving the photo in your account tat only you can see. So you can see them again after some time, you don't need to search for them. Cool. I also that same icon in Maxthon browser, where I can save the article than I am currently reading when I click that icon.

Is it so hard to put a download picture and a share button? Cmon..

I got the rubbon button to save pictures to my profile.but what the use when it is not allowing to save it into your phone..
@lumia 530..