Intel officially announces 12th Gen P- and U-series hybrid processors for laptops, foldable PCs
With up to 14 cores, Intel's latest mobile chips with a hybrid architecture should be a generational shift in Windows computing.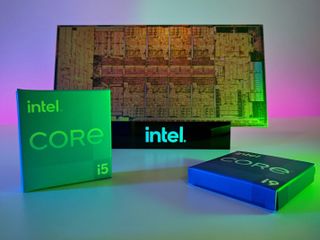 (Image credit: Daniel Rubino / Windows Central)
What you need to know
Intel is officially announcing its 12th Gen Core P- and U-series mobile processors.
The new chips now offer up to 14 cores/20 threads for thin-and-light laptops.
New 9W P-series chips will power next-gen laptops with foldable displays.
Laptops with Intel 12th Gen chips should begin shipping sometime in March.
In January, Intel announced its mobile line of 12th Gen processors based on its all-new hybrid architecture. That announcement primarily focused on the first of three lines of laptop CPUs, H-series, meant for gaming laptops and workstations. Today, the company is officially launching its P- and U-series for performance thin-and-light laptops and those with modern/foldable PC designs.
While the chips are now official, customers won't have to wait too long to find them in actual new laptops as Intel expects OEMs to begin shipping devices starting in March. Those partners include Acer, Asus, Dell, Fujitsu, HP, Lenovo, LG, MSI, NEC, Samsung, and "others," which presumably include Microsoft and Razer.
Here's what's new and what to expect from Intel's 12th Core P- and U-series processors:
All-new core architecture with up to 14 cores/20 threads
Integrated Intel Iris Xe graphics with up to 96EU
Support for DDR5/LPDDR5 (4800 MT/s) and DDR4/LPDDR4 (3200 MT/s) RAM
PCIe 4.0 up to 8 Lanes
Up to 16 CPU PCIe 5.0 lanes
Integrated Intel Wi-Fi 6E (Gig+)
Integrated USB 3.2 Gen 2x2 (20G)
Thunderbolt 4
Intel IPU 6.0 for high image quality and power efficiency for enhanced video calling
Intel Optane Memory H20
USB Audio Offload
Intel Deep Learning Boost (VNNI)
Gaussian & Neural Accelerator 3.0 (GNA 3.0)
Intel Evo Designs 3rd Generation
Intel 12th Gen: New performance hybrid architecture
Like the 12th Gen desktop processors, the new mobile ones utilize Performance-cores (P-cores) and Efficient cores (E-cores) in conjunction with Intel Thread Director in Windows 11. The design is like that of Arm-based big.LITTLE CPUs, where the more power hungry and performant cores are coupled with smaller, more energy-efficient ones. The big cores handle current workloads that the user focuses on, e.g., video editing or gaming, while the smaller cores handle ongoing background tasks or any minimized app.
The theory behind this hybrid design is energy efficiency, which, when combined with Intel's smaller nanometer chip design, gives users much more power when needed and saves battery life.
Indeed, there are now many more cores with Intel 12th Generation than 11th Gen, especially in the traditional Ultrabook segment of thin-and-light laptops. Previously, an 11th Gen top-tier Core i7-1165G7 processor would top out at just 4 cores (8 threads) — now, there will be up to 14 cores (6 P-cores and 8 E-cores) and 20 threads.
These new 12th Gen mobile chips can further be broken down into three broad categories:
P-series (28W): For performance thin-and-light laptops
U-series (15W): For modern (convertible) thin-and-light laptops
U-series (9W): For "ultra-thin" detachable and new foldable PC designs that push the boundaries
Translating to real-world performance, Intel claims the following when compared to its 11th Gen series of processors:
Up to 70% faster multi-thread performance
Nearly 2x performance for 3D rendering
Up to 30% faster photo editing
Devices like Dell's highly anticipated redesigned XPS 13 Plus, Lenovo ThinkPad X1 Nano G2, and HP Elite Dragonfly G3 will leverage that 28W P-series processor, e.g., Core i7-1280P (14 cores; 20 threads) as will many traditional clamshell laptops as OEMs refresh their current lineup. The 15W U-series will make its way into thinner devices that are also likely "x360" convertible PCs.
Perhaps more interestingly, the 9W U-series chips are expected to be used in detachable "Surface Pro-like" PCs as well as Intel's new push for foldable PCs like the Asus ZenBook 17 Fold OLED. Those types of PCs can use the new Core i7-1260U with 10 cores (2P, 8E)/12 threads, with a max turbo of 4.7GHz (29W).
That shift to 12th Gen U-series (9W) significantly contrasts against Lenovo's experimental ThinkPad X1 Fold, which used an Intel 11th Gen (Lakefield) i5-L16G7, which had just 5 cores (5 threads), and a max turbo of only 3.0GHz.
Of course, the big question is how these chips stack up to AMD's latest Ryzen 6000 Mobile chips remains to be seen. Like Intel, AMD has made some big moves lately with its non-gaming processors with improved sleep states, battery efficiency, performance, graphics, and features. That said, Intel now seems to have the lead in cores over AMD, which is an exciting switching of roles.
Image 1 of 2
Later this year, we should have comparative tests with Microsoft's unannounced Surface Laptop 5, which is anticipated to ship with options for Intel 12th Gen and AMD Ryzen 6000 Mobile.
Intel Evo: Third Generation
Rounding out the news are revisions to Intel's Evo platform. In this program, laptops from OEMs must meet specific criteria that Intel says ensure an optimum PC experience, including fast resuming, long battery life, and specific hardware obligations.
For laptops to receive the third-edition Evo badge, there are several new vital specs as laid out by Intel:
12th Gen Intel SoC
Intel Wi-Fi 6E (Gig+) support as an option based on market availability
Intel Connectivity Performance Suite (available on Windows only)
Dynamic background noise suppression
Intel Visual Sensing technology
FHD camera (strongly encouraged, not absolutely required) or Intel IPU6/MIPI camera
Second-edition Evo guidelines had a minimum 720p resolution for the camera and high-quality speakers and tuning. Additionally, there is a new "Key Experience Indicators" (KEI) added, which we detailed in a separate article, dubbed "Intelligent Collaboration." As we noted:
From today's press release, Intel remarks, "through deep co-engineering efforts with 150 ecosystem partners, more than 100 intel Evo verified systems are expected this year, with systems for the first time including foldable displays and designs with 12th Gen Intel Core H-series."
Another significant addition is the new Engineered for Intel Evo program, which is expanding to accessory partners this year. Labels for the Engineered for Intel Evo accessories will begin appearing on such devices as the Kensington SD5700T Thunderbolt 4 dock and Poly Voyage 4320UC (opens in new tab) Bluetooth conference headphones that meet Intel's requirements.
Intel 12th Gen Mobile: More to come
With the launch of Intel's 12th Gen mobile chips, especially in the premium non-gaming laptop segment, it's going to be interesting to see how these new processors compare to not only the previous generation but what AMD is also offering.
Some of the first laptops featuring these processors will likely come from the big three: Lenovo, Dell, and HP. With substantially improved performance and all-day battery life, they still won't catch Apple's M1. Still, these chips should be a welcomed generational shift for consumer and enterprise markets that live in the Windows ecosystem.