KFC India's 'Watt-A-Box' will charge your phone while you eat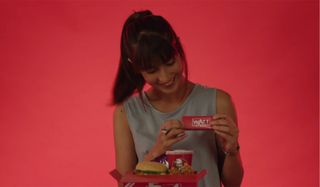 KFC India has come out with a brilliant promotion to advertise its 5-in-1 meal box. Dubbed "Watt-A-Box," the meal is packaged in a box that contains a portable battery along with micro-USB, USB, and Lightning connectors, allowing you to plug in your and charge your phone as you eat.
The promotion is currently live in Delhi and Mumbai, although KFC isn't handing these meal boxes out to everyone. The restaurant chain is randomly handing out boxes to customers ordering from its stores, and is giving them away on Facebook.
You're not going to be able to fully charge your phone from the meal box, but it is a novel way to quickly top up your phone while getting some grub. Who wants one?
Would be a bit more environment friendly to make wireless chargers available. Well I suppose India can handle more waste easily.

Yeah, just toss it any nearby river.

I laughed too hard at the harsh reality... :D

I laughed too hard at the harsh reality...

Sounds stupid to me. Seems like people nowadays have nothing else to do other than being hooked 24x7 to their phones.

Couldn't agree more, its like every phone in the World back into wired phone. Couldn't live without cables.

Watt-is-this? You're going to eat, not your phone.

Is this the KFC food chain that is in the USA? Kentucky Fried Chicken in India?
Is this intended to be a reusable lunch box?

Yeah.. Thats KFC... But no idea about reusable lunch box.
Windows Central Newsletter
Get the best of Windows Central in in your inbox, every day!
Thank you for signing up to Windows Central. You will receive a verification email shortly.
There was a problem. Please refresh the page and try again.