Khan Academy launches its Xbox One academic app with access to over 5,000 videos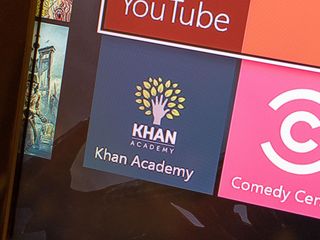 Khan Academy has quietly launched its Xbox One app, which allows owners of Microsoft's game console to access a ton of videos on a wide variety of academic topics.
The Xbox support page for the app says:
In addition to Khan Academy, US and UK owners of the Xbox One can now download the Popcornflix app, which offers free access to thousands of streaming movies and televisions shown. Finally, UK Xbox One owners can now download the CinemaNow app, which lets users rent or purchase TV shows and movies. The app has been available for the Xbox One in the US for some time.
Source: Xbox (opens in new tab)
Get the Windows Central Newsletter
All the latest news, reviews, and guides for Windows and Xbox diehards.
Khan Academy got me through college! It's the best thing that happened on the internet.

Free porn. That's the correct answer to both questions (Q1: what got me through college? | Q2: what's the best thing to happen to the Internet).

That moment when most of us had that exact same thought.

LOL I was reading this and I guessed 4th comment would have this. I was close. Haha

Which Khan?
Shah Rukh Khan
Amir Khan
Or Kublai Khan

Salman Khan, born in Pakistan. Lives in Boston, MA.

Ma-Khan I think haha! Whoever made the wonderful app, I thank you so much. Very useful for me and those who wishes to upgrade and learn new stuff.

Cool app.. I'm using it on my WP

I wish they had an official windows phone app.

Me too. Who want to study in front of gaming machine :p

What about doing a search on the store? http://www.windowsphone.com/s?appid=5bd14f56-26e7-42ff-81db-e20ffb7f8bf2

Thats what I have already installed, but I assumed it wasn't official because it does not say so and the publisher is not the companies na.e.

Yeah.. Its not the official one but its so well done! Love the UI...

I'm in Canada. Works great on of store

Nice way to shove in us uk app news lol...,

John Callaham should have told readers what Khan Academy is in the first paragraph. Journalism 101.

multitask gaming! can i snap it?

Would you 'really' take it in while multi-tasking though? I mean I wouldn't. Just curious :)

There is a youtube app on xbox! Who made it? MS or google?

Seriously? This guy started a company that helps educate for FREE and because he happens to be Muslim you have to mention that terrorist nonsense!!!