The Kinivo K300 HDMI switch is a must-have for connecting multiple devices to a TV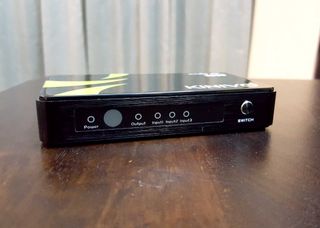 Most televisions have one or two HDMI ports, but if you are a gadget person like me, you'd frequently want to connect many devices to your television. There are usual suspects like Xbox or another gaming console, media players, streaming dongles, and the need to use the television as an external display for your laptop.
Unfortunately, my stupid Samsung LED TV has only one HDMI port, and I find myself trying to connect my set-top box from Tata Sky, a Chromecast, a Windows PC box, and a Surface 3. And now I've added the new Microsoft Display Dock is the latest addition to the rig. I've been using 3-port Kinivo K300 4K HDMI switch for over a month now which allows me to switch manually or automatically between different inputs and reduces clutter while allowing many devices to be fed into the TV.
What's in the Box
Kinivo K300 Premium 3-Port 4K HDMI Switch
5V AC/DC Power Adapter
Remote Control (battery included)
Quick Reference Guide
Note that there are no HDMI cables in the box, so you'll have to supply your own.
Setup
The switch setup is straightforward. All you need to do is plug the HDMI input sources into the input ports of the switch, and run an HDMI cable from the output port to your television or any other HDMI-equipped external display.
If there's only one active input source, the Kinivo K300 will automatically switch to it. If there are multiple active inputs, you can select the input either using the IR remote or using the select button on the box itself. There are LED indicators on the front of the unit to indicate the active source.
Performance
The Kinivo switch supports crystal-clear 4K resolution at 30 frames per second and immersive 3D content, although I tested for only Full HD (1080p) content. The K300 supports several display resolutions - 4K@30Hz, 1080p@120Hz, and 1080p 3D@60Hz, and 48-bit deep color.
You can quickly switch between three video sources with automated switching (whenever a new input is powered on), IR remote controlled switching or manual switching. The switch button on the unit cycles through the connected devices each time it is pressed.
An interesting feature is that even with all the inputs on, you can toggle to a state where all the inputs are disabled. This is convenient when you want one or more inputs active, but prefer to keep the display off – like when you are stepping out of your home and yet want that download running.
Summary
The K300 is available for $29 in the US and ₹1,999 in India, although you can also opt for more expensive variants with even more ports if your setup requires that.
The Kinivo K300 4K HDMI Switch is a pretty good accessory for the television in your living room. It's small, works as intended, and the palm-sized remote control makes it seamless to use.
Need more ports? Check out our review of the 5-port Kinivo K500 HDMI switch.
Nice! Though most TVs I see have 3 HDMI ports. And having an Xbox One gives you a second HDMI port thanks to its passthrough abilities. That's said, with Continuum on my Lumia 950 XL, I have run into situations where I was one HDMI port short, so I may pick one of these up.

What I need to figure out is when I want to play games from my PC to my tv how do I get sound to my tv's sound bar? So I'm not using my PC speakers then?

I use HDMI from ARC to sound bar. Works well

Check to see if your TV has an audio out. If so, buy the matching cable (or cable+adapter) to plug the TV straight into the sound bar.

The sound bar is connected thru optical cable and the PC is connected to the tv via HDMI cable to the HDMI 2.0 port.

Contract the sound bar to an audio out option on your tv and run a wire to an audio input on your tv, from your PC's sound card. That is unless you're using HDMI from your PC to TV. In that case the audio is included and you only have to do the first part of what I said.

Great price. You need to ditch the Chromecast, though, for the sake of all humanity.

Did after the Display Dock! The world is a better place again. :)

You have 4 devices (well 5 if you haven't got rid of the Chromecast) & only went with a 3 port device? Surely it'd have made more sense for you to get a bigger one with more ports not only to reduce the hassle of having to switch one of them out on the occasion & to future proof yourself in case you end up with more. Or is there a huge jump in price?

I don't understand why devices like this stick a power port on the side. What does it save, $0.05 by not making the case just a bit wider to have it in the back? At least provide a power cable that has a right angle plug, so you don't have to leave three inches of clearance on the left side. I would have to skip this device just because of that. Makes it look so messy.

I have a chinese one, a 5x1 'cause my TV only has 1 HDMI and I need 4 HDMI (i'm saving The fifth for a PSTV). The power cord is on the back. It's the 1.4 version 'cause I don't need the 2.0 advantages since i'm not planning on changing my set until at least 2018. There are even versions with PIP. This product they are trying to sell is really below any market competitor. I paid abou 25 bucks in mine

Kinda wish d-link would go back to cord on the side

Nice ad, but TigerDirect has an Inveo HDMI switch for $15-20.

Yea, and if its a peice of crap that doesn't work right or breaks, which is quite likely for that price, YOU CAN'T RETURN IT!!! Because Tigerdirect doesn't accept returns for any reason!

TigerDirect does accept returns, I live 20 minutes away from the store.

Hell they have had a 38.5" 4k tv with 3 hdmi for no less then $400

My tv has 5 HDMI ports. But the only problem with it is that only 1 port is HDMI 2.0. If 3 of them were 2.0 then id be a completely happy camper.

Doesn't matter much if it doesn't do hdcp 2.2

Broke two remotes, and they are damn costly.

Dude, ONE HDMI port? Which TV is that? That's sad, most have at least two.

whats the differance between the US model and the indian model (or the links provided by you) - both seems to be different according to description

the indian model has the words '...but wen in india..' at the bottom. hope you have a good sense of humor..otw my apologies. lol

While this device has its place, my 2 gripes are (as previously noted), the power on the side - deal breaker for me, too messy a design; and I would never use a device like this on my living room (main) TV. If I have any interest in additional HDMI ports or HDMI switching, I would much rather invest in a decent receiver and have it handle video and audio distribution, as I'm never using the TV speakers anyway. I want simplicity in switching inputs - not additional devices, it reminds me of the days I had RF and composite switch boxes for my Atari 2600, NES, SNES, Genesis and TG16. This switch box is a simple / inexpensive but in no way an elegant solution to the problem.

No need for this yet only thing I need is a 90 degree adapter for one of the 3 hdmi ports on my 38.5"

Kind of hard to imagine a market for this with the TV's I owned and the amount of HDMI Connectivity they had... But hey... whatever floats your Boat.
Windows Central Newsletter
Get the best of Windows Central in in your inbox, every day!
Thank you for signing up to Windows Central. You will receive a verification email shortly.
There was a problem. Please refresh the page and try again.