The Kinivo K300 HDMI switch is a must-have for connecting multiple devices to a TV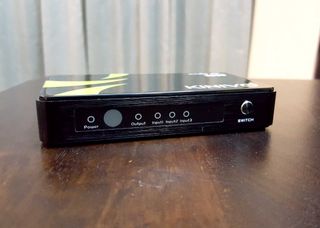 Most televisions have one or two HDMI ports, but if you are a gadget person like me, you'd frequently want to connect many devices to your television. There are usual suspects like Xbox or another gaming console, media players, streaming dongles, and the need to use the television as an external display for your laptop.
Unfortunately, my stupid Samsung LED TV has only one HDMI port, and I find myself trying to connect my set-top box from Tata Sky, a Chromecast, a Windows PC box, and a Surface 3. And now I've added the new Microsoft Display Dock is the latest addition to the rig. I've been using 3-port Kinivo K300 4K HDMI switch for over a month now which allows me to switch manually or automatically between different inputs and reduces clutter while allowing many devices to be fed into the TV.
What's in the Box
Kinivo K300 Premium 3-Port 4K HDMI Switch
5V AC/DC Power Adapter
Remote Control (battery included)
Quick Reference Guide
Note that there are no HDMI cables in the box, so you'll have to supply your own.
Setup
The switch setup is straightforward. All you need to do is plug the HDMI input sources into the input ports of the switch, and run an HDMI cable from the output port to your television or any other HDMI-equipped external display.
If there's only one active input source, the Kinivo K300 will automatically switch to it. If there are multiple active inputs, you can select the input either using the IR remote or using the select button on the box itself. There are LED indicators on the front of the unit to indicate the active source.
Performance
The Kinivo switch supports crystal-clear 4K resolution at 30 frames per second and immersive 3D content, although I tested for only Full HD (1080p) content. The K300 supports several display resolutions - 4K@30Hz, 1080p@120Hz, and 1080p 3D@60Hz, and 48-bit deep color.
You can quickly switch between three video sources with automated switching (whenever a new input is powered on), IR remote controlled switching or manual switching. The switch button on the unit cycles through the connected devices each time it is pressed.
An interesting feature is that even with all the inputs on, you can toggle to a state where all the inputs are disabled. This is convenient when you want one or more inputs active, but prefer to keep the display off – like when you are stepping out of your home and yet want that download running.
Summary
The K300 is available for $29 in the US and ₹1,999 in India, although you can also opt for more expensive variants with even more ports if your setup requires that.
The Kinivo K300 4K HDMI Switch is a pretty good accessory for the television in your living room. It's small, works as intended, and the palm-sized remote control makes it seamless to use.
Need more ports? Check out our review of the 5-port Kinivo K500 HDMI switch.
Get the Windows Central Newsletter
All the latest news, reviews, and guides for Windows and Xbox diehards.