The latest Windows 10 cumulative update may have fixed the freezing issue on some PCs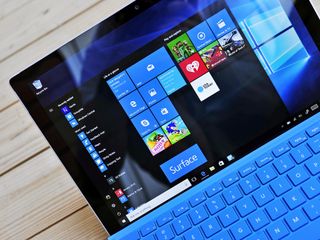 Microsoft says the latest 14393.105 cumulative update that rolled out to Windows 10 PC users earlier this week includes a fix to the freezing issues that have hit some PC owners after they installed the Windows 10 Anniversary Update.
Microsoft first announced in mid-August that they were looking into the freezing reports from a number of users. Now a new post on the company's support forums (opens in new tab) (via Neowin) confirmes that Wednesday's cumulative update includes a fix:
If you were experiencing this freezing issue on your PC, did Wednesday's Windows 10 update fix this problem? Let us know in the comments!
I am not able to install this update !! Please suggest me what to do ? During installation at restart window after 98% it says "We Couldn't complete the update Undoing Changes Please do not shut down up pc" !!

Couple of things you can do.
Usually it is a 3rd party application (not app) that is the culprit. WU esepcially doesn't like 3rd party encryption software. Next is drivers. Then if you're still having issues, try some of all the great debugging tips from Windows Central :)

Thank you for the suggestion , I just find out that I have two users in my "c:\users\" folder , don't know from where the other folder came !! Any suggestions you want to give how to remove one of that folder ?

You don't need it. Doesn't fix anything. Freezes continues.

But I guess if I wont apply this update , it will block my future updates also ! or not ? And am not facing any freezing problem in my pc , its working fine for me !! :)

Nope! Unfortunately mine is still freezing. Sucks!!!!

Now it is worse. Freezes and has funny behavior after restart.

I had the same problem then i disabled the windows defender and then the freezing stoped!

worse than ever! Sick of this.

started freezing my pc... task bar not working, notifications just struck

My Surface Pro 3 if still freezing. And I'm not even storing apps on an external drive.

Strange. I have this issue on my PC (several HDD internal and external) but on my Surfaces Pro 4 et 1, I can store Apps on SD cards without issue.

Nope it still randomly freezes for 30 ec from time to time!

Mine no longer recognizes my WiFi dongle. No Internet. Prob going to roll back and jump off the Insider program.

This article has nothing to do with the insider updates. :p this is a cumulative update for non-insiders. If your issues are caused by insider builds though (not this update the article states), then maybe you should though. They advise you not to use insider builds on primary devices, due to these issues being likely to arise at times.

Still waiting for bigger rollout of Anniversary Update, got on 1 of 3 PCs. Maybe this was the reason for holding back update.

Let's hope it also fixes the WiFi disconnecting issue

Hasn't fixed Edge extensions that have suddenly stopped working for me. I've tried lots to get them back but no joy. Anyone else having this problem?

Still freezing all my pcs I now started updating them all to RS2 build 14915 as 14905 didn't freeze but has the annoying start menu and Settings bugs but that's all fixed in 14915 so its fast ring time again for this insider. LoL had only reinstalled the PC s last night as well to 14393.105 ohh well cant do it any harm.

Update build 14915 made all 3 of my pcs unusable cant see any fonts at all so I have to fresh install all 3 of them now.

Hi... Is there any news on when will windows 10 mobile will get any update.?

No fix on my SP4. Sad! :(

Got the anniversary update two days ago on my pc....its stuck at preparing to install updates. Any suggestions please

And guess what?.... Currently my pc is installing the anniversary update...wohoo

Bulls**t! My SP4 still suffers from the ANNOYINGLY ANNOYING notification sound crash/bug.

This concept is far better than MS windows 10 mobile https://m.youtube.com/watch?v=TdRc_eMfWso

Does Netflix fail to start for anyone on .105 cumulative update?

RS2 prerelease on insider fixes freezing issues)

More than anything, I hope this fixes the issues with RuntimeBroker consuming gobs of memory and CPU. All four PCs at my home have the same issue with RuntimeBroker.exe spiralling out of control and consuming 100% CPU and GBs of RAM. Even if the process is killed via Task Manager, it only takes a few minutes for it to start back up and start consuming resources again. Based on the number of entries in the Feedback Hub for this, it's a fairly common issue and one they have yet to address.

Never had that issue on any of my devices.

Never had the freezing issue on my SP4 but the sleep issues are now cured.

With this new build, is anyone having this problem where you cannot see anything, not in notifications, I cannot see my apps, cannot see.power buttons from the start page, and nothing on start page period,even edge browser is messed up. My computer is totally useless.

Running Anniversary on my SP4 and my Asus work-desktop, as well as the kids Dell all-in-one at the house.
Haven't noticed any of these symptoms on any of the devices. In fact, after the recent firmware update on the SP4, it is everything I wanted it to be when I bought it.

I'm still encountering the freezing on my Surface Pro 2 after this cumulative update, it appears to be linked to Windows Defender and Windows Update but I'm not proficient enough to figure it out. I've tried various strategies on the Microsoft Support/Community forums, Reddit and elsewhere but nothing seems to work. Installing the AU was a total drag in itself and this is just prolonging the annoyance.

Glad I don't have this issue on any of my Windows 10 devices.

I have had some crashing on my custom built machine. I am attributing it to have recently installing a new video card ( a ASUS Strix gtx1060) and the anniversary update. I am believing that the NVidia 10 series drivers are not yet mature along with a constantly changing Windows 10. My Lenovo tablet hasn't had an issue at all since around mid June, and it's had numerous fast ring builds. I'm thinking of doing a clean install and see if that doesn't yield some improvement.

I've only had a small sample size since it was downloaded, but so far it seems like it hasn't fixed it entirely but did make it significantly better. The freezes seem to last more like 15 seconds instead of anywhere from 1 to 10 minutes (I learned quickly that the more I tried to do stuff when it froze, the longer it took to come back). And I'm not sure if I've seen apps go full-on "Not Responsive" or whether it is down to just not acknowledging clicks and keystrokes.

The issue still persist, I tried to to update my OS to have the patch resolution but then it says my OS is up to date when in fact you released an uodate to solve this issue! Such a burden to the users.

I had the issue of Windows 10 freezing frequently. It began occurring in October or November 2016, well after the update that supposedly fixed it. I also have a mixed SSD, HD with some applications on the HD. I found a solution that worked perfectly for me and wished to share it to see if it helps anyone else. I have high-quality DLR4 memory chips rated at 1.2 volts. The voltage was indeed set to 1.2 vold, and I have a high-quality ASRock Fatality X99X motherboard. But, what I did was go into the bios setup program and changed the DRAM voltage to 1.35 volts. I never had a freeze after that. Also, the chip and motherboard temperatures were not adversely affected. So, I'd be curious to see whether the solution works for anyone else.
Windows Central Newsletter
Get the best of Windows Central in in your inbox, every day!
Thank you for signing up to Windows Central. You will receive a verification email shortly.
There was a problem. Please refresh the page and try again.