Leaked screenshots show off Windows 10 Mobile build 10162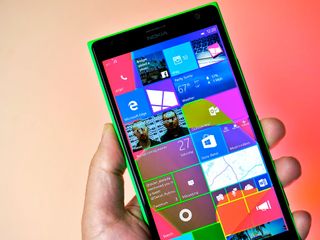 Just a day after some new info showed up from the leaked Windows 10 Mobile build 10158, some screenshots of yet another unreleased build have popped up. This time, the screenshots show off build 10162 of the mobile OS, though there isn't much that seems notable in this build.
The screenshots, which come from WindowsMania.pl, don't appear to show anything new or groundbreaking, and it's unclear if we'll see this build land for Windows Insiders. However, the post does note that Windows 10 Mobile build 10159 is likely to be the next to land in the Fast ring, but we'll have to have to wait and see on that one.
Image 1 of 8
According to details leaked yesterday around Windows 10 Mobile build 10158, we do know a couple of minor tidbits about what we can expect in the next build. First, the next build should feel smoother than the current build 10149, which isn't all that surprising. Second, the "beta" label for the Windows Store should be gone.
Source: WindowsMania.pl; Via: Neowin
Windows Central Newsletter
Get the best of Windows Central in in your inbox, every day!
Dan Thorp-Lancaster is the former Editor-in-Chief of Windows Central. He began working with Windows Central, Android Central, and iMore as a news writer in 2014 and is obsessed with tech of all sorts. You can follow Dan on Twitter @DthorpL and Instagram @heyitsdtl.
Finally battery icon looks bigger. Finally...

I like the way it is smaller as in wp8.1..

All builds for 10 so far are super small, hard to see. I am glad to see this changeds well.

I agree with azure, in any case we should have the choice, will we ever grow weary of being bullied people, really?

"Bullied"? Oh please, stop being so silly.

Have you ever tried an Apple product? Go check them out, and then come back and say we're being "bullied". Apple has THE most locked down ecosystem in existance.

Actually it is now the same size as it was in Wp8.1, must have been a placeholder as it makes no sense to change the battery icon to a small one deliberately.

i miss the heart icon. i wish theyd bring itb ack.

Yeah.. It's like my phone needed some extra attention!

The problem with the heart icon was that it covered up the battery so you couldn't see how full it was.

Maybe move it a few pixels to the side? (They already moved the charging icon) Or make the heart icon a translucent overlay?

98% of the time it appeared bellow 20% where the battery indicator is almost empty, so covering it doesn't hide anything.

Except when you always had it on, to save battery ;)

I was terrified by the size of battery icon in build 10149... Glad to see that's it bug

I wonder what Daniel will say now after defending the smaller icon.

He tried to justify the smaller battery icon because a larger icon would distract the user.

Dunno why but the excitement died down a little in me after yesterday's fiasco

I hope battery life is bigger, as well. I am on build 10149, and my battery life is atrocious, even after 4 hard resets... Sometimes i will go to sleep with the phone charged up to 65-70% and wake up to find it dead, with no charge left at all.

Can't wait to get that on my new 640 XL

I just hope the next build has a working MMS for Verizon

This so much. All my friends try sending me pictures of things, and i constanly have to remind them that I am on "beta" software and cant get picture messages. Sigh...

You're using mobile 10 as you're daily driver?! OM!

I am (: But I'm a developer so I understand bugs

Same here, on both accounts... Though, I have had no problem receiving pictures in txt messages

Damn! I thought with the era of internet and everything MMS were a thing of the past. I simply can't remember the last time I received or sent one... :S

Well on windows phone we dont have much of a choice. We are the only platform without a native instant messaging client integrated into the OS. Google has hangouts, iOS has iMessage. We have whatsapp and skype, but nobody uses skype anymore, and most of the people I know that have whatsapp, rarely use it. I am hoping microsofts efforts in android and iOS lead to more people using skype.

Funny you should say that...I've been rigorously debugging a piece of bookkeeping software before releasing it. The only place i want to run buggy software is within the confines of the Visual Studios IDE.

Yep, I went back to 8.1 for a week and missed 10 too much and upgraded with the new build.

My MMS works, but only if I do the upgrade from 8.1. If I hard reset after 10 is installed it will not work. I found this out because it was feeling a little choppy and reset. After the MMS wouldn't work. So I restored 8.1, didn't restore a backup, tested MMS and then upgraded and all is good.


who the hell uses mms these days

Lots of people... Why not? Instant messengers are completely unnecessary to people with unlimited messages. Extra drain of battery using them, too. Posted via the Windows Central App for Android

the problem with MMS is that it cannot handle video or pictures that are better than potato quality. I tried sending a video i filmed on my 1520. The video was a blur of colour. You could not even watch it. Sent it over whatsapp, it was perfect.

Very nice quality screenshots, but I kinda expect more features than just a redefined design...

I need left swipe to go to multi-window mode.... Or in the Multitasking pane , if we move one app on top of another it will become multi-window mode

Maybe that's all the team has time to focus on right now? Since they're so focused on getting the PC version ready for release

Really WC, these images don't look any different than 10149..... Battery icon a little bigger is news worthy???

But it's a good thing. Posted via the Windows Central App for Android

It might be changes and improved from the inside.

But the article says leaked screenshots show do wm10 build 10162

The Store is out of beta and matches theme color now. That also happened.

With the store bag a tad smaller, the screenshots aren't giving much away.

Starting to look a lot cleaner! MS is on the right track

Man.. this is so much cleaner.. Love it and can't wait to get it on my L930..

Well, anybody knows why the icon spacings are too narrowed?

So that people see their battery life is increased!!!

For people like me who press all over the place except the right tile :P

Hope we get this soon, can't to try it on my 925. The last build was pretty good, but still needed a few tweaks. Hopefully MS will release to insiders this week!

Same here! Ran the last build for a few days on my L925 and then reverted to 8.1 because it was over heating and battery usage was excessive. Otherwise...i liked it alot!!!

Yes same here on my 730. My battery life went down to 3 hrs!!

Yea, I'm experiencing on the lumia 730, 60+% worse battery life than on WP8.1.. Namely 30+ hours on WP8.1 and now 13 hours on W10m!!

Pretty much the same here but I'm still refuse to roll back, waiting for the new build :)

Does the build number follow pc version? If it does then it's pretty close to RTM too

Probably not. But, since they both (desktop & mobile) share the same core code base, theorically speaking, a progress in Win10 desktop can be implemented to the mobile branch. So, maybe we are closer to RTM than we know.

For some reason most of my apps don't open on the latest build. Plus cortana don't work. Posted via the Windows Central App for Android

10149.. I soft reset my phone a few times and still no luck. And my phone app doesn't show resent calls or contacts ,only the dialing pad.

Unpin and repin the phone tile. That should fix it.

Weird. Got all apps to work on the lamest build for me. Cortana was also working great...other than not having a dark background for Cortana it was fantastic

You have to search the store and download again. The only app I have issues with is my att

this is awesome please release it now, cant wait to install in my lumia 1320

Looking really clean, W10 is gonna be pretty awesome across all devices!

I had battery draining issues in the last build. Will there be any such issues in this build? (NL735)

Curious is we will see a Dev Preview. That's what I want to know.

The volume tabs are definitely taking up too much space on the screen. This needs to fixed IMO; put the two sliders closer together to eliminate space . I made a suggestion in Windows Feedback for this. Other than that, I'm liking how it's shaping up.

Yeah, I agree. Hopefully they can reduce the amount of space used to something close to how it was in 8.1.

I agree. They could move them closer together and make the tab background transparent.

Transparent would be a must! It looks pretty out of place how it is now with a grey background that goes against everything else we see in the design elements of the OS. Major eye sore

I too would like to see a transparent, theme-matching volume area.

@ L Beezy, probably because some of their internal testers have stubby fingers? :p It's just somewhat larger than what it was in Wp 8.1.

Hopefully one note comes back

It was there in the last build. But you had to download it to get the new version.

The 'battery saver' icon in the action centre doesn't seem to fit with the new wire frame iconography they're using these days.

Hopefully it runs good enough for daily use on my Lumia 635, been meaning to hop back onto Windows 10 Mobile, Build 10052 was iffy at best and bug ridden. The sooner the better so my PC and Phone can twin :3

There'll be ONE store only fool guys

It's nice to see a cleaner build. :) But they still have 2 3 months before release, they can add a lot of features. They can
1. Improve Store
2. Add multiple column app list for each letter (I want this), and
3. Definitely a transparent notification center (to be consistent with the desktop version)
4. Maybe 3D tile flip like desktop
5. Improved cortana
6. All improved apps (they all feel incomplete)
7. Shortened volume controls space
8. Maybe add light colored tiles for black colored icons
9. Add anti-window effect, where tiles are totally transparent and everything around is translucent with background image and selected color, instead of only black/white (someone even mentioned this concept before with pics)
10. Etc etc

Please people, send your suggestions to WP User Voice! As i can see, there is a lot of voices for langugages improvements and such things. WP is gonna be fast and stable OS, as before. But, right now we have to vote for visualisation improvements

9 is already there since the last two builds.

The background app permissions look nice (not running tp so don't think this is new but I'm not sure) and easier to manage. They need to kill that people live tile with fire asap. Looks awful.

Action centre needs to blur T_T

Waiting for a build with a working "Mobile hotspot"; 10149 did not workout for me. Then there was the email issues....-

Whats that Show Dot on screen when Touch feature? Never seen that before :-/

It just shows a graphic on the screen when a touch is done. Nothing really special. It is useful when you are displaying the screen though. That way people viewing the TV or whatever can see the touches you are doing on the phone.

Is it the same like it is in Windows 8.1? On my surface I noticed that there is a dot wherever I touch the display, enabled by default. (I don't even know whether I can switch it off, however I never tried)

Could apply to when you are projecting/casting your phone to say a tv/projector OR could mean on-screen when you touch your phone during regular use. Either way it'll show an animated/colored dot whenever you tap the screen. (see WebOS's water ripple effect).

Ms release this already!!! Posted via the Windows Central App for Android

I think dark grey looks much better dan only black background.

My 1520 is impatiently waiting for the next fast ring build. Lol Posted via the Windows Central App for Android

I really want the on screen navigation bar to be transparent/translucent, instead of just all black/gray/accent color. Plus it would somehow pair up with all the transparancy options the tiles in w10mobile have.

Where can I get that colorful wallpaper in the first picture (L 1520)?

http://www.windowscentral.com/snag-wallpapers-included-windows-10-mobile...

I think he was talking about this one: http://i.imgur.com/BlfDXuZ.jpg

The black search bar in app drawer is not as appealing as white search bar which we had earlier

Finally! Bigger battery icon :D

One thing is for sure that this build is coming tomorrow for the fast ring members if we look at the historical data. Build 10149 leaked photos came on June 24th and build became available to download on 25th June. Hoping to see some real nice battery improvements and PHOTOS app revamp.

Especially the photos app revamp, although they can push update to photo app through Store beta as it is not part of the OS anymore... http://forums.windowscentral.com/windows-10-mobile/365533-only-me-new-un...

Finally, better volume controls!

The current build is running pretty smoothy on my L925. I don't think there'll be many more changes. All they need to do is to make it more stable and less enegry consuming.

I have no such good expirience on my 925, not to metion that universal photo and muci app are completly useles and quite annoying to use... http://forums.windowscentral.com/windows-10-mobile/365533-only-me-new-un...

Ran great on my L925. I upgraded straight from 8.1 after having some issues upgrading from another build. Used it for a few days but reverted back because of the overheating and battery consumption. If those two issues are fixed in the next build. I will be going back to W10.

Microsoft should make Action Center blur, similar to what we have on desktops :/ and of course it would be much nicer if they will make apps backrounds more colourful like you know other OSes because Microsoft it's the one behind here searching for surviving. I assume trying new things instead of doing the same freaking looks and feels is basically wrong come on

where can I get that wallpaper. it looks gorgeous.

http://www.mediafire.com/download/lrkcoxv3h8hqf49/tap+sys.zip

Dark Theme is Awesome! I recently switched my primary phone from a Lumia 925 (WP8.1 update 1) to a Galaxy S5 (Lollipop) just to have a feel and understanding of an Android user. Of course I will switch back to my Lumia 925 after a week. I just want to be able to honestly say to people why I think WP is better. My initial impressions on Android: 1. Bloatware galore and you can't really get rid of it as easily as with WP. 2. Too much customization. I think customization is great but I think this has become too much. I spent almost a day disabling annoying features and sounds. 3. Battery - not yet final but I think battery drains faster on Android vs WP. 4. Apps situation is very good. I have no complains. WP is really behind but we are not that far off, I think. 5. The logging feature is awesome but I need to find a way to trim it down coz I don't want it to log SMS history. 6. Notifications are annoying as F#$%%. What I miss from my Lumia 925. This is an old device but it pretty much is very capable mind you. 1. Glance. Yep I miss it. 2. Live tiles. Yes live tiles are better for quick glance of information. 3. DARK THEME IS AWESOME. This maybe the best feature of WP. I don't think I have to explain. WP twitter app although very old but once you use the dark theme there is no going back. I hope FB will have a dark theme or all apps for WP/WMobile. 4. Email is awesome. The outlook app for Android/iOS is not as good as I wanted it to bee. Its so cluttered and you have the circles with different colors -- its really distracting. The email app for WP8.1 is simple, straightforward and fast. You can even pin individual mailboxes! The only lacking to it is the ability to attach files other than pictures. There's a work around and I hope Microsoft does not screw this up in WMobile 10. 5. SMS/Texting is fluid, simple and fast. 6. Keyboard is awesome. I think its the best keyboard of all besting iOS and Android. 7. IE is awesome. I don;t know what the fuss is about Chrome but IE in WP8.1 does the job. It's even better watching porn coz you can download it! 9. Camera is better. I thought the Galaxy S5 is better but when you put it in a computer and view it vs the photos taken by Lumia 925. There is no contest. The photos in Galaxy S5 appears beautiful on screen because Samsung's AMOLED is awesome but in reality the Lumia 925 still wins. I'm not sure about the S6 though coz I hear it has an awesome camera. This is it so I guess we have to wait for the next WMobile flagship phones.

why does the contact avatar have to be circle?????? whyyyyyyyyyyyyyyyyyyyy? i loved the squareness......

Circles r going to be removed as its the most hated thing right now

are you sure? i can accept all the changes but that circle thing makes me crazy.

Ayeeeh!
No lockscreen -_-
We should now start to give feedback about it....

i agree.. everything has changed then why not a lockscreen ?? :(

Paitence.. They will come up with new lockscreen.. They cant add everything in just one build.. :/

The question here, ladies and gentlemen is Why?? Why are we kept waiting so much!

Is it improving or not? If yes why it still looks ugly as hell??

Don't like Windows Mobile much do you?

It should be stable and not a battery killer

Windows phone need more customization on start screen itself like music player have option to play, pause, next etc on the tile itself will make great. And controls according to application.

this is really unstable for low-end device :(

Changes in this build...
1.Battery icon is now bigger
2.Quite hours now can be launched from action Centre
3.Background app selection is back ( was crashing in build 10149 )
4.No beta tag for Store
5.Show a dot on screen while touching ( display option )
6.People tile with new animation
7.New store app gets live tile option
...that's it...
I'm worried of MS refining the OS already.. They did refinement in pc builds only after adding all the features.. But in mobile OS They still have to add lot of features... We are still not on par with Android or iOS.. Especially lock screen options.. And there must be some new and innovative features as well .. This is a face to face war with Android and iOS... Our last chance.. I hope some features are still on it's way other than continuum..

Well said bro, I agree completly. Start bringing us some features now and lay down the design department

While I agree, I think its also important to remember that phones and PCs are two different worlds. People generally depend on their phones so much more than PCs these days, so stability is extremely important on phones, even on beta builds. Features are great, but if the builds drains batteries in half a day or less, or crashes like crazy, or causes problems with apps, people will stop testing and MS will lose all that potential feedback. We know feature addition isn't done yet because continuum isn't available. Plus, with them debugging the hell out of the PC build right now, it's probably easier to do the same with phone, since their OSes share a lot of the same coding. Based on rumors, we still have 2-3 months until W10M launches. If MS needs that long to debug WP to a point that it's stable enough for a wide release, then they need some new coders lol

Still waiting for the apps i use for work to actually start working...then i'll consider downloading it again on my 1520

How can i install apps from sd card if they dont give wp8.1 store?

I don't care wether the store has a beta label or not. Important is that it installs and updates. Both isn't working reliable on current build...

Where is call history in windows 10??? I cant find it.

At least in my phone lumia 1520

I want three volume sliders, alarm, ring tone and apps/notification..

The OS now looks refined!

No editing and fully working share functions to the edge browser? Pdf?

Its just design all over the place, Microsoft start making features and innovation now in windows10mobile. There are NONE working feature yet

I just want on my 930 that the mail would update on live tile. I have to open outlook to see if i have new mail. Sometimes it works but .ost of the time it doesnt.

hope something is being done on contacts as well,

When is official 10 coming out for mobiles?

Hv you guys installed on lumia1520?? :-(

It's come a long way since the first W10 release. I think it's shaping up to be really decent and sexy.

The last build crashed badly on my 640, not sure I install that one before being aware of stability. The people live tile is awful... Jumping and zooming cubes would be better in accordance with WP flat style. Still we need more features, unless they're planning to add them late after launch.

Happy to see the successions.but pls team u missed the greatest request of all fans a native app lock pls pls pls pls team pls see to that we need it so badly

WTF!? Fast and slow ring users are on the same build which is ridicilous if you ask me, please push sometnig new to those brave fast ring useres, no matter how buggy it is, we can deal with it, therefore we are on fast ring setup :D

Please forgive me for missing the last sentence of the article....

volume control panel sucks the current one on wp8.1 cannot be replaced. It will fuck the beauty of clear black screen.

...and background apps work and doesn't crash...

New settings improvements!!

The date showed in the action centre looks different from the current build.

Looks faster :) Battery level icon looks larger, background tasks new screen (could not find it in 10149), I wonder if MMS would work on it with Verizon and then I would be all for it..

They seriously need to work on the style uniformity, I mean they can change it but not something here, something there and voila!

Why don't let us decide the action center toogle position

Hope its not still very laggy....

Guys I'm having a problem...while upgrading windowsphone 8.1 to windows 10 mobile when the spinning gears starts after 2 mins it simply gets switched off...!! What should I do...?? Plz help

When andrid app starts coming in win 10
Windows Central Newsletter
Thank you for signing up to Windows Central. You will receive a verification email shortly.
There was a problem. Please refresh the page and try again.