Learn to code in 2017 with this amazing bundle of courses!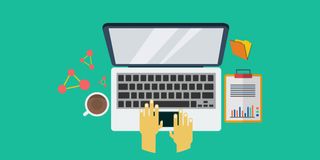 Update: This bundle's price has been dropped to $39 until July 23, so don't miss out!
You have decided to embark on a new career in web development, but the problem is you don't know where to start. You could go to a four-year college and get a degree in computer science; but that means spending four years of your life as a student — you don't have time for that!
Get 80+ hours of multi-faceted programming education for just $39!
You could also attend a short intensive boot camp program, but once again, moving your life to a new city for several weeks, spending several thousand dollars, and coding every day all day is not ideal for everyone either. There is a third option — learn to code from the comfort of your own home and at a pace that fits your busy lifestyle.
But where do you start? There are so many online courses to pick from, it can be a little daunting, but Windows Central Digital Offers is here to help!
Skip the debt, and jump on this great deal. The Ultimate Learn to Code 2017 Bundle includes 10 courses that will help you build important skills to be successful in the industry. Learn and explore the fundamentals of JavaScript, HTML5, and CSS, and then move up the ladder to more advanced concepts with languages like Ruby, Python, and learn to create real-world cross-platform apps. You can get unlimited access to all these courses for just $39, that's a savings of 96%!
Here's a breakdown of the courses you get in this great bundle:
The Professional Ruby on Rails Developer with Rails 5
Javascript Specialist Designation
Python for Beginners 2017
Java from Beginner to Expert
The Complete HTML5 & CSS3 Course: Build Professional Websites
Angular 2 with TypeScript for Beginners: The Pragmatic Guide
Learn Xamarin by Creating Real World Cross-Platform Apps
iOS 10 & Objective-C: Complete Developer Course Learn Fundamental SQL Programming With SQL Server Practical Web Programming 101
Get 80+ hours of multi-faceted programming education for $39!
Whether you need to learn a new coding language or want to improve the skills you already have, The Ultimate Learn to Code 2017 Bundle is sure to help you be more successful in your career.
Get the Windows Central Newsletter
All the latest news, reviews, and guides for Windows and Xbox diehards.