Lenovo halts sales of small-screen Windows tablets in US (Updated)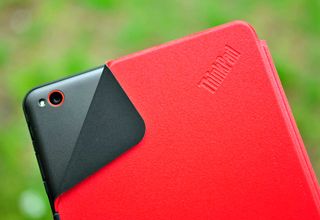 Update 7/18/14 - Lenovo has issued a statement regarding the original comments and have since clarified their position, which can be found below:
Microsoft and Lenovo evidently cannot catch a break as the PC manufacturer is reportedly halting sales of its small-screen Windows tablets. ITWorld has confirmed that Lenovo is pulling their 8-inch tablet line, including the high-end ThinkPad 8 and Miix2 here in the States, redirecting the stock to other countries.
According to a Lenovo spokesperson "In North America, we're seeing stronger interest in the larger screen sizes for Windows tablets and are pleased with initial customer demand for the ThinkPad 10…In other markets, particularly Brazil, China, and Japan, the demand for ThinkPad 8 has been much stronger, so we are adjusting our ThinkPad 8 inventories to meet increasing demand in those markets. If market demand for ThinkPad 8 changes, we will re-evaluate our strategy."
The ThinkPad 8 was released earlier this year after being announced by Lenovo during CES. The 8-inch tablet packs an impressive amount of specifications, including a Full HD (1200 x 1920) display, a fast 2.4 GHz Intel Atom Z3770 processor, 2GB RAM, 64GB eMMC storage, micro SD expansion and a micro USB 3.0 port. Perhaps the most innovative aspect though was a quick shot cover, which magnetically attaches to the tablet and auto-launches the 8 MP rear camera when folded down.
We had an early look at the tablet back in January and were immediately smitten with the device. However, since its release, the tablet has had numerous bugs and complaints from users, including supply issues making the tablet difficult to acquire. Combined with the initial $449 price tag the ThinkPad 8 just never caught on. Indeed I bought one in March from Microsoft but had to return-exchange it due to the audio amplifier overheating and burning out. Since that time though, and after numerous system updates, the ThinkPad 8 has become my go-to mini tablet due to its quality design and power.
Despite Lenovo not marketing the tablet any longer, customers can still order the ThinkPad 8 and Miix2 directly through Microsoft (opens in new tab), who is selling them on their online store for $399 and $299, respectively (opens in new tab). It is unknown, however, if Microsoft is continuing to stock the device or if they are pulling it too. You can see out unboxing and impressions of the Miix2 from our earlier coverage.
For now, it looks like Dell and their Venue 8 Pro remain king of the Windows 8-inch tablets, unless Microsoft's alleged Surface Mini enters the race.
Source: ITWorld
Get the Windows Central Newsletter
All the latest news, reviews, and guides for Windows and Xbox diehards.
Daniel Rubino is the Editor-in-chief of Windows Central, head reviewer, podcast co-host, and analyst. He has been covering Microsoft since 2007 when this site was called WMExperts (and later Windows Phone Central). His interests include Windows, laptops, next-gen computing, and for some reason, watches. Before all this tech stuff, he worked on a Ph.D. in linguistics, watched people sleep (for medical purposes!), and ran the projectors at movie theaters because it was fun.
They made me wait three months before I got mine in the mail. If there was no demand why did it take that long to get.

Because there was no demand. No need to rush a sandwich, when only ten people want it. Compared to a million wanting the other sandwich you offer.

The update to the article compeltely flips the original article on its head. Lenovo isn't continuing to manufacture their CURRENT line of products but are bringing new 8" & 10" tablets to market. This is why you have to take press releases with at least some skepticism.

They're just not that into you I guess.

No digitizer or I would have bought one.

Same for me. Has a Full HD screen compare to others but no digitiser.

This is why the interest is low
Old guy: I need a tablet to replace my iPad mini that I can put a mouse on. Best buy kid: Well there is actually no tablet in that size that can. Guy: Even if it's running Windows? Best buy kid: No a Windows tablet would be even less likely to support it. Then the kid started talking to him about chrome books :-( This happened today. My friend who texted me the story was there looking at the Lenovo 8" as he over heard it

@zoom44 Wow. That's terrible. The sales floor is probably one of the biggest barriers to Microsoft's MOBILE options taking hold(including Windows Phone). Hopefully that will change. Looks like Best Buy staff need additional training.

Man that is disgusting. I think I might have spoken up in that case... not to be a jerk to the sales guy, but the information he gave was so baltantly wrong.

I know a bunch of people telling me that they were "waiting" on the 8", but it never came. I remember seeing it unavailable on the web site when I tried to purchase one a few months ago...

Agreed. Too expensive. I would have bought the Thinkpad 8 if it was $250, but for $400 it was too much. As far as the Miix the specs were too weak. One of my most anticipated gadgets that I plan to buy this year is the 2nd generation Dell Venue 8 Pro. Dell nailed it with the price, timing and promotion on the first round. Lenovo had them beat on performance, but priced their device too high.

Agreed, $200 DVP8 is and was a better decision.

I replaced my 1st generation Surface RT with a Thinkpad 8. Definitely no regrets. It's been a great little device.

Apparently I'm in the minority. I haven't had any issues and didn't have much of a delay when I preordered.

That's a shame, these look like good devices but I've never seen one in the wild, and certainly not in London.

I bought my Miix 2 8 inch from Amazon in UK for £275 back in March this year, admittedly it took 3 weeks to show up, but it has been fantastic. it has replaced my iPad 3rd gen long time ago. What is fantastic about this is that with additional £50-80 universal adaptor, it has connected to my big screen HD monitor, mouse and keyboard and has enabled me to remote to office from home from this little device!. It is a light and thin little PC with full windows 8.1 funtionalities. A bit pricy when converting currencies from dollar, but they always rip-off Britania...

Bummer. I had planned on a small Lenovo or Dell to go with the Pro 3 with which I will replace my S Pro.

I have a Venue 8 pro to go with my SP3. I've come to the conclusion a 1525, when it hits, might be the better way to go.

Good thinking - given that I'll use it for reading, light surfing and messaging. Not wanting to add another line to my account, I guess it depends on how big the McLaren feels...

The problem for me was that my SP2 is hooked up to a monitor and docking station and when a customer calls I need something to grab and write on. I've got a 1520, SP2, and just ordered a DV8P to take on the role of quick note taker with the pen support. Without a digitizer the Lenovo never had a chance really.

I have a similar set-up. I just pop open Evernote when a client calls and type. But, for other scenarios, like a client meeting, I may decide that an SP3 is too large for taking notes. 1525 won't help there. Maybe we will get an SMini with an SP3 quality writing experience.

I found word flow and onenote to be faster than writing notes. It's different and takes some getting used to but more efficient for me.

This is where the market has been heading. Phablets will take the place of mini-tablets. Having a 5.5" - 6" phone and a 12" - 15" ultraportable makes more sense.

Are they it wasn't because of lack of supply? One and only time I had an interest in that tablet and worse experience ever. Posted via Windows Phone Central App

Indeed, you couldn't even order it from them directly for sometime.

I tried to be patient and get it hoping the delays would push thru. I guess everything happens for a reason. Still content with the 2520. I really like the concept with the TP8. The cover though. Posted via Windows Phone Central App

It is not the hardware any longer since all types of hardware have been introduced and tried. It is the OS that consumers are not willing to accept. Too cluttered and not easy to pick up for non techies. Something needs to change and hopefully MS will make that move in that direction. They need real users to try it out rather than stupid analytics

Perhaps. But I'd also argue that the ThinkPad 8 was only 90% good, and it was still missing some quality control measures during production. Furthermore, it was hardly pushed here in the US. No ads, no commercials, not even sure if any stores sold it (if anyone did see it, let me know).

That's not true at all, since their larger devices with Windows 8 are doing just fine...I beseech thee to cease and desist such misinformation immediately! U_U

Their larger screens are actually sold in stores (seen them at Best Buy at least). I don't remember seeing the 8" version at all. Though I did see the Dell Venue Pro 8.

It's the OS at this price.... With no pen :'(

Agreed. I do prefer windows, but you have to be a computer expert to customize. When I added my SD card to my dv8 pro it was way to complicated. I think some settings could be much easier. The average consumer likes things uncomplicated.

They have made that easier in 8.1. Is just aclick in settings

On IOS you can't even add an sd card. Android menus are just as complex as windows 8. Can you seriously say that android is easier to customize? The only way to make it easier is to eliminate options. That is why IOS doesn't have an sd card. That and they probably want you to overpay for the tablet with more internal memory.

You just download a launcher, lock screen, etc from Google Play if you want to customize Android and the menus are no where near as complex as Windows! That is ludicrous! Have you opened control panel and compared it to Android!? Windows í doesn't even have quick settings!

So, somehow rows of icons is less cluttered and easier to pick up for non techies then a row of tiles? Those tiles can be made small and it would look like icons. What exactly is hard to accept about windows 8 on a tablet? The only thing difficult to use would be the desktop. However, there is absolutely no reason to use the desktop on an 8" device unless it is connected to an external monitor.

my 5yo nephew uses the V8P just fine, so ...

Same here, my 3 year old can unlock, play games, Skype and Netflix on any touch based Windows device. I guess people miss zeal to learn and explore in this fast world.

Wasn't there inventory issues with ThinkPad 8? I remember reading pre-order people still waiting for their tablet for a while after the advertised release date. The last time I checked their site a month or so ago the ThinkPad 8 showed out of stock.

Yes that why I canceled . Posted via Windows Phone Central App

Mini tablets are dying off in developed markets like the US. The phablet is rendering 7-8" tablets useless. Apple has done an internal report stating that the upcoming 4.7 & 5.5" iPhone 6 will siphon away at their iPad mini sales. Mini tablets are slowly being replaced by phablet sized phones, hence the reason the Surface mini was scrapped.

Exactly and that's why we will see a surface phone phablet not a surface mini as some consider it. That's also why the x line is being absorbed as Lumia. Lumia will be mid to low end and surface devices will be high-end devices!

Which goes to show you how finicky the market is. Remember, Apple didn't want to do a mini tablet, but then Android was killing them by siphoning sales. Now, phablets are going after mini-tablets, with interest in 11-inch (and larger) tablets making a comeback.

That is my personal experience. I bought a Samsung Galaxy Tab Pro 8.4 to try out Android and realized that not only did I not like Samsung/Android UI but the size wasn't what I wanted either. I already use my Lumia 1520 as a small tablet and now that the 12-inch Surface Pro 3 is out I realize I would really like a tablet with a screen that size.

I don't think it is that mini-tablets are dying off. People don't replace their tablets as fast as they do their phones. I know way too many people who are offended by the idea of having to use a phablet to say that the phablet can replace a mini-tablet for everyone. The device is simply too cumbersome for a huge segment of the population to make mini-tablets obsolete. Without a subsidy phablets also tend to be far more expensive than mini-tablets. We can't pretend like everyone in the world is going to eventually be okay with carrying around giant phones over 5". I know people who are angry that companies are even trying to sell phablets. 99% of the time when I go out I want something light and compact in my pocket that doesn't make it hard for me to be mobile. However there are times when I'm taking public transportation or just hanging around the house or going to relax somewhere nearby where I would like a larger screen device. Until we have flexible screens that can fold and roll up on our phones the only way to have what I want is to have a regular smartphone and mini-tablet.

How many times do you see someone pull an iPad out at an event and take pictures, and then they take their iPhone out to make a call.l?

I love watching someone use their tablet to take pictures. First because their phone probably takes a much better picture and second because they look like such a dweeb holding up their tablet to take the picture. WPCentral please, please, please make this site more touch screen friendly. Look at ARS as an example.

I hate to hear of OEM having to pull out due to low demand, but at least they're not completely out... =[

That's a lie, retail stores only had two on hand at best I know as I item the miix2 and had to search high and low for it. They also never had cases or anything for them. They produced this problem themselves.

Lack of interest from whom?? I got a Miix 2.8 a few months ago. Now, the touchscreen is dead, and Lenovo is not showing any kind of interest to supporting customers. Now, they took the easy way: disappoint all the people who paid for the crappy tablet. So, the lack of interest is not from customers, is from Lenovo. BTW, I used to have a very good opinion about Lenovo products, but not anymore.

Yeah, for me they get it 90% right and then completely flub the last 10% of the device.

If this thing thing had a proper pen digitizer it would have been a no brainer.

I have a miix2 8 inch and it really works great. If there is something I am missing. Its is the pen (stylus). Have you used the sylus or bought one? How did the tocuhscreen stopped working for you. Did you drop the tablet?. I am actually disapointed to hear that they won't be selling because I believe there tablets and pcs are generally good. At least I never had a bad experience as yet. Though I heard that their custome service is where are really behind.

Well, if take a look at Lenovo's forums, you will find a lot of users complaining about the same touchscreen issue. It just stopped working. Some people say the problem is not hardware, but software (drivers). I removed/reinstalled the touchscreen's driver, but it just worked for a couple of minutes.

I had a problem with frozen screens too on my Miix 2 8inch, but I realised that it had to do with the miracast driver conflict. I had to hard reset, which I really dreaded doing, but it turned out that Microsoft has done a fantastic job of bringing back all your apps and their settings to whatever your setting has been, for example my flipboard had my favorite magazines back in right after hard reset. what amazed me most was that the tiles were in the same position and place as pre reset! the whole reset was less than 30 mins and my only job was to remap my OneDrive, photo, videos and music to my sd card, which took me not more than 5 mins.... the same job on my old ipad would have been a day job to put things to where they were!

I was hoping for a firesale on the ThinkPad 8 but I guess if they're redirecting stock to other markets, that's unlikely. I love my DV8P, but really wanted a TP8 for the extra features/specs. Just not worth the extra $$$ when you can often get 64GB refurb DV8P's on Dell Outlet for around $170.

Fantastic device, just way overpriced for an 8 inch tablet. Especially when the newer low cost budget tablets will soon be released.

Its because of the specs and the price, and ofc everyone already uses windows on their pcs, from my point of view its the best to use a Nexus 7 combined with Windows Phone :D and I will pretty much follow this pattern :D but ok thats me, I wanna be in touch with both Google and Microsoft + There are apps, but almost useless apps on Window 8.1, they dont get much attention from the big names.. I hope this will be solved :)

I had the nexus 7.....it single handedly pushed me away from android forever..... How this supposedly "pure google" android experience was so bad. The thing was borderline unusable. It lagged, crashed, u name it. I sold it on eBay, and picked up the Dell Venue 8 pro, which is freaking amazing. I use it for consumption, but also do work on it....it runs AutoCAD, Sketchup, PhotoShop surprisingly well. I am however planning on picking up the SP3 i7 version when it comes out.

Maybe there were problems, but when I first used Nexus it already had Kitkat, now 4.4.4. It always worked as it's supposed to. I didnt like Android too much after lag experiences, but Kitkat changed everything and the upcoming Android "L" is amazing. Now the SP3 is a whole different story :D I guess the desktop apps can compete. But I still like Android apps so much better, UI, features and everything. I do hope too that Windows will get the same kind of treatment in the future.

I'm not surprised. Their target market all wanted a stylus (which Lenovo provides on ALL their other pro tablets and convertibles) and without it, as nice as it was, the ThinkPad 8 became a whole lot less useful. Plus every review slated the battery life and again, the people in the market for a ThinkPad generally do their research more than the average consumer and a mini tablet that can't last a full working day on a charge and doesn't have a stylus to use fiddly desktop apps is as good as DOA. Lenovo made this mess themselves, unfortunately.

Yep, that was the reason I passed and got the Venue 8 Pro.

Very good point about the stylus. I don't use one, but I agree they should have had it. Imagine if they had a really well received Wacom stylus on board? It totally could have been a niche professional devices. Battery life is not terrible, not any longer, but it does fall short of expectations.

Exactly, people were practically drooling over the potential of the ThinkPad 8 when it first leaked over on the TabletPCReview forums and then as soon as it was announced without stylus it all just dropped off. The Dell Venue 8 Pro and the ASUS VivoNote 8 continued to get the attention and the Dell in particular must be doing very well to warrent them doing a full stylus replacement program and then releasing it in a new colour 6 months later. Plus all the digital artists that are crying out for a small portable notepad! The Surface Pro has created a new renaissance for our little niche and not one OEM has realised there's an entire market segment just waiting and Microsoft seem to be content to just tease us with a Surface Mini every few months only to delay it again! Glad to hear the battery life has improved at least, but anyone doing research will just see the reviews from when it was first released. :/

This is why I never bought one.

It's tough to sell these when the Windows Store still has some maturing to do --- and although these devices support running x86 applications, the primay purpose of these are to run apps. I predict that despite the recent "increase" report on PC sales, that they sales will decline up until the release of Windows 9. I hate to say it, but the execution of Windows 8 really hurt Microsoft badly.

I'm not even 100% sure why x86 on an 8-inch tablet is necessarily a good thing. Nice to have, but if it drives up costs so much that it breaks sales, I don't see the point.

I think OEM's were more willing to support x86 Windows 8.x tablets due to the poor sales of the Windows RT offerings. Not to mention they agreed with the masses in that it would be rather silly to sell a device running the "Windows" operating system, but couldn't run Windows applications when the Windows Store was virtually non-existent. Windows RT was way ahead of its time for the state of Windows in 2012.

For some its just the flexibility. You could use the dv8p or the vivotab 8 with external display through Miracast when at home and then take your PC with you when you go. Free office, pens, multitasking, access to a huge software library, and so on. I see this being an edge over the iPad mini or any 8 inch android tablet.

Same thought I bet the most people loaded on it were metro apps & had very little use for an x86 processor.

For me it was future proofing. If the Windows 8 store never gets up and running I don't want to be stuck with an expensive device that can't do much of anything besides check email and browse the internet. x86 is too much for a 8 inch tablet, but RT isn't enough. WP8 doesn't have the right kind of apps (or enough information density generally) for a more productivity focused 8 inch device. x86 is overkill and comes with it's own set of compromises, but too much is better than not enough.

x86 still really is the way to go. My DV8P is used in datacentres to plug into cisco switches and fix things quickly without needing to rest a laptop somewhere. I cant run putty and various other x86 programs without full Windows. Plus RT doesn't support any docking stations, so why MS never brought out a DS for the RT products ill never know! I'm still waiting for a killer dock and MHL/keyboard an mouse support for a Windows phone so I can use it as a PC when its docked and a phone when it isn't...

I'm from Brazil and I just got myself... an 11 inch Windows tablet. From Dell. :P

I read an article stating that the small tablet market will be slowly fading away as phablets become more popular. I am inclined to agree. I have been saying for a while that what I want is a phablet (1520-ish size or Galaxy Note) and then a really really well made convertible; which to this date still have not been as good as they can be. Most likely because the demand is not there.

I sold my DV8P in favor of a lumia 2520. I miss the pen, but like the LTE connection the 2520 has. Since I'm on Tmobile, when i go somewhere where theres no service, i like that i have the choice of a LTE connection(which i can share). Also, the camera is better on the 2520 I'll sell it if theres a new 7-8" tablet with LTE connection and comparable camera. I think people want a connection with their hand sized device. the 8" tablet isnt as popular because its close to the size of phones these days, but lack a cellular connection, hamstringing it. then when you do have a 8" tablet with a LTE connection, you can't easily make a call without a service like skype.

Isn't there now a DV8P with LTE support? Or am I going mad...

I would love a 8", but just not in that screen ratio (16:9 or 16:10), but rather 43 or 3:2 ratio.

Lack of interest in Lenovo.

Would of bought it but they messed up so bad on launch. It kept getting pushed back a month. I just canceled. Bought a Yoga 2 pro then sold it. And now have a surface pro 3. Ha. So I guess it worked out.

I almost brought a Miix2 just the other day. I decided to buy a Dell Venue Pro 8 instead. It was $199 on walmart.com. I love it.

oh dear OEMs you see people doesnt want small tablets, give us bigger ones instead

Too expensive for what you get and the time too market took far too long. Glad I just stuck with my dv8p.

Such a shame... Microsoft and others are trying so hard and people just don't like change. Smh!

Damn I actually wanted a ThinkPad 8. I like the surface pro but I want something lighter

Wait for the eventual Surface Mini, but it won't be running full Windows. It will most likely run a new OS of Windows RT and WP8 merged.

That's what I'm after. I'd prefer it running RT with digitiser support.

Did you ask the Easter Bunny when Santa Claus was going to deliver your Surface Mini or are the aliens going to have bigfoot drop it off personally? All of the above are just as real as the Surface Mini.

People won't pay $400+ for an 8 inch tablet unless it is so far beyond the competition and spectacular in every way. This tablet should be at $349 at most.

The ThinkPad 8 is my everyday tablet. The only issue I've been having is with the Miracast and HDMI output. I think another thing that really hurt them is the lack of accessories. No dock, few case choices and no real dedicated keyboard. I'm still hoping they shrink the SP3 down to the 8" mark. That would be something I would jump at.

8 inches must have pen...Nuff Said

Lenovo understands me. I still have the Thinkpad 2 and honestly don't see maself getting anything smaller. It's been a pretty smooth consumption(youtube, web, WPCentral, Kindle, Nook,etc.) and Play To(Movie Planet, Cinematek, etc.) device so far. I come from a Kindle Fire and KF HD background. I even bought and returned a Dell Venue 7 Tablet. It's hard for me to go back to those little devices. My next one will either be SP3 or ThinkPad 10. But since MS Customer Service for me has sucked so far(Bing Rewards...cheated me of 500 Reward Points for referring a friend...(a hassle of returning items by mail for a Bum like me...You have to call or go to the store) ), I think Lenovo will probably be the way to go. I had an issue with The Thinkpad Tablet 2...called and was back in business in less than two weeks with repair, shipping, and all covered under warranty.

Unless this surface successor comes out or a 2520 that supports my countries main 3 service providers ill still be quite fine using my m18x r2 for all my tasks as it has w8 on a stick

Very surprised people dont want smaller tablets. I personally prefer the smaller tablets, easier to type on while being held in the hand. Just personal preference I guess

I have the Miix 2 and LOVE IT! It is super thin, has a screen that is too bright even with the brightness all the way down, and the battery life is amazing. The ThinkPad 8, however, is pure crap. It is way over-speced for its size. 1080P Windows professional on 8" is damn near painful.

Posting this from the Miix 2. Great device and only costs in the low 200s.

Well I love my dell venue 11 pro. Have problems with stylus, it shows a cursor while hovering but I cannot use stylus at all. Won't touch or write anything. Posted via Windows Phone Central App

....and this has what exactly to do with Lenovo backing out of the 8 in tablet market in the US?

It's not pricey. I got my Miix 2 8 for £200. Bargain tbh.

I like the form factor, a dell v8 replaced my rt..

I for one would NOT recommend anything by Lenovo!!! I have the Thinkpad 2 which was a pain to upgrade to 8.1 from 8. Customer support calls were giving the run around while Lenovo online support forums were flooded with people complaining. I promised myself that I will by MS hardware for MS software, Google hardware for anythign androidy and then Apple for scrapple...

That's not strictly true! The Surface Pro line have been a disaster for drivers and we have much gnashing of teeth in our office that MS cant get them right on their own hardware. Its a good job we're patient people who love our devices!

Too expensive and no market differential. The better model was way too expensive to justify the screen, Low battery life and delays. If they had put the microHDMI in the cheaper model or an active pen in the more expensive model it would have worked

I wanted it soooo bad but really everytime I talked to a Lenovo rep regarding my order they said they could not keep up with demand so they is why it's taking so long. I waiting 3 months before I said forget it. It isn't worth it. Saving up for a SP3

Sounds like they couldn't keep up with your demand!

My Lenovo Thinkpad 8 has very good display. I love it.

I got my Dell Venue pro 8 due to the price I did wanted the lenovo looks slicker.

And people wonder why MS delayed or deep 6d the Surface mini.

Got my Dell Venue 8 Pro on a great deal on eBay. Love it and I had looked at Lenovo as well. Good decision apparently.

*Conspiracy Theory* Lenovo has a meeting with Microsoft. Microsoft tells them they want to beef up the small tablet line so they will be releasing a suface mini that will compete with Lenovo 8. Lenovo tells them if they do that they will pull out of the North American market. Voila - we now know the suface mini will be released soon....

Maybe the price will fall. I could use full Windows 8.1 in an 8" form factor.

At 8 inches no GPS no deal

Honestly, there is no interest for MS devices these days. In Singapore, I see people checking out lousy Android ones than Windows tablets or phones.

There are just not enough marketing and proper education on windows tablets usage. And for example the Surface, it too a year to get to Singapore after the launch in USA. Does not make sense. It's an international market these days. People do not want to wait. I would have gotten the Surface Pro 3 if I had not gotten the new macbook pro in Dec. Will hold on to the MBP till the new Surface got released.

Not true. What Lenovo said is actually a fact - they are seeing huge demands for Win8 tablets in Japan. While in the US Win8 tablets only has about 2% share, in Japan they have 15%. This is surprisingly due to this hit flash-based game called Kantai Collection (or Kancolle in short) - basically it's just a resources management game. Originally designed to be played in a PC browser, many people wanted to be able to play the game while one the move but it doesn't work on devices like iPad and performs too poorly on ARM Android tablets. In Japan, most OEM releasing their Win8 tablet will demo Kancolle on their tablets to show that it can be played on the tablet with no performance issues, which even Lenovo demos their Thinkpad 8 with Kancolle in their launch event. Lenovo Japan CEO had said in an interview before that it was difficult for him to explain in company meetings why the sales of Win8 tablet Japna dwarfs that of the US (they were selling 4-5 times the projected units per quarter in Japan!) and when he askes to divert stock to Japan to meet the demand there, as his colleauges can't take his reasonaing seriously when he say it's because of a flash games with anime girls in it! Source: http://toyokeizai.net/articles/-/32391

Windows Tablets demographics are just different from and ipad and andriod tablets demographics. Why are they still trying to target the same people....

If it's the OS price that is putting this thing at $450 (way too much), and Microsoft has now announced the OS is free for devices under 9", why not employ that retroactively to every device on the market under 9". Boom, immediate sales drop. Sales up. As for Lenovo, I bought the Yoga 2 Pro and, although I love the 2-in-1 design, I can't believe how many issues there are with it: the color reproduction, the crappy WiFi card, the Bluetooth dropping all the time, the display driver constantly needing to be deleted and reinstalled. And, worst of all, Lenovo support pretending none of these problems exist even though the official Lenovo forums are lit up with complaints. Next time I get a computer, I'll either go back to Dell or get the Surface Pro 6 or something.

A little pricey, no pen support, no marketing push, poorly managed rollout, quality control complaints... I think a lot of folks were really interested because of the higher res screen and the Lenovo name, but they just didn't really deliver the hit they were hoping for. It's a shame.

With this price and specs I would buy in a blink But there is no such thing in Brazil Even Surface, RT or Pro, we can´t find here

I'd buy a fire sale one on woot. $199 for a 64gig. So in. Posted via Windows Phone Central App

Lower your price and ur sales will be amazing.

Frankly I don't see a future for Windows 8.1 in small tablets. The desktop mode is useless and Lenovo sells android tablets along windows with half the price. Now widows phone 8 10 inch tablets that would sell I bet.i really do not understand if the guys at Microsoft are sleeping. Even if they want the desktop in these small tablets they should only let it be accessed when plugged to an external monitor TV or projector. This way in tablet mode the duality of apps would not confuse the customers and the experience would be more alike windows phone and like a desktop pc.They could even make the desktop available only if the device had a 12 inch display or higher

They would have sold loads if they were Windows 7. Everyone knows that Windows 8 is crap, and yes I know how to use it. I've had it for months now and it's just a pile of dog poo. I hate Windows 8.

C'mon windows 8 is windows 7 with a second interface for touch screen devices, for instance there are apps in metro that are more pratical to use and fast for that matter and look even better with that full screen that other contrapart desktop apps! for instance I put my sd card and import the photos thru the stock windows 8 photo app, to crop and enhance the photo is super easy on my HP laptop with touch screeen! For this new breed of devices windows 8 is Ok! My only complain is with the thing they have to put desktop enabled in < than 12'' devices. My laptop when plugged to a 22'' monitor wotks only in desktop mode, and I guess that windows 9 will be even better for desktop at least giving a similiar way of work as with the windows 7! No one would buy tablets with windows 7 if that was true they already have been a success 4 years ago

What a surprise. I bought it once, I was waiting two months, it burnt after three weeks and replacement was due in 3 MONTHS!!! Not mention that I've never seen any working model on any display through out all biggest shops in London. I changed to Dell venue 8 pro and I'm happy. Much better quality of whole device and difference with screen quality not a big deal at all. I'm buying new laptop soon and Lenovo put me off for good

I bought the ThinkPad 8 directly from Microsoft to replace a last generation Kindle Fire HD (10") and completely love the Lenovo. It does MUCH more than a Kindle ever could, I still have links to Kindle everything (pin, pin, pin), plus it synchs beautifully with my Windows world. Like a mini-laptop in my purse, except it ISN'T a laptop, it's a tablet. I could create Word or Excel documents, but I don't because that's why I have a laptop. Photos, calendar, reminders, news and information, Facebook, magazines, Kindle reader, a real browser for real browsing...I'm sorry to hear that the plug is being pulled when really, Lenovo should have put some effort behind marketing. It's an excellent product that most people didn't understand or even knew existed. Oh well.

This seems weird to me. My wife ordered the ThinkPad 8 and she encountered multiple delays recieving her product. You cannot find the ThinkPad 8 in almost any store and they are blaming the American market. I think if there was better marketing and an actual retail push that they might actual see some interest in the product. The only reason my wife knew about it was because I showed it to her online and she has been happy (even though it took her 2 months to recieve the product)