Lenovo IdeaCentre Y710 Cube review – A truly badass VR-ready gaming PC
By Daniel Rubino published
What happens when you jam a powerful gaming PC into a tiny box with some aggressive styling? The Lenovo IdeaCentre Y710 Cube happens, that's what.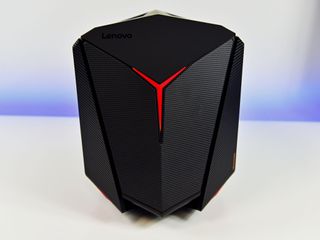 Late last year, Lenovo announced the IdeaCentre Y710 Cube with an aggressive design meant for use in the home and entertainment centers. It's the first mini tower gaming PC with a handle on top that's meant to help easily move it around the home.
I spent the past week with this "small-and-mighty" PC, and there little not to love about it. It's packed with up to a NVIDIA GTX 1080, quad-core Intel processor, and Killer Ethernet and Wireless, and it satisfies all of your gaming and virtual reality (VR) needs.
Lenovo IdeaCentre Y710 Cube specifications
Like all tower-type gaming machines, Lenovo lets you pick and match your system to meet your budget. The IdeaCentre Y710 Cube begins at just $999 with either a 6th-Generation Intel Core i5-6400 or Core i7-6400 quad-core processor, 8GB of RAM, and AMD RX 480 graphics. Add another $300 and you get the NVIDIA GTX 1070 with 8GB of video memory.
Go up to $1,999 and you max out the configuration with 16GB of 2133 MHz RAM, NVIDIA GTX 1080 8GB, and an Intel Core i7-6700 processor at 3.4GHz.
For my review, Lenovo supplied me with the model (90FL0015US,) priced at $1,699, and with the following specs:
See at Lenovo (opens in new tab)
Category
IdeaCentre Y710 Cube
Processor
Intel Core i7-6700 (3.4 GHz)
OS
Windows 10 Home
Motherboard
Intel H170
Graphics
NVIDIA GeForce GTX 1070 (8 GB VRAM)
Memory
(2) 8GB, DDR4-2133 (32GB MAX)
Storage
128GB (SATA SSD SanDisk X300)
1TB 7200 RPM (ST1000DM003-1SB102)
Cooling
65W CPU cooler
Power supply
450W
WLAN and Bluetooth
Killer Wireless-n/a/ac 1535 Killer gigabit Ethernet
Ports connectors
HDMI, VGA, Ethernet, DVI
Front ports: (2) USB 3.0 (one always on charging), microphone, headphone
Rear ports: (4) USB 2.0, (2) USB 3.0
Dimensions and weight
8.12 in x 19.82 in x 18.85 in
393.3 mm x 252.3 mm x 314.5 mm
20.06 lbs (9.1 kg).
Case materials
Black aluminum, carrying handle
Storage varies from a standard 7200 RPM hard-disk drive (HDD) to combo systems with a moderately fast solid-state drive (SSD) for the OS and common apps and a secondary HDD for games and storage up to 2TB.
Although Lenovo has not updated the IdeaCentre 710 Cube with the latest 7th-Generation Intel processors, the discrepancy will have little impact on gaming because the choice of GPU is more important in that regard.
IdeaCentre Y710 Cube design
Perhaps a unique aspect of the Y710 Cube is its look. With jet-black coloring, aerodynamic vents, and the signature glowing red "Y" on the front, the Y710 Cube really stands out when compared to other VR-enabled PCs.
Speaking of the case lighting besides the "Y" on the front, there are also two red LED lights near the bottom of the chassis. I found the LEDs surprisingly tasteful and subtle, but if you don't like them Lenovo gives you native software to control their brightness or disable them altogether.
The material of the Y710 Cube is a combo of soft touch paint, carbon-fiber-like design, and a metal chassis. There is a handle on top as well that nicely blends into the design and doesn't call attention to itself.
At 20 lbs (9.1 kg), you won't be carrying this PC around the house all the time, but by unplugging the AC power and peripherals, it is rather easy to take it from room to room if needed. Lenovo sees this as a PC that you can use in your room but can then bring to the living room for some VR fun with the family, or even keep it permanently in the home entertainment system.
To access the internals, the Y710 Cube has removable side panels of the sliding type. The panels are held by thumb screws on the back, and it was very easy to remove them and the doors to peek inside.
The Cube is classified as a mini tower, so you have limited ability to swap out the motherboard, but doing storage and RAM upgrades should be a cinch.
The system is kept cool by a few fans placed throughout with easy access for cleaning. During gaming, the system is silent with only a whisper of air current being dragged in for the NVIDIA GTX 1070. That GPU smartly sits at the top with direct ventilation through the red grills of the Cube. Considering that component gets the warmest and heat rises, it's a great design by Lenovo.
For ports, Lenovo presents two USB 3.0 ports (with one always on for charging), a headphone jack and a microphone plug, all in the front for quick access. The back also has plenty of options, including Killer Gigabit Ethernet, four USB ports (2x 3.0; 2x 2.0). There are also standard VGA, DIV, and HDMI ports but sadly no USB Type-C.
The Y710 Cube packs Dolby Digital Plus Advanced Audio and full audio ports, including surround channels and an S/PDIF, which is a nice touch.
Overall, I love the look of the IdeaCentre Y710 Cube. While gaming PCs can verge on the corny and tacky, I find the design unique, interesting and not too aggressive. It's the kind of device you want to be seen, but it won't be the center of attention either with flashing lights or fluorescent colors. The handle doesn't look like a handle, which is neat. It's also useful during setup.
Performance and benchmarks: VR-ready and Full HD gaming
There are a lot of upsides to the configuration options that Lenovo offers with the IdeaCentre Y710 Cube.
Let's start with storage. The dual configuration of an SSD for Windows 10 and commonly used apps with a secondary HDD for games works well here. To be clear, the SanDisk X300 SSD is a moderate performer with just 482 MB/s read speed and 196 MB/s for writing. That's far below a high-end SSD such as the Samsung 950 or 960 EVO, but it is still much faster than a traditional HDD. That HDD gets just 182 MB/s for read and 133 MB/s for write speeds.
CrystalDiskMark (higher is better)
| Device | Read | Write |
| --- | --- | --- |
| Lenovo Y710 Cube SSD | 482 MB/s | 196 MB/s |
| Lenovo Y710 Cube HDD | 183 MB/s | 133 MB/s |
| Razer Blade Pro | 2,571 MB/s | 2,467 MB/s |
| Razer Blade (960 EVO) | 2,079 MB/s | 1,809 MB/s |
| Surface Studio | 1,327 MB/s | 512 MB/s |
| Dell XPS Tower SE (HDD) | 133 MB/s | 150 MB/s |
Despite the storage not being the fastest out there, the feel of the Y710 Cube is fantastic. There were no stutters, apps installed and loaded quickly, and the 128GB SSD is more than enough space for the OS and a boatload of apps, including the Adobe suite for multimedia editing. Games stored on the 1TB HDD ran just fine, and I have nothing bad to say about the hardware choices by Lenovo. Of course, you can just replace any of the drives yourself in 45 minutes for a few hundred dollars.
In my review of the Dell XPS Tower SE, the Core i5 and GTX 1070 were more than good enough for Full HD gaming and even some great QHD (2560 x 1440) frags at 60 frames per second (FPS). This review unit of the Y710 Cube features a faster Core i7, and the results clearly reveal the boost.
For Geekbench 4.0, which tests overall system performance with an emphasis on the CPU, the Y710 Cube sits on top of our benchmarks:
Geekbench 4.0 benchmarks (higher is better)
| Device | Single core | Multi core |
| --- | --- | --- |
| Lenovo Y710 Cube | 4,706 | 14,809 |
| Surface Studio 980M | 4,414 | 13,738 |
| Alienware Aurora R5 | 4,328 | 13,735 |
| Surface Studio 965M | 4,200 | 13,323 |
| Dell XPS Tower SE Core i5 | 4,103 | 11,467 |
| Razer Blade Pro | 3,660 | 12,325 |
| Surface Book 965M | 3,977 | 7,486 |
A similar result holds for Futuremark's 3DMark Home Conventional benchmark:
PCMark - Home Conventional 3.0
| Device | Score | Comparison |
| --- | --- | --- |
| Lenovo Y710 Cube | 4,019 | Better than 84 percent of all results |
| Dell XPS 15 9560 | 3,534 | Better than 71 percent of all results |
| Dell XPS Tower SE Core i5 | 3,420 | Better than 67 percent of all results |
| Surface Studio 980M | 3,281 | Better than 67 percent of all results |
| Razer Blade Pro | 3,223 | Better than 63 percent of all results |
| Spectre x360 15 | 2,472 | Better than 41 percent of all results |
Of course, the combo of the Intel Core i7 and GTX 1070 is still not enough for it to match a "real" 4K gaming PC, which gets a Home Conventional average of 4,198, but it is close at 4,019.
The NVIDIA GTX 1070 based on the Pascal architecture is an accomplished gaming GPU. While it won't let you hit 4K gaming, it does have enough room for very high framerates at QHD (2560 x 1440) resolutions.
For Geekbench CUDA scores, which measure the combination of GPU and CPU power, the Y710 Cube holds its own but is not quite the best:
Geekbench 4.0 CUDA (higher is better)
| Device | Score |
| --- | --- |
| Lenovo Y710 Cube | 140,823 |
| Razer Blade Pro GTX 1080 | 193,311 |
| Dell XPS Tower SE GTX 1070 | 178,170 |
| Razer Blade 14 GTX 1060 | 139,603 |
| Surface Studio GTX 980M | 85,580 |
In direct GPU and DirectX 12 testing using 3DMark Time Spy, the Y710 Cube leaves plenty of room between it and other PCs I have tested:
3DMark - Time Spy (higher is better)
| Device | GPU | 3DMark Time Spy |
| --- | --- | --- |
| Lenovo Y710 Cube | NVIDIA GTX 1070 | 5,317 |
| Alienware Aurora R5 | NVIDIA GTX 1070 | 5,338 |
| Razer Blade Pro | NVIDIA GTX 1080 | 5,591 |
| XPS Tower SE | NVIDIA GTX 1070 | 5,003 |
| Surface Studio | NVIDIA GTX 980m | 2,862 |
Finally, we have 3DMark Fire Strike, which stresses the system's GPU for high-end gaming PCs:
3DMark - Fire Strike (higher is better)
| Device | GPU | 3DMark Fire Strike |
| --- | --- | --- |
| Lenovo Y710 Cube | NVIDIA GTX 1070 | 13,863 |
| Razer Blade Pro | NVIDIA GTX 1080 | 12,976 |
| XPS Tower SE | NVIDIA GTX 1070 | 12,315 |
| Razer Blade | NVIDIA GTX 1060 | 9,100 |
| Surface Studio | NVIDIA GTX 980m | 7,961 |
| HP Envy 34 | AMD RX460 | 4,302 |
Again, the IdeaCentre Y710 Cube is at the top of my tests for 3D graphics, besting 85 percent of all results in that category. Still, the Y710 configured with a Core i7 and GTX 1070 still falls short of the 17,805 Fire Strike score for 4K gaming PCs. Even with a full GTX 1080 GPU on board, 4K gaming is within reach for some cases but not all.
Let's look at two PC games for real-world experiences with Gears of War 4 and Rise of the Tomb Raider, both from the Windows Store.
Gears of War 4 UWP
| Resolution | Graphics presets | Average frame rate |
| --- | --- | --- |
| Lenovo Y710 Cube GTX 1070 | 2560 x 1440 | Ultra (G-Sync) | 60 FPS |
| Razer Blade Pro GTX 1080 | 2916 x 1640 | Ultra (V-Sync ON) | 59 FPS |
| Dell XPS Tower SE GTX 1070 | 2560 x 1440 | Ultra (G-Sync) | 60 FPS |
| Surface Studio GTX 980m | 2040 x 1360 | High (V-sync ON) | 59 FPS |
As expected, the Y710 Cube as configured here maxes out Gears of War 4 at QHD (2560 x 1440) on a G-Sync monitor.
Rise of the Tomb Raider (UWP)
| Device | Resolution | Graphics presets | Average frame rate |
| --- | --- | --- | --- |
| Lenovo Y710 Cube GTX 1070 | 2560 x 1440 | Very High (V-Sync ON) | 59 FPS |
| Dell XPS Tower SE GTX 1070 | 2560 x 1440 | Very High (V-Sync ON) | 59 FPS |
| Razer Blade Pro GTX 1080 | 2048 x 1536 | High (V-Sync ON) | 58 FPS |
| Surface Studio 980m | 1920 x 1440 | High (V-sync OFF) | 56 FPS |
What's just as impressive is you can set anti-aliasing to the higher quality SMAA up from the default FXAA at very high graphics and still hit 58 FPS in Rise of the Tomb Raider.
Lenovo IdeaCentre Y710 Cube review: Bottom Line
Overall, I was very pleased with Lenovo's unique take on the IdeaCentre Y710 Cube. The design is outstanding with solid ventilation, quiet usage under load, and easy accessibility for minor component upgrades. At just 20 lbs (9.1 kg) and with its compact cube design with handle, the Y710 lends itself to being moved around without taking up too much space.
The red LED lighting is tastefully done and can be controlled, and even disabled, within Lenovo's neat Nerve Center application. That app lets you also customize audio settings and set LAN priority for system apps and games, part of the Killer suite Ethernet functionality. Bloatware is at a minimum, and I found the storage solution to be more than adequate for this level of PC.
Regarding performance, the Core i7-6700 does quite well in our benchmarks, and the NVIDIA GTX 1070 is more than enough for near-4K gaming at 60FPS. You could save yourself some money and step down the CPU to a Core i5 and still have a great gaming experience. While pushing to a GTX 1080 is a great option, it will likely keep 4K gaming at 60FPS out of your reach. But it can help with VR setups.
Pricewise, Lenovo is right in line with pre-built gaming PCs in this range. In fact, dropping down to the Core i5 and keeping the 8GB of RAM and GTX 1070 puts it right in pace with the Dell XPS Tower SE. However, I think Lenovo used some overall better components, including faster storage options, Killer Ethernet and Wireless, and Dolby Digital Audio, to give the company a slight edge. (You do, however, lose the Blu-ray burner).
Another alternative is the Alienware Aurora (see our recent review), which while bigger, offers similar performance with additional and slightly faster RAM.
Finally, the included keyboard is excellent. Featuring Lenovo's famed curved keys, I found it to be a splendid typing experience save for the weirdly-reversed left Function and Control keys Lenovo likes to use. Neither the included mouse, which was also great, nor the keyboard are wireless, which makes sense for gamers who want less latency. It's a nice touch to have both of those accessories included in the box, and I give both high ratings.
Assuming you're okay with the unique look of the Y710 Cube, I think it's a great option for those getting into VR gaming or who want a fun PC for the living room. Between the quality of the components, the design and the feel when gaming, Lenovo has brought something unique to the market that's well worth your consideration.
See at Lenovo (opens in new tab)
Pros:
Decent storage performance.
VR ready.
Quiet operation.
Exceptional "cube" design with handle.
Great GPU selection.
Killer Wireless and Ethernet.
Dolby Digital Sound.
Great keyboard and mouse.
Cons:
No USB Type-C.
No optical drive.
Fewer configuration options.
Last generation CPU.
Daniel Rubino is the Executive Editor of Windows Central, head reviewer, podcast co-host, and analyst. He has been covering Microsoft here since 2007, back when this site was called WMExperts (and later Windows Phone Central). His interests include Windows, Microsoft Surface, laptops, next-gen computing, and arguing with people on the internet.
I usually don't like Lenovo, but that case is cool as hell.

Also worth mentioning is this PC has the Xbox Wireless Chip built in, so previous-gen controllers can be used wirelessly without the adapter.

Aside from gaming, how would this perform editing\rendering full HD or 4k video in Adobe Premier?

It would handle with ease.

Yeah, as Editguy notes this would be great. If you wanted to make it better swap out the main SSD for a 960 EVO or PRO for blazing output (write speed). Otherwise, the Core i7 and GPU are top notch for a pre-built system.

Cons: Internals look like it was made by 10 year old putting together his/her first PC. Barely adequate PSU. SSD write speed is barely faster than an HDD. My 4 year ol Vertex 4 is faster. Keyboard has Fn key where it should be Ctrl key. Should not need an Fn key on a desktop keyboard to begin with. OTOH I don't think lack of optical drive is really a con. And last gen CPU is not a big deal at all on desktop.

I don't see how the first three things remotely apply for a consumer branded, VR-ready PC for gaming vs. PC enthusiast who would open it up for...whatever reason.

instant buy if they add some USB C ports.

Thanks Dan. between this and the Asus G20CB which one would you recommend?

I can build my own for way less and with better specs.

Like Lenovo...just got a demo ThinkPad for $129 and is built well and came with 10 without bloatware. Hasn't had a PC in over a year and it's nice to be able to do things you can't do on a smartphone. BTW 10 runs great and Edge only uses 1/2 the cpu cycles Chrome does when running YouTube

Does this mashine have a combo jack ? for headphone with only one jack.
Windows Central Newsletter
Get the best of Windows Central in in your inbox, every day!
Thank you for signing up to Windows Central. You will receive a verification email shortly.
There was a problem. Please refresh the page and try again.