Lenovo reveals new 19.5-inch and 21.5-inch Horizon Windows 8.1 'tabletop' PCs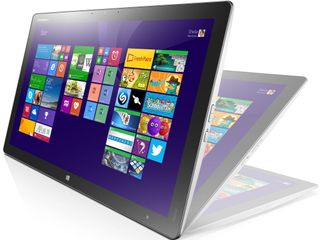 Lenovo's Horizon line of 'tabletop' touchscreen Windows 8.1 PCs that can also be used as a really huge stand alone tablet will be getting two new models soon, the 19.5-inch Horizon 2s, and the 21.5-inch Horizon 2e.
The Horizon 2s is just 0.59-inches thick and weighs just over five pounds, which is 10 pounds lighter than the original Horizon 2 that we got to check out at CES 2014 in January. The Horizon 2e has been made to be a more affordable tabletop PC. Both of the new models can be set up to stand on a table or be laid flat on a table or floor. When not connected to a power source, the battery will last up to 2.5 hours on the 2s and three hours on the 2e,
Lenovo says:
Both of the new Horizon PCs will go on sale in October. The Horizon 2s will have a starting price of $849 while the 2e will be priced starting at $749. What do you think of these two new Horizon models?
Source: Lenovo (opens in new tab)
Windows Central Newsletter
Get the best of Windows Central in in your inbox, every day!
A lotta announces today!!

I guess tablet market is doing well for windows. windows 8.1 is much better than those droid tablets good for nothings.

Read the article , they arent tablets and sorry but if you are talking about windows RT and its app store ...it lacks apps when compared to android/iOS app store

not really. Remember the Nokia ads about Windows Phone facts: are you going to find one of a thousand apps just for using the flashlight?

Hardly. The Store has every necessary app a normal user wants/needs. Even more. Plus RT is starting to fade away, meaning Tablets are using Full Windows, instantly making it better (plus a huge boost in available programs/apps) then any other tablet on earth.

These ARE tablets. Read the article. And yes, the 2 year old app store has fewer apps than the 6 year old one. What a shock. Of course, there are over 4 million desktop applications for Windows 8.1, so that helps :). Moreover, though, the real comparison is to the OSX app store--and the windows store has more than ten times as many apps as OSX's store.

Let's be real.. Windows tablets are still lagging behind and I think Microsoft is still a bit confused in that department. RT was too early and wasn't ready for prime time when it was released. Hopefully windows 9 changes this. My Android tablet is doing great. It runs really well but of course if there's a good windows tablet then I'd definitely ditch this and get that. RT still doesn't feel baked to me and while the Surface Pros are amazing, it's more of a laptop and is a bit expensive for me. If I have the money, the SP3 would be a no brainer. This device looks great and the price is pretty much within my range! I'm looking for a laptop replacement and would definitely look into this Posted via Windows Phone Central App for Android!

windows tablets need more marketing in a different eay or else if that's not possible. they have to sell more cheap laptops which OEMs.

diffrent way ? can you please explain this. Cheap laptops , which OEM ?

micromax can launch cheap windows laptops.

I wouldn't use the word confused. It is more about what they currenty need to do and have. Let me explain. When RT came out, Touch Office is nowhere available, and to entice people to buy their new device, they've included Office. However, for it to run, it needed the desktop. They needed to leverage Office in a big way because there just wasn't enough apps in their marketplace. However, I do applaud MS for getting rid of the crapware from their ecosystem. As for RT, in my opinion, it was ready to go as it can do whatever iOS and Android could, and sometimes even better, but there were just a few issues: lacking apps and the "confusion of the desktop."

Love my RT loved it from the day i bought it and still loving it now....different horses for different courses.

Im actually very interested in this as a family device.

Same. An affordable PixelSense would be really cool as a furniture option

I have owned 3 Android tablets and the UI sucks on tablet. Android tablet are useless.Windows tablet are more practical

Uhhhh, these aren't android tablets, lol.

I know that lol I have a Windows tablet is the best.

That's what he is saying, he is pointing out the fact this beats any Android tablet.

Thank you, lol someone gets it.

Sister has a ideacentre and I absolutely love that aio. I would definitely love to get either one of these as I like to sit outside on the picnic table to work with my laptop and either of these would be a great addition to how I work.

The Lenovo link has spec sheets linked at the bottom. Haven't checked them out myself.

All I've been waiting for and asking for the past 3 years is a 17" Surface Pro. Get on it MS!

My fiancée is an illustrator, and would also like a 20"+ tabletop surface with precision stylus :)

In a post-desktop PC world, what your good lady needs is the PC to become the desk :)

Looks really cool, but 21 inches sure seems small for a table top. I would think 42" is a more useful size for a table.

I don't get it, why 2e is cheaper than 2s (despite bigger screen and better battery life). Need some info about specs.

Wow... this looks better than my Viao Tap 21! My Sony is rated 3-4 hours on battery though.

This is really cool! With a long enough video out cable this would make an incredibly easy to use HTPC :D

Or, you know, Miracast and no cable at all.

Dell xps 18 seems better and been out for over a year now

I thought so too but the reality is 18" is an almost unmanagable. It's uncomfortable to hold at, lightest in it's class, 5 lbs. Also, 1080p on that size screen looks pretty bad from the close screen-to-face distance commanded by a tablet. 20" and 22" seem equally encumbersome. Another cool feature you don't need on a device you want. #PRACTICALITY

Put active digitzers on these bad boys and I'm first in line!

Who the hell buy these things?

Someone is buying them, if they are updating them.

Glad to see aura in the new models. That Aura mode sells the device! I sell PC and the $1500 horizon is so much easier to sell than the cooperative devices. Everyone balks at the price to start but then when you demo it in Aura well lets just say it's the only portable AIO I can't keep in stock.

The lost me when they started to talk about Android...

John the source link states the 2s will be $949, not $849.

The Microsoft store had a 19 tablet not this one though. wasn't bad. I guess i wouldn't mind one would depend of the wight of it .

HP Need to write that damn Aura App for Windows Phones as well, seeing as thise BATs (Big Ass Tablets) are Windows powered.
Windows Central Newsletter
Thank you for signing up to Windows Central. You will receive a verification email shortly.
There was a problem. Please refresh the page and try again.