Lenovo says LaVie Z 360 is not flawed; they just made a mistake describing its features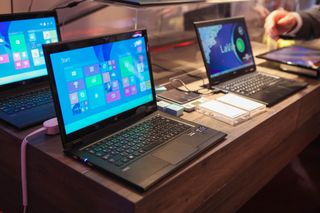 Lenovo is now sending out statements to media outlets clarifying the situation on its recently launched LaVie Z 360 convertible Windows 8.1 notebook. In short, the PC makers says that the laptop is shipping without any flaws, despite what an email that was sent to buyers of the notebook originally claimed.
That letter, sent by the company's Web Sales Manager and first revealed by Consumer Reports, stated that "in our haste to bring the product to market, we have made a couple missteps along the way." Specifically, the letter said that the notebook, with its display that can move 360 degrees, would not work properly in tent or stand modes. However, in a statement sent to Windows Central by a company spokesperson, it appears that letter offered incorrect information on the features of the LaVie Z 360. It stated:
So in other words, buyers of the Lenovo LaVie Z 360 should not try to use the laptop in tent or stand modes because it was never made to work in those modes in the first place. Lenovo's spokesperson also told us that while orders are being taken for the notebook on their website store, no units have actually shipped yet. Finally, any buyers of the notebook can return it for a full refund up to 30 days after they receive it, as part of the company's standard return policy.
Lenovo's statement to the original Consumer Reports story author ends with, "We are re-examining our processes to make sure that this doesn't happen again. In the meantime, please accept our apologies for this inconvenience."
Get the Windows Central Newsletter
All the latest news, reviews, and guides for Windows and Xbox diehards.