Lenovo ThinkPad L13 Yoga review: The L390 Yoga's successor refreshed, mostly for the better
By Cale Hunt published
The ThinkPad L390 Yoga has been refreshed into the ThinkPad L13 Yoga. Some changes to design and hardware make up the new model, though it's mostly the same as the previous generation.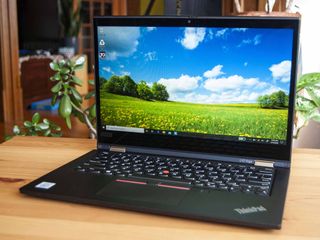 (Image credit: Windows Central)
The ThinkPad L13 Yoga, much like its older L390 Yoga sibling, is intended as an affordable business convertible option with plenty of customization. There have been some tweaks to design, display bezel, and internal hardware to modernize the laptop for 2020, though it remains quite similar in most regards to the older model. I used it as my main PC for all work for a couple of weeks to see how well it performs and whether or not it's cut out to be your next convertible laptop.
Bottom line: The ThinkPad L13 Yoga remains an attractive "budget" convertible business option, with able performance, durable build, and generous port selection. Soldered RAM and average display with no option above FHD are downsides, but they can be ignored at this price.
For
ThinkPad Pen Pro built into chassis
Great typing
Generous port selection
Durable ThinkPad chassis
Nine-hour battery life
Against
FHD display is only option
RAM is now soldered
No Wi-Fi 6
Lenovo ThinkPad L13 Yoga at a glance
Lenovo supplied Windows Central with a ThinkPad L13 Yoga review unit, equipped with a 10th Gen Intel Core i5-10210U quad-core processor (CPU), 8GB of DDR4-2666MHz RAM (soldered to the board), and a 256GB M.2 PCIe solid-state drive (SSD). The 13.3-inch touch display has a 1920x1080 (FHD) resolution and has an anti-reflective layer to cut down on glare. This exact model costs about $800 (opens in new tab) at Best Buy, making it a relatively affordable way to get your hands on a convertible ThinkPad. To put the price into perspective, the high-end ThinkPad X1 Yoga starts at about $1,749 (opens in new tab).
Because of the price, the L13 Yoga is mainly aimed toward bulk Enterprise buys, as well as education or small-business sectors. The L13 Yoga can be configured with up to a 10th Gen Intel Core i7-10510U CPU, 16GB of RAM, and 1TB M.2 PCIe SSD, and there are options to forego a backlit keyboard, IR camera, and fingerprint reader to keep costs down for fleet purchases.
That doesn't mean it's not an able PC for just about anyone, as we will see in this review. It offers the standard ThinkPad durability with MIL-STD 810G certification, dreamy keyboard, solid performance, and excellent port selection, making it an enticing buy for anyone who wants a well-rounded productivity machine that can flip around to act as a tablet.
Compared to its predecessor, the ThinkPad L390 Yoga, the L13 Yoga has moved to 10th Gen Intel Core CPUs, a ThinkShutter webcam cover has been added, and display bezel has been shrunk down for a more modern look. The L13 Yoga is also slimmer — 0.69 inches (17.6mm) compared to 0.74 inches (18.8mm) — and lighter — 3.17 pounds (1.43kg) compared to 3.44 pounds (1.56kg) — than the L390 Yoga.
Here are the exact specifications of the ThinkPad L13 Yoga I used and tested for the last couple of weeks.
Category
Spec
OS
Windows 10 Home
Processor
10th Gen Intel Core i5-10210U
Four cores
15W TDP
Up to 4.20GHz
RAM
8GB DDR4-2666MHz
Soldered
Graphics
Intel UHD Graphics
Storage
256GB M.2 PCIe SSD
Display
13.3 inches
1920x1080 (FHD)
Anti-reflective
Touch
16:9 aspect ratio
Up to 300 nits
Active pen
Included
ThinkPad Pen Pro
Ports
Two USB-C 3.1 (Gen 1)
Two USB-A 3.1 (Gen 1)
HDMI 1.4
Ethernet extension connector
microSD card reader
3.5mm audio
Audio
Dual 2W speakers
Down-firing
Dolby Audio Premium
Wireless
Intel Wireless-AC 9560
802.11ac (Wi-Fi 5)
Bluetooth 5.0
Camera
Front-facing 720p
ThinkShutter
Biometrics
Fingerprint reader
Battery
46Wh
65W AC adapter
Rapid Charge
Dimensions
12.26 x 8.62 x 0.69 inches
(311.5mm x 219mm x 17.6mm)
Weight
From 3.17 pounds (1.43kg)
What I love about the Lenovo ThinkPad L13 Yoga
Before switching to the 13-inch ThinkPad L13 Yoga, I was spending a lot of time with the mighty 15-inch ThinkPad X1 Extreme. The change to a lighter, more compact ThinkPad is a welcome change. It's not as sleek and sexy as the ThinkPad X1 Yoga, but it's also not nearly as expensive.
The L13 Yoga brings the usual ThinkPad soft-touch black finish (just as much of a fingerprint magnet as always) and magnesium-aluminum chassis with MIL-STD 810G certification to ensure it's going to hold together well under conditions outside of what are usually found in an office or home setting.
The chassis is sturdy with only a slight bit of flex under the keyboard, and the lid is rigid. That's a good thing considering the display is designed to fold around 360 degrees for tent, stand, and tablet modes. The convertible "Yoga" portion isn't absolutely necessary — there is a non-convertible ThinkPad L13 available for an even lower price (opens in new tab) — but it's a welcome addition for any students or professionals who like taking notes or sketching up diagrams and graphs by hand. Hinges are stiff enough that the lid won't flop around if you're working in a moving vehicle.
No worries about having to buy an active pen separately; there's a ThinkPad Pen Pro included with all models. It has its own silo for charging and storage along the right edge of the laptop. Inking capabilities won't match up artistically to something like the Surface Pen with 4,096 levels of pressure sensitivity and tilt support for shading. Still, the Pen Pro's 2,048 levels of pressure sensitivity are enough for productivity work.
Also along the right edge of the laptop is an HDMI and USB-A port, as well as a microSD card reader and Kensington lock slot. The power button is embedded into the right edge to avoid accidental presses when in tablet mode. The left side has two USB-C (one for charging), USB-A, and Ethernet extension connection, and a 3.5mm audio jack. Altogether this is the collection of ports you'd expect from a business laptop, and the only complaint is a lack of Thunderbolt 3. It's understandable in this price range, and at least USB-C docking stations have come a long way in terms of functionality.
The backlit keyboard is outstanding. ThinkPads are tough to beat in this department, and the L13 Yoga is no exception. I typed thousands of words without issue thanks to ample travel, soft landing, and perfect spacing. There's a redpointing nub in the middle of the keyboard; it's accompanied by physical buttons above the Precision touchpad to make up the TrackPoint system. The touchpad offers smooth pointing with no issues.
There's a fingerprint embedded into the right palm rest for added security through Windows Hello, and you can add an optional IR camera for facial recognition. A ThinkShutter allows you to cover the webcam. The 720p front-facing camera that comes standard gets the job done for video conferencing, though don't expect anything miraculous. As for other Enterprise security options, a Smart Card reader can be added. Intel vPro CPU options (Core i5-10310U or Core i7-10610U) do show up on some reference documents, though the US Lenovo site does not currently offer them.
The L13 Yoga has a down-firing 2W speaker on either side of the chassis. While top-firing speakers are becoming more common, these actually pump out some decent audio at a loud volume. When the lid is flipped around for tablet mode, you still have sound directed toward you, if a bit muffled from the back of the display.
The 46Wh battery might seem a bit small — the 13.3-inch Yoga C640 has a 60Wh battery — but it managed to last a full day of work. Testing with PCMark 10's Modern Office battery benchmark with 60% display brightness and Windows 10 "Better Battery" power setting landed a rating of just more than nine hours. You could theoretically leave the tiny AC adapter at home if you head to the office, which is always a welcome feature. From nearly dead, the battery can charge up to about 80% in 45 minutes, thanks to Rapid Charge technology.
You can configure a model with an Intel Core i3-10110U, though I recommend going with at least the Core i5 model if you plan on heavy productivity and multitasking. It has twice as many cores and will remain future-proof for longer. I had no issues with photo editing, heavy web browsing, video streaming, and word processing during my time with the L13 Yoga.
I ran some synthetic benchmarks to see exactly how the L13 Yoga fares against other laptops we've recently reviewed.
Geekbench 5
Geekbench 5.0 (CPU) (Higher is better)
| Device | CPU | Single core | Multi core |
| --- | --- | --- | --- |
| Lenovo ThinkPad L13 Yoga | i5-10210U | 1,069 | 3,754 |
| Lenovo Yoga C640 | i3-10110U | 1,015 | 2,111 |
| Lenovo Yoga C740 14 | i5-10210U | 1,094 | 3,767 |
| Samsung Galaxy Book Flex | i7-1065G7 | 1,317 | 4,780 |
| Dell XPS 13 (9300) | i7-1065G7 | 1,284 | 4,848 |
| Dell XPS 13 2-in-1 7390 | i7-1065G7 | 1,209 | 3,571 |
| Surface Laptop 3 15 | i7-1065G7 | 1,336 | 4,893 |
| HP Elite Dragonfly | i7-8665U | 1,125 | 2,942 |
| Surface Laptop 3 13.5 | i5-1035G7 | 1,177 | 4,413 |
| HP Spectre x360 13 | i7-1065G7 | 1,006 | 3,402 |
| Surface Pro X | SQ1 | 725 | 2,819 |
| Surface Laptop 3 15 | Ryzen 5 | 769 | 2,720 |
| Galaxy Book S | SD 8cx | 685 | 2,681 |
| Acer Swift 7 | i7-8500Y | 732 | 1,106 |
| Surface Pro 7 | i5-1035G4 | 1,191 | 4,441 |
Performance as expected from the quad-core i5-10210U. It made short work of any standard office tasks I threw its way.
PCMark
PCMark 10
| Device | Score |
| --- | --- |
| Lenovo ThinkPad L13 Yoga | 4,899 |
| Lenovo Yoga C640 | 4,008 |
| Lenovo Yoga C740 | 4,941 |
| Samsung Galaxy Book Flex | 3,924 |
| Dell XPS 13 (9300) | 4,524 |
| Surface Laptop 3 15 (Intel) | 4,604 |
| Dell XPS 13 2-in-1 | 4,554 |
| HP Spectre x360 13 | 4,261 |
| Surface Laptop 3 15 (AMD) | 4,006 |
| HP Elite Dragonfly | 3,716 |
| LG gram 17 | 4,157 |
| Acer Swift 5 (SF514-54T) | 4,415 |
| Surface Pro 7 (i5) | 3,992 |
| Dell Inspiron 13 7390 2-in-1 | 3,764 |
| Dell XPS 15 7590 | 5,521 |
PCMark 10 measures how well the PC's hardware works together to perform everyday tasks. Nothing out of the ordinary here.
Cinebench
Cinebench (R20) (Higher is better)
| Device | CPU | Range |
| --- | --- | --- |
| Lenovo ThinkPad L13 Yoga | 1,137 to 1,442 | |
| Lenovo Yoga C640 | Core i3-10110U | 924 to 929 |
| Lenovo Yoga C740 15 | Core i7-10510U | 1,415 to 1,613 |
| Lenovo Yoga C740 14 | Core i5-10210U | 1,450 to 1,535 |
| LG gram 17 | i7-1065G7 | 1,079 to 1,199 |
| Acer Swift 5 (SF514-54T) | Core i7-1065G7 | 1,361 to 1,400 |
| Lenovo ThinkPad P53 | Xeon E-2276M | 2,686 to 2,701 |
| Surface Laptop 3 13.5 | Core i5-1035G4 | 1,584 to 1,606 |
| Surface Laptop 3 15 | Core i7-1065G7 | 1,703 to 1,745 |
Running the Cinebench R20 render test multiple times in a row can show how well a laptop deals with heat and thermal throttling. There is a dip in performance that suggests some throttling, though this isn't a laptop that's intended for rendering.
SSD
CrystalDiskMark (Higher is better)
| Device | Read | Write |
| --- | --- | --- |
| Lenovo ThinkPad L13 Yoga | 3,188.82 MB/s | 1,685.61 MB/s |
| Lenovo Yoga C640 | 1,906.78 MB/s | 970.69 MB/s |
| Samsung Galaxy Book Flex | 3,376 MB/s | 2,983 MB/s |
| Dell XPS 13 (9300) | 3,000 MB/s | 1,217 MB/s |
| HP Spectre x360 (Optane) | 2,092 MB/s | 515 MB/s |
| Dell XPS 13 2-in-1 | 2,400 MB/s | 1,228 MB/s |
| HP Elite Dragonfly (Optane) | 2,124 MB/s | 548 MB/s |
| Lenovo Yoga C740 | 3,408 MB/s | 2,982 MB/s |
| LG gram 17 (2020) | 3,477 MB/s | 2,900 MB/s |
| Surface Laptop 3 15 | 2,028 MB/s | 806 MB/s |
| Surface Laptop 3 13.5 | 2,338 MB/s | 1,583 MB/s |
| Acer Swift 5 (SF514-54T) | 1,641 MB/s | 1,025 MB/s |
| Lenovo ThinkPad X1 Extreme (Gen 2) | 3,416 MB/s | 3,016 MB/s |
| Lenovo ThinkPad P53 | 3,567.23 MB/s | 2,813.25 MB/s |
| Lenovo ThinkPad P52 | 3,120 MB/s | 1,551.5 MB/s |
| Dell XPS 15 7590 | 3,000 MB/s | 2,796 MB/s |
| MSI PS63 Modern | 3,300 MB/s | 1,875 MB/s |
The L13 Yoga has a speedy M.2 PCIe SSD that can be upgraded after purchase. It's also available up to 1TB straight from the factory.
What I dislike about the Lenovo ThinkPad L13 Yoga
For the sub-$1,000 asking price, the ThinkPad L13 Yoga has a lot to offer. The 13-inch size is a breeze to carry around, though some people might prefer a larger display for multitasking. As it stands, the FHD display — the only option available from Lenovo — is good but not great. Testing with a SpyderX Pro colorimeter (opens in new tab), I got back 100% sRGB, 77% AdobeRGB, and 79% DCI-P3, all excellent numbers that make for a colorful picture. The contrast is excellent.
The display gets up to 336 nits brightness, and the anti-reflective display helps manage glare. Still, there is some glare to contend with, especially when working in a bright space. Brightness does lower to just 4.1 nits, which makes it a viable option for working late into the night. It's a perfectly manageable display for most productivity work, but it would be nice to have an upgrade option. Even a bump to QHD for a couple hundred dollars more would no doubt be welcomed by a lot of people.
Part of the charm of ThinkPads is their ability to be upgraded. The L390 Yoga predecessor had dual SODIMM slots under the hood for upgrades, but those are removed in the L13 Yoga. RAM is soldered and maxes out at 16GB available from the factory. That's not a bad combination with the U-series CPUs, but I know some people will want the option to upgrade whether they ever actually do or not. There's also a lack of Wi-Fi 6, though that could be coming to some markets later as an option since it is included in some reference documents.
Should you buy the Lenovo ThinkPad L13 Yoga?
The refresh and rename of the L13 Yoga bring a slightly lighter and thinner chassis, thinner bezel, 10th Gen Intel Core hardware, and a webcam shutter for added privacy. Those are all worthwhile updates, and the laptop feels great to use. RAM is no longer upgradeable (though the SSD is), and the FHD display is good but nothing miraculous; if you can look past those qualms, the L13 Yoga is an affordable way to get your hands on ThinkPad features.
The keyboard is outstanding, and anyone typing all day shouldn't have an issue, the chassis is well-built and durable, and the generous collection of ports makes it easy to connect all your peripherals. The docked ThinkPad Pen Pro offers a natural way of sketching or jotting down notes, and performance will keep up with productivity work and photo editing. Thanks to a rather deep customization, the L13 Yoga should appeal to both bulk buys and casual users who just want a solid business partner at a competitive price.
The convertible feature isn't necessarily one you need to pay extra for, either. If you don't foresee yourself using the PC as a tablet, you can always check out the non-convertible ThinkPad L13 (opens in new tab).
Budget Business Convertible
Out with the L390 Yoga, in with the L13 Yoga

It's not a huge refresh, but slimmer bezel, lighter and thinner chassis, and 10th Gen Intel Core CPU options make this mid-range ThinkPad a tempting option for those who need a convertible business partner.
Cale Hunt is a Senior Editor at Windows Central. He focuses mainly on laptop reviews, news, and accessory coverage. He's been reviewing laptops and accessories full time since 2016, with hundreds of reviews published for Windows Central. He is an avid PC gamer and multi-platform user, and spends most of his time either tinkering with or writing about tech.
Windows Central Newsletter
Get the best of Windows Central in in your inbox, every day!
Thank you for signing up to Windows Central. You will receive a verification email shortly.
There was a problem. Please refresh the page and try again.