Lenovo Yoga C640 review: Does a move away from ARM work for this convertible?
A move to 10th Gen Intel hardware is in the books for the refreshed Yoga C640. Is it a smart choice?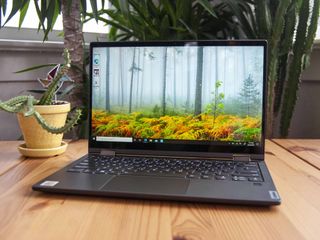 (Image credit: Windows Central)
Lenovo's Yoga C630, which we reviewed late 2018, got high marks for its convertible design, excellent battery life, and LTE connectivity. It was an ARM-based device running on a Snapdragon 850 processor (CPU) and 8GB of RAM, which, at the time, made it rather powerful in this category of devices. It was compared as a cheaper alternative to the Samsung Galaxy Book2, another hot ARM-based device at the time.
Lenovo has refreshed the C630 with the C640 I've been using for the last week. Instead of running on ARM, it has moved to 10th Gen Intel Core "Comet Lake" CPUs. Also gone, unfortunately, is LTE connectivity for staying in touch with cellular data instead of Wi-Fi. A lot has otherwise remained the same with a few tweaks here and there. Is it still worth the bargain price?
If you're interested in buying this laptop, be aware that Black Friday is fast approaching. This sale generally sees laptop prices cut down, and the Yoga C640 might be included. Just be aware that Lenovo often offers deep discounts at its own site; a model with 10th Gen Core i7-10510U CPU, 8GB of RAM, and 512GB SSD is currently about $860. If you're browsing Black Friday sales, be sure you get similar or more hardware at a better price before making a final decision.
Bottom line: The Yoga C640 is still a well-built, well-performing convertible laptop that's available at a very tempting price. It doesn't offer all the same features as its C630 predecessor (like LTE connectivity and dual USB-C), but it's still a great alternative to more expensive 13-inch convertibles on the market.
For
Great typing and pointing experience
Feels and looks like a premium build
Size and weight suitable for a tablet
Stellar battery life
Strong performance from 10th Gen Intel CPUs
Against
LTE is no longer an option
USB-C charging would be preferable
Audio could be better despite top-firing speakers
Some odd fan behavior
Lenovo Yoga C640 at a glance
Lenovo supplied Windows Central with a review unit of the Yoga C640, with 10th Gen Intel "Comet Lake" Core i3-10110U CPU with two cores and a turbo frequency up to 4.1GHz. Backing up the CPU is 8GB of DDR4-2400MHz RAM that is soldered to the board (no option for upgrades) and a 128GB M.2 PCIe solid-state drive (SSD). It uses a small 2242 M.2 format that can be upgraded, but not to something larger like the 2280 size.
This is the baseline model that Lenovo has to offer, starting at about $630. That's a stellar price even for the relatively low-end hardware inside, as we will see when it comes to features and build quality.
Lenovo allows you to customize the Yoga C640 to your liking at checkout, currently offering up to a 512GB SSD and 10th Gen Intel Core i7-10510U CPU. This high-end model tops out at about $910 before any of the frequent Lenovo coupons and sales.
Here's a detailed breakdown of the exact specs found in the Yoga C640 I tested for review.
Swipe to scroll horizontally
Category
Spec
OS
Windows 10 Home
Processor
10th Gen Intel
Intel Core i3-10110U
Dual-core
Up to 4.1GHz
RAM
8GB DDR4-2666MHz
Soldered
Graphics
Integrated
Intel UHD Graphics
Storage
128GB M.2 2242 PCIe (x2) SSD
Display
13.3 inches
1920x1080 (FHD)
IPS, touch
300 nits
Active pen
Optional
Ports
USB-C 3.1
Two USB-A 3.1
3.5mm audio
Audio
Dual 2W top-firing speakers
Dolby Atmos
Wireless
Intel Wireless 9560
802.11ac (2x2)
Bluetooth 5.0
Camera
Front-facing 720p
Security
Fingerprint reader
Webcam TrueBlock shutter
Battery
60Wh
45W AC adapter
Dimensions
12.05 x 8.05 x 0.67 inches
(306mm x 204.48mm x 16.95mm)
Weight
From 2.98 pounds (1.35kg)
Color
Iron Gray
What I love about Lenovo's Yoga C640
Compared to the Yoga C630, the C640 is a bit thicker at 0.67 inches (16.95mm) compared to 0.49 inches (12.5mm). It's also heavier at 2.98 pounds (1.35kg) compared to 2.65 pounds (1.2kg). However, thanks to the chin bezel being shrunk down to better fit the 16:9 display, the laptop isn't quite as deep. That means the palm rests are about a half-inch less spacious, but I didn't find it to be an issue when typing.
Whereas the Yoga C630's lid was aluminum and base was magnesium alloy, the C640 employs an aluminum lid and PC plastic with a glass fiber blend for the base. It's plenty sturdy, and it's finished with an iron-gray "sandblasted" coating that feels a lot like the soft-touch type Lenovo uses on the ThinkPad lineup. It's smooth to the touch and overall just a lot more comfortable to hold compared to something like the all-aluminum Yoga C740.
Image 1 of 2
The backlit keyboard stretches from edge to edge, leaving just enough space on either side for dual top-firing 2W speakers. Like the C630, audio is still a bit flimsy despite Dolby Atmos. Sound is clear and unmuffled (especially when in notebook mode), but it's not as deep or full as larger Ultrabooks. Typing is stellar with full-size Shift, Ctrl, Tab, and Backspace keys. There's plenty of key travel despite the thin chassis, and keys are spaced appropriately. The only thing to note is that the up and down arrow keys are compressed into the size of a single regular key.
Just below the keyboard is a fingerprint reader embedded into the palm rest. It works with Windows Hello for extra security. Lenovo's trend of putting an unobtrusive webcam shutter into its laptops continues here. The 720p camera is nothing miraculous but gets the job done for video conferencing, something especially important while many people are working from home. The Precision glass touchpad is sized appropriately for the device and tracks perfectly.
The C640 is perfectly sized to be a convertible that can convert into tent, stand, and tablet modes. It's not too heavy or thick to be held as a tablet, and the narrow bezel that remains prevents accidental touches. The power button has been repositioned and set into the chassis edge to prevent unwanted presses when the tablet is held in two hands. You can add Lenovo's Active Pen 2 for about $70; the review unit didn't include one so I can't comment on how well it inks. However, the pen offers 4,096 levels of pressure sensitivity and two customizable buttons.
The touch display is rather basic with only an FHD option, but that's sort of expected at this price. It is considered "anti-glare" to help with the glossy finish, but at a maximum 305-nits brightness, there are still some issues with working in a sunlit room. I had brightness cranked up above 85% when working during the day. It does lower down to just 2.9 nits brightness, though, making it ideal for late-night viewing even without Windows 10's night light feature.
I tested brightness and color with Datacolor's SpyderX Pro and came away with 100% sRGB, 80% AdobeRGB, and 81% DCI-P3 coverage. It's a great looking panel despite the average brightness, and it will do the trick for work or media.
I used the Yoga C640 for everyday productivity work for a few days, including word processing, heavy web browsing, video streaming, and email. Even with the low-end Core i3-10110U CPU, it handled everything efficiently. I didn't get into photo editing or gaming — if those are on your list and you're firm on this laptop, you'll want to consider upgrading to a Core i5 or Core i7 version. Even then, something with Intel's Ice Lake integrated Iris Plus graphics or a dedicated GPU will make a lot more sense. Have a look at our roundup of the best Windows laptop options for more buying advice.
One of the shining features that have carried over from the Yoga C630 is battery life. The 60Wh battery is rather large for a laptop this size with this level of hardware, and I clocked just less than 14 hours from PCMark10's Modern Office battery test. That's slightly less than the 15 hours seen in the C630, but 14 hours is still above average and figures out to about 11 or 12 hours of regular usage. If you'd like to head out in the morning to the office or elsewhere, you won't have to worry about hauling the (albeit small) AC adapter with you.
I ran some synthetic benchmarks to see exactly how the Yoga C640 measures up against other laptops we've recently reviewed.
CPU
Geekbench 5.0 Benchmarks (Higher is better)
Swipe to scroll horizontally
| Device | CPU | Single core | Multi core |
| --- | --- | --- | --- |
| Lenovo Yoga C640 | i3-10110U | 1,015 | 2,111 |
| Lenovo Yoga C740 15 | i7-10510U | 1,229 | 3,531 |
| Lenovo Yoga C740 14 | i5-10210U | 1,094 | 3,767 |
| Dell XPS 13 (9300) | i7-1065G7 | 1,284 | 4,848 |
| LG gram 17 (2020) | i7-1065G7 | 1,208 | 3,349 |
| Acer Swift 5 (SF514-54T) | i7-1065G7 | 1,202 | 3,600 |
| Surface Pro 7 | i7-1065G7 | 1,205 | 4,852 |
| Surface Laptop 3 13.5 | i5-1035G7 | 1,177 | 4,413 |
| Dell XPS 13 2-in-1 7390 | i7-1065G7 | 1,209 | 3,571 |
| Dell XPS 15 7590 | i9-9980HK | 1,176 | 7,624 |
Single-core score here is where it should be, and due to just two cores (compared to four or six from most other CPUs in the list), the multi-core score is lower. Still, the C640 held up under rather vigorous productivity work. Comparing Geekbench 4 scores, the C630's Snapdragon 850 scored 2,287 and 7,215, while the C640's Core i3 scored 4,444 and 8,376. When emulating the x86 app, the Snapdragon 850 managed just 1,345 and 3,560.
PCMark
PCMark 10 Express
Swipe to scroll horizontally
| Device | Score |
| --- | --- |
| Lenovo Yoga C640 | 4,008 |
| Lenovo Yoga C740 15 | 5,302 |
| Lenovo Yoga C740 14 | 4,941 |
| Dell XPS 13 (9300) | 4,524 |
| LG gram 17 | 4,157 |
| Acer Swift 5 (SF514-54T) | 4,415 |
| Surface Pro 7 (i5) | 3,992 |
| Surface Laptop 3 15 (AMD) | 4,006 |
| Dell XPS 13 2-in-1 (7390) | 4,427 |
| Dell Inspiron 13 7390 2-in-1 | 3,764 |
| Dell XPS 15 7590 | 5,521 |
| Dell Precision 3541 | 3,906 |
A respectable score here from a test that measures how well a PC's hardware works together to accomplish regular work. Despite just a Core i3 CPU, the C640 scored better than other laptops with better hardware.
Cinebench
Cinebench (R20) (Higher is better)
Swipe to scroll horizontally
| Device | CPU | Range |
| --- | --- | --- |
| Lenovo Yoga C640 | Core i3-10110U | 924 to 929 |
| Lenovo Yoga C740 15 | Core i7-10510U | 1,415 to 1,613 |
| Lenovo Yoga C740 14 | Core i5-10210U | 1,450 to 1,535 |
| LG gram 17 | i7-1065G7 | 1,079 to 1,199 |
| Acer Swift 5 (SF514-54T) | Core i7-1065G7 | 1,361 to 1,400 |
| Lenovo ThinkPad P53 | Xeon E-2276M | 2,686 to 2,701 |
| Surface Laptop 3 13.5 | Core i5-1035G4 | 1,584 to 1,606 |
| Surface Laptop 3 15 | Core i7-1065G7 | 1,703 to 1,745 |
Running the Cinebench R20 render test multiple times in a row can show how well a laptop deals with heat and thermal throttling. No issues here from the dual-core CPU, though the quad-core CPU might see different results due to such a small fan inside.
SSD
CrystalDiskMark (Higher is better)
Swipe to scroll horizontally
| Device | Read | Write |
| --- | --- | --- |
| Lenovo Yoga C640 | 1,906.78 MB/s | 970.69 MB/s |
| Lenovo Yoga C740 15 | 1,442.30 MB/s | 357.40 MB/s |
| Lenovo Yoga C740 14 | 3,408 MB/s | 2,982 MB/s |
| LG gram 17 (2020) | 3,477 MB/s | 2,900 MB/s |
| Surface Laptop 3 15 | 2,028 MB/s | 806 MB/s |
| Surface Laptop 3 13.5 | 2,338 MB/s | 1,583 MB/s |
| Acer Swift 5 (SF514-54T) | 1,641 MB/s | 1,025 MB/s |
| Lenovo ThinkPad X1 Extreme (Gen 2) | 3,416 MB/s | 3,016 MB/s |
| Lenovo ThinkPad P53 | 3,567.23 MB/s | 2,813.25 MB/s |
| Lenovo ThinkPad P52 | 3,120 MB/s | 1,551.5 MB/s |
| Dell XPS 15 7590 | 3,000 MB/s | 2,796 MB/s |
| MSI PS63 Modern | 3,300 MB/s | 1,875 MB/s |
Inside is a Samsung SSD way faster than what was in the C630 (which scored around 791 MB/s read and 220 MB/s write). I also ran PCMark 10's SSD test and came back with a score of 1,224.
What I dislike about Lenovo's Yoga C640
Other than the middling audio and so-so webcam I already mentioned — both things I can live with — I must talk about port selection. The Yoga C630 featured dual USB-C ports (one reserved for charging) alongside dual USB-A, a 3.5mm audio jack, and a SIM slot. The Yoga C640 has been pared down to just one USB-C, with charging instead of going through a barrel slot. No, you cannot use the USB-C port on the right side for charging. It would have been nice to see the dual USB-C ports make a return here, especially considering how long the battery lasts and the options for alternate connectivity without a charger attached.
Finally, the fan behavior is notable. Even with Lenovo's Intelligent Cooling feature disabled in the Vantage app, it seemed to kick on and off way too frequently, sometimes spinning up and down 40 times in a minute under low load. With the PC being pressed, it turns on and stays on as it should, which is far less noticeable. At least it's quiet, so if you're not in an otherwise silent room, you likely won't hear it. Still, it's an issue that should be fixed.
Should you buy Lenovo's Yoga C640?
The Yoga C640 sits among some tough 13-inch convertible competition, including premium options like the HP Spectre x360 13 and Dell XPS 13 2-in-1. That's where most people begin their search, and both devices toe the line of being perfect PCs. Despite competitive pricing, however, they're out of budget range for a lot of people. That's where a truly budget option like the C640 excels.
It doesn't quite have all the same magic as the C630 predecessor, but it still nails the basics. Typing and pointing are comfortable, the display is colorful and is inking-compatible, and it's built to a high standard that's not always evident with a device at this cost. Lack of LTE is a shame because it helped make the C630 something special for those always on the move. LTE was included in the features when the C640 was first revealed, but it has since gone by the wayside in North America. Lenovo does say it expects LTE is some other regions at some point.
The performance is stellar. Even with the low-end Core i3 model, I was able to handle rather heavy productivity and multitasking. It easily beats out the Snapdragon 850 that was in the Y630, and you won't have to worry about emulating x86 apps at reduced performance. Just don't expect to upgrade RAM or an SSD with anything larger than the M.2 2242 format.
Altogether the Yoga C640 isn't a perfect 13-inch convertible, and there were some cut corners to keep the cost down, but it's still a solid option available at a great price that the premium options just can't touch. If you need a productivity machine with inking, it should undoubtedly be considered.
Great Value Convertible
Awesome for productivity
No LTE is a shame, but the C640's 10th Gen Intel hardware ups performance, and you still get all-day battery life.
Get the Windows Central Newsletter
All the latest news, reviews, and guides for Windows and Xbox diehards.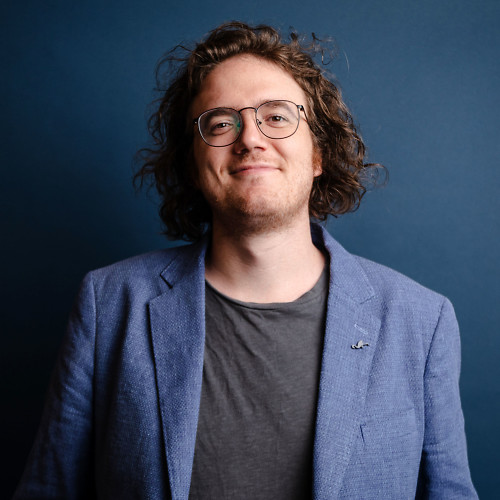 Senior Editor, Laptop Reviews
Cale Hunt is formerly a Senior Editor at Windows Central. He focuses mainly on laptop reviews, news, and accessory coverage. He's been reviewing laptops and accessories full-time since 2016, with hundreds of reviews published for Windows Central. He is an avid PC gamer and multi-platform user, and spends most of his time either tinkering with or writing about tech.