Lenovo's Yoga 2 11-inch hybrid goes on sale in the US for only $549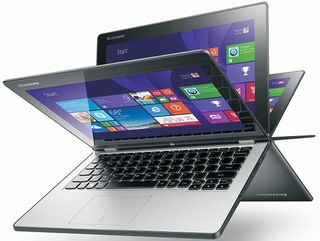 Out of all the Windows hybrid machines we have been able to get our hands on, Lenovo's line of YOGA machines still sit among the best. The company's current YOGA 2 Pro is an excellent unit, but with its $999 price tag, it can be out of reach for some. In a world where cheap Windows laptops reign supreme and Google Chromebooks at $249 look like a good option for some, we really need a truly great, yet affordable, Windows 8 machine – enter the Lenovo YOGA 2.
Lenovo's latest creation, the Lenovo YOGA 2, is the baby version of the larger Lenovo YOGA 2 Pro. If you have not caught on yet, Lenovo is realizing that Apple's idea to simplify laptop names is a great one. Each YOGA will be named as such, but with a number applied to label the generation (in this case, it is generation '2'). The "Pro" label will then be added to the top model machine aimed at those looking to spend a bit more for luxury.
The YOGA 2 Pro may start at only $549, but that price is not without compromise; at the moment, the only two available units include either an Intel Celeron or Intel Pentium processor with 4 GB of RAM and a 500 GB 5400 RPM hard drive. While an Intel Pentium processor is not going to be the best for heavy users, the average web surfing and document writing consumer should find it perfectly adequate. Speaking of document writing, the Lenovo YOGA 2 includes a full version of Office Home and Student 2014 – no extra purchase needed.
<
The unit's 11.6-inch LCD panel has also been downgraded compared to its bigger brother, the HD display caries a resolution of 1366 x 768 with 10-point multi touch (this is in contrast to the YOGA 2 Pro, which carries a 3200 x 1800 super HD display).
The Lenovo YOGA 2 is simply a smaller and less powerful version of the YOGA 2 Pro, but we forecast excellent sales for this little $549 machine. As a bonus, Lenovo will also offer the model in three distinct colors – silver, black, and orange (so pick your favorite!).
You can click here (opens in new tab) to head over to Lenovo's web store and look around. In addition, if you are simply looking for a great 8-inch Windows 8 tablet, you can check out the new ThinkPad Tablet 8 that was released today.
What do you think about Lenovo introducing a cheaper YOGA machine for the budget market?
Source: Lenovo (opens in new tab)
Windows Central Newsletter
Get the best of Windows Central in in your inbox, every day!
Intel Pentium Processor? Huh? Is this 1993? (Wow that was 21 years ago, man do I feel old) I didn't know there was a "new" Intel Pentium Processor. Where does this fit within the Atom and Core lineup?

Above the Atom series, but below the Core series. (we know, it sounds dated) http://www.intel.com/content/www/us/en/processors/pentium/pentium-processor.html

Wow I didn't know there was enough room between the Bay trail Atom and the Core i3 to fit another processor in there.


What's really confusing about the new Pentium CPU is that they're going to use Pentium branding for both Bay Trail (current Atom architecture) and Haswell (current Core i-series architecture) devices. And at the same time, they're also using Celeron branding for both Bay Trail and Haswell devices as well. So the Intel branding is a bit of a mess in the mid-range. For this specific PC, the Celeron and Pentium devices are both Bay Trail based.

Good grief... Pentium and Celeron... feels like the 90's all over again.


I love the yoga 2 pro that I have. Nice 13.3" high resolution display, i5 processor, solid state drive...super fast and responsive. All the things this one does not have....

And thus you are a "Pro" user and this laptop is not aimed at you (or most of us here). :)

You got it. I have a surface pro which is nice but as a laptop 10 inches is too small. 13 inch is better with the yoga 2 pro.

Hey dbgman, I'm in the market for a Yoga and wanted to know how it handles games... do you play games with your Yoga, and how does it handle? I'm of course not expecting it to run the latest and more graphics intensive titles, but still would like to know if you have any experiences on that side.

Wish they had some good sales in NZ

LOVE my Yoga 2 Pro, but am a little disappointed about this one. I understand trying to keep the cost down, but they really could have done a bit better with the resolution on the display and at least a 7200RPM drive. The 5400 drives really slow the overall system down, especially for things like waking from sleep/hibernation.

Trust me, I understand what you are saying - but the 5400rpm is a necessity. On these super thin form factor machines, 7200 RPM drives aren't really an option unless you want to shell out the money. You see SSDs on almost all Ultrabooks now because they can fit into the thin case with ease. HDDs are a bit harder to squeeze inside and when they do so, it is usually 5400rpm.


I haven't looked at the physical dimension differences between 5400/7200 RPM 2.5" drives, so if there is a thickness difference I was not aware of then I guess it makes sense, still not excited about it. =)

I wish I could find a current and powerful tablet with good battery life for $500. Too cheap to spend anymore than that :)

Spinning hard drives should be banned from convertible tablets.

Yea I purchased a yoga 1, for cheaper than this on their outlet website...this is a horrible deal.

18% of the pixels for 55% of the cost. Oh well, long live 1366x768 ... right?

whats up with all this tiny machines, where are the 17"+ men laptops? im still waiting for a 15-17" surface tablet and if that size is hard to find even on laptops nowdays then im screwed

Who wants the weight and poor battery life of laptops that large? It's a niche market. 13 inches is a plenty big laptop/tablet for the masses, especially as a touchscreen 2-in-1, where a larger display just means everything is farther apart.

I want the one in the picture with 5 screens.

Love my Yoga 13 i7, its a great dev machine, and the touch screen works nice with the phone emulator too.

This is fine and all, but not for me... is Lenovo giving any hints on when they are going to upgrade the specs on the 11s line for Haswell?

When I was looking at the Yoga Pro 2, I was tempted to wait and see if they were going to come out with an 11-inch version. I didn't wait, and I am thrilled with the Yoga Pro 2, and seeing the specs for the Yoga 2, I'm glad I didn't wait. I can see Lenovo needing to get the price point down, but I will soon have a smart phone with a higher resolution display than the Yoga 2, and I need the speed of Haswell and SSD. But for the masses this is probably powerful enough. If the build quality matches the Yoga 2 Pro, I think they will sell a lot of these.

Just be aware that, a lot of the Ideapad Yoga laptops have had notorious wifi connectivity problems. Just Google for Ideapad, Yoga, and wifi issues, and you'll see multiple user forum posts with complaints. From what I understand, it's a hardware issue; since the screen bends both ways, Lenovo apparently routed the wifi antenna through the keyboard and palm rest, so whenever you're typing, people would get connection drop outs.

I would spend the extra money and get the updated Yoga 11s at BestBuy, it has a core i5 Haswell and SSD. A number of owners have made positive comments in the forums.

Celeron ? I feel like I'm back shopping for my first laptop lol

You can keep the 500gb hard drive im gonna buy me a 250gb samsung evo for 120$ and apparently the lenovo yoga 2 11 will also be available with the the haswell i5 4210Y!

The Yoga 2 11 now has two more processing system the I3 and I5
Windows Central Newsletter
Thank you for signing up to Windows Central. You will receive a verification email shortly.
There was a problem. Please refresh the page and try again.