Lenovo's Yoga 2 11-inch hybrid goes on sale in the US for only $549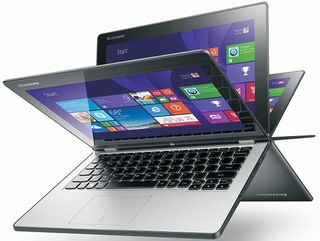 Out of all the Windows hybrid machines we have been able to get our hands on, Lenovo's line of YOGA machines still sit among the best. The company's current YOGA 2 Pro is an excellent unit, but with its $999 price tag, it can be out of reach for some. In a world where cheap Windows laptops reign supreme and Google Chromebooks at $249 look like a good option for some, we really need a truly great, yet affordable, Windows 8 machine – enter the Lenovo YOGA 2.
Lenovo's latest creation, the Lenovo YOGA 2, is the baby version of the larger Lenovo YOGA 2 Pro. If you have not caught on yet, Lenovo is realizing that Apple's idea to simplify laptop names is a great one. Each YOGA will be named as such, but with a number applied to label the generation (in this case, it is generation '2'). The "Pro" label will then be added to the top model machine aimed at those looking to spend a bit more for luxury.
The YOGA 2 Pro may start at only $549, but that price is not without compromise; at the moment, the only two available units include either an Intel Celeron or Intel Pentium processor with 4 GB of RAM and a 500 GB 5400 RPM hard drive. While an Intel Pentium processor is not going to be the best for heavy users, the average web surfing and document writing consumer should find it perfectly adequate. Speaking of document writing, the Lenovo YOGA 2 includes a full version of Office Home and Student 2014 – no extra purchase needed.
<
The unit's 11.6-inch LCD panel has also been downgraded compared to its bigger brother, the HD display caries a resolution of 1366 x 768 with 10-point multi touch (this is in contrast to the YOGA 2 Pro, which carries a 3200 x 1800 super HD display).
The Lenovo YOGA 2 is simply a smaller and less powerful version of the YOGA 2 Pro, but we forecast excellent sales for this little $549 machine. As a bonus, Lenovo will also offer the model in three distinct colors – silver, black, and orange (so pick your favorite!).
You can click here to head over to Lenovo's web store and look around. In addition, if you are simply looking for a great 8-inch Windows 8 tablet, you can check out the new ThinkPad Tablet 8 that was released today.
What do you think about Lenovo introducing a cheaper YOGA machine for the budget market?
Source: Lenovo
Get the Windows Central Newsletter
All the latest news, reviews, and guides for Windows and Xbox diehards.