The Lenovo Yoga 720 is the 15-inch GTX 1050 convertible you didn't know you wanted
By Derek Kessler last updated
Lenovo is going big with the Yoga 720. Real big.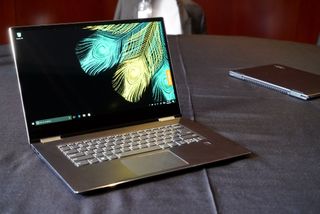 Lenovo Yoga 720
Convertible laptops have by-and-large settled into the 10-to-13-inch range, with a few 14-inchers scattered about. Much larger than that and it becomes awkward to use as a tablet. But don't tell that to Lenovo and their new Yoga 720. Coming in 13-inch and 15.6-inch sizes, the updated convertibles pack the latest chipsets and all of the little features we've come to love and expect.
We're talking a processor specced up to an 7th-gen Kaby Lake Intel Core i7, up to 16GB of RAM, and varying SSD and HDD storage options depending on the model. They're also packing Windows Hello-compatible fingerprint readers (no IR facial recognition cameras, though) and a USB-C + Thunderbolt 3 port. The nicest bit is in the 15-inch version: an NVIDIA GTX 1050 GPU — the best graphics card you'll find in a convertible laptop. Gaming on a convertible? Now you can. If the 13-inch Yoga 720 is more your style, then you'll have to settle for the still-decent Intel HD Graphics 620 GPU.
Both are equipped with 10-point touchscreens with support for Lenovo's Wacom-based Active Pen 2 (but not their Any Pen "whatever stylus you want even a knife will do" tech), as well as Precision touchpads. Lenovo has also listened to the ongoing complaints about their shifting and non-standard keyboard layouts and equipped both sizes with keyboards that have properly-sized and positioned keys across the board. Color us happy.
Category
Yoga 720-13
Yoga 720-15
Screen Size
13-inch
15.6-inch
Resolution
1920x1080 or 3840x2160
1920x1080 or 3840x2160
CPU
up to Intel 7th-gen Core i7
up to Intel 7th-gen Core i7
GPU
Intel HD Graphics 620
NVIDIA GTX 1050
RAM
up to 16GB
up to 16GB
Storage
up to 1TB SSD
up to 1TB HDD or 512GB SSD
Windows Hello
Fingerprint reader
Fingerprint reader
Camera
720p
720p
Battery
up to 8 hours (FHD)
up to 7 hours (4k)
up to 9 hours (FHD)
up to 8 hours (4k)
Ports
2x USB-C (1 Thunderbolt 3)
1x USB-A 3.0
3.5mm headphone/mic combo
1x USB-C/Thunderbolt 3
2x USB-A 3.0
3.5mm headphone/mic combo
Size
12.2 x 8.38 x 0.56 inches
(210 x 213 x 14.3mm)
14.33 x 9.5 x 0.74 inches
(364 x 242 x 19mm)
Weight
2.86 lbs (1.3kg)
4.4 lbs (2.0 kg)
Both are nice, solid laptops with narrow bezels on the top and sides of the displays and metal bodies. But the GTX 1050's power and thermal management needs had a profound and unfortunate side effect with the 720-15: it's heavy and it's thick. Closed, the Yoga 720-15 measures a beefy 0.74 inches from top to bottom. While that's not bad for a GTX 1050-equipped 15-inch laptop, keep in mind that this is a convertible — the screen flips around a full 360 degrees and is meant to be held and used like a tablet. Three quarters of an inch is mighty thick for that. And to power that GTX 1050 and get the advertised 9 hours of battery life you need to fill that thick tablet with lithium ion battery cells, so the Yoga 720-15 also weighs in at 4.4 pounds. Not heavy for a 15-inch GTX 1050 laptop, but exceptionally heavy for a tablet.
That said, I still really want to spend more time with this laptops. 15-inch convertibles are a rare breed — the only real competition here is the HP Spectre x360 15-inch, which despite its thorough refresh just two months ago at CES 2017 had a year-old GTX 940M GPU. HP's convertible sits in the same size and weight classes, just a bit thinner and barely lighter.
The Lenovo Yoga 720 is launching in April; the 13-inch version will start at $859.99, while the Yoga 720-15 will start at $1099.99.
Lenovo Yoga 520
The 500-series Yoga line has also received an update, bringing the latest 7th-gen Intel Core i7 processors, GTX 940MX graphics, and an assortment of storage options to the 14-inch convertible.
Lenovo has slimmed down the 14-inch convertible from the 510's chassis, mostly trimming in the bezels around the full HD display. Aside from the addition of the fingerprint sensor and USB-C port (alas, no Thunderbolt 3 here).
Category
Lenovo Yoga 520
Screen Size
14-inch
Resolution
up to 1920x1080
CPU
up to Intel 7th-gen Core i7
GPU
NVIDIA GTX 940MX
RAM
up to 16GB
Storage
up to 1TB HDD or up to 512GB SSD or 128GB SSD + 1TB HDD
Windows Hello
Fingerprint reader
Camera
720p
Battery
up to 10 hours
Ports
2x USB-C
2x USB-A 3.0
3.5mm headphone/mic combo
HDMI
SD card slot
Size
12.99 x 9.25 x 0.78 inches (330 x 235 x 19.9mm)
Weight
3.85 lbs (1.75kg)
The Yoga 520 is further down the chain from the 700-series (which is itself lesser than the flagship 900-series Yoga convertibles). As such, it's no surprise that it's a bulky and heavy thing, even if it's still reasonably capable. It's just not fancy. If it feels like your thing, you'll be able to grab one starting in May for $799.99 (in the U.S. it'll be known as the Lenovo Flex 5).
Lenovo Miix 320
A small, cheap, Windows 10 tablet with a detachable keyboard. That's the Lenovo Miix in a nutshell. This $200 2-in-1 has a 10.1-inch FHD display and runs on an Intel Atom X5 processor. If you're expecting that it's not a barn-stormer or head-turner, then you would be correct. But it's also not that bad — especially for the price.
Category
Lenovo Miix 320
Screen Size
10.1-inch
Resolution
1920x1080
CPU
Intel Atom X5
GPU
Intel HD Graphics
RAM
up to 4GB
Storage
up to 128GB eMMC
Battery
up to 10 hours
Ports
2x USB-C
2x USB-A 3.0
3.5mm headphone/mic combo
HDMI
SD card slot
Thickness
Tablet: 9mm (0.35 inches)
With base: 0.68 inches (17.5mm)
Weight
2.24 lbs (1.02kg)
The Miix 320 attaches magnetically to a solid hinged base, transforming the tablet into something that's more of a laptop. The magnetic attachment is relatively strong, taking not inconsiderable force to remove the tablet from the base. With a starting price of $199.99, this clearly isn't a premium tablet, and the design reflects that. It's a chunky body with spacious bezels and underwhelming specs. But for $200 I wouldn't expect much more. Interested customers will be able to buy one in April 2017, or in July if they want one with Lenovo Active Pen support.
Derek Kessler is Special Projects Manager for Mobile Nations. He's been writing about tech since 2009, has far more phones than is considered humane, still carries a torch for Palm, and got a Tesla because it was the biggest gadget he could find. You can follow him on Twitter at @derekakessler.
I think for 13" the HP Spectre x360 looks better and is available now. Has Windows Hello via camera too which is cooler than fingerprint. For 15" this is better if you want a portable gaming PC though.

Will there be a quad-core option? Or just Dual for all of them?

Quad core would be too good to be true. This is so close to the perfect laptop for me.

Same here, a 1050 is plenty for most of the games I play but unfortunately my school requires a 2in1 with a stylus so that rules out most good options such as the XPS 15 and Razer Blade. This however is just perfect, it even has a nice active stylus. I had been looking at the ThinkPad X1 Yoga which is also very nice but with this one being cheaper and having better graphics this is a much better option. Apparently there is a rumour that this has a 7700-HQ, but Lenovos website just says 7th gencore i7.

Soon it'll be Ryzen on many laptops,that's what I'm waiting to see

Damn... Including a 1050 makes this thing very appealing. Wish HP had included a 1050 in the new Spectra 360. Looking forward to seeing some reviews.

Agreed. Or at least a 960m

With Ryzen launching, I wouldn't dare touch anything with an Intel in the near future. Maybe a Surface Pro 5 if I would be able to sell it an year later.

Seems it is non-touch so can only use it with your pen and not with fingers. Am I right? Or is the same as the Thinkpad X1 Yoga?

Believe or not Im the consumer who will buy a 15.6 inch 2 in 1. I been waiting for a 2 in 1 that has discrete graphics, but passed on Spectre x360 cause it's battery drain when off issues and no 4 PCIe lanes on thunderbolt 3 port. Based off the specs, and if the 720 doesn't have those 2 issues, then I'll be buying the 15.6 with the 1050 GPU and 4K display. It's gonna be sweet! Also if the editors and others are wondering I want the tablet form just to be able to take advantage of Windows 10's mobile platform. Of course I'm not going to be trying to hold this 4.4 pound thing with 1 hand as a tablet. That'd be pretty damn hard without dropping it. When I use the tablet form it will be on my lap while I'm on the couch or in bed or sitting somewhere. So now you guys know a consumer for this device exists. ;-) If Lenovo didn't have the 4 PCIe lanes on the Thunderbolt 3 then I will just have to give up on a 2 in 1 option and go for a Razer Blade 14.

Lenovo makes some crappy products. My experience. Dell definitely better.

Eh, have you tried the XPS 15? Sheesh what problems for a $2500 laptop. Sound popping, latency issues, keys not registering, issues with cooling fans, on-and-on. Unfortunately there is not quality laptop manufacturer anymore in addition to Apple. All others are hit-and-miss depending on model.

I think, these days,
Lenovo=Innovation +hard work
HP=Innovation+1/2hardwork
Dell=1/2(innovation+hardwork)

I definitely agree with the 1/2 hardwork claim on HP. While HP has made really amazing 2 in 1 products that have changed the entire laptop market, they have made a major mistake. They all drain 8-16% battery per DAY when turned OFF. It's been an issue since the late 2015 model and it exists in the new models. To see HP not only ignore fixing it for over a year on the existing models but continue to make new models with the same model despite 50+ pages of complaints of the issue on HP forums shows HP is not listening or caring. I'd choose a Dell XPS product if it wasn't for a bottom mounted webcam. So because of the batter issue with HP and webcam issue with Dell, it's forced me to look at Lenovo or if all fails look at a Razer Blade 14.

If I wanted a gaming laptop I'd get a proper one, not the 720.

But there are no gaming tablet/convertibles. Just big ass, heavy laptops.

My Dell Inspiron 5578 is 15.6" laptop with Ultrabook class CPU (dual core Intel Core i7 5500U) which makes my laptop very lightweight, but it also comes with discrete GPU (AMD Radeon R7 M270 with 4GB DDR3) its a low end GPU but at least it can load games on low settings, something that normal ultrabooks can't do with Intel on board crappy graphics. So in conclusion, I'd say this idea of having a 2 in 1 with discrete GPU is great idea for some people.

Well, maybe this is the one that's next for me to try. Over the past few months, I've tried: HP Spectre x360 (13-w023dx) - I actually tried 5 (FIVE!) of them, but all but one had trackpad issues (the one with an okay trackpad had USB-C issues). I'm done with HP. HP ENVY x360 (13-y013cl) - Had the same trackpad issues and various other problems. ASUS Q324UA - Its trackpad was fine, but everything else (keyboard, build quality, fingerprint-magnet finish, etc.) was subpar. Dell Inspiron 7000 (I7378-4314GRY) - ALSO has a loose trackpad, primarily in the lower-right portion. What the actual **** is wrong with everyone? I can't believe the quality control that these non-Apple manufacturers are having. The lack of quality control is unacceptable given the prices of the laptops - even the sub-$1,000 Dell. And that leaves the new Yoga 720. I came to really enjoy using the IR / facial recognition login feature of the Spectre x360, but think I'd be fine with a fingerprint reader on the Yoga 720. But if this one also has quality problems, I guess it's back to Apple...

i love this but lenovo where is the HDMI jack and micro SD card slot i mean no memory card slot ... thundebolt cant do HDMI and im sure they are not going to give an adapter in the box but damn? ... is it just me or they could have put in anumber pad as it seems like wasted space smh ... but i def want one if the price works out better than a XPS

That 15 inch lennovo yoga tablet looks nice (thats a first time for me)

Finally, a 2-in-1 that has discrete graphics! Yoga 720 looks great! I've been searching for a device that combines pen and art capabilities with mobile gaming. The 15 inch model appears to let me create digital art and game on the go. Most of the time I'll be at a table or desk so the weight is not a problem. I do hope we see more machines like the 720. Intel Graphics are not sufficient. If the rumors of a quad-core are true then that's also a big deal. I was going to wait for Ryzen mobile, but Lenovo might win me over. This is the leap forward in performance we've been needing in the 2-in-1 market.

Is the i7 the quad core or the dual core one?

Core i7-7700HQ (quad core 2.8 GHZ at 45W TDP)

Yoga 720 15 in looks beautiful! Dedicated graphics from Nvidia and you can use a pen with it!
Windows Central Newsletter
Get the best of Windows Central in in your inbox, every day!
Thank you for signing up to Windows Central. You will receive a verification email shortly.
There was a problem. Please refresh the page and try again.