Lenovo Yoga 9i 14 review: It's inside that counts with this Yoga C940 refresh
Most of the changes to the Yoga 9i 14 are on the inside, but it's still a top option when it comes to premium convertible laptops.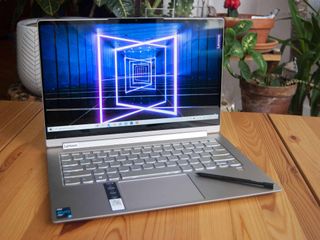 (Image credit: Windows Central)
The Lenovo Yoga 9i series is a successor to the formidable Yoga C940 series, available in both 14- and 15-inch models. With the new, tidier naming scheme comes a bump up to Intel's 11th Gen hardware and Intel Evo platform certification, improved TrueStrike keyboard, optional leather lid cover, and edge-to-edge glass touchpad, Thunderbolt 4 ports, and more. Ultimately, it's still a premium convertible laptop that sits at the top of Lenovo's Yoga lineup. I've been using the smaller 14-inch version for about a week to see exactly how the updated laptop fares and whether or not it's worth your money.
(opens in new tab)
Bottom line: The Yoga 9i 14 would be that much better with a taller, anti-reflective display and an IR camera for some added security. Still, it is nevertheless an attractive convertible with a slick aluminum build, snappy performance and long battery life, comfortable typing, and outstanding audio.
For
Built-in active pen for inking
11th Gen Intel and Evo certification
Beautiful aluminum design
Excellent audio setup
10+ hours battery life
Against
Still using a 16:9 aspect ratio
No IR camera
Edge-to-edge glass touchpad only available on the leather version
Anti-glare display finish
Lenovo Yoga 9i 14 at a glance
Lenovo supplied Windows Central with a review unit of the Lenovo Yoga 9i 14 convertible laptop. It has inside an 11th Gen Intel Core i7-1185G7 quad-core processor (CPU), 16GB of LPDDR4x-4267MHz RAM that is soldered (no after-purchase upgrades), 512GB M.2 PCIe NVMe solid-state drive (SSD), and 14-inch FHD touch display with Dolby Vision and a garaged active pen. This configuration (albeit with a larger 1TB SSD) costs about $1,400 (opens in new tab) at Lenovo, though price often fluctuate due to common sales and rebates.
The review configuration is as low as about $1,080 (opens in new tab) at Best Buy, and priced at about $1,285 (opens in new tab) at Amazon.
If you're looking to upgrade further, you can go with a 4K UHD display with 500 nits brightness, VESA DisplayHDR 400, and 90% DCI-P3 color reproduction. The extra pixels add a $100 premium in most cases.
Here are the exact specifications of the review unit I tested for this review.
Category
Spec
OS
Windows 10 Home
Processor
11th Gen Intel
Core i7-1185G7
Four cores
Eight threads
Up to 4.8GHz
RAM
16GB LPDDR4x-4267MHz
Soldered
Graphics
Intel Iris Xe
Integrated
Storage
512GB M.2 NVMe SSD
PCIe Gen 3x4
Display
14 inches
1920x1080 (FHD)
Touch, glossy, IPS
16:9 aspect ratio
Dolby Vision
400 nits
Pen
Lenovo Integrated Pen
Built-in silo
Rechargeable
Ports
Two Thunderbolt 4
USB-A 3.2 (Gen 2)
3.5mm audio
Audio
Four 2W speakers
Soundbar hinge
Dolby Atmos
Connectivity
Wi-Fi 6 (2x2)
Bluetooth 5.1
Camera
Front-facing 720p
Privacy shutter
Keyboard
Three-stage backlight
Touchpad
Precision
Security
Fingerprint reader
Battery
60Wh
Rapid Charge Express
Dimensions
12.57 x 8.51 x 0.57-0.61 inches
(319.4mm x 216.4mm x 14.6-15.7mm)
Weight
3.02 pounds (1.37kg)
Color
Mica
Flawless aluminum build
Lenovo Yoga 9i 14 design and features
Image 1 of 3
The Yoga 9i 14 hasn't changed a lot physically compared to the C940 predecessor. The newer laptop weighs just a bit more but measures the same thickness. Width and depth have a mere millimeter shaved off — nothing really notable. With an all-metal build top and bottom, the 9i 14 is a near-flawless execution of Lenovo's Yoga vision. The Mica finish on the aluminum hides fingerprints, lines are clean, and there are just enough rounded edges. The lid rotates 360 degrees on a soundbar hinge for excellent audio no matter how you're using the laptop.
The soundbar has four total 2W speakers: two woofers and two tweeters. There's more than enough volume to make other people in the same room uncomfortable (speaking from experience), and there's no distortion or buzzing at higher volume levels. Audio is well-balanced, no doubt thanks to Dolby Atmos tuning, and I enjoyed listening to music while working on this laptop. Because the speakers are contained in the soundbar, there's no risk of muffling audio with the Yoga 9i sitting in your lap.
Because it's positioned in the middle of the laptop, rotating the display around to tent, stand, or convertible modes keeps audio pointing in your direction. It's a design we first saw in the Lenovo Yoga C930, and it's one I hope sticks around.
The thinness of the laptop undoubtedly puts a restriction on some ports, but at least the 9i 14 didn't lose any connectivity compared to the C940. Instead, the two Thunderbolt 3 ports were upgraded to Thunderbolt 4, the lone USB-A port was upgraded to 3.2 (Gen 2), and the 3.5mm audio jack remains the same. All ports reside along the laptop's left side, with the right side reserved for an embedded power button (no accidental presses thanks to its positioning) and garaged active pen.
If you're a right-hander and want to use a wired mouse, the cable will have to snake across from the left side USB port, though Bluetooth 5.1 is included for wireless connectivity. For general wireless networking that is ready for the future, the laptop has Wi-Fi 6. No 4G or 5G connectivity is offered with the Yoga 9i 14.
Image 1 of 2
Unfortunately, there's still no IR camera for secure logins through Windows Hello. This was also an issue in the C940, and it's a bit odd Lenovo didn't add the feature when so many other premium laptops offer it standard. However, the front-facing 720p camera is above average; those who frequently video chat shouldn't have a problem here, even on a professional level. A tiny camera shutter that blocks the aperture and disables it at a hardware level is present for added privacy.
Set into the right palm rest is a fingerprint reader that does its job well through Windows Hello. There were no issues here, and I could sign in securely without issue each time I used it. If you opt for the Yoga 9i 14 with Black color and a leather lid covering, that fingerprint reader will still be present beneath an edge-to-edge glass palm rest covering—more on that to come.
Altogether the Yoga 9i 14 feels like a premium convertible laptop. It has just enough weight to seem durable, there's not enough flex in the lid to cause any concern, and the soundbar hinge is just tight enough to keep the lid in place without making the laptop a struggle to open. A small lip along the top bezel, stamped with a "Yoga 9 Series" moniker, makes it easier to pull the two machined edges apart.
16:9 aspect ratio
Lenovo Yoga 9i 14 display and inking
Two display options are available with the Yoga 9i 14. The review unit here has the 1920x1080 (FHD) option, but you can go with 4K UHD for about $100 more in most cases. What smacks me first is the 16:9 aspect ratio. As many laptops from varying price ranges move to 16:10 and 3:2, the traditional 16:9 is beginning to look outdated. Laptops look so much cleaner when the chin below the display is removed (the usual outcome of heightening the screen), not to mention the extra screen real estate available for productivity.
One of the Yoga 9i 14's main competitors is the HP Spectre x360 14, which has a 3:2 aspect ratio OLED touch display and similar pricing. In this regard, Lenovo is outgunned. Bezel along the top and sides is slim (the chin is still present), and there's not quite enough brightness to offset glare from the glossy finish.
In general, the color looks spot on, confirmed by testing with my SpyderX Pro colorimeter (opens in new tab). In testing, the display achieved 99% sRGB, 75% AdobeRGB, and 78% DCI-P3 gamut coverage, as well as 360 nits brightness at its highest. That's significantly lower than the advertised 400 nits. Dolby Vision is present, boosting the picture with compatible content.
Image 1 of 2
Opting for the 4K display will net you about 100 nits more brightness and better DCI-P3 color gamut coverage. It also introduces VESA DisplayHDR 400 for improved color and contrast when viewing HDR content. You'll still have the same 16:9 aspect ratio no matter the resolution.
Built into the rear edge of the Yoga 9i 14 is a silo for the Lenovo Integrated Pen. It's a lot like previous-generation active pens, though it now has an elastomer tip for smoother writing. The 4,096 pressure sensitivity levels contribute to a natural feel, and casual users shouldn't find much to complain about. I wouldn't recommend it for professional artwork, but it will do well-taking notes and sketching. While tucked away in its silo, the built-in battery tops up its charge.
New TrueStrike technology
Lenovo Yoga 9i 14 keyboard and touchpad
Lenovo has incorporated its TrueStrike technology — generally reserved for Legion gaming laptop keyboard — into the Yoga 9i 14, and for good effect. While the keyboard doesn't measure up to the ThinkPad line's greatness, I typed thousands of words on the 9i without any major issues. Coming from the XPS 13 9300, I did find the Yoga's keys to be spaced a bit far apart, but ultimately it didn't really affect typing speed.
Thanks to TrueStrike, the big change is a softer landing when bottoming out on the deck. It is hard to say how big of a change this is, but the keys certainly have a satisfying bounce to them. Page Up, and Page Down keys are incorporated into the Up and Down Arrow keys, which will likely irritate anyone who often uses them. This seems to be a common trend among Ultrabooks as they shrink down in size; the doubling up is also present on the XPS 13. A three-stage white backlight (off, bright, and brighter) plays well with the silver keys for a clear definition.
The Mica finish version I have for review has a standard Precision touchpad that makes good use of the available space below the keyboard. The glass surface tracks well and feels nice under fingers. The actual click feels a bit hollow, but it's clear the hinge is located high on the pad, allowing you to physically click (not just touch click) just about anywhere.
If you opt for the Yoga 9i 14 version with a Black finish and leather lid covering, the entire palm rest will be covered in edge-to-edge glass. This includes covering the touchpad and fingerprint reader, which still ultimately reside there and work as usual. This undoubtedly adds a lot of style to the laptop, though I can't comment on how well it all works together.
Perks of Intel Evo
Lenovo Yoga 9i 14 performance and battery