Lenovo's new docks and displays embody the single-cable USB-C dream
Lenovo has a pair of laptop docks and a pair of new monitors that embrace the dream of a single cable.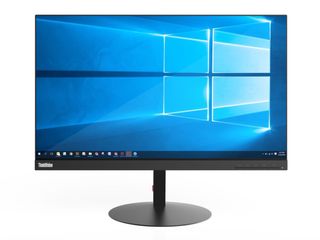 USB-C and Thunderbolt 3 have the potential to revolutionize how we plug in — a single cable that can do general purpose data, video, and power. And it's reversible! Lenovo's embracing USB-C in a big way with their newest docks and monitors.
Lenovo ThinkVision displays
There are two new displays to note here: the ThinkVision P27h (27 inches) and P24h (23.8 inches). Both are QHD (2560x1440) IPS LCD panels, supporting nearly 100% of the sRGB color gamut and a 6ms response time. Lenovo's shunning bezels here, with barely a border across the top and sides; even the one across the bottom isn't exceedingly thick.
And while they each sport HDMI and DisplayPort inputs, it's the USB-C port that's the real star here. This single port allows you to plug in your laptop with just one cable, sending video, data, and power. There are four full-sized USB ports along the edge of the display (all the better to connect with ease). Thanks to the 10GBPS capabilities of USB-C 3.1, there's even DisplayPort out so you can hook up a second display.
Lenovo's priced the ThinkVision P27h display at $329 and the P24h at $259, with availability expected in March 2017.
Lenovo ThinkPad Docks
While the new ThinkVision displays are essentially decent USB-C docks with attached displays, if you've already got a display or two that you like and would prefer to keep them, Lenovo has two docking solutions on the horizon as well. The two are largely the same — simple black boxes that run a single cable between your laptop and everything you want to connect to your laptop.
There are two separate models: one connects via USB-C and the other supports the blistering-fast 40GBPS Thunderbolt 3 connection (the same reversible USB-C port).
Swipe to scroll horizontally
Ports
USB-C dock
TB3 dock
Video
2x DisplayPort
1x VGA
2x DisplayPort
1x HDMI
1x VGA
Data
1x USB-C
3x USB 3.0
2x USB 2.0
1x Thunderbolt 3/USB-C
5x USB 3.0
Audio
Stereo/Mic combo port
Stereo/Mic combo port
Internet
Gigabit Ethernet (10/100/1000)
Gigabit Ethernet (10/100/1000)
Laptop connection
USB-C
Thunderbolt 3
Power
135W (65W to laptop)
90W (60W to laptop)
The USB-C dock can drive a single 4K display at 60fps or a pair of HD 1080p screens at 60fps (all over DisplayPort). Thanks to the four-times increase in available data for the Thunderbolt 3 dock, it can drive two 4K displays simultaneously at 60fps, or even three 4K displays at 30fps (using both DisplayPort connections and the Thunderbolt-out port).
The Lenovo ThinkPad USB-C Dock and Lenovo ThinkPad Thunderbolt 3 Dock.
The beauty of USB-C and Thunderbolt 3, unlike the docking solutions of the past, is that they're universal standards. Both the displays and docks work with compatible Lenovo laptops, sure, but also with any properly equipped laptop, regardless of manufacturer. It truly is the universal single-cable dream.
The Lenovo ThinkPad USB-C dock will retail for $199.99 and be available in January 2017, while the Thunderbolt 3 version will bump the price up to $279.99 and hit shelves in February 2017.
Both the displays and docks, along with new Lenovo laptops, will be officially unveiled at CES 2017. We'll be there to bring you all the latest!
Windows Central Newsletter
Get the best of Windows Central in in your inbox, every day!
Derek Kessler is Special Projects Manager for Mobile Nations. He's been writing about tech since 2009, has far more phones than is considered humane, still carries a torch for Palm, and got a Tesla because it was the biggest gadget he could find. You can follow him on Twitter at @derekakessler.
USB-C is the way to go! High time Apple embraced it too.

Their latest MacBooks already have USB-C

The problem with apples USB-C solution is that is ALL they have on there. NO other ports. DUMB!

Okay, and? If it's the future and the way to go, just rip that band aid and be done with it. These docks and monitors have USB A for legacy devices.

What is worse is all there dongles, it's ridiculous how many they have.

That's temporary pain on the way to the glorious single-connector future.

So, how, is USB C a single connection future when You have more than one device to plug in??????? is there some magic that you just lay on the wire and it connects it all?

Would they be Continuum compatible with the current phones that support continuum?

This does mean continuum would work, I assume. I do wish the display was touch screen though, just to add to the functionality that comes from continuum.

That better mean continuum on those monitors....

I'm 90 percent sure that any USB-C monitor allows for Continuum

The next Surfaces must be USB-C, must be. My next purchase will be the next Surface Book with this port. Still rocking a Surface Pro 2, battery life is starting to deminish. Time for that upgrade shortly. So Microsoft, show me that Surface Book 2 already and take my money.

This is power of the monitor from the USB? Wow., that's amazing.
Sounds like we need bigger power supplies if everything goes this way untill everything goes ARM.

Can I use it with a HDMI Cable until I get a USB C Device?

Yes, that was mentioned in the article.

Is 6ms fast enough for competitive gaming?

6ms advertised is more like an average of 8-15ms in real conditions. Really not good for competitive gaming, but ok for slow pace game. Aim for an advertised 1ms and read tests about the screen if you want a screen with no flaws for competitions.

aaaaaaaahaha, I always LAUGH so hard when somebody tells me things like this. I can beat anybody with a made in china mouse for 6USD + a CRT monitor from 1999. Playing like this with Rainbow Six Siege since the start. Its not about HW and never was. Marketing experts will tell you BS just to sell their product and BTW: You can own the "best" monitor on the market but you will lose anyway if you have a BAD internet connection or your skills aint enough :)))

crt has no problem with response time.

Ur obviously full of yourself.. Try gaming on an old lcd tv with 30ms+ delay and play a game like smash brothers ull be glitchin as f.. And theyll beat the sht out of you

I want a dock with a GPU in it... So when I dock my surface pro, I can use the dock' GPU... Is that even possible? Maybe not with the current Surfaces, but is there tech that supports it? Seems if they can do it with the surface book, they can do it with the pros.

The closest thing would be an GPU enclosure like the Razer Core, but Microsoft needs to make a Surface Pro with Thunderbolt 3 for that to work. You would plug the Surface into the enclosure, then keep the enclosure plugged into your monitor of choice. You could also do without a monitor and just get the extra GPU power on the laptop screen, but this reduces performance since you're doubling the amoung of bandwidth travelling over the same cable. You get better performance by sending one set of traffic to the enclosure and another set over a different cable to the monitor.

Thanks... I would be more willing to go with the higher end configurations if they could double as decent gaming PCs when docked! Please do this MS!!! On phone too 😀

TOTALLY too much to ask but can we get like 75Hz refresh rate and free sync with this? Please!?

Does anybody know can i plug my yoga 900 to one of the monitors with usb-c cable and then daisy chain that monitor to another one with displayport cable? I think yoga 900 has a usb-c 3.0 port. Thanks.

ThinkVision looks really nice.

Look great, could I daisy chain 3 displays plus the laptop one?

So do I plug a keyboard and mouse into the monitor, and then with the USB-C cable, the keyboard and mouse work the laptop?
Windows Central Newsletter
Thank you for signing up to Windows Central. You will receive a verification email shortly.
There was a problem. Please refresh the page and try again.