LG's updated Gram laptops are absurdly light
By Derek Kessler last updated
The first iteration of the LG Gram laptop series was rightly panned for its poor battery life. But now? They've fixed that and made it even lighter.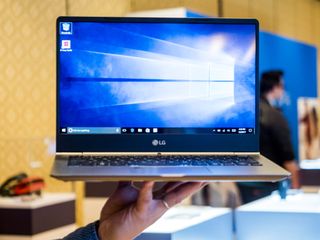 There might be a such thing as too thin, but LG's engineering innovation is making sure that as we approach that point that we have to deal with as few compromises along the way. The first generation of the LG Gram compromised too much, sacrificing battery life in the pursuit of thinness and lightness.
For the 2017 edition, LG buckled down and reduced those compromises, producing a laptop that is impressively thin and light. For the 13-inch variety we're looking at 980 grams, or 2.13 pounds. That's absurdly light in a market of increasingly light laptops. LG accomplishes this in a few ways, but a lot of it comes down to slimming down the case — the bezels around the screen have been significantly reduced and the aluminum alloy case itself is also quite thin in construction. It doesn't take much force at all to flex the display, but it still felt solid enough.
But for all that lightness you get a laptop that's still remarkably functional. Inside you'll find Intel Core i5 or i7 processors (the low-power Y-series chips, as you might expect), up to 8GB of RAM, and up to a 256GB SSD. The screen, which comes in 13-, 14-, and 15-inch varieties, is an IPS panel available in Full HD or 4K resolutions and with or without touch. LG will also offer the option of a fingerprint reader embedded into the top left corner of the trackpad, and without Windows Hello camera support we'd recommend you take it.
All of that is powered by a battery pack that has practically doubled in density, providing up to 17 hours of life from the 14-inch Gram. That is, again, in a laptop that weighs 980 grams and measures just 0.61 inches thick — that's actually a hair thicker than last year, because being able to pack in more battery cells is that important. I wouldn't expect that real world use will be close to that, but even 10-12 hours from a laptop this slim would be impressive.
The Gram is remarkably thin and light, and with fewer compromises than before. Heck, they even managed to squeeze in a backlit keyboard this time. LG's not offering a release date or price for the Gram updated Gram, but if the 2016 edition is any guide then we're probably looking at around $1,000 for a starting price.
Derek Kessler is Special Projects Manager for Mobile Nations. He's been writing about tech since 2009, has far more phones than is considered humane, still carries a torch for Palm, and got a Tesla because it was the biggest gadget he could find. You can follow him on Twitter at @derekakessler.
Interested in the LG Gram 13Z970-A now that it has touchscreen.

Interested in the 15 inch as LG are the only ones smart enough to include a keypad.

Sticking with my preorder for Samsung notebook 9 (NP900X3N-K04US) 13 inch with i7 and 16GB ram with 500 Nit brightness. I could care less about touch screen.

I've had too many issues with the brightness setting and buttons not working on my Samsung with Windows 10 so I don't think I'd get another. Basically every time the video driver is updated by Samsung, I have to do a registry change to fix it. Hopefully they fixed it on the newer models.

I too won't get another Samsung. I bought one of their ultrabooks a few years back (can't recall the model number offhand) and had nothing but trouble with it. I bought it to replace a Dell XPS 12, the one with the screen that rotates within a frame, and now I'm back to using the Dell after I upgraded it to Windows 10. That Samsung experience was really bad. Ultimately, the screen came out of the bezel completely. When their support organization told me it'd cost $350 to replace it, I told them to keep the thing. When my wife wanted to get a new 2-in-1, she got a Lenovo Yoga 900, with which I'm quite impressed. Build quality blew that Samsung out of the water. Were I in the market again, I'd seriously consider the 910. Don't have any experience with an LG pc, but based on other products we own from LG (washer, dryer and refrigerator), I'd be confident in their quality. I cannot say the same for Samsung. After our laptop experience, their "exploding" washing machines, and the Note 7 fiasco, I won't ever buy another Samsung product.

And absurdly short of space.

If this has Precision touchpad, then this might be my new favorite laptop. Can anybody confirm if it has Precision touchpad? The ports are perfect, long battery life, 14" (instead of 13.3) screen, the keyboard layout looks good.

Absurdly light would be a laptop that levitates.

You had me until you said Y series chips. Would never pay this much sum for y series chips as impressive as the device is otherwise.

Its a typo its Intel kabylake 7xxxU series CPU's usual ultrabrook dual core low power cpu ... idk where they got y from another site has the spec sheet for all the new LG grams 15 to 13 http://www.digitaltrends.com/computing/lg-gram-notebook-updated-seventh-generation-intel-processors-ces-2017/

I was considering a Gram until I called LG to find out where I could check one out. What a mistake! There call center is in Asia and the language barrier is terrible! The agent who answered the phone could care a less and was completely unable to answer any questions. I ended the call by stating that I lost interest in the Gram and would purchase other than LG. She was OK with that and so was I. Ended up buying a MacBook. My 6st Mac laptop and 3rd MacBook Pro. Buy LG at your own risk
Windows Central Newsletter
Get the best of Windows Central in in your inbox, every day!
Thank you for signing up to Windows Central. You will receive a verification email shortly.
There was a problem. Please refresh the page and try again.