List of Rainbow Six Siege Showdown Pack Skins
Get your cowboy on with these limited-time 'Showdown' skins for Rainbow Six Siege.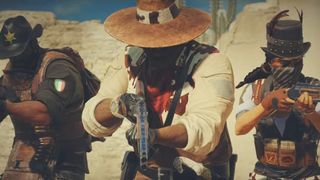 (Image credit: Ubisoft)
Ubisoft has kicked off its latest mid-season event for Tom Clancy's Rainbow Six Siege, delivering an experimental Wild West spin on its first-person tactical shooter gameplay. Slated to run from July 2 to July 16, the Showdown event pitches a three-versus-three variant of Secure Area on the new Fort Truth locale.
A healthy pool of cosmetics also accompanies the event via premium paid "Showdown Packs." Featuring 31 exclusive limited-time Wild West-themed skins across ten playable Operators, you can be the battle-hardened outlaw throughout multiplayer. We've wrapped up all Rainbow Six Siege Showdown skins, available exclusively this summer.
Eyes on target
(opens in new tab)
Tom Clancy's Rainbow Six Siege
Addictive, challenging shooter action

Ubisoft's hit shooter is hotter than ever, touting tense tactical gameplay, and regular free updates. With millions of players in 2019, Rainbow Six isn't slowing down.
Showdown Pack All Headgears
Image 1 of 10
Showdown Packs feature ten limited-time headgears, headlined by legendary drops for Alibi, Caveira, and Maestro.
Melon White for Alibi (Legendary)
Voodoo Bandana for Caveira (Legendary)
Sheriff Black for Maestro (Legendary)
Wide Brim for Twitch (Epic)
Rodeo Dahlia for Ash (Epic)
Western Helmet for Rook (Epic)
Cowboy Classic for Maverick (Epci)
White-Brown Cow for Kaid (Epic)
Hardee Monocle for Glaz (Epic)
Frontier Man for Capitão (Rare)
Showdown Pack All Uniforms
Image 1 of 10
A further ten accompanying uniforms are available within Showdown Packs, with two legendary items available for Maestro and Rook.
Heavy Ornate for Maestro (Legendary)
Leather Motif for Rook (Legendary)
Bronco Saddle for Kaid (Epic)
Burgundy and Chaps for Alibi (Epic)
Saloon Vest for Glaz (Epic)
Rugged Ranger for Twitch (Epic)
Plated Brazilian for Capitão (Rare)
Rawhide Outlaw for Maverick (Rare)
Dark Cowhide for Caveira (Rare)
Rough Denim for Ash (Rare)
Showdown Pack All Weapon Skins
Image 1 of 10