Live Interior 3D Pro, a great Interior Designing app for Windows 8, goes on sale!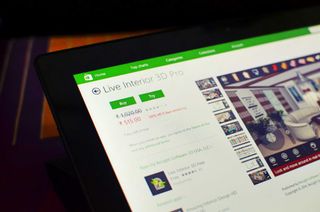 Live Interior 3D Pro is a useful app for Windows 8 devices for homeowners planning to renovating their home or planning improvements and professional Interior Designers trying to bridge the gap between ideas and visualization.
The app allows you to design in both 2D and 3D. You can start your home by drawing out a 2D floor plan using intuitive, touch-based drafting tools, and then switch views to see and walk around the structure in 3D. You can make changes in both 2D and 3D using an easy drag-and-drop workflow.
You can also arrange furniture, paint walls, adjust the lighting, and build in a realistic, beautiful, real-time 3D environment. The app allows you to drag and drop furniture, decorations, doors, and more from a library of over 1,200 objects and easily change the fabrics, colors, and finishes using over 1,500 included materials. The app also allows you to create custom textures. For example, at a furnishings store, you can snap a picture of that beautiful wallpaper and create a 3D material out of it.
An in-app purchase allows the ability to import in 3DS and Collada formats, as well as export to 3DS, Collada, VRML, and X3D formats. Of course, you can share your results with clients or friends and family by setting a custom camera angle and share the view via Dropbox, Facebook, or email and other apps on your device. You can also print a copy of your floor plan for sharing and annotation, in case you want that.
Download the Live Interior 3D Pro app for Windows 8 devices from the Windows Store (opens in new tab).
There's a 7-day trial available and while the app usually costs $19.99, for this entire week, the app will cost only $9.99. This fully functional home and interior design app caters to both professionals and hobbyists, and is powerful enough to design skyscrapers, yet intuitive enough to build something as simple as a shed. Give it a whirl, and let us know how you like it.
I'm not a designer by any means, but this app looks very useful. I'm going to buy it just to redo my kids' bedrooms without having to move it around 30 times before we make up our minds. Thanks for the heads up.

Lol, I was just in an SMS convo with someone and this app looks just like my SMS threads. I was like..."Who the hell is PapiHenry and how did he get my number?!" Also I think I might pick this up to rearrange my apartment. $10 is a six-pack and I'm on a diet currently so I can afford it :)

Like the first commented, don't really have much use, but I'm moving soon and haven't thought of a good floor plan. This would be great.

Does anyone know of a great landscaping app?!

I had one a couple years ago that was really good. You could take a photo of your own area and pop in trees, bushes, grass and see what it would look like over time. I'll look it up and update the thread.

I'm in the market for a house and this could prove to be a time and money saver for redecorating and furnishing. Definitely picking this app up at the discounted price!

At first I thought this was for WP and my reaction was, isn't this too much to try and do on the phone? Sure enough, it's a Windows app. Lol

I'm an architect and I have tried some apps before (mainly on iOS) with no luck. You can't ask an app to do complex things, I don't know if they work for non professional purposes though. I will give this one a try and let you know in the forums

This thing has little of professionality in it. It's kinda sketchy or something, no engineering, no freehand planning and so on. Just to make a homemade plan and get it to professionals.

It may be useful for pros if its intuitive enough for quick brainstorming in meetings with clients, at least that is the purpose I'm trying to achieve with these apps. For anything else there's nothing like 3dstudioMax, revit, etc...

Maybe I'm a little old fashioned but I'm afraid a couple of pencils and a piece of A2 on a large table are more suitable for _quick_ brainstorming, aren't they?

Quick brainstorming sure but this is nice for 3D models and seeing how it all fits.

Absolutely!!! Carrying a notebook or plain paper is always a must (mainly for personal use) but IMHO clients feel they are in safe hands when you use "fancy stuff" to show them their project. That is the main reason I bought an iPad back then, and everybody was amazed but had no use further than that really.

Haha, in this case MS surfaces look much more severe-styled than shiny ipads :D
Frankly, I was happy never to contact customers directly and hopefully never to do in the future so I just take your words in faith :)

Sure thing, however when i bought my iPad 2 there were no surfaces here in Mexico and probably i wouldnt choose one because of Windows 8 RT (Pro would be out of my budget)

These types of programs scare me, I am a Residential Designer, and we get people that bring in the house plans they did themselves from one of those $39.99 software packages bought at bestbuy etc. Its REALLY hard to convince them that the auto roof tool is crap in the program, and ridges really should not slope, or that the roof they have will only create a waterfall in the living room because all of the roof slopes head into this tidy little low point that will cause ponding. I might give the app a run through though, might be a good visualization tool for furniture layouts.

Take my advice: I make or try to make photorealistic architectural renderings for a living, sometimes my clients tell me they have "a guy" that does the same for less money and way faster. In those cases where i see that quality is not an issue for them, i tell them to go get him right away, no hard feelings

Grabbing it. I only need it to help visualize re-arranging a couple rooms. Cool.

It has been on sale for a month already. Became very handy for me, designing a two level home for me just now but got stuck with roofing - too few tools for it. Anyway, the project has to be professionally remade.
Glitches: Antialiasing stopped on my surface rt once and I can't get it back to work. When turning on lighting in 3D scene comes full of glitchy shadows.
Lack of functionality: No protractor, dynamic guides appear only /15°, and not customizable. Syncing palettes between devices would be great. Full-sized human silhouettes needed, 1,85m male and 1,7m female (or better customizable), just for adding as relevance; searching warehouse is not very convenient.
Couldn't find option to switch app to English, Russian translation is very uncertain sometimes.
Switching between mouse and touch is made very nice, liked it.

Thanks sharing your experience, were you using the recent version? I'm wondering if I should short list this or not. For £5.99 I could get myself a decent lunch or a cheap t shirt and tracksuits (once your out of work, you cant help but count the pennies!).

Yes, sure, always updated. One thing I haven't done is reinstalling. These glitches I described refer only to my surface rt, other W8.1 devices including an Atom-based HTPC are free of them. Try it, you have a whole week before price doubles. Or you may stay with free version if you don't need to design a two+ story house.
(I feel like an advertisement :D surely I'm not an ad, just enthusiastic because a rather powerful and rather cheap app came to RT, ipads have no such apps. Windows wins!! :))

I bought it after I saw how well it actually runs on my RT, I expected to struggle trying to do small adjustments but it's not bad. For the money it's pretty good for helping visualize. Now if I can only figure out how to make my door open from the opposite side, not the flip option but open left hand instead of right hand.

Seems like not implemented yet. Not a word in the manual, but mentioned referring to OSX edition. You have to use another door model :(

Glitchy shadows on ARM and non-SSE devices were fixed in the version 1.3.1, try to force the update.

Thanks for the info! My bad, I've been updated but didn't check if the issue is solved :(
FSAA still doesn't work anyway.

Unfortunately, FSAA support depends on GPU capabilities.

It used to work on my Surface, I swear. Not sure after what it stopped (a tegra driver update, or something else) but it did work.

Try to contact support@belightsoft.com with problem details

Does it work with the metric system? I see ft. in the 2D print and guess you just have to give up the Lenght and Wide to draw a room?

Yes. Charm bar -> settings -> project -> measurements.

Thanks. Then I'll give it a go! :)

Welcome! :) I think everyone should definitely give it a go since it's free for building one level and restricted in importing custom textures. Just try to design and arrange a one-story flat. I bought it next day of usage :)

I am a designer and this looks useful. Most software like this isn't very useful at all. I might check it out and see how useful it is.

This is pretty handy for selling a property, some people have no imagination at all :P. Shame this wasn't around when I was doing sales lol.

Well that throws another idea out the window lol! At first glance it looks like it might be on the list of apps that install the day I get my sp3 :P.

Wow, at first glance I thought it said 1,000 and something dollars, I was sure it was some professional app for designing until I saw so many comments about buying it lol :D well interesting idea

Heh, I must say the whole story reads a bit like a paid ad, but the app does look good. Might need to get to waste even more time designing dream home reno projects! :)

Lightwave + LWcad for me to do these kind of stuff... oh yeah I am so pro ;) But this looks nice though, at least it would be useful for some people for doing basic stuff.

Hey editors @Daniel @Sam should you be doing an article about the Disney games on the WP store being free for a while?

I believe they already did a while back.

I am an Civil Engineer please bring Autocad,Revit and 3d max in this platform this could be helpful for people like us....
Well done

Can anyone tell me what the pro version offers that the free one doesn't?

Exclusive features of the Pro Version: - Unlimited number of stories (up to 2 stories in Live Interior 3D Free).
- Export 3D views in sizes up to 1024 x 768 px to JPEG, TIFF, PNG, and BMP formats.
- Print your 2D floorplans right at home.
- Create custom materials using photos.
- Import objects in 3DS and Collada formats (via In-App Purchase).
- Export to 3DS, Collada, VRML, and X3D formats (via In-App Purchase).
- High resolution 3D view output up to 6000 x 6000 px (via In-App Purchase).
Windows Central Newsletter
Thank you for signing up to Windows Central. You will receive a verification email shortly.
There was a problem. Please refresh the page and try again.