Live from Microsoft's IFA 2015 keynote! (3 p.m. CET, 9 a.m. ET, 6 a.m. PT)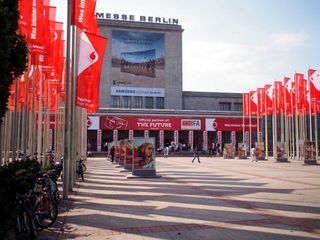 Microsoft is presenting at this year's IFA trade show in Berlin, Germany, with a show themed "Windows 10 Lights up New Devices". The presentation, by Microsoft OEM Division VP Nick Parker, will showcase a number of new Windows 10-powered devices, but we're not expecting to see any Microsoft-built hardware like the long-awaited Cityman or Talkman Windows 10 Mobile phones or a Surface Pro 4 — those are all expected at a Microsoft event in October in New York City.
In the meantime, join us for the Microsoft IFA 2015 keynote, live from Berlin! Things are expected to kick off right at 3 p.m. CET (that's 9 a.m U.S. Eastern, 6 a.m. Pacific). And be sure to check out all of the latest from Windows Central in Berlin at our IFA 2015 hub!
Note: Microsoft's live broadcast is expected to run all through IFA 2015, bringing live presentations from Microsoft's booth at the show. The proper keynote doesn't start until the time noted above on September 4th, but feel free to watch whatever's happening at the IT Pro stage or whatever until then.
Windows Central Newsletter
Get the best of Windows Central in in your inbox, every day!
Derek Kessler is Special Projects Manager for Mobile Nations. He's been writing about tech since 2009, has far more phones than is considered humane, still carries a torch for Palm, and got a Tesla because it was the biggest gadget he could find. You can follow him on Twitter at @derekakessler.
I can hardly wait to hear about all the goodies

For me the real goodies are flagship devices.

I think I will skip the new flagships this year, if I upgrade early means I won't get my hands on the Surface Phone next year. My 930 is still going strong and runs 10 pretty well, for me the new flagships are good on the hardware front but other than continuum and real sense camera I see them as just a spec upgrade rather than a leap in innovation, if the Surface Phone let's me run Visual Studio I'll chose it hands down regardless of what it looks like, but if it can't then I'll go for the flagships or Surface Phone based on the Camera and looks. Just hope that I'm not waiting for no reason! The idea of developing an app on the phone I plan to test it on is just amazing to me so I'm keeping my fingers and toes crossed!

I don't think your gonna get the full Windows experience on any phone the screen is just to small. Therefore I don't think Microsoft wants to give its customers a half baked experience.

"I don't think your gonna get the full Windows experience on any phone the screen is just to small." That is why there is continuum!!!!!

Yea yea I get that but still it wont be the same. You stil need all the peripheral equipment like a mouse, keyboard and a screen. Continuum seems to like it's more work than taking a laptop with you.

Not really...overall it takes up less space. Just modular

Yes extra things to take with you. You can't really make it work without all the extra stuff. Also you would have to buy a phone that supports continuum. The idea is great the execution not so much.

You're not really making that much of an argument. Initally, yeah, only high end phones will support Continuum, but if what is being talked about is a surface phone, that should certainly support it, so the need to buy a supporting phone is a bit of a moot point. Secondly, with the size and weight of keyboards and mice, it is 100 times easier to carry these around than a laptop, as well as cheaper to get them in the even if they break (except for the cloud devices). Finally, imagine their ability as a thin client. Load up people with a phone and sit the keayboard mouse monitor and dock at either all the desks, or just a bunch of hotelling stations. You then have the ability to give a mobile employee an easy way to sit down and work at multiple locations. Hell, I could buy 2-3 set ups and leave some at different locations (work, home, backpack) and I've still spent less than a laptop, can have a full keyboard (I can't stand compact keyboards) and really doesn't take all that long to set up.

Mirwcast enabled devices don't require extras all u need Is a Bluetooth keyboard and mouse look at Logitech new one for 39.99

Yeah, sooooo much extra stuff... Miracast to a TV and a Bluetooth keyboard. (You can use the phone screen as a touchpad.)

I think the point is you can have Munchkin (or whatever its called) and your setup live at your desk maybe a few desks and then you sit down at your desk and ready to go. As for carrying around a wireless keyboard, mouse and Munchkin (probably a charger too), I think that fits more along the lines of going on holiday, I would imagine total weight is less than a tablet or laptop so perfect for packing light. In a business environment, just imagine your sales team doesn't have desktops or laptops, they have desks with all the docks screens keyboards and mice and they come in and out of the office with just a phone. Forget replacing laptops and desktops with a 2 in 1 tablet, replace everything with a phone... That could be very effective, doesn't take much power for Microsoft Office and intranet etc, some employees just don't need anything more than basic access and people in Sales will always have a company phone, laptop and probably a desktop too, that's a huge improvement if everything can be done on a single phone including classic desktop apps. For a developer it's ridiculous to think about using visual studio on a phone and actually being productive, but we are developers, it brings a lot of joy to try something new or make something work "just because we can", and for that moment of joy I'll gladly grab a Surface Phone! Same goes for most enthusiasts too.

Hopefully it will support wireless and supports all types of monitors and tvs that way it would be more manageable.

No. Continuum is so if you unplug your Surface Pro keyboard, it switches to tablet mode. Win32 apps on a phone are a horrible idea. Devices that are phone/laptop have been made, and they were huge sales failures. I think we're still at least 5 years away from that being a thing, and even then it would really have to be done right, and probably not with Win32 apps. Maybe Microsoft will make a Universal app version of Visual Studio at some point in the future?

Profound disappointment xD i thought they were going to show some new 8inch tablets. But there was nothing worth watching for me.

Kindly don't scrap the HEALTH& FITNESS APP.....

Nick Parker: "The device will get better through its lifecycle". I could have also said that! Remember? Product life cycle? Now we are talking... Same for phones.

I hope some new phones from third party OEMs appear. I would really buy an Xperia wp, I'd name it Xperia W10.

Sony won't do that...! They are losing a lot even on Android!Even the 4K phone won't give them profits coz of ridiculous pricing!

Pricing isn't too bad at retailers. It'll come down quick enough.

4k phones not worth of good battery life.

Exactly, thank you. I much prefer 1080p or even 720p displays for a far better battery life. You can't see pixels on 720p either, that's why it's an HD resolution. So I personally don't see the point of 4K on small phone screens.

I'd love the xperia z5 with w10, I could use that with highres sony headphones

Sony says 4K panels are more battery efficient than FHD ones...

I don't think Sony will ever use an OS which has the Xbox app preinstalled.

You are right! Never crossed my mind, but that could be very off-putting for the company that created the Playstation brand.

Actually if they partner with Microsoft they can do many great things. Vaio was one of the premium laptops a time ago. But due to Sony and Microsoft PS vs Xbox clash there cant be good partnerships happening between them. Sony would not like to have Xbox app on their phones only that's the reason they don't choose windows phone as an alternate OS. and in the end with no option they would struggle with android. As they may not take risk getting to make their own operating system which would require lot of money and ecosystem to be sucessful Sony is really fucked up in my opinion just bcoz to keep their darling console business going on.

You are right. That is the real reason Sony left the PC market.

It's actually CEST as they are currently on daylight savings.

What is the url that we can watch the show?

It's linked in the note above the embedded video: http://webcast.nc3-cdn.com/clients/microsoft/2015/08/31/

Here's hoping for a water resistant phone. Something sorely scarce on WP8.

I want a waterproof phone.

I am hoping for a waterproof WP10 device. They wont be releasing WP8 devices anymore.

Any hands on review of the Acer continuum phone Jade Primo?!

Looks like a real affordable flagship!;)

Really?
What's the price?

I think your question has been answered already. With a NO.

https://youtu.be/znt15SvLjjU

I guess stating GMT would be more relatable for the rest of the world?

Let's list two whole time zones for the US when one internationally recognisable and convertible one would do.

Well let's see, PST - Microsoft headquarters time zone. EST - the most important and followed time zone in the world. CEST - time zones of the event.
I'd say that covers it fairly well.

Most people outside the US actually don't know any of the US time zones, and if they do they know them compared to GMT which means they have to make two conversions. Then there's also DST to factor for; do you think everyone knows when that starts and ends in EST/PST/CEST? Whereas they could have just listed GMT/UTC and everyone can very easily figure it out for themselves.

Who cares about the rest of the world anyway..

I think , the rest of the world ?!!

the whole damn windows ecosystem is US only !!

I think he covered it pretty well, but if we wanted a standard I would think that using UTC would be a better idea as GMT use Daylight savings time.

GMT doesn't have daylight savings time, it is the same as UTC.

They should have announced the new lumias today and released in October. We all know that what will happen is they will announce end of October and release Feb/Mar just as MWC starts and everyone else is revealing their next phone!

Microsoft is too lazy to do that! When other OEMs are building devices on latest hardware (chips n techs) MS will bring a flagship built on old hardware. It's not funny really.

Yeah... they're so lazy. I bet they are ask just asleep at their desks right now.
How ridiculous can you be?

No. 640 was released pretty fast.

640/XL was released with old hardware. It should have been Snapdragon 410 instead of 400. Windows phones have a large number of affordable devices and now many flagships are on the way but what about the mid range phones. MS should announce a mid range phone, upgrade the hardware of Lumia 730. It really needs one.

Forget it about what MS did in the past, they aren't doing again. They want OEM doing Windows 10 phones not MS itself, it's pretty clear they're stepping back and giving others some space (just like Acer with their affordable flagship). Android market is saturated, MS have their last chance but they won't win this with their own devices. Google didn't.

Guessing Launch of Lumia 740

You may want to read the article again!

if you aren't going to list times in GMT, at LEAST use UTC. Everyone knows how many hours they have to add and subtract to UTC (as that's what windows uses for date and time). Why make our lives difficult in the rest of the world with the times you guys always list? Its ridiculous.

GMT and UTC are the same zone (though I completely agree with the sentiment).

Well I learn something new every day :D I thought the +8 was familiar lol

If you want to learn another thing, GMT was actually originally 12pm rather than 12am (the time the noon sun passed the Greenwich Meridian Line) but that was deemed too confusing for people and was layer changed to mean midnight at the Greenwich Meridian. ;-)

One thing: Microsoft and its partners adore Flash. It will push a hundred updates for Flash in a month but wont give up on it nor let the people get rid of it. Talk about true love.

They push updates for it because it's an insecure pile of crap that can't be ignored on desktop just yet. Better to keep their users safe than abandon them.
Note that Microsoft doesn't do any work on the fixes; they just maintain their own edition of Flash and push out the patches that Adobe releases.

I will make a rumour now.. They will show lumia 1050!!!!

I hope they broadcast the actual conferene keynote in english... as i dont understand german by the sounds of it.

It's an English guy delivering the main part of the keynote.

1- 1400h GMT - showing 3 different time zones in America, plays into the stereotype of Geographically impaired... 2- I keep repeating myself about how pointless it is to reveal a windows phone 10 flagship when, THERE IS NO WINDOWS 10 MOBILE OS! 3- I am excited to see what Microsoft has to offer in the next few hours. 4- I'm not expecting an unveiling of a new Lumia, but I would love to hear something about it, in terms of specs and features... Official statement.

1. Please STFU.
2. It's not 3 US time zones. You think the US stretches across 9 time zones? PST - Microsoft headquarters; EST - most important and widely followed time zone in the world, also privately where the last concentration of readers are located. CEST - time zone that the event is being held (Central European).
3. Microsoft hasn't revealed anything about Windows 10 mobile at IFA.
4. I like numbers too.

I am a long suffering fan with a Lumia 920, release a flagship phone already!

1020 here bro, still loving the lil beast

L920 user here as well. weid times...

Not this event. Nick Parker doesn't do Lumia or Surface. He's in charge of partners.

Well we've already seen and heard about the hybrids, laptops, and low-end windows phones the so called partners introduced. We've also seen all of the great Android phones and Android wear/gear introduced too! What's the point of continually introducing low-end junk Windows phones when everyone is carrying around iPhones, galaxies, Edges, and Sony Xperia Z's which are considered high-end devices? Here in America, you're economic status doesn't dictate what phone you carry as much as it might oversees. Send this statement to Satya as well!

You know these guys here don't work for Microsoft yeah? Do it yourself.

I hope they are anouncing that they are releasing the flagship phones tomorrow, just right after they have the announcement.

Microsoft, just give is info about W10M Already! This show will be worthless it we don't get some news on that front! I hope its not another COMPUTEX show!

Worthless? Glad to know we came for absolutely nothing then!

"Surface as a Service" or something like that...

Mobile Nations is great.. All branches work great... But there is always one problem.. For Live Events, they always put headlines with US Time Zones, which is totally understandable. But with so much international traffic on their websites, they need to be more clear with Time Zones.. To make all understand the live stream time in their zone, simply put GMT along with US Time Zones and everything gets solved..

I never understand their timezones. I really have to dig deep everytime to understand what the time really is in my country. Annoying as a rock!

Put GMT times ! You know that your readers aren't all from America !

What's the point in attending the show if you're not going to introduce anything new? Everyone already knows about windows 10. Why not just have a Microsoft rep at partner booths who introduced new Windows hardware? With all of the new Android hardware introduced by Lenovo, Samsung, and others, Microsoft has no chance of picking up me phone users even when they intro new phones, only existing users and they'll probably lose some of us too due to their lack of urgency! So I ask, "is Satya's new Microsoft any faster than the so called old Microsoft"? Does the new Microsoft really want to make an impact on mobile outside of the hybrid market? I really enjoy Windows phone, but it's getting harder and harder to wait for new hardware only to be disappointed when what's leaking isn't competitive compared to other manufactures hardware being presented! If you're only going to try to bring internal specs up to par and not hardware design, the least you could do is go ahead and pay app makers to get us the same apps that are on other platforms. Can someone at WC please send my concerns to Satya? I'd like to hear his response to some of the statements I've made..... It would interesting to hear in my opinion.

http://www.troll.me/images/trololo/oh-really-it-seems-like-you-know-ever...

Call it what you want, but I've been using window phones since CE, WM6-6.5, and WP 7. I guess you have issues with me because I'm speaking my mind huh?

"3 p.m. CET (that's 9 a.m U.S. Eastern, 6 a.m. Pacific)"... http://inkyblots.com/wp-content/uploads/2015/01/ancient-aliens-invisible...

Not interested in the flagship phones just yet, it serves no purpose if the OS is not developed feature rich enough to run in a flagship shell yet....!!!! Just like all the devices out their right now...

the live stream link is broken! 30 minutes before showtime!

Working link (so far): http://webcast.nc3-cdn.com/clients/microsoft/2015/08/31/

How about instead of 2-in-1's... We get 3-in-1s!

I'm not diminishing your hard work Richard, personally I've heard enough about Windows 10 on computers, laptops, tablets etc.... If Microsoft wants the world to take their mobile business serious, they need to show something new from the mobile standpoint... That's all im saying. We as Windows phone fans have been waiting a long time. A preview program that's been going on a whole year and never having something fully finished and feature filled is disappointing. I'm sorry. Can't wait for ANY flagship to be released, so my enthusiasm and loyalty for for my brand can be waved in the faces of Android and IOS users. Lol. I'm anxious

Working link: http://webcast.nc3-cdn.com/clients/microsoft/2015/08/31/

http://webcast.nc3-cdn.com/clients/microsoft/2015/08/31/

Alternative link for livestream: http://webcast.nc3-cdn.com/clients/microsoft/2015/08/31/

What if microsoft reveals the cityman and talkman today, and announce the surface pro 4 and surface phone in October?

None of the links work from my phone...

Is there a link to this live webcast thing that actually works on... wait for it... Windows Phone?

The live stream stinks. they are only focusing on his talking and not what he is doing.

What the hell... this is unbelievable.

Jesus, does he have to pee? He's talking way to quick.
And with @majortom1981 Disappointing from IFA, Microsoft own's registrations are much, much better.

I can't see his demo its just on him

It would be nice if you could actually see the demo. Camera man sucks.

Stream fail, camera angle fail, Brian as a live speaker fail.

The BS parade is on! I would like them to demo Right Click Save As, pinch to zoom in photos, Copy paste text to google drive (not because i want to, but because i know it can't be done).... yada yada... When they've updated it to a working system without all the dumb useless bells and whistles, i will listen.

Well, that was a waste of 50 minutes.

Anyone notice how many empty seats were in that room when the lights lit up

I didn't expect it to be this boring.

Latest news Windows 10 repushes hand gestures verry well showen by the guy on the stage. Find him on twitter here. Bryan Roper @broper00

As expected I guess. Only negative was the camera angle.

Exactlly!!! and Cortana didnt come with any answer to the equation!!!

Then do nothing at all MS!

Glad I didn't miss anything. Seems Microsoft just went up, said "Windows 10," and said, "here are some computers." Now, the wait until the disappointingly late October event. I need something new from Microsoft already.

That was the most worthless livestream I've ever seen. Wtf? Why did they even go to IFA?

Thanks, you summed it up perfectly!

That's it?? Really??OMFG. "nothing here folks, move along" unbelievable

OK...Microsoft should release the latest W10 Mobile build today after that big dissapointment!!

Nothing from Microsoft at all!! Wtf! Typical.

So Nadella still hasn't managed to hire staff that has at least some understanding of how to market a product.

They left bcoz of losses incurred. Its better Sony and Microsoft come to an agreement where PS and Xbox isn't compromised. But its hardly possible in reality.

Some decent W10 PC, well, disappointing.

My eyes would be on September 9 live stream..hope Bono won't be there this time.

Acer actually did a better job at marketing Microsoft related products at IFA than Microsoft did. What a waste of time and resources this whole thing was.

Momentum killer for Microsoft

Isn't supposed to start? Did I miss something?

We saw something at 3:10 PM, finished at 3:55, but it was just presenting Win 10 and partners products. nothing more. and the video was very bad... we only saw the presenter and not what was projected in the room. so I think they stop the keynote to solve the streaming and recording issues (I hope its why its paused)

"mobile first, cloud first" was the starting statement to this so called "event" LMAO... Then I went south! I'm still so freakin pissed. And for those out there saying "wait for the Oct event in NYC", give me a break, not even Microsoft confirmed this! Damn, JUST GIVE ME HOPE ABOUT MOBILE, MICROSOFT. DAMN!!

I don't get it, it is already started or not? The streaming (when it works) presents just the microsoft logo and background music. But I see a lot of photos in the top scroll panel.

same too :) I dont know the time that should start...or finished :)

Features that are already known and hardware not likely to be looked at twice. What was the point of having the keynote presentation that doesn't actually highlight anything of interest? Brian would be a better fit at a more lively event (sans stupid hat) - the audience response was almost as lifeless as the presentation. Nick seemed like a cross between an NPR presenter and an infomercial pitchman - product after product with an unnecessarily calm, sleep-inducing presentation. That was entirely without a single shred of useful information.

The launch of Windows 10 Mobile is right around the corner. Are they seriously going to wait until the last minute to host a consumer based and not developer based event? What are we really getting that's new in next vision for mobile besides Continuum which requires new hardware anyway? Posted via the Windows Central App for Android

this is a big flop. Microsoft is falling.

The telecast didn't work on their website so I watched it on Microsoft's. Fucking boring as hell- the camera was fixed on the speaker and not showing anything else. Put me to sleep.

No updates to the Dell Venue 8 & 11 Pros?

The IFA demo was a big fail with Cortana. Paused it after double fail to enjoy a LOL.
Windows Central Newsletter
Thank you for signing up to Windows Central. You will receive a verification email shortly.
There was a problem. Please refresh the page and try again.