Love Windows Phone? Show it with your Xbox Avatar and three new Windows Phone props.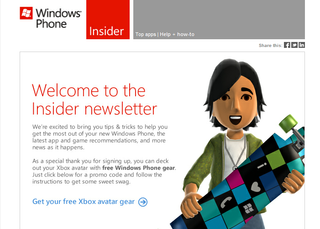 You've asked for it and now you'll get it. In the continued push by Nokia and Microsoft of the outstanding Lumia line of Windows Phone, new Xbox Avatar props have been created. What's more, they're free.
The props were noticed by the site Xbox Avatar Gear and come in three flavors:
Nokia Windows Phone Longboard
Windows Phone #1 foam finger
I <3 Windows Phone shirt
So how do you get one? Simple, you just sign up for the Windows Phone Insider Newsletter (opens in new tab). That's it. Once you do so, you'll receive an email with your Redeem Code which you can then enter at Xbox.com. We did it and managed to grab a Longboard which is pretty snazzy.
This isn't the first time we've seen Windows Phone Xbox props before. Back in June 2011 we saw a prop for US users that was simply a Windows Phone device that your avatar held in his hand and tossed around. There was also a limited edition Beards n Beaks one which was quite amusing.
However this new offer looks to be a much more widely available which is a good thing. Show off to your friends and share the Windows Phone love. Go grab it now.
Source: Xbox Avatar Gear, Windows Phone Insider Newsletter (opens in new tab); Thanks, Lucas L., for the tip!
Daniel Rubino is the Executive Editor of Windows Central, head reviewer, podcast co-host, and analyst. He has been covering Microsoft here since 2007, back when this site was called WMExperts (and later Windows Phone Central). His interests include Windows, Microsoft Surface, laptops, next-gen computing, and arguing with people on the internet.
I wish I could get my hands on that Windows Phone device prop..

It is a default prop in Mango. Let your avatar sit for awhile and he'll (she'll) start playing with the phone.

Is there a way to permanently have it?

EBay / Xbox code. Usually about .99

Tried to sign up from mu Lumia 900 but when I get to the Windows Phone page on Explorer all I get is the spinning dots 'o death!
Not really a good foot forwards MSoft.

I also ended up with the spinning dots 'o death :(

I wad able to complete it from my 900, no problem.

Show the site in IE with "Desktop" mode.

Still waiting for my code.

Just got my Nokia WP longboard!

I got the Longboard as well, thanks :)
Must...Have....All...

Grrrr - code received, when I try to purchase prop "Not available in my region" UK

Same thing here, only Longboard available and ultimately it will say "not available in your Region" (US) I'd rather have other Props, anyone else have a solution> :)

Weird, It is available in UK.

You are in the Uk? Interesting. What handset do you have?

I got the same message. But log in to your account and look at your avatar edit page and you will have it in props.

How do you get one of those t-shirts for real?

Is the longboard the only thing they're giving out right now? Seems to be the only thing people are getting. Unless the others are rare.

MehDoh app just updated to 2.0!!!

This is sweet! Here's my avatar in action (GIF) http://twitpic.com/9ncamu

Why doesn't WPCentral support embedded images btw?

What if you already signed up earlier?

I even got the shirt irl ;)

A Microsoft WP7 dev event.

This should be what MS implements on there lock screen....gifs with action

That would be pretty cool indeed.

your batteary will be empty in few hours, this is not just a gif file, it's required CPU a lot. :(

I have been thinking about buying a longboard IRL for a few weeks now, just got the prop, I guess its a sign. :D

Everyone got the same code?
43972-QQGCM-QJJ7P-PKC9H-DVQYZ

Nope. I got a different code. Riding my Nokia Longboard now.
As a boarder and WP7 enthousiast it fits me well :)

I just got my board, The next prop will be a windows 8 tablet.

Not working spinning dots.

what happens if you were already signed up for the newletter?? Will they give curent subscirbers a code too?

My question exactly? I don't think so.

Is dis available for my samsung omnia w ? Anybody can tell me plzzz

Yes, have you tryed setting your webb browser in phone to desktop mode? I needed to it on my phone.

not available in India :(

NOTE: got it :)

https://dl.dropbox.com/s/lmorne5ezf0g8vl/nokia_xbox.png

But how to get it on WIndows Phone?

Now:
Your single-use code is: We're sorry, this offer has ended.

Same here, that's stupid. You'd think they'd want to have as many people as possible advertising WP7 for them for free... now how do I unsubscribe from this stupid newsletter - what a waste of time.

What the heck?! I just did it and got the email for the promo, but when I went to the link it was not a website, just a bunch of text that seemed to describe a web page. So I went to my phone's settings and changed it to show desktop version instead of mobile, and refreshed the page. Then it shows the web page, but in the place of the code it says "We're sorry, this offer has ended.".... What the heck?? >:(

i got my longboard a few hours ago. siiiick

Your single-use code is: We're sorry, this offer has ended.

:-(

Yay. Just signed up to a spammy newsletter to get "sorry this offer has expired" when I clicked the link in the email.
God damn.

Everyone in marketing at Microsoft should be fired. Why make the WP prop hard to get or dumb?! They don't understand how to leverage passion for their products. Last time I was at teched they had dumb mug and a dumber hat for WP (so dumb I couldn't talk myself into getting them) but the had about 30 different things for Bing, something that nobody cares about.

I managed to get the long board :)

Same :) I think that was the only one on offer

Your single-use code is: We're sorry, this offer has ended.
F*CK YOU MS. This is as stupid as annoying

argh!! why would one be able to go through all the steps, and then be told here's your code.........NOT!!!!!!!!!!!!!
i was stoked to put some nokia swag on my avatar.

This is BS, why not tell me the offer is expired BEFORE I ***ing sign up... I'm always sticking up for Microsoft but with BS like this how can I really. I understand its a promo but really, tell me afterwards there is no prize. FU Microsoft.

I dont need to ride a skateboard, I got int when WP7 first came out. They had a promo to give your avatar a WP7 device. So mine pops it out an plays with it all the time....

"as a special thanks" ... "click below for a promo code" - already expired? Why even send the email then?

It expired??? in what a day or two?! BTW, would have liked the WP7 Suit! As a wp7 user we should be given one of these for free advertising! ;)

DO IT MS!

WPcentral why aren't you giving this article an update? It's not available anymore! And maybe you could put in a word to windows that what they just pulled was BS.

"Your single-use code is: We're sorry, this offer has ended."
WTF? I saw this yesterday, tried to sign up, never got an e-mail. Then signed up today, got two e-mails, and neither one works.

I call shenanigans!

Microsoft has responded on their Windows Phone Blog:
http://windowsteamblog.com/windows_phone/b/windowsphone/archive/2012/05/21/on-xbox-avatars-and-stolen-skateboards.aspx
Still would like to know why those that were already subscribed to the newsletter weren't invited. Way to reward your loyal fans.
Windows Central Newsletter
Get the best of Windows Central in in your inbox, every day!
Thank you for signing up to Windows Central. You will receive a verification email shortly.
There was a problem. Please refresh the page and try again.