Unlocked Lumia 520 gets Amazon 'Lightning Deal' price cut to $99.99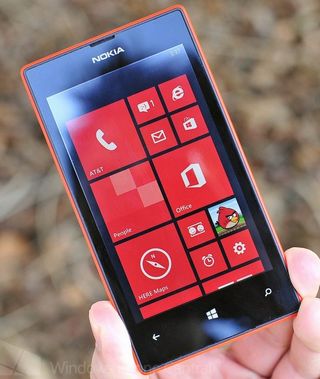 One of Amazon's newest "Lightning Deals", where they offer products at deep discounts for a very limited time, is for the low cost Lumia 520 smartphone. The Windows Phone device is now on sale for $99.99
This is for a yellow unlocked GSM Lumia 520, by the way, and this version normally sells for $119.99, which means buyers can get a $20 savings during this lightning sale. Just in case you are one of the few readers not familiar with the Lumia 520, it is a 4 inch smartphone with 512 MB of RAM and 8 GB of onboard storage.
Will you be jumping in for this Amazon lightning sale for the Lumia 520? Thanks to Justin M and Dan for the tips!
Source: Amazon (opens in new tab)
Windows Central Newsletter
Get the best of Windows Central in your inbox, every day!
Please give support to medical questions like symptom checked available in health and fitness app

Unlocked and you say what carrier LOL

Lol, read it too fast unlocked GSM. Cool

They had an article about that here...

muddytoad probably read that article too fast as well...

How can someone not be familiar with a Lumia 520? :o

A lot of people still don't know what a Windows phone is

Here is the same problem, but evrybody who see an lumia, love it.
It's so cute

Does it have like apps n stuff? #worstquestionever

What about uk? Is it unlocked for a low price here?

Daniel I have a colleague that is moving to the UK and I want to buy it as a farewell gift, I just want to be sure it works there, it does right?

Unlocked usually means world phone

As a general rule for any phone, you should look for the specs and see the supported bands in 2G, 3G or 4G. And then see the bands used in the country for each carrier. The 520 supports 3G - 850 / 900 / 1900 / 2100 Mhz, and UK seems to have those http://www.gsmarena.com/network-bands.php3?sCountry=UNITED+KINGDOM

Doesn't seem like such a great deal to me. Then again, I picked up a factory unlocked Lumia 925 in original packaging for $140 via Craigslist seller in Providence. Phone is great.

I got mine on Newegg for $170. You win ;) I agree great phone

$99?. How is this a deal. $70 or less for the longest time at different retailers. Plus you can get 635 for $109

It's unlocked. I got a locked AT&T one for $39...but it's, well locked...this one is not. That's the deal.

I thought the one selling for $49 bucks were compatible with H2O which is not. My 1520 which is locked to AT&T as well is compatible with H2O

You should be able to use any att mvno on a locked att smartphone. Cricket, red pocket, h2o, and straight-up should all work Posted via Windows Phone Central App

This one is 99 bucks, and isn't a lightning deal (unlocked 520) http://www.amazon.com/Nokia-Lumia-Unlocked-Windows-Phone/dp/B00CKUBLFQ/r...

This isn't a deal. I've seen them for $59, that's a deal.

I bought one for $39, so $59 isn't a deal. Neither are unlocked. This one is. Does anyone RTFA?

Carphone warehouse, nuff said

Sponsored by Marvel: The Flash Lumia phone.

The Flash is DC though. :-/

I know :P I was thinking about the miss print mistake Comic I have of the flash.

I got this phone at Walgreens for$32.99 yesterday, not unlocked thou, for AT&T.

Online? or at your local store?

You can get 635 for $79 at Fry's Posted via Windows Phone Central App

Walmart has it for $48, and the Nokia 635 for $100. AT&T in both cases. Posted via Windows Phone Central App

Lol 99. For this POS? Lol

Buying the 520 while it was $39.99, and then getting a $20 dollar unlock code off the web was the smarter thing to do.

I had a realization today of why Android is eating everyone's lunch. Went to a dollar store for a couple of items and right up front is a phone display. Dirt cheap android phones. I don't want MS to take a hit on quality but its pretty apparent that you can buy android everywhere from a carrier to the quickie mart. I hope these low end phones help with overall numbers. We have a 635 and its awesome. Just have to spread the word on how nifty these cheaper devices are. Flagships dont get market share, affordable entry level devices do.

I'm sure if they buy a low end android from a dollar store, they wont be impressed.

Yes, there are a boatload of cheap Androids out there, but most of the low end, no contact ones have so much bloatware on them there is very little room for apps. The space ripe for WP that Microsoft has to fill is low end full feature phones. The Nokia 635 is headed that way, but it was handicapped, by low RAM, no flash, no front camera. Add those things, keep the price low enough for people to take a chance on it, and they will. Posted via Windows Phone Central App

Will miss you 520, 620, 720, 820 & obviously 920. You was king that time. Looks like your time is getting over :(