Lumia 830 available online in India, hitting retail stores tomorrow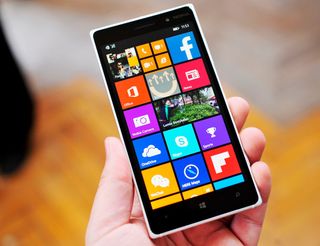 Right on cue, the Lumia 830 is now available on Indiatimes for Rs. 28,799 ($480). Currently, the black color variant of the device is available, with the orange version listed as coming soon.
As for offline availability, we talked to a few retailers in Hyderabad, who mentioned that the device will be available in stores from tomorrow. We've also been told that Nokia dealers in the Pune region will begin stocking the device starting tomorrow. It is likely that the Lumia 830 will be available at most retail locations throughout the country from tomorrow. As for other devices recently announced in the country, the Lumia 730 is available online and offline, and the Lumia 930 is estimated to go on sale sometime next week.
What device are you guys most interested in buying?
Buy Lumia 830 on Indiatimes
Thanks Rakesh and Rohan for the heads-up!
730 will most likely be a hit....i already know around 10 people in my circle who are ready to buy it...

730/5 is gonna sell like hot cakes I guess. I'd buy it if I had to replace my 720, but it's way too early

It is overpriced , very small amount of people will buy it especially in india

At almost $500, I'd say it's overpriced for just about every market.

The galaxy s4 is now available for the same price of 28k
That too has a good camera and above all it has a 1080p screen instead of 720p screen of 830.
This should have been priced at 22k

but it has bad build quality s4

Galaxy phoens are worst... how much difference in display quality you will see when you put 830 and S4 side by side?


I just checked in Nokia Priority Dealer in Hyderabad, both 830 and 730 are available with them. I asked the price for 730 they said 17700 lol, I said its available for 15k in Indiatimes and the sales person was saying its without taxes. I told him its inclusive of all taxes. Then I asked him if any exchange offers are there. I use Lumia 710 (Yeah, I know its quite old), he said he will give me Rs 2000 for Lumia 710 & subsquently reduced the price of 730 for Rs 15500 which means he will give me for Rs 13500 in exchange of 710. But I didnt quite agree and left the store.

You're lucky enough he would lower the price for you, you'd look like a full had you tried this in Europe.

They are selling at more than MRP which is wrong in first place. I am checking with other Nokia Priority dealer nearby as well.

Price might be wrong but it is what it is. If you find it cheaper elsewhere, then good for you. I'd rather turn the guy down than negotiate.

Bargaining is pretty common in India. Right from roadside sellers to priority stores...everything is bargained for. I guess that's how we Indians are... ;)

Yeah, I guess. That's why I threw the European comparison in. Oh well, good for you if you can grab a deal.

Even in Europe you can bargain. And there's competition here in Europe. Sales is not just limited to a few retailers, so it's good to compare, and bargain. Sometimes you could be lucky. I have been some couple of times. When I say Europe, I am referring specifically to especially Germany, and to some extent the UK and Ireland.

Moreover price in Priority dealer is always more compared to others.

Whether in India or not, if you walk into a shop with an Indian shopkeeper, you will walk out of that shop with the product you want at a much lower price than originally stated. Speaking from experience. All you do is say "I don't have that much", the response is almost always "How much you've got then".

It will be never the printed MRP on the box, which is Maximum Retail Price which is different from the selling price or list price on the website. So they are just trying their luck with people who don't know the actual market price.

That's the prob with the Nokia priority dealers bro ... I recently checked the price of NL1520 & price was relatively very high as compared to the online shopping website. Yes of course the rep @ the store tried convincing me of the applicable taxes jazz.

I also want to replace my 710 but not with 730, I would love 830 as replacement for my current phone.

He is lying, I purchased one from Nokia store on Connaught place, Delhi.
For 15200, no exchange, although they are giving me 2500 for my 1 year old Lumia 520

If u dont wanna believe dont. Many priority dealers are selling for different prices at different places.

Nobody should pay 480 $ for this.. I am waiting for flipkart to deliver 1020,and if they screw up I ll buy 730 in green from Amazon.. Posted via Windows Phone Central App

Did you get the 1020 during the Big Billion Day?

I think he did. Why else would he buy a 1020 at this tine around when the 1030 is most likely to be announced.

Yes, I did @13999/-but I am sceptical that Flipkart would ever deliver it, it's been two days and they have not even packed it yet.. Posted via Windows Phone Central App

Should I exchange my 10 months old 925 to 830. Worthy?

Nope, not worthy, you will lose glance and much better GPU that is adreno 225, wait another 6-8 months for a proper flagship to replace your 925.

The lumia 830 comes with glance.

you got your facts wrong.
830 has glance, and a much newer GPU.

I would, just because of the SDcard support. dpi is not so much of a big deal with me. The other thing is quad core is better for multitasking, don't get so many "resuming" things happening. If you are into gaming then it does matter to have a better GPU, yes the 925 GPU is better than the 830's.

yes, you should.
better battery, bigger screen, better specs and camera..larger storage..plus built-in wireless charging..
what's not to like? :)

I would say one should buy or upgrade to 830 only if he is getting it at 350$...Otherwise go for 930 or 1520 by spending a little extra or wait for sometime for a worthy 500$ flagship or wait for 830 s prices to go down.. Posted via Windows Phone Central App

I'll happily exchange my Lumia 720 for the 730, cuz damn! That is one hell of a phone, and it's priced nicely as well! :D
*hope my parents allow :P*

WTF !!! 480 $ ??? for 1 g of ram and 720 p screen ?? thats fu*** Over priced !! i can buy lg g2 in this price and its a monster phone !! i can buy lumia 1020 in the same price !

Thanks Rakesh Roshan...oops Rohan I mean..:P good news anyway.

lol .you are welcome..yeah good news indeed !

Slightly overpriced, why dint the Microsoft priced it as the perfect price of 730?

28k?? Why this kolaveri....

730 again oru mass hit agum i hope

Damn it doesn't even have Dual SIM and only 1GB RAM. Initially I thought of buying it but after looking at the full specification I have changed my mind.

1 Gb ram is enough.. But ya.. Dual sim should've been included.. Like Samsung does with almost all of its phones..

iPhone 6 and 6+ does have 1 GB RAM too.

I will go for 730. Or may be 1520.

What's with that store tile?!?

The live tile store , in GDR 1

830 is overpriced. 730 at ₹15000 is a steal

830 is so oosm.. I'm dying to buy it ❤

Me too , but its over priced :(

Please, someone in the WPCentral can confirm to me if there will be back covers available for sell to this phone?? In the Nokia/MS official site there is no mention to this one, just the back cover with flip and I don't like that.

Me too Lumia 730..hope the l830 will have a price drop

Indiatimes is just too expensive....

Would have bought a 730 but damn, there is no glance screen in it. Neither does the 930 has it.

keep it ₹25000 its better

Guys can u suggest me about 830 and 930...

I'd go with 930, better camera, higher resolution screen and gets "hey Cortana, with Denim update. Unless you value Glance screen.

930 any day, snapdragon 800 plus 2gb ram itself answers this question. 20MP camera, 32gb storage etc are good plus points

okay.... but what about the snapdeal.com offer on lumia 830... in the earlier post you said there will be a Rs.6000 off if we buy from snapdeal windows app

Should have priced below 25K. However, coming the 2014's Lumia 520 aka Lumia 730. Can't wait to buy it.

I honestly don't think the 830 is overpriced. It's $480 while the 930 was $650 when it first came out and the iPhone 6 is $700 with 1gb of ram. I think they priced it right when they say its an "affordable flagship".

Isn't that snapdeal deal available for the 830? Any news about that?

I asked today abt 730.. In Chennai nokia priority store person told its 14900. I asked about exchanging my nokia lumia 620. He said that a proper working condition mobile would be taken for 2500-3k. Don't know what to do. :/

Why priced High?
Now people will consider Moto X(2.gen)
Better processor,ram and screen only have to shell 4k(INR) more! Posted via Windows Phone Central App

I am going to exchange my laggy grand 2 for l730. Posted via the Windows Phone Central App for Android

Can anyone please tell me when I can get my hands on the 730 in Kolkata? Really desperate to buy it asap! Posted via the Windows Phone Central App for Android

Hi Archi....it'll be available on from 15th Oct :)

830 will be a flop - prices way too high for this android less little ting
I m using L820 which was d 1st wp8 handset taken off from d market (may be little too expensive, less takers , but full of same stuff as loaded in L830)
Good repeat introduction in the market but wp8 (sorry to say) - android any day better

i have to use Android. but now a days using windowsphone lumia 630... i am feeling irritation, because many option which was in android mobile.. like samsung S3, S4 n S5 not in Windowphone.... many many gaps in many many areas... i hope that these gaps will be fixed in upcoming Lumia Devices.. in 830, 730, 735
Windows Central Newsletter
Get the best of Windows Central in in your inbox, every day!
Thank you for signing up to Windows Central. You will receive a verification email shortly.
There was a problem. Please refresh the page and try again.