Nokia Lumia 928 Tip: Save 2.5 GB of space by deleting offline Maps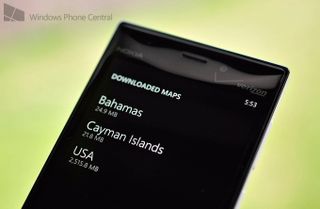 By now, the notion that Windows Phone 8 can store its maps offline should be familiar to most of you. Instead of pulling data "from the cloud", your phone can simply have whole swaths of areas already on board, leaving the CPU (and battery) for other tasks.
While supremely useful, it can be overkill too. Specifically we mean if you spend a majority of your time in one region (or state), it doesn't make sense to fill up your phone with say the whole United States. Yet that is exactly how the Verizon Nokia Lumia 928 is set up, including maps for the Cayman Islands (21.8 MB) and the Bahamas (24.9 MB) and USA (2,518.8 MB, or about 2.4GB).
We've been able to verify this on at least two Lumia 928s, so we know it's not an accident. We can understand how Verizon would want the maps preloaded, as presumably a lot of people will never know about that feature—so why not make it so by default? The problem of course is if you rarely travel (especially to those islands), you're wasting a significant amounts of space. Instead, you could get that storage back and just download state-by-state.
Here's how to reclaim those gigabytes:
Launch HERE Maps
Tap the "3 dots" to bring up the context menu
Select Download Maps > Download New Maps
Press and hold on Bahamas, Cayman Islands and/or USA to bring up the menu
Delete
Obviously deleting 2.5GB of data will take a few moments, so sit back and let your device do the work (it should be about 30 seconds).
As you can see from our before and after screencaps, we saved quite a bit of space on our device. Going through and adding a few states in the Northeast will run us around 300 MBs, which is a lot less than 2.5GB!
Edit: Things get weirder. It's starting to look like only some batches of 928's have 2.5GB of Maps preloaded, while others are reporting they had had none. Guess it's a good time to check to see which camp you fall into.
Daniel Rubino is the Executive Editor of Windows Central, head reviewer, podcast co-host, and analyst. He has been covering Microsoft here since 2007, back when this site was called WMExperts (and later Windows Phone Central). His interests include Windows, Microsoft Surface, laptops, next-gen computing, and arguing with people on the internet.
Neither of my Verizon 928s had ANY maps installed.
I was prompted to download maps when when each phone ran Drive+.

Huh, weird. I've had two with all of that preloaded.

They were preinstalled on both of mine as well.

Same here. No maps showed up under Downloaded Maps.

It was definitely on mine.

My Lumia 928 had them all pre-loaded, no big deal for me though I still have a lot of free space.

Had to manually download my maps also

I have a Lumia 810 and I've already done that. However, there should be an option to save to my memory card.

I wish we could download maps by city, so that we could save even more space.

Either that option is there already, or it will be available with the release of GRD2.

And Nokia is trying to tell us 16gb is enough for newer devices like 925... Glad I have my 920 for maps, games and music. I have not downloaded anything except wpc app on my 925, its more a trophy wife than a workhorse like 920.

I didn't have any on mine, but the first thing I did with mine was a factory reset so I could restore the backup of my old phone. I guess that got rid of it.

Mine has the maps preloaded on them and i'm keeping them there, because i do travel a lot within the USA

All preloaded here. Caught it the other day during storage check but never thought much about it...til now. Delete,delete,...

When are they going to fix the "Others" issue? I got 7.8GB of storage in others. Got a 32GB 920 with only 3.6GB of free space leave on it. I need back even 6GB from others. Don't have maps download on my phone, only apps n music...

Well .. Egypt maps are just 99 MB !
Those good countries that reserve your storage <3

I don't recall if my 928 came preloaded with the maps or not, but they're there now and I'm okay with it - I still have 12gb available.

Ok, I just checked on my 822 and I had the Bahamas, Cayman Islands and of course the whole USA.

I just bought mine and I did a hard reset nearly immediately -- coud there be a chance they are preloaded but a hard reset wipes them? I think the free space was down to ~24GB with nothing downloaded originally.

Its pathetic that an 8GB HTC is useless because of this Other Folder Storage issue. I am using my Other phone until MS gets their act together and figures out the storage issues... Unfortunatey this step does not work for me. I only had California Maps downloaded and that was only 208 MB, freed up that space but not by much...


Mine did come with them downloaded, odd

I got mine back from Nokia service the other day, no maps on mine.

I don't see an option to download by state. Seems all USA or nothing?
Windows Central Newsletter
Get the best of Windows Central in in your inbox, every day!
Thank you for signing up to Windows Central. You will receive a verification email shortly.
There was a problem. Please refresh the page and try again.