Lumia Denim update starts rolling out to Lumia 520, 720, 1320 and more in China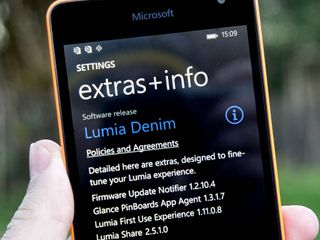 Windows Phone users in China are in for a treat, as Microsoft announced that it is commencing rollout of the Lumia Denim update to a lot of devices in the region. The update is available to the Lumia 520, Lumia 525, Lumia 526, Lumia 625, Lumia 720, Lumia 720T and the Lumia 1320.
If you're not seeing the OTA update on the aforementioned devices, we suggest you manually check to see if one is available by going to Settings > Phone update > Check for updates.
As for what's new, Lumia Denim brings passive voice activation to Cortana (on devices with Snapdragon 8xx hardware), which can be activated by saying, "Hey Cortana." Also included is the new Lumia Camera and much more. These features are available for select devices as they are hardware-restricted.
To know when your device will receive the update to Denim, be sure to stay locked to Windows Central.
Source: Microsoft China (opens in new tab)
Thanks for the tip hengxiang32401!
Hey Cortana only for Lumia 1520,930 and Icon

No.. Snapdragon 8XX devices only

I for one hope this changes as this is a killer feature that should be on all devices where capable, not just high end 8xx SD units

Unfortunately it's impossible. The same why OK Google it's limited to some devices, Hey Cortana also will be. Not all processor has the always listening feature. The Lumia's page says that the technology works "because" of the SensorCore and not to all devices with this sensor. Only 8xxx processor works with always listening feature. There's nothing MS can do, as Google as well.

According to some tweet, it will soon be also available for lower end devices having s400 processors, as services like 730 and 830 have SensorCore.

"Ok Google" works on Samasung Galaxy Avant SD 400 processor. But not from the lockscreen. Youtube it, plus I have the Avant with Ok Google working from any screen except lockscreen.

Lumia 630 has sensecore. Its snapdragon 400

Needs >1GB RAM for passive 'HEY CORTANA', iirc. http://geekongadgets.com/2014/09/04/hey-cortana-coming-lumias-1gb-sensorcore-enabled-1520-930icon/ "However since Nokia opted out of mentioning the Lumia 630 and 635 in the official announcement, it's possible that this new feature also requires 1GB of ram as a minimum, something the Lumia 630/635 does not have (512 MBs only). This is of course a bummer, especially for people who opted for the imaging flagship the Lumia 1020, or are still rocking the 920 or other devices; but hopefully with time Nokia and Microsoft can bring this feature to all devices."

That's why I'm waiting for Windows 10 and devices that support it. Chances are there will be some new killer features only the newest devices will support. Will stick with 520 till then :(

According to some tweet, it will soon be available for lower end processors too, like s400,

No. You need a 8xx processor

The website says you just need SensorCore.

Sorry, nothing to do with sensorcore.

Icon? HAHAHAHAHAHAHAHAHA Verizon sucks!

Couldn't agree more. Verizon is crap.

Is that false? http://forums.windowscentral.com/cortana/275520-no-cortana-lumia-1320-a.... edit: Aw you mean only for the passive-listening feature, not complete the cortona...

Cortana wakey wakey! my fifteen20 eagerly waiting

Why does microsoft always start with countries having lowest market share for windows phone?

they wannna increase the shares :)

The reason is pretty obvious. Low impact upgrade first. FOA SOA TOA.

Exactly, bodes well for the start of the rollout, we should all have it by Xmas.

I will be shocked if Verizon ever updates any Windows Phone.

Less mad people if the update has a problem.

Use them as tester before release goes to other countries :D

:Dawood Ahmed I smell jealous

Same reason Samsung released a Lollipop update for the Galaxy S5 in Poland no doubt.

And because it brings Cortana to China?

It's my understanding, windows phone has more market share overseas than here in the united states from many article here on windows central and other tech sites or has my memory failed me? Besides the carriers here in the US play a big role in delaying windows phone updates so people like yourself can get frustrated and jump ship, therefore increasing the popularity of the iPhone.

Perhaps smaller share in larger market still means more devices?

Your memory has a bluescreen of death.

To get the clichtes out :)

Soak test. To test if there are any issues in distribution probably.

I got it in the UK a few days ago, but I didn't realise the update was for denim until I checked just now. But my phone is a HK unlocked handset

when it is comming to India?

When is it coming to the world? Lol

I'm 'curious' to this as well...

Why do you ask about that every time? Makes you look like people who always needs to be fed information with a baby spoon.

Comments like this make me want to have an 'India' word filter...
You guys need to start using Bing/Google and stop asking pointless questions on these threads. It is SO annoying.

Learn Chinese you MotherF###r

I have no problem with anyone, but when people try to act smart, it hurts. Whoever you are you spinzeroWL tafsern, just shut the **** up. This is windows central. Do you know what it is for?
It's for the people. To clear their doubts and "ask questions", you dumb ass.
And this is comments section, so fuck you all who don't like it when asked about their own country.
You are big time suckers. You say this comment irritated you, and here you are, commenting over this comment. Lol.
When I look at guys like you, I think of only one thing. "Cry-babies." I don't have any problem with anybody, may it be Indian or non Indian. But these cry-babies... Lol. They suck. BIG TIME.

Oh boy, You must be fun at parties

Finally..... Can't wait for my turn....930.

And here... (CV GBIE 630)

Yeah still waiting for cyan.... Icon

For my 710 also.
.
.
.
.
.
.
.
.
.
.
.
.
.
.
.
.
.
.
.
.
.
.
.
.
Just joking.

And here I am, looking at my 1020 frustrated as hell that I can't get Hey Cortana and the new Lumia Camera.

Even i am at a loss for words.

for some people Christmas come early this year :))

Christmas and Denim are coming, role on Denim

To test if everything goes well i guess....

Well I don't hear anyone with the update posting so it could have kill there phones lol

Testers? Dude, Microsoft had test it for three months for some minor improvements!

My 930 to folks on Vodafone UK:)

Weird that the Lumia 930 and 1520 (and yes, also all other devices) aren't included, but I read on a few websites that they may be get the update around christmas though. Noticing that Microsoft is really struggling with the update...

Maybe the updates for those models are not included Lumia camera features, that's why more easy for MS to releases. Maybe I'm wrong either.

Smartest person in the comments so far. None of these fixes will benefit from the features we are so anxiously drooling over that goes hand in hand with the to tier snapdragon 800 phones.

For those who are using 1520 mud facing screen sensitivity problem just like 535 (as I tried before), MS promised to solve it and the problem still there.
In the end that's the design problem which the 1520 display was designed too thin caused, I had to think it that way if not I have no patient with my 1520.
1020 is a wonderful phone but now they said hardware is not supported for further elegant features coming soon, damn shut me down.
I rather not giving compliment cuz I believe every single WP user knew it. Bring the parts that need to improve which might help MS and Nokia know what exactly end users needed.
MS, don't u wanna beat other OSes! Then stick with us.

Yes, my 1520 is waiting.and willing ..wether it wants to take it or not... -_-

Just remove my resuming thing....

I second your complain, it most at times annoying to see this. Sometimes I have to start whatever I was doing all again which is a pain in the ass. I rest my case

When you unlock your phone?
If that is the problem then go to Kids Corner and activate it. A popup will ask you if you want to inactivate Dynamic Lockscreen, do that and the problem will be gone.

I have kids corner activated on my 1520 and still have the resuming issue

What low end first? You kidding me?

The new Microsoft, they care less about high end devices.

Os must be designed with care for low end devices because of low memory. If Microsoft optimise denim for low end devices then there is no problem for them to make it work fine.

Yeah... but in this specific case you have the special Lumia Camera features and Hey Cortana for high end devices, and that must be the thing that holds everything back for high end

If they release for old phones, people complain, if they release first to new phones, people also complain. Seriously.

Low end devices have much higher market share.

What's new in this update ?? Can anyone tell me pls.. !!

live folders, new lumia camera

What is live folders..??I think It is already in 8.1 cyan update..

Just google it or look it up on Windows Central...

You mean Bing it, right...

Live folders wasn't in 8.1 Cyan, it came in GDR1 (Dev preview)

no live folders isn't included in Cyan, only if you enrolled in Preview for Developers

for DP user there will be nothing new .... these are just firmware update for them.

So, I ask myself. Why not the DP devices first... Pffffff

Denim should coming with Lumia camera 5. If they added same features were released for PD earlier, which mean those updates are MS but not denim.
Does MS loosing Nokia from time to time?

VERIZON - LUMIA ICON! COME ON!

All I can say is - all the best!

Verizon doesn't even have Cyan yet... This sucks.

Wouldn't it be nice if they would update straight to Denim ?

Is this some blessed week for s?

hope that we don't have to wait "DENIM FOR DP" just like "CYAN"

C'mon Microsoft speed it up

Wait what? I thought 930 and 1520 will be the 1st one to get denim update?

Clearly they are trying the update in a less impactful market before they push to the bigger ones; they're polishing it for the rest of the world.