Lumia Denim update starts rolling out to Lumia 520, 720, 1320 and more in China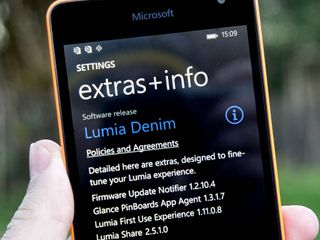 Windows Phone users in China are in for a treat, as Microsoft announced that it is commencing rollout of the Lumia Denim update to a lot of devices in the region. The update is available to the Lumia 520, Lumia 525, Lumia 526, Lumia 625, Lumia 720, Lumia 720T and the Lumia 1320.
If you're not seeing the OTA update on the aforementioned devices, we suggest you manually check to see if one is available by going to Settings > Phone update > Check for updates.
As for what's new, Lumia Denim brings passive voice activation to Cortana (on devices with Snapdragon 8xx hardware), which can be activated by saying, "Hey Cortana." Also included is the new Lumia Camera and much more. These features are available for select devices as they are hardware-restricted.
To know when your device will receive the update to Denim, be sure to stay locked to Windows Central.
Source: Microsoft China (opens in new tab)
Thanks for the tip hengxiang32401!
Hey Cortana only for Lumia 1520,930 and Icon

No.. Snapdragon 8XX devices only

I for one hope this changes as this is a killer feature that should be on all devices where capable, not just high end 8xx SD units

Unfortunately it's impossible. The same why OK Google it's limited to some devices, Hey Cortana also will be. Not all processor has the always listening feature. The Lumia's page says that the technology works "because" of the SensorCore and not to all devices with this sensor. Only 8xxx processor works with always listening feature. There's nothing MS can do, as Google as well.

According to some tweet, it will soon be also available for lower end devices having s400 processors, as services like 730 and 830 have SensorCore.

"Ok Google" works on Samasung Galaxy Avant SD 400 processor. But not from the lockscreen. Youtube it, plus I have the Avant with Ok Google working from any screen except lockscreen.

Lumia 630 has sensecore. Its snapdragon 400

Needs >1GB RAM for passive 'HEY CORTANA', iirc. http://geekongadgets.com/2014/09/04/hey-cortana-coming-lumias-1gb-sensorcore-enabled-1520-930icon/ "However since Nokia opted out of mentioning the Lumia 630 and 635 in the official announcement, it's possible that this new feature also requires 1GB of ram as a minimum, something the Lumia 630/635 does not have (512 MBs only). This is of course a bummer, especially for people who opted for the imaging flagship the Lumia 1020, or are still rocking the 920 or other devices; but hopefully with time Nokia and Microsoft can bring this feature to all devices."

That's why I'm waiting for Windows 10 and devices that support it. Chances are there will be some new killer features only the newest devices will support. Will stick with 520 till then :(

According to some tweet, it will soon be available for lower end processors too, like s400,

No. You need a 8xx processor

The website says you just need SensorCore.

Sorry, nothing to do with sensorcore.

Icon? HAHAHAHAHAHAHAHAHA Verizon sucks!

Couldn't agree more. Verizon is crap.

Is that false? http://forums.windowscentral.com/cortana/275520-no-cortana-lumia-1320-a.... edit: Aw you mean only for the passive-listening feature, not complete the cortona...

Cortana wakey wakey! my fifteen20 eagerly waiting

Why does microsoft always start with countries having lowest market share for windows phone?

they wannna increase the shares :)

The reason is pretty obvious. Low impact upgrade first. FOA SOA TOA.

Exactly, bodes well for the start of the rollout, we should all have it by Xmas.

I will be shocked if Verizon ever updates any Windows Phone.

Less mad people if the update has a problem.

Use them as tester before release goes to other countries :D

:Dawood Ahmed I smell jealous

Same reason Samsung released a Lollipop update for the Galaxy S5 in Poland no doubt.

And because it brings Cortana to China?

It's my understanding, windows phone has more market share overseas than here in the united states from many article here on windows central and other tech sites or has my memory failed me? Besides the carriers here in the US play a big role in delaying windows phone updates so people like yourself can get frustrated and jump ship, therefore increasing the popularity of the iPhone.

Perhaps smaller share in larger market still means more devices?

Your memory has a bluescreen of death.

To get the clichtes out :)

Soak test. To test if there are any issues in distribution probably.

I got it in the UK a few days ago, but I didn't realise the update was for denim until I checked just now. But my phone is a HK unlocked handset

when it is comming to India?

When is it coming to the world? Lol

I'm 'curious' to this as well...

Why do you ask about that every time? Makes you look like people who always needs to be fed information with a baby spoon.

Comments like this make me want to have an 'India' word filter...
You guys need to start using Bing/Google and stop asking pointless questions on these threads. It is SO annoying.

Learn Chinese you MotherF###r

I have no problem with anyone, but when people try to act smart, it hurts. Whoever you are you spinzeroWL tafsern, just shut the **** up. This is windows central. Do you know what it is for?
It's for the people. To clear their doubts and "ask questions", you dumb ass.
And this is comments section, so fuck you all who don't like it when asked about their own country.
You are big time suckers. You say this comment irritated you, and here you are, commenting over this comment. Lol.
When I look at guys like you, I think of only one thing. "Cry-babies." I don't have any problem with anybody, may it be Indian or non Indian. But these cry-babies... Lol. They suck. BIG TIME.

Oh boy, You must be fun at parties

Finally..... Can't wait for my turn....930.

And here... (CV GBIE 630)

Yeah still waiting for cyan.... Icon

For my 710 also.
.
.
.
.
.
.
.
.
.
.
.
.
.
.
.
.
.
.
.
.
.
.
.
.
Just joking.

And here I am, looking at my 1020 frustrated as hell that I can't get Hey Cortana and the new Lumia Camera.

Even i am at a loss for words.

for some people Christmas come early this year :))

Christmas and Denim are coming, role on Denim

To test if everything goes well i guess....

Well I don't hear anyone with the update posting so it could have kill there phones lol

Testers? Dude, Microsoft had test it for three months for some minor improvements!

My 930 to folks on Vodafone UK:)

Weird that the Lumia 930 and 1520 (and yes, also all other devices) aren't included, but I read on a few websites that they may be get the update around christmas though. Noticing that Microsoft is really struggling with the update...

Maybe the updates for those models are not included Lumia camera features, that's why more easy for MS to releases. Maybe I'm wrong either.

Smartest person in the comments so far. None of these fixes will benefit from the features we are so anxiously drooling over that goes hand in hand with the to tier snapdragon 800 phones.

For those who are using 1520 mud facing screen sensitivity problem just like 535 (as I tried before), MS promised to solve it and the problem still there.
In the end that's the design problem which the 1520 display was designed too thin caused, I had to think it that way if not I have no patient with my 1520.
1020 is a wonderful phone but now they said hardware is not supported for further elegant features coming soon, damn shut me down.
I rather not giving compliment cuz I believe every single WP user knew it. Bring the parts that need to improve which might help MS and Nokia know what exactly end users needed.
MS, don't u wanna beat other OSes! Then stick with us.

Yes, my 1520 is waiting.and willing ..wether it wants to take it or not... -_-

Just remove my resuming thing....

I second your complain, it most at times annoying to see this. Sometimes I have to start whatever I was doing all again which is a pain in the ass. I rest my case

When you unlock your phone?
If that is the problem then go to Kids Corner and activate it. A popup will ask you if you want to inactivate Dynamic Lockscreen, do that and the problem will be gone.

I have kids corner activated on my 1520 and still have the resuming issue

What low end first? You kidding me?

The new Microsoft, they care less about high end devices.

Os must be designed with care for low end devices because of low memory. If Microsoft optimise denim for low end devices then there is no problem for them to make it work fine.

Yeah... but in this specific case you have the special Lumia Camera features and Hey Cortana for high end devices, and that must be the thing that holds everything back for high end

If they release for old phones, people complain, if they release first to new phones, people also complain. Seriously.

Low end devices have much higher market share.

What's new in this update ?? Can anyone tell me pls.. !!

live folders, new lumia camera

What is live folders..??I think It is already in 8.1 cyan update..

Just google it or look it up on Windows Central...

You mean Bing it, right...

Live folders wasn't in 8.1 Cyan, it came in GDR1 (Dev preview)

no live folders isn't included in Cyan, only if you enrolled in Preview for Developers

for DP user there will be nothing new .... these are just firmware update for them.

So, I ask myself. Why not the DP devices first... Pffffff

Denim should coming with Lumia camera 5. If they added same features were released for PD earlier, which mean those updates are MS but not denim.
Does MS loosing Nokia from time to time?

VERIZON - LUMIA ICON! COME ON!

All I can say is - all the best!

Verizon doesn't even have Cyan yet... This sucks.

Wouldn't it be nice if they would update straight to Denim ?

Is this some blessed week for s?

hope that we don't have to wait "DENIM FOR DP" just like "CYAN"

C'mon Microsoft speed it up

Wait what? I thought 930 and 1520 will be the 1st one to get denim update?

Clearly they are trying the update in a less impactful market before they push to the bigger ones; they're polishing it for the rest of the world.

So Windows 10 is getting closer???

Seem like Microsoft is changing the focus to low end. No high end coming for atleast 6 months and now updates coming to low enders first. Things dont look good.

This is the situation just for these days I guess, Windows 10 rolling out would be the start of high end devices era!

No Qualcomm releasing the 805 chipset will be the start of new high-end phones. No point MS releasing something now as it'll be redundant in a couple of months. As soon as the Galaxy S6 comes out we'd be a generation behind - as was always the mistake Nokia made. Better that MS make us wait and release a better phone that can compete on specs to every Android phone out there.

Why because they don't cater to your specific needs? Lol okay

Looking at these models I do believe they are going the- most popular first- route.

Isn't Denim going to have a update status page like the one Cyan had?

no one commented "downloading" "installing" ..... i wonder why.

lol, 'cause no one lives in China here

Do I need to downgrade from Preview for developers program to get the update.?

I don't think so , that was a bug in dev preview 8.1 that prevented cyan
But I didn't downgrade last time , I just got it fast I don't know why :P

Oh come on get it to the UK my 1520 needs cortana

im using the DP on my 920 but not doing it on my 1520 as the preview was draining the battery life too much

Battery life on my 1520 has been fine. Full day heavy usage.

Yeah I had battery issues (925) but the last couple of updates seem to have resolved that.

I get excited when then notification came out "Lumia denim update starts to rolling out for lumia......" Hmmm

And then you saw "... china"... *mood drained*

And it'll be another year before it gets past US carriers.

i'm assuming you're talking about Verizon

For both Lumia Black and Cyan, AT&T was very fast in pushing those updates out. Let's hope that streak continues.

Let them figure out Cyan first. LOL

I'm thinking April.... After all the firmware on the 928 says 12/26/13. Almost a whole a fricken year since it was built. I don't even remember when we actually got it.
Edit: Apparently it was February 12th?

Probably never. VZW has forgotten they ever sold Windows phones I think.

For a second I was so happy

Lumia 920 user here! =) eagerly waiting

Lumia 1020 here not eagerly awaiting as this upgrade doesn't improve the camera.

You know absolutely nothing about what the Denim-firmware will do for your phone.

GOOD FOR USERS IN CHINA...CONGO
NEXT INDIA PLEASE

What will denim bring to low end device nothing perhaps that is the reason.

I'm fed up of seeing your negative comments here. Go troll on some other site please. If you like Android, why come here? The folks over at AC will welcome ya with open arms..... Run to them mes enfant

I assume you're on the dev-team of Lumia-hardware so you know what the final outcome will be? If not... Get a Low-end Android-phone and get a sense on how much support you get over there.

Whaaaaat, and my 930? That was unexpected.

Yayy.. Near to my country. Hope we are next. +520

Malaysia pls!!!!!! Before Christmas

Harap harap dapat before Christmas

Simple, China have more headcount. More competitive to live. That's why it is fast.

Ok that's great, but what is it bring to the low end Lumias?

I don't see what all the fuss is about, from what I can see the update really doesn't bring anything exciting, or could I be wrong here?

For the 930 and 1520 it brings a lot of exciting new features for the camera, and it also is the new 8.1.1 update, so it is pretty significant.

Lumia 1020 has been forgotten. This update doesn't improve the camera. They have also stopped selling the wireless charging shell. RIP Lumia 1020.

We don't know anything for sure. The denim-software might unlock faster camera-apps.

What about hey Cortana???

Based on Cyan we now have about 6 months to wait for at&t

I think Microsoft is trying to make peace with China. ;)

I had understand it was only for devices with Snapdragon 801 and above. But that's good.

There are NO Lumia devices with anything newer then the Snapdragon 800. So what you thought doesn't even make sense

Doesn't the HTC M8 run on a SD801?

Is HTC M8 a Lumia now? :o

I think lets people confirm first

720 ? But only in China , when is Malaysia ? Next year ?

Low end first? Oh my God, for 1020 please.

When is it going to be available world wide! AHHHH!!! Me want it for the holidays pweeese!!

Good .. Can't wait for my Lumia 1020... Let it roll here in the Philippines...hahahahah

Lumia Camera next, please!

I'll write about it the second it is available here.

I hope it arrives soon.Cyan is full of bugs:(

Well 'next year' is only 2 weeks away ;)

Waiting for my l 1520 in india

Next is India ! @lumia1520

Can't wait to say this "Hey Cortana"....

Its not supported in L1020

How sure are you.? I believe it will come in all devices with at least s400..

How do we know? Because the article clearly states it will come to only devices with at least s8XX

Haha :D. Haven't read the entire article.. How sad T_T.. Anyways i hope that the camera update for denim will works well with my Lumia 1020.....

L1020 is powered by A S4 processor

So.. Thus it mean am not getting the camera update to with denim...? Come on..

All Lumia users are getting the updated camera app from my understanding.

China.haha.good news.when 925?

China?! And no 930 update?! Microsoft is upside down.

Oooh baby!!! I am drooling:D

Cool... Looks like we are finally seeing the roll out of Denim... But why so many impatient wankers saying why not my phone and country first!!!!... God you sound like a pack of spoilt bloody school yard brats! For Christ sake at least be pleased that Microsoft are finally getting the updates rolling out!

Looking forward to Lumia 920 Uk.
Very slow to push this update though, since its been on new Lumia phones for months

Meanwhile in Verizon land the ever patient 928 owner still waits for the ever illusive Cyan update

Waiting for my Finland Lumia 1520

You know Verizon is ridiculous when china allows firmware updates to go through.

Where is America , your homeland T T

Your homeland and the only country driving no income for MSFT you wanted to say...

Home is where... The factories are?!

Finally!! Atleast they have started rolling out. Cant wait :D Lumia 1520 Uk

But still no Lumia Denim availability page.

In f* possible. Good job lads!

If I change my region to China, will I get the update?

You can flash China firmware to wait the update.

I will wait (The Netherlands Lumia 930). No hurry ....

change your citizenship to Chinese then go to settings put the language to Chinese and region to China. after that the phone MIGHT update

Its good that MS is releasing the update within 2014. Less time to wait. Just a bit of patience..

My 520 not found upload,I need these devises' update time

And I thought 930/1520 were to be the first to get it.

Haha ....go ahead and try it

Huhm. Those are non-pureview devices, I wonder if this Denim update includes the new Lumia Camera app or its just the same as with what came with the Lumia 830 and the 730?

520 over 630? Just can't understand

Proginator should get first & that's the principle.

Hopefully tonight able to get denim update for L1520.

During the firmware updates, MS shall improve English and Chinese keyboard prediction as well, so do other countries languages

What is this!!!!!
If it released in CHINA then Microsoft should have uploaded the info. in their site that LUMIA DENIM update is approved in china and under testing in other countries

Dont know :( Such a beautiful device gets ignored everytime...

It didn't show up for now
https://www.windowscentral.com/e?link=https2F%2Fclick.linksynergy.co...

Its obvious where MS puts its priorities.

When it will be available to 530 ?, cant wait

What? Not Verizon. I always thought they were first!

Where have you been the past 2 years? Verizon clearly showed everyone that they don't support Windows phone anymore.

Meanwhile, Verizon wanders aimlessly, blind to the waning Cyan skies, towards the abyss of obsolescence and irrelevance, without pants.

What's the rush.....let the site upload the info.

They said it was going to be out for india l925

Haha kidding me ? Weren't they starting with Lumia 1520 ,930,icon ? :p checking everyday for my l1520

Can I get it by changing region to China?

Microsoft is like a very slow tortoise

In this case MS is very hard to catch up other OSes

Does anyone know when I will get it for 930 in Sweden?

i hate when chihna gets the first update . i own a lumia 625 and i stopped getting update:-(

Oh my l625 UK is searching the fact the search has gone past 30 sec+ means it's nearly catching Hey Cortana Denim Please.

Does the 625 have a 800 processor? Don't think so...

One needs to read what's said in the first paragraph.

And it doesn't take an 800 processor to read what's said.

Some people still complain anyway my God hahaha

I feel like this is not a good thing. Release it for every device in every country or none. MS/Nokia needs to stop preferring certain countries when it comes to device- and firmware/OS-releases. Bad enough that certain devices are only available with specific carriers (some of them even exclusive to countries). Android dodged the bullet there; talking about fragmentation (okay, the Droid-series is still only available from a certain carrier). But Apple does it the best - IMO. You can get their devices in most countries at the same time and you'll get the OS updates when everyone else gets them.

Were is the Lumia Camera were all waiting for? 4K videos can't wait...(please send update to the Bahamas)

I hope it's not gonna be the same dep story as with cyan

But. Wait? We don't have the new fast camera yet? Even o, my 830.. Or isn't that part of denim?

It's an app that's not part of the OS.

I want to ask why tag line via windows phone has been removed from facebook in update 8.1

It is actually but you cannot trust microsoft annymore for updates

And Verizon customers are so on Black..amazing

Anybody know what OS build they're getting?

Not the latest GDR1 build, that's for sure.

Darn was hoping to get the data toggle in the action center

We'll get it eventually. You can get it now with DP and just wait for Denim. Like we all are doing anyway, haha.

Just change your phone language settings to Chinese to get Denim Dude.

I think WPCentral should update the Windows Phone 8.1 Update 1 at the top,just like they did with Cyan where we can check there for updates of which regions got the update and which phones so far, it's not updated, should show Win Blu HD along with Jr ,and the Lumias for China region.

The title is denim update but actually it is 8.1.1?

Yeah! Its about time :D Hope the rest of the world doesn't have to wait too long

So, where is the update for lumia 1520? It was supposed to be one of the first to receive denim... Damn you microsoft

New additional info this update will bring support for hardware keyboard... Wait for hardware keyword devices... Too much surprises are kept by MS... documentation has been updated on 15th December

The documentation contains details of what the gdr1 will contain ... It is updated with hardware keyboard support....

What do you mean hardware keyboard on WP

My 1320 has just got an update! From India... The gears are spinning.. Not sure it is Denim thought.. will confirm soon.

Is it denim?? R u on Developer Preview?

just now checked, L1320, India doesnt have any update on DP

So the clock starts ticking

Why china 1st, when India is the biggest market of windows phone after USA.

Coming up with Asia south countries.

What's all with why not india or why not US? Damn, be happy it has started to roll out and soon everyone is going to have it (except carrier devices). MS is doing this for a reason, it could be that they are testing the water, remember that they said about improvements on how they deploy the updates to phones sometime back, they dont want to go all guns blazing and be killed the first time with their new update mechanism, they would have wanted to make sure everything is fine and see how much load it takes.. Last DP update, everyone was saying like "unable to download the update" just because too many people want to update their devices and the servers are over loaded with requests. let them test few things and prepare for the Big Windows 10 rollout. Vineet, even for Roti or Dosa, you need to take time to prepare the dough, Also no one is supreme or no country is big, all are equal.

I don't get them. Low-end first :/. Last time when cyan came out I had chines version of Lumia 920 and they released it as a last device I think and now I have Lumia 1520 (china version) and they will do it again :D

I have lumia 1520 with a developer preview , will I get denim update??

Yes for sure you'll get it bro...

Denim sucks for low end devices....!!!!

So you are an expert and already tested Demin on lower end devices.... Shut the crap

Will we get Lumia denim update for Nokia Lumia 620
Please tell soon

Yeah you'll get this update for most of the Lumia devices.... Don't worry be happy :)

So dude Ur. From India right

Where are you from @dksoni? I'm also from India

Well I am basically from India but now in Pakistan.

S al windows phone 8.1 wil get updates. And we al wil get windows 10 update next year which consists several advantages. See features and video in youtube

All? I have a Lumia Icon and I beg to differ with you.

No denim update rollout details on website yet. I think they should roll it out all over the world now. Hoping to see the update in Africa also.

Helloooo..... If there anyone from china, please stand up :)

Ok so the Hey Cortana didnt work, I guess I dont have the update... and now everyones looking at me. I doubt Ill use that feature in future

U had Cortana updated? From?

My phone is ready for this. Sent from my snow white 1320.

don't understand, when denim was announced , Did Microsoft say that 1520 , 930 , Icon owners will get update very first and now even it happen in china first doesn't matter to me but why those device are not get update first ??????

The Icon isn't getting anything, and we are supposed to like it...

At least 1520 or 930 owners , as 1520 owner i rather heard 1520 , 930 in china get update first than just mid range an low end devices get it first .it feel really shame for people having flagship in they hand

Always Ms ditches..flagship phones they told first 930 then 1520...awesome..Ms. ..saying 1 and telling 2

#WhenIsItComingToIndia is trending everywhere ❤

Oh is it, when i checked twitter, there is no hastag result for #WhenIsItComingToIndia

When is denim going worldwide?

china? WTF nobody uses Windows Phones there -_-

They would be using mate but WP central wouldn't have been popular there so chill....

So name some features which are available for all most devices

When am I getting it for Lumia 1520.. India

Denim? I'm still waiting for Cyan...

Yay finally something Denim.. In China.. Wait what? This is probably their testing phase.

What if I change my region to china??? Will it help???

Will changing region to China will do nothing. I already had tried but no effect

Great! Hopefully they'll do Europe +920 after they're done with China. :D

Lol so the update rolls out only for low end devices that can't use some of the mentioned features? Awesome.

Look on the bright side, you could have a beautiful Icon that is still waiting for Cyan.

(Real) Nokia are now focused on preparing Android phones. So we cannot expect any more camera and technology improvements in Windows Lumia Phones.

Nope... The real Nokia is now a part of Microsoft Mobile.

Insert obligatory wtf Verizon, where is cyan for the Icon post here.

Well that's a horrendous let down!!! I thought all Lumia phones would get voice activation Cortana!!!

Cant you do it yourself? its a much easier option

Got hosed by the "in China" at the end of the headline. For just a second, I got excited, lol.

When is it coming to India??

Can somebody tell me if it includes latest pfd update ie., live battery tile?

No, I don't think it will include a portable flotation device >_

So what does it mean for me if i have an unlocked phone? (930) But I use att?

i wanted 4k recording on my 1520 for christmas :( lame...

Does someone know when will Denim update will launched In India and will Lumia 630 get it??

What does hey Cortana do? What is passive va ? Enlighten me please

Can we set our region to china and get the update.
May be not?

S frnd. They wil roll out update soon dnt wry

Why dont you read previous comments before asking this question? its already said in the comments for the same question that it aint gonna work

Pardon my language but screw you Verizon. No explanation needed.

Wasn't the point of the developer preview program to provide access to software as soon as its released. When will this be available via the dev preview program?

Sounds great... Waiting for the update in India.

Now this is a positive approach we need to have....


Changing region to china doesn't works

Can't update my phone, is it because I enrolled in the developer preview thing?

Philippines 1520+ 920+ 1020+ CV

No Lumia Denim for high-end phones, but for low-end phones, I'm not waiting for window 10, I'll leave Windows Phone and go for Android.
Another Microsoft stupid move.

turns out of asia in advance :D

Verizon - making non-US countries look futuristic. (Why does Microsoft let Verizon destroy their goodwill with customers?) Verizon Users - Still waiting on Cyan from the spring of 2014. Want to know something really fun and embarrassing?
We have a client with several hundred Verizon phones. They are a Fitbit contributor, and can't even test the Windows version of software on their own Verizon phones because of missing Cyan Bluetooth features. (Microsoft could at least provide the firmware via the Developer Preview, this is just freaking ridiculous.)

I used L 1320 . I already check but dont have the updated ☹

Do they have a schedule like Nokia did?

Hey Cortana, is AT&T gonna be the first to get Denim update for the 520? Please say yes...

Lumia Denim Should bring the 4k support to my lumia 1020!

msft should think abt lumia 1020 for 4k support! still the best for video and picture among all the mobile phone but it will be unbeatable with 4k support!

there is no mention of new models like 530,630 on the software update page

Wouldn't want to support your customers in the US now would you Microsoft?

Hey Verizon....you suck, hopefully I'll get this on my Icon by 2016

Is Cortana included in the Lumia denim update!?

Is there anything to look forward to for 830?

Meanwhile Verizon keeps the Icon two releases back with no updates in sight. But WC hasn't mentioned the abandonment of this so called flagship Windows phone. WP losing market share in the US? I wonder why?

I saw "Denim Update" and "Lumia 520", and I thought, "Yay!", then I read "in China" and I thought, "Aw..." That's okay. I can be patient a while longer. At least it is finally starting to make the rounds to pre-existing devices finally. That means it won't be much longer before everyone gets it, that is, as long as you aren't on Verizon or Sprint.

For the first time I'm not excited for a firmware update because I don't have a 1520 or 930. I feel really sad for my 1020.

funny thing is denim doesnt even bring half of its features to these phones

I guess my question is... "When we get the Denim update, do we get 8.1 Update as well?"

I just got Denim update on my Lumia 625. PL T-Mobile https://twitter.com/Deepy93/status/545328288890372097

When it says china it means the rom must be of china.am i right?and it doesn't relate to IP address or region you set?please confirm.

I receive denim in egypt Lumia 1320

COME ON ICON!!! Oh wait, this is Verizon :( ​

One of my friends has a Galaxy S5 and can't get the "Okay Google" feature to work properly. Another person I know has an iphone 6 and has to plug his phone in to get the voice activation feature to work. I would love to be able to show off this feature... unfortunately, I'm on verizon and I can only get the OS updates through the Developer's Preview Program.

critical update ready to download in India !!!!!!!!

My Lumia just got Denim! (Lumia 720, Indonesia) For the first time in forever a 720 got it first. Usually it's always the latest model to get the update (feels like a step child), around 1-2 months from the first release here in Indonesia, which for this time means to be expected around the end of January or even February. Reports also say that it is expected early in 2015 for phones other than some. So I didn't believe it when my phone shows the toast "Welcome to Lumia Denim!" after installing an update described as a critical update. But then it appears that it is indeed, has been rolled for 720 (checked Microsoft site, can create live folder). Wow.

but 630 , i bought this smartphone , and now I am crying
Windows Central Newsletter
Get the best of Windows Central in in your inbox, every day!
Thank you for signing up to Windows Central. You will receive a verification email shortly.
There was a problem. Please refresh the page and try again.