Max Quiz puts game show-style trivia onto Windows 10 PC and Mobile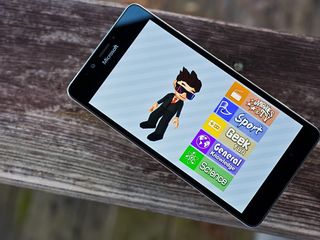 A recent arrival to the Windows Store, Max Quiz brings a new trivia game option to both Windows 10 PC and Mobile. The game show-styled trivia game has five categories of questions, three gaming modes, online rankings and more.
The questions range from no-brainers to challenging head-scratchers. We took the Windows Phone version out for a test drive and found it to be a fun way to pass the time and test your knowledge along the way.
Your first order of business when you launch Max Quiz is to create a user profile. This is necessary to compete online, only takes a few minutes to set-up, and is free. Once your profile is established, you can choose between five categories of trivia questions. These categories include:
Movies and TV
Sports
Geek Fun
General Knowledge
Science
After you choose your trivia category, the game will transition to a gaming menu with options to play the game, view your rankings, create or join a gaming team, customize your gaming avatar, and customize your player profile. Customizations include your avatar's physical appearance (hair color, eyes, nose, etc.) and clothing. At the start of the game you'll only have basic customization options available; as you move up in experience additional options will become available.
Max Quiz has three gaming modes:
Practice: Test your knowledge without the pressure of competition
Championship: Randomly find an opponent to take on
Challenges: Challenge your friends to a trivia match
Practice games include nine questions, while Championship and Challenges are best-of-three games. Gameplay is regulated by tokens and Max Quiz provides you with four tokens that are automatically replenished over time... a very long time. It doesn't take long to burn through the four tokens and it will take an hour to replenish them.
You do have the option to watch a video ad to replenish one token, or you can open up unlimited matches through an in-app purchase. The smaller package of $0.99 opens up 30 days of unlimited play, while $9.99 gets you a full year of unlimited play.
Gameplay is delivered in game show style with players positioned on a stage with a host reading the questions. Questions are multiple choice and any picture clues will appear on a large screen positioned behind the stage. Each question is timed, while there's also a hint button that can be used once a game to eliminate up to three of the choices.
I did not encounter any delays in finding an opponent for the Championship games, and the game questions offer a nice range of difficulties. You may get a Movie question asking, "Who is the famous actor/director Clint _____?" or a Science question asking, "What structure do plant cells have that animal cells do not? "
I did have a few instances where a trivia question would be about a picture, but the picture would not appear. I wouldn't say this is a deal-breaker of an issue, but one the developer will need to iron out as it could be the deciding factor in winning or losing a game. As you win matches, you will earn experience points that will eventually unlock avatar customization options.
Entertaining Trivia Game but a tad too restrictive
While the graphics were decent and Max Quiz's game show questions were challenging, the biggest issue I had with the game was the token limitations. I'm not a fan of this style of gaming to begin with and Max Quiz doesn't do much to change that opinion.
Four tokens is just not enough and the wait for them to replenish is too long. The option to remove these limits through an in-app purchase is a nice touch, but the time-limited format can be costly. The game needs to either add more tokens, shorten the replenish times or offer the unlimited play option as a one-time purchase.
Max Quiz has seen its fair share of success over on iOS and Android and should have similar success on the Windows Platform. One plus that the game will have being available on all three major platforms is that the player pool is larger to challenge, befriend and create gaming teams from. Overall, Max Quiz is an entertaining trivia game it just needs to loosen the gameplay restrictions.
Download Max Quiz for Windows 10 PC and Mobile (opens in new tab)
Windows Central Newsletter
Get the best of Windows Central in in your inbox, every day!
George is the Reviews Editor at Windows Central, concentrating on Windows 10 PC and Mobile apps. He's been a supporter of the platform since the days of Windows CE and uses his current Windows 10 Mobile phone daily to keep up with life and enjoy a game during down time.
Everything is coming to windows 10 PC and mobile but windows 10 still not released for phone by normal update

Dude will you shut the hell up? All right we get it its delayed but at least you can get it through insiders program. Just yesterday it was declared that Samsung has delayed marshmallow and guess what the users said? They said its ok we're used to it.
But you WP users? NO! Complaining, complaining, complaining
Please just stop this crying and enjoy

I am waiting for official release updates.but Microsoft change always releasing date not only one or two times.Samsung one company android another .so delay we can understand. But Microsoft making software for other platform first. They have porting software their own development. Compare some windows app in WP and android or ios. Example..Skype

Aren't we all waiting? The world doesn't revolve around you, you know.. Get over it.

Spam, spam, spam...why do you think constantly whining will make it come faster? I'm sure you'd complain at the first bug you saw. Just let them finish or get the Insider version.

"Samsung one company android another"
Sorry but that is not an excuse for an update to be delayed FOR AN YEAR. When was the marshmallow announced? Last year and W10 mobile? Few months so yeah HUGE DIFFERENCE Brother. Another company is no excuse whereas Android N is about be announced soon and no sign of marshmallow.
So ok maybe Skype is better on other platforms that I agree but what about other apps?
None of them are better than the WP!
Yes NONE! Why you want to know? Because I have tried all of them on each platform and WP performs better.
And speaking of apps, you do realize that Skype team has nothing to do with Windows team? They are both separate divisions. If you were clever enough you would have never made that statement but seeing the comments lately on WC, I know how GENIUS the community is.

Quiz up is an alternative for this...

They spelt Spanish wrong.

Spelt????? Posted via the Windows Central App for Android

You spelled spelt wrong?. Posted via the Windows Central App for Android

I find these types of game fun, but ALWAYS limited because language barriers. If this was in Swedish for instance, one might understand the questions etc. Well, someday devs might learn.

You do understand that translating hundreds of questions and UI elements costs money, right? Especially if you want them to translate to dozens of different languages ('cause let's face it: Swedish wouldn't be within your translation priorities).

? Language barriers exist all over the world, that's why many games, the good ones, offer language choices.

Yeah like Tricia Crack, not only is it made for many languages, it's also cross platform!!!

I find trivial pursuit with friends to be better but I can't add friends on it from other platforms. It seems it requires facebook which I don't want to do. And even with facebook who knows if it will work. They have friend id's but when I try to find these id's it can never find them. Shame because it's actually a really good trivia game.

A little wonky so far. It asks for sign in method, I chose Facebook. Seems that should be enough but no its not.. You cannot proceed. Then it asks for I imagine DOB but it doesn't actually say why it has a date field and it wants and email address. So why were we given those choice between Facebook or email to register if they want email anyway. Ok, I click email, a white strip flashes across the screen, but no way to input email. My next move is the uninstaller. I'll stick with QuizUp, Red Herring and This Or That.

Hello jazmac. I'm the developer of Max Quiz. I'm sorry for this, facebook does not provide date of birth anymore, so we are asking it after signing. The purpose of DOB is to improve the algorithm responsible for selecting most relevant questions. E-mail and DOB are mandatory in QuizUp fyi. There have been some challenges to port Max Quiz to Windows 10 and what happend with this white strip sounds like a bug. Would you mind to tell us if this happened on PC or mobile? Thanks.

Thanks for responding. Windows 10 Mobile is where I had the problem. I haven't tried it on the desktop yet. I watched a Max Quiz video and I have to say I'll be more disappointed if I DON'T get to use this game. Maybe an uninstall/reinstall?

Questions are too obscure. Game play is buggy - example: Supposed to show you a picture of an actor you have to name - yet no picture appears, sound cuts out etc... Wait time between lives (tokens) is FAR TOO LONG (ONE HOUR!?). I'd give it one star.

EDIT / UPDATE: If you subscribe to their YouTube Channel - you get unlimited energy.

Hello everyone, I'm the developer of Max Quiz and I would like to thank you all for your feedback. I'm sorry for these issues. I'm releasing an update that lowers the energy reload to 5 minutes and other fixes. We have about 10000 questions so far and we are continually reviewing them. Due to this volume there may be mistakes. We count on community to help us translating so much content with the "question database" tool. By the way, the "spannish" alternative has been properly corrected :)
Windows Central Newsletter
Thank you for signing up to Windows Central. You will receive a verification email shortly.
There was a problem. Please refresh the page and try again.